Want to Help Dance Studios Affected By Hurricane Harvey? Here's How
As studios in South Texas begin to dig out from the damage caused by Hurricane Harvey, the dance community has a message: We're here to help.
Gil Stroming, owner of Break The Floor (which produces epic conventions like JUMP and Dancer Palooza), has pledged to donate $25,000 directly to studio owners directly affected by the storm. On top of that, he will match dollar-for-dollar the next $25,000 donations in a fundraiser he's hosting on GoFundMe.
Commercial dance celebs like Misha Gabriel, Al Blackstone and Kirsten Russell have already pitched in with donations of their own. The campaign has already raised more than $37,000 in just four hours. Anyone is invited to add their donation here.
---
Former Dance Theatre or Harlem and Ailey star Alicia Graf Mack is hosting a master class in Dallas this Sunday to raise funds for the relief effort and collect donations.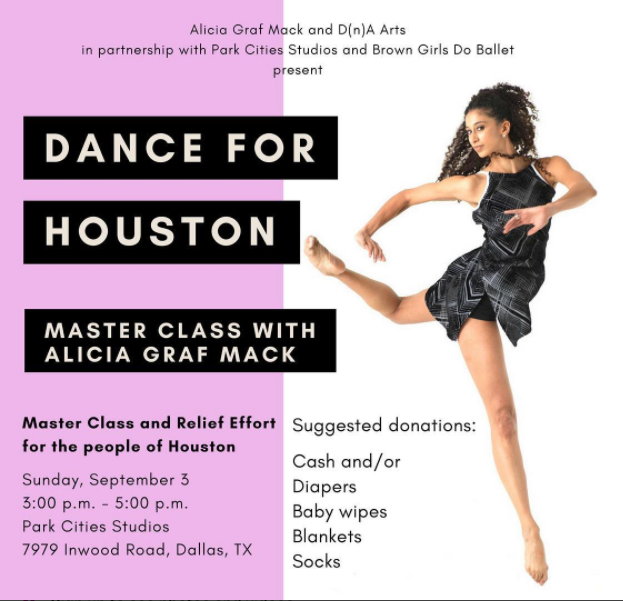 Brown Girls Do Ballet has started an Amazon wishlist to collect items that dancers and studios in the area need right now.
As Nancy Wozny reported in her story on the storm's effects, Vitacca Vocational School for Dance in Houston is hosting a food, toiletries, and baby needs drive at its studio tomorrow from 11 am to 4 pm.
Dance Source Houston has started a spreadsheet for companies and schools that need help, what items they need, and whether they can accept monetary donations directly through their website.
Dance flooring system company Stagestep has pledged to contribute 50 percent of the cost of its dance floors for those who need to rebuild. Studios, venues and dance centers affected by the storm are invited to apply at stagestep.com.

"The dance world is an amazingly supportive community," writes Stroming. "Let's do what we can to help our friends, in their time of need."
Note: This post has been updated as more information comes in.

Chantelle Pianetta competing at a West Coast swing event. Courtesy Pianetta.
Just hearing the word "improvisation" is enough to make some ballet dancers shake in their pointe shoes. But for Chantelle Pianetta, it's a practice she relishes. Depending on the weekend, you might find her gracing Bay Area stages as a principal with Menlowe Ballet or sweeping in awards at West Coast swing competitions.

She specializes in Jack and Jill events, which involve improvised swing dancing with an unexpected partner in front of a panel of judges. (Check her out in action below.) While sustaining her ballet career, over the past four years Pianetta has quickly risen from novice to champion level on the WCS international competition circuit.
Keep reading...
Show less
Jayme Thornton
Sean Dorsey was always going to be an activist. Growing up in a politically engaged, progressive family in Vancouver, British Columbia, "it was my heart's desire to create change in the world," he says. Far less certain was his future as a dancer.
Like many dancers, Dorsey fell in love with movement as a toddler. However, he didn't identify strongly with any particular gender growing up. Dorsey, who now identifies as trans, says, "I didn't see a single person like me anywhere in the modern dance world." The lack of trans role models and teachers, let alone all-gender studio facilities where he could feel safe and welcome, "meant that even in my wildest dreams, there was no room for that possibility."
Keep reading...
Show less
Getty Images
It's hour three of an intense rehearsal, you're feeling mentally foggy and exhausted, and your stomach hurts. Did you know the culprit could be something as simple as dehydration?
Proper hydration helps maintain physical and mental function while you're dancing, and keeps your energy levels high. But with so many products on the market promising to help you rehydrate more effectively, how do you know when it's time to reach for more than water?
Keep reading...
Show less