"Julie Kent was my first ballet crush," Harry Warshaw admits with a shy smile. The curly-haired 17-year-old has just learned a variation from Swan Lake. "I remember watching Center Stage when I was about 10 or 11 just to see her."
Now he is taking technique class with the former American Ballet Theatre star and current artistic director of The Washington Ballet. And he's falling in love all over again. Kent "gives you a chance to actually move your body and breathe," he says. "In some classes you have to hold and make sure everything's in the right place, but with her you're actually getting to dance."
---
Warshaw is a veteran of summer programs. But he has his sights set on dancing one day under Kent's artistic direction, so he wanted a full immersion in TWB's style. "I love the training I'm getting here," he says. "One of my teachers, Rinat Imaev, told me I don't have to make everything so big. The more you relax, the easier you make it look, the more impressive it is."
With class size generally 22 to 28 students, The Washington School of Ballet's intensive offers a more personal experience than some larger intensives. Former ABT principal Xiomara Reyes, who now heads TWB's school, sees the program as a time for budding dancers to learn from one another as well as from their teachers. "We want it to be a time of growth and interaction between students from different states and even countries," she says.
During a morning technique class, Reyes circulates throughout the studio, using a firm but gentle touch to remind one dancer to pull up out of her hip, and another to drop her shoulders. The day begins at 9:30 am with five levels of technique for the upper division. Classes and workshops run until 5 or 5:30 pm.
Ballet, variations, pointe and pas de deux are taught by teachers such as company ballet master Elaine Kudo, company member Rolando Sarabia and former San Francisco Ballet dancer Joan Boada. Students also take workshops in character, jazz, flamenco and choreography, with twice-weekly classes in conditioning or Pilates, plus lectures on health and nutrition. Students study choreography with Italian-trained neoclassical choreographer Mimmo Miccolis.
Each level learns repertory ranging from classics like Petipa's Valse Fantastique to contemporary works. Students in the upper levels also collaborate on their own choreography for four culminating performances.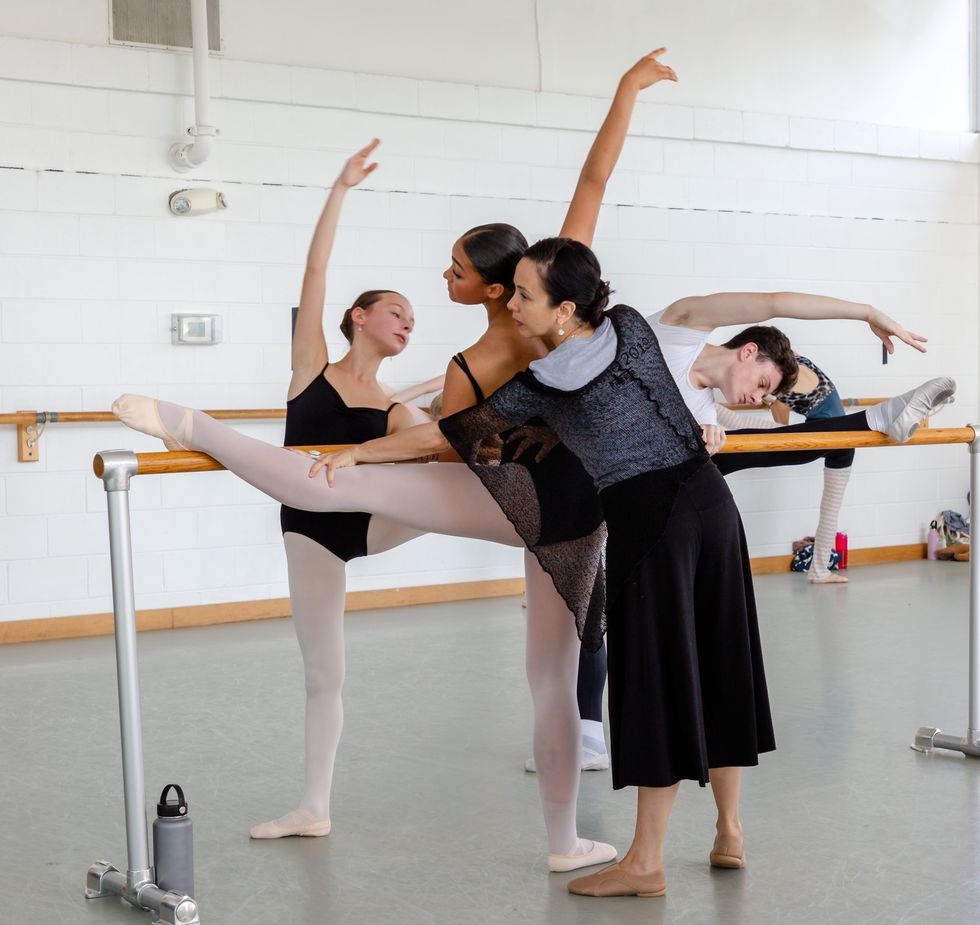 Xiomara Reyes correcting student Jaden Johnson in Level 8
Mena Brunette, Courtesy Washington School of Ballet
"We don't try to follow company repertoire but think about the needs of the students," says Reyes. While many intensives focus on technical development, "we put special emphasis on the artistry of the piece," Reyes says. "For example, this year we chose the Diana and Actaeon divertissement for Level 9—a well-known bravura piece. We encouraged the students to research the story, examine artworks related to it, and then we worked to link it to the steps." Addi­tionally, teamwork and practicing the ability to move as a unit is essential, Reyes says, because "most dancers will start their careers in the corps."
Like Warshaw, Jaeden Johnson is also a Julie Kent fan. The 16-year-old Omaha, Nebraska, dancer studies Kent's dancing on YouTube. While she was accepted at four other summer programs, Johnson chose TWB's.
"I didn't want to go to a Balanchine intensive," she says. "TWB is gorgeous and I like its more classical style. And there's definitely more pointe work than I'm used to." While the morning technique class is done in slippers, she notes, "We have a regular two-hour pointe workshop."
While Kent hopes all her students improve, she also wants them to enjoy a total immersion in something they love. "If you're in an excellent summer program with great teachers, of course your legs will get higher, your adagio less wobbly, jumps bigger—to me that's a given," she says. But, Kent asks, "have students enjoyed the experience? Have they expanded their knowledge and understanding of the art form?"
She also wants them to have a sense of achievement. "When I start class for new students," she notes, "I always say, 'Take a moment and give yourself credit for all the hours you have spent trying to become a better dancer.' That's the tone we like to set: 'You are choosing to spend your time in the studio—be proud of that.' "