Gallim in Stone Skipping PC Stephanie Berger
Here is my list of favorites from this year, some of them with video clips embedded. I've also added "lingering thoughts" about certain situations in the dance world. As usual, my choices are limited by what I have actually seen. Most of the following are world premieres.
Best Choreography
• Andrea Miller's Stone Skipping in the Egyptian room at the Temple of Dendur at the Metropolitan Museum of Art: Ancient and ultra-modern at once, gaga-initiated grapplings, telling many stories of people in struggle and solidarity. The group sequence (with her company Gallim plus dancers from Juilliard) from lying on the floor with pelvis bobbing to standing, to swaying, to skipping wildly about was transcendent.
---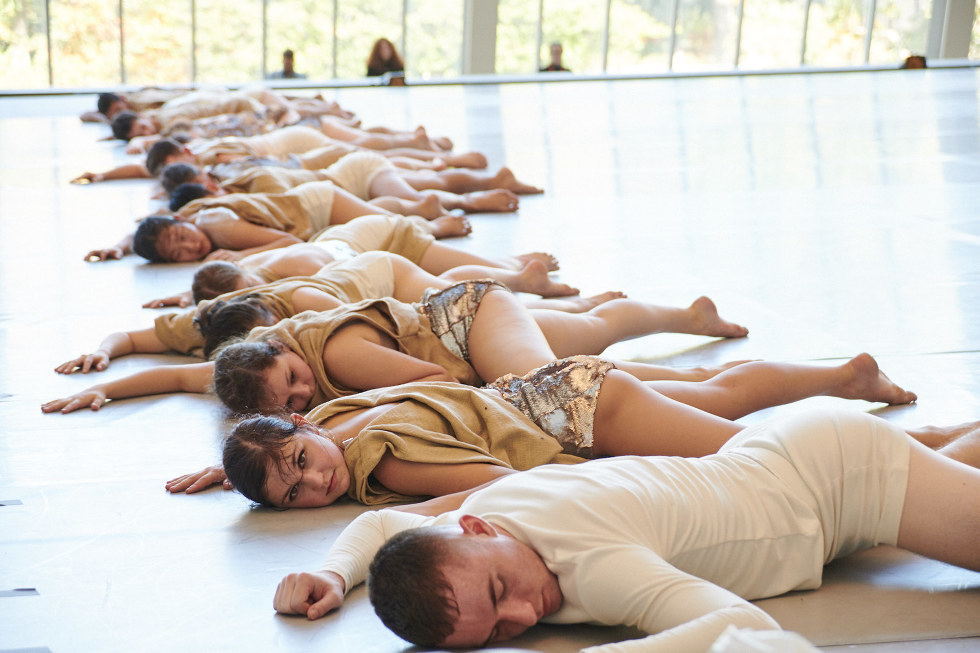 Jim Lafferty
• Hofesh Shechter's Grand Finale at BAM's Next Wave Festival. Apocalyptic in the most beautiful way. The 10 dancers attack, drag, rescue, wrestle, each other, march crazily to the beat of Shechter's own percussive music. Flashes of humor peeking through overwhelming bleakness. The women go totally limp for a disturbing amount of time. Gripping because of engaged choreography and the full-throttle dancing. The musicians are nomads, appearing and disappearing in Tom Visser's mysterious lighting.
Grand Finale by Hofesh Schechter
• The Times Are Racing by Justin Peck for New York City Ballet, music by Dan Deacon. A sneaky blend of jazz, tap and ballet in sneakers, with a tap dance just for Justin and Robert Fairchild. But the best part is a snazzy yet vulnerable duet for Tiler Peck and Amar Ramasar: quick inward movements, sharp turns of the head, playful swatting of limbs but something more serious too. The way Tiler Peck moves slow after stillness is captivating. Click the picture below for a link to the video:
www.nycballet.com
• Kyle Abraham's Dearest Home at The Kitchen produced by Lumberyard: The six dancers were so exposed, so willing to strip down to skin and heart. Searching each other for hard-earned affection or shaking with solitary sobbing.
• Composer's Holiday by 18-year-old Gianna Reisen for New York City Ballet. Excitable jittery energy, witty tableaux, a humor stemming from tricky momentum. A woman leaps and just before she lands a man somersaults underneath her. Quick changes of direction mid-lift. Excellent use of Lukas Foss music.
• Bill T. Jones's A Letter to My Nephew at BAM's Next Wave Festival. The street brawl was unforgettable, as were the slow love duet for two men and the sparring physical duet for two women. Reminds me of Bill T. and Arnie Zane's early rough-and-crazy Contact Improvisation.
A Letter to My Nephew by Bill T. Jones, PC Stephanie Berger
• Let It Linger by Vicky Shick at The Kitchen, presented by Lumberyard. A poetic spareness of space, time, movement. A fluidity of relationships: mother-child, sisters, lovers. A minimalist sensibility edged with both humor and momentary violence. Pauses just long enough to imagine a story. The four dancers are each differently feminine.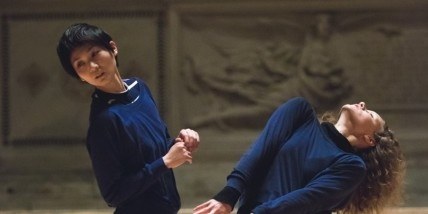 Vicky Shick's Let It Linger, PC David Gonsier
• Kota Yamazaki/Fluid hug-hug's Darkness Odyssey Part 2: I or Hallucination, at Baryshnikov Arts Center. This put a spell on the audience. Four dancers started with near nothing, and gradually built to where a comic cosmic craziness seeped from them. Each of the four are gloriously eccentric while Yamazaki himself barely moved, a dark huddle on the ground off to the side.
Raja Feather Kelly and Mina Nishimura in work by Kota Yamazaki
• Michelle Dorrance's Until the Real Thing Comes Along (a letter to ourselves) at the Joyce. Four women entertain the audience to the Nth degree, then gradually reveal the complex characters behind the shiny facade. A brilliant idea, tapped out with gonzo technical chops and energy, each woman her own person, their camaraderie touching. A great pairing with (the third rendition of) Myelination, a bold rhythmic statement and exciting cultural mix.
Until the Real Thing Comes Along by Dorrance, PC Todd Burnsed
Extraordinary Solos
• Twelve of 'em, David Hallberg, in this delightful Fall for Dance commission that Mark Morris made for him to piano music by Benjamin Britten. Classical lines are meshed with odd, funny scramblings. Hallberg slides and melts beneath the piano bench. During the pauses, he fixes his hair or walks casually—heel first like a normal person, not rarefied ballet. Each of the 12 sections is developed in a legible theme-and-variations format but is full of subtle surprises. In one variation, he shakes out his body edging toward the pianist, Colin Fowler, trapping him on the last note. The last move, with head dipping down modestly and palms facing outward, repeats the opening movement: I am here for you.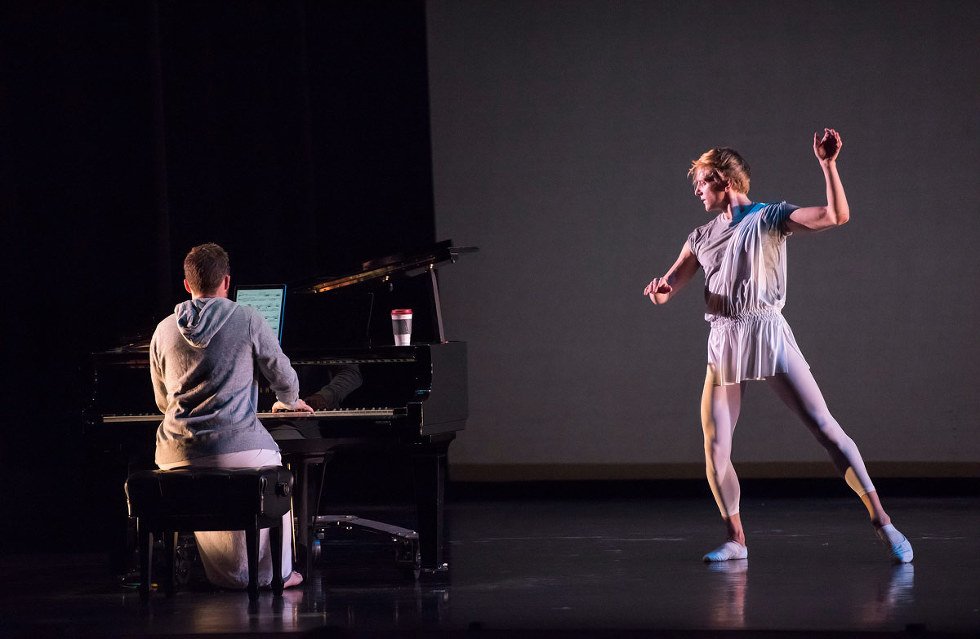 David Hallberg in Twelve of 'em, PC Stephanie Berger
• Koma, The Ghost Festival at Danspace. He alternated between quiet, stealthy walking meditations and sudden moves. He started indoors and took us outside, where his recycled Caravan was adorned with life-sized drawings, possibly the ghosts of the title. He climbed on top and waved a red flag like a crazy Cassandra begging for peace—or truth.
Koma in Ghost Festival, PC Ian Douglas
• Simone Forti's News Animation. I saw versions of this at UC Santa Barbara, the Danny Kaye Playhouse at Hunter College, and Sundays on Broadway. (Disclosure: All were related to Radical Bodies, an exhibit I co-curated.) Each time, I was drawn in by her oracle-like pronouncements while showing us her body-to-earth, octogenarian wisdom. Oblique connections between body and mind. She spoke of Mussolini's thrust-forward chin, and a cave where fish lured each other. (Her leather jacket served convincingly as a cave.)
Simone Forti, PC Ellen Crane
• Memoirs of a …Unicorn by Marjani Forté, presented by New York Live Arts at Collapsible Hole, the cavernous, flood-damaged basement of Westbeth. Adjoining alcoves were filled with art (design team: Mimi Lien, Peiji Wong & Richard Forté). Forté knocked around, bumping down from a wooden pyramid tower, with a telephone pole–sized wire mesh unicorn attached to her forehead. Once she unstrapped it, she danced, interacted with the audience, got into screaming fits, and writhed as in a nightmare. Once, after sobbing uncontrollably, she was comforted by a creeping shadow. Changing from tragic to sassy on a dime.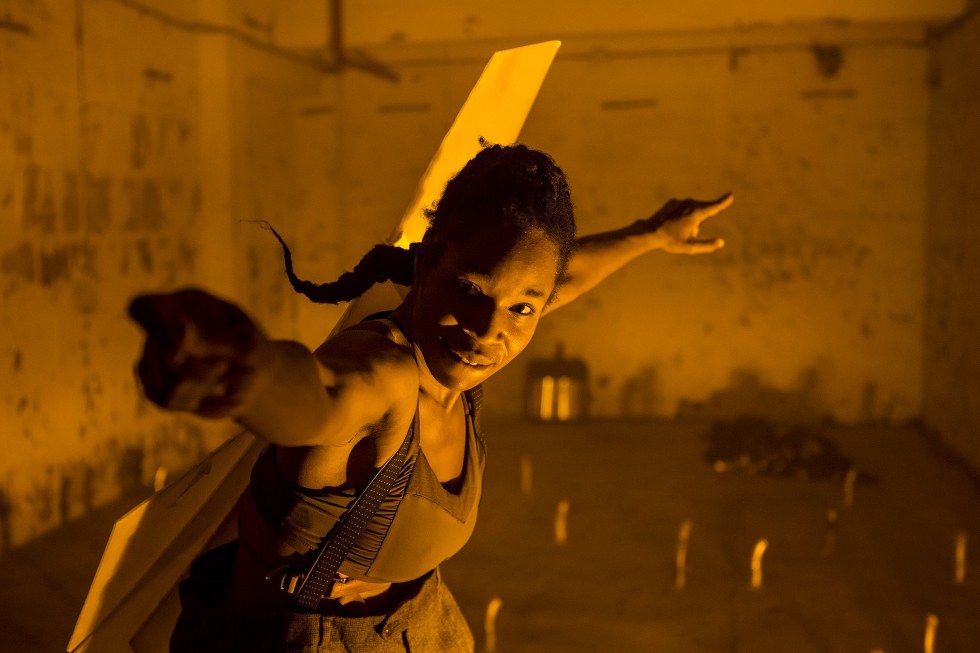 Marjani Forti, PC Maria Baranova
• Kenneth King in his new Labyrinth with Voices. At University Settlement, presented by The Construction Company. A major downtown figure in the 70s and 80s, King moves with a sharp impulsiveness, exaggerating hands and voice. Like a ventriloquist, he is somehow remote from his various (ridiculous) characters. Postmodern meets Vaudeville. The inimitable Kenneth King, dubbed "the dancing philosopher" by Deborah Jowitt, is back.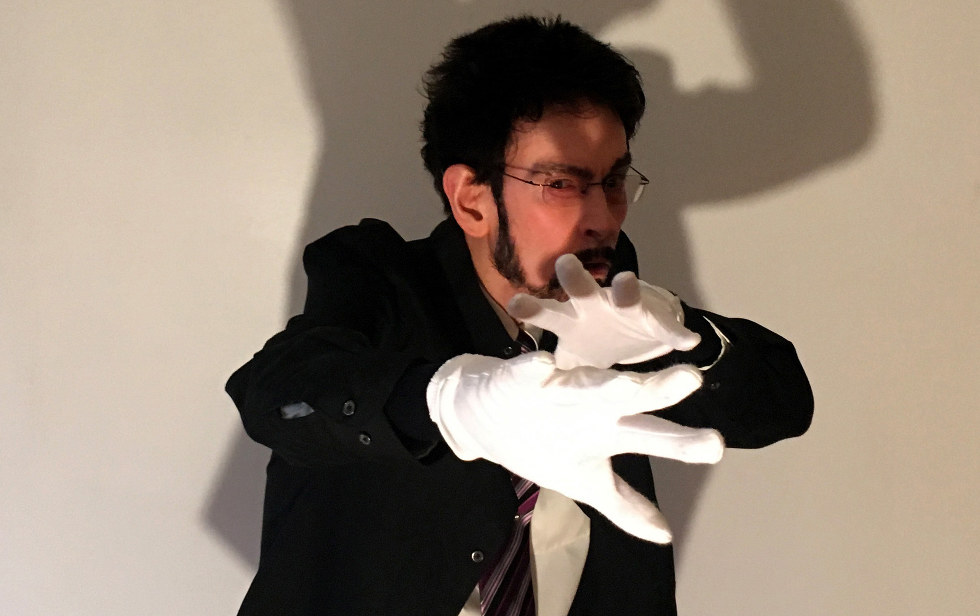 Kenneth King, PC Grant King
Best Performances
• Tiler Peck's debut in Swan Lake at New York City Ballet. A monumental talent in a monumental role. She has a delicate wildness as Odette, an assured rock-solid sharpness as Odile. Her portrayal had a mercurial grandeur comparable to that of the great Russian ballerinas.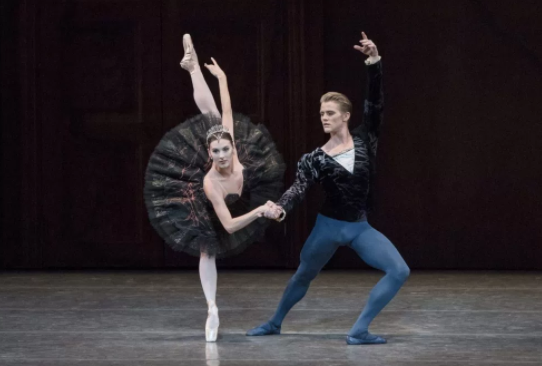 Tiler Peck and Chase Finlay, PC Paul Kolnik, courtesy NYCB
• Tony Yazbeck in Prince of Broadway. Susan Stroman gave him a tap solo where he rose to the heights of joy and plunged to the depths of despair. I was on the edge of my seat. (Click the photo below for video of the finale.)
www.broadway.com
• In a stellar cast of Serenade After Plato's Symposium by Ratmansky for ABT, Calvin Royal III made me love slow movement again. The entire male cast was outstanding, with Herman Cornejo, James Whiteside, Daniil Simkin.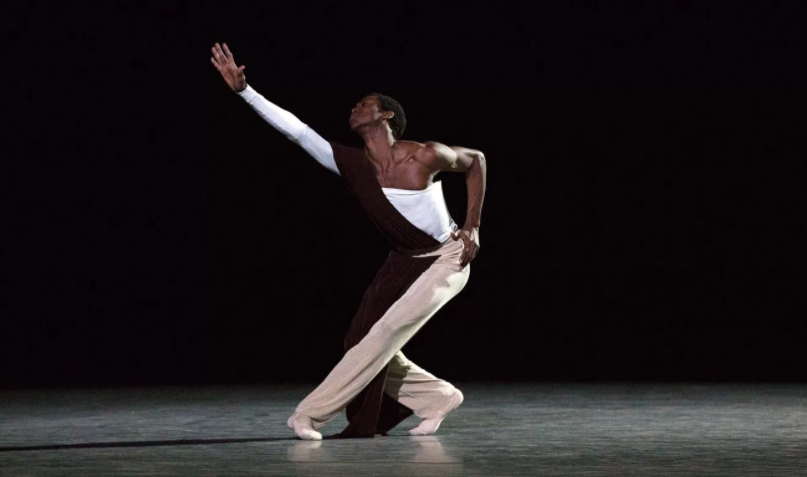 Calvin Royal III in Serenade after Plato's Symposium, PC Rosalie O'Connor, courtesy ABT
• Sterling Hyltin in Neverwhere (2013). She was in the original cast of this ballet by Benjamin Millepied, music by Nico Muhly and costumes by Iris van Herpen. Hyltin inhabits the crinkly black costume and slick toe-shoe boots like an elegant, slinky sci-fi character.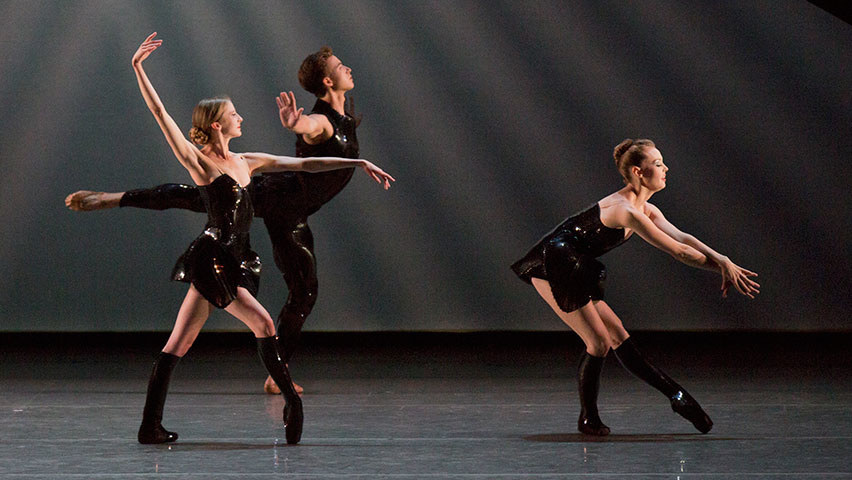 Neverwhere, PC Paul Kolnik, courtesy NYCB
• The women of Ballet West at The Joyce: Emily Adams' delicate fluidity in Dances for Lou by Val Caniparoli; Arolyn Williams' ghostly lushness in Ruth: Ricordi Per Due by Arpino; Beckanne Sisk's sparkling technique in Balanchine's Chaconne.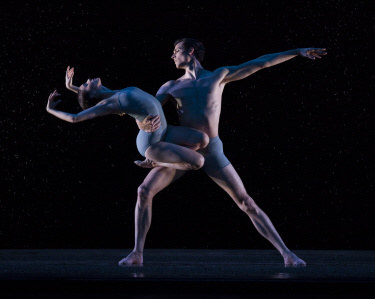 Arolyn Williams and Chase O'Connell in Nicolo Fonte's Fox on the Doorstep, PC Beau Pearson
• In Dorrance Dance's Myelination, seen at Fall for Dance, the rangy Warren Craft moves his body like no one else. He staggers unpredictably through wildly rhythmic moves. His hunched upper body gives him a friendly Frankenstein look, but his gangliness makes him endearing.
• Also in Myelination was Ephrat Asherie, whose b-girling refreshes Dorrance's excellent tap choreography, especially when she joins in a kind of friendly battle with Dorrance, thereby igniting a delicious blend of hip hop and tap.
Ephrat Asherie, PC Christopher Duggan
• PeiJu Chien-Pott of the Martha Graham Dance Company in Ekstasis (1933) by Martha Graham, "reimagined" by Virginie Mecene, at the Joyce. High drama, sinuous movement quality, her extreme angles defining modernism.
PeiJu Chien-Pott in Ekstasis, PC Brigid Pierce
• John Selya, in Twyla Tharp's Dylan Love Songs at the Joyce. His wearily and warily poetic presence brought out the tenuous connection between the hard-driving Tharp body and the melancholy Dylan voice.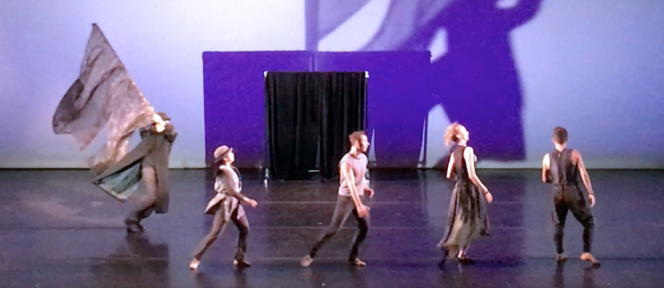 John Selya (left) in Dylan Love Songs. Photo via twylatharp.org
• Stella Abrera and Sarah Lane: These two new principals of ABT have been dancing exquisitely for years. Finally they are having their moment in the sun, much of it furnished by resident choreographer Alexei Ratmansky. In Souvenir d'un lieu cher, originally made for Dutch National Ballet in 2012, the two couples engage in lovely, inventive partnering. Both Abrera and Lane are absolutely lustrous while dancing to selections of Tchaikovsky; Abrera has moments of sadness. These two dancers were also the highpoints of a Ratmansky premiere I did not otherwise enjoy: Whipped Cream. Lane played Princess Praline with astoundingly fast footwork, and Abrera played the lovely, languid Princess Tea Flower.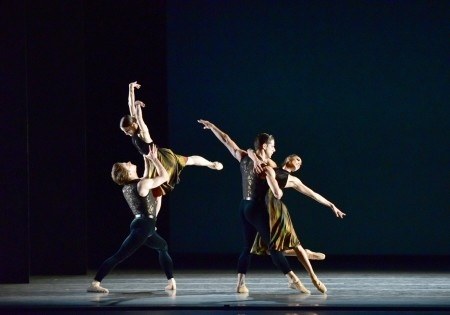 Alban Lendorf, Sarah Lane, Marcelo Gomes and Stella Abrera in Souvenir d'un lieu cher, PC Gene Schiavone
• Marcelo Gomes as A Struggling Composer in The Red Shoes by Matthew Bourne. He had an outsized drama that was just right for this campy remake of the iconic 1948 movie, at New York City Center.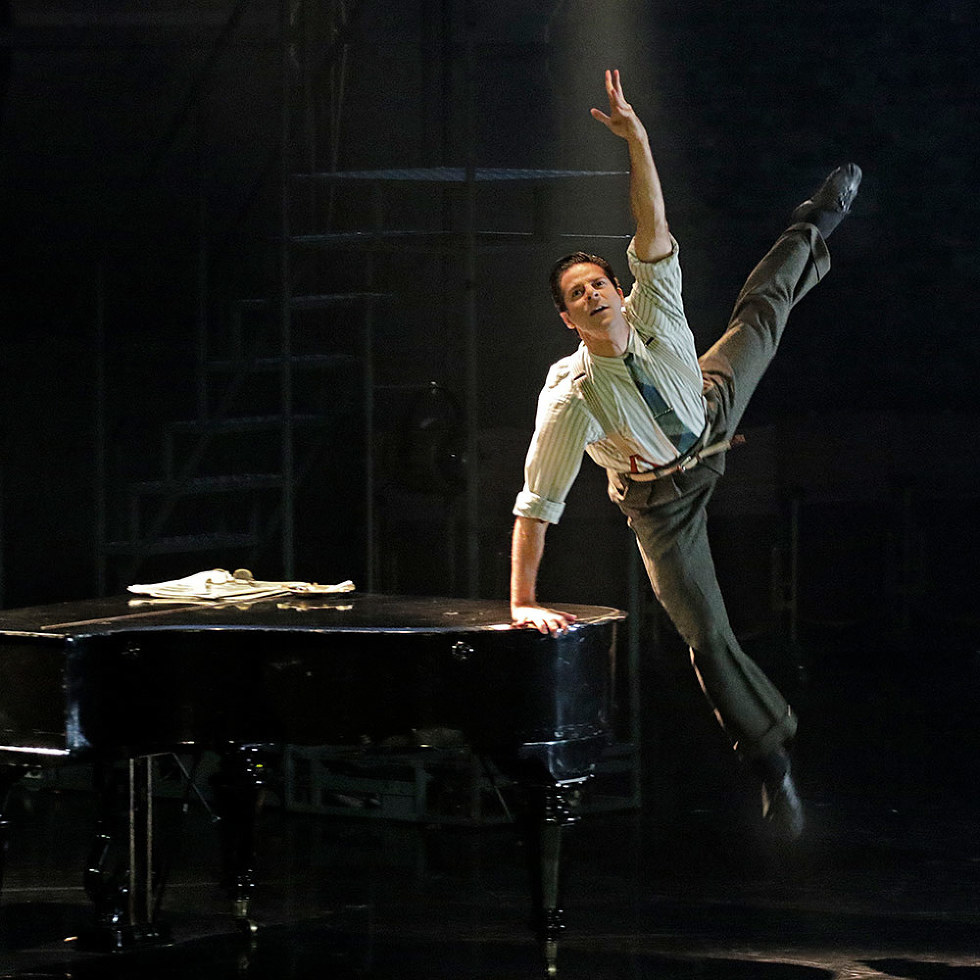 Marcelo Gomes in The Red Shoes, PC Lawrence Ho
• Carlo Antonio Villanueva, in BTJAZ's A Letter to My Nephew: Small and springy, ready for anything; juicy voguing and runway moves. A tour de force in every section of this dance.
• Mina Nishimura, in Vicky Shick's Let It Linger, her own work-in-progress at Sundays on Broadway, and in Kota Yamazaki's premiere. Her presence is fragile yet sturdy, feminine yet boyish, interior yet visible. There is something incandescent about her.
Best Revivals
• Café Müller and The Rite of Spring, both by Pina Bausch with sets and costumes by Rolf Borzik, performed by Tanztheater Wuppertal Pina Bausch at BAM's Next Wave Festival. Welcome back to the program that jolted Americans awake to the larger-than-life glories of Pina Bausch's work. Both are about women's lives: the first bleak but riveting, the second a powerful rendition of Stravinsky's music.
PIna Bausch's Café Mueller PC Stephanie Berger
• The Golden Section (1983 as part of The Catherine Wheel) by Twyla Tharp has not been performed by Alvin Ailey American Dance Theater since 2006. A dense and fun and funny concoction with split-second timing; nothing breaks these dancers' stride.
Chalvar Moneiro in The Golden Section PC Paul Kolnik
• Four Screaming Women (1982) by Jane Comfort, reprised at Joe's Pub, part of Dance/Now. Obsessive precision of gesture, speed and spoken text, making for a wonderful, witty brand of virtuosity. It helps that one of the four "screaming" women is a man.


Other
• Best museum performance: Work/Travail/Arbeid, an adaptation of Anne Teresa De Keersmaeker's whirlwind Vortex Temprum, which was on my Best of 2016 list. This transformed the Museum of Modern Art with live music by the late Gérard Grisey that resounded throughout the halls. The piano ended up being wheeled around the gallery. It was a torrent of a piece, the movement and music whipping through the galleries at MoMA. We spectators felt like part of the action when dancers threaded through us.
• The most exquisite farewell: Diana Vishneva in her last ABT performance, as Tatiana in Cranko's Onegin at the Metropolitan Opera House. The passion of her dancing and acting hold you in its grip. She was partnered by the equally passionate Marcelo Gomes. A couple made in heaven.
• Broadway Musicals: I tend to enjoy the quieter productions that really make me feel something, rather that the big spectacles with lots of dance numbers. The new musicals this year that touched me deeply were Dear Evan Hansen, Indecent and The Band's Visit. I also enjoyed Bandstand and A Bronx Tale.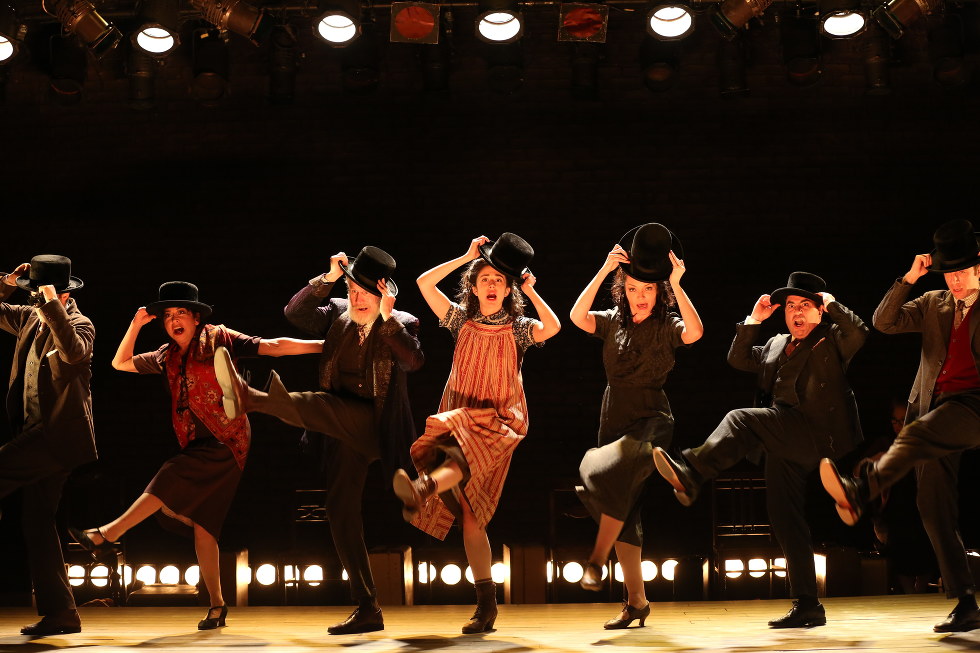 The cast of Indecent, PC Carol Rosegg
• The downtown presenting series: Sundays on Broadway, in Cathy Weis's loft in SoHo, is now in its fourth year. Time for any-age downtown types to show works in progress. This fall the series was guest-curated by choreographers Vicky Shick and Jonathan Kinzel. Great originality and craft were evident in works-in-progress by John Jasperse, Juliette Mapp, Lisa Nelson, Ishmael Houston-Jones, Jennifer Munson, Mina Nishimura, Neil Greenberg and others. Cathy Weis, a host with an irresistibly wry charm, occasionally shows her own video/dance gems. (Disclosure: I've participated in some of the past programs.)
Lingering Thoughts
• A woman leader for NYCB? The sexual misconduct maelstrom swept away Peter Martins, at least temporarily. A down-to-earth interim team of three young ballet masters and the resident choreographer has taken on responsibilities of artistic management. And we can't help but dream of the possibility of a woman taking over this storied company. Lord knows there are enough brilliant former NYCB female dancers who could handle it.
• A Plea for Editing: Choreographers are forgetting that when they ramble, they lose our attention. I saw several works by otherwise wonderful choreographers that ran way over their welcome. They started strong, with all kinds of reason to love the movement, then lost steam. My advice: Be less in love with every step you make. If you repeat phrases, have a good reason. Be aware of what other pieces/ballets are on the same program.
• Good call: Katlyn Addison sported an Afro in Ballet West's program of two contemporary ballets at The Joyce. Refreshing, considering how locked down the women's hair must be on most ballet stages.
• Same-sex duets just got more romantic: Most same-sex duets I've seen in the ballet world are kind of incidental. But Lauren Lovette, in her Not Our Fate, gave Taylor Stanley and Preston Chamblee a real-live falling-in-love duet that energized everything about the ballet relationships.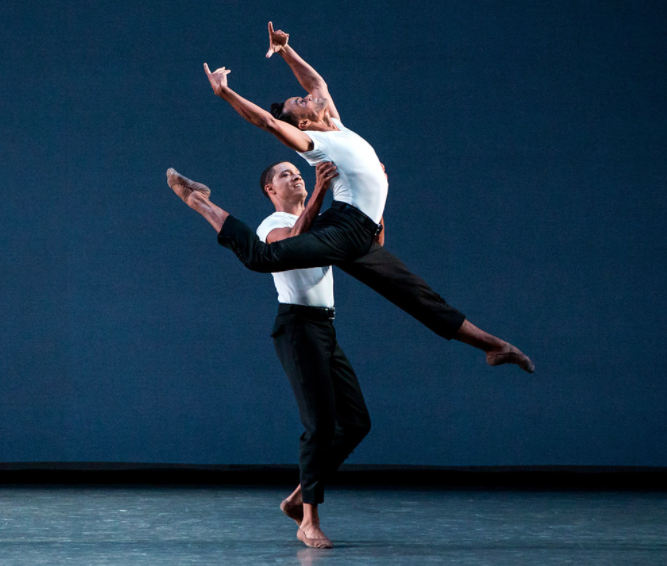 Taylor Stanley and Preston Chamblee in Not Our Fate, PC Paul Kolnik, courtesy NYCB
• Harbinger: NYCB's All-Robbins evening of three epic ballets, each in a completely different mood: Glass Pieces (1983), Moves (1984) and The Concert (1956). I never tire of seeing these works. Robbins starts with "ordinary" people doing ordinary things like walking and then builds to delicious heights of the imagination. A harbinger of the multi-faceted Robbins Centennial to come in 2018.
• Kudos to Julie Kent for speaking up in support of Marcelo Gomes. These days, as soon as a man is accused—even in the most vague, unsubstantiated way, of sexual misconduct—he is treated like a pariah. It's saddening to me that, because of an unproven claim from eight years ago that has nothing to do with ABT, Gomes has had to resign from the company he has given his life and artistry to for 20 years. Julie Kent, in her statement to The Washington Post, confirms my belief that, in addition to being a great dance artist, Gomes is a fine human being. Her deep love for him, which we saw when she presented the 2015 Dance Magazine Award to him, is obvious. Many of us feel the same.
Related Articles Around the Web
Courtesy Rachel Hamrick
When Rachel Hamrick was in the corps of Universal Ballet in Seoul, her determination to strengthen her flexibility turned into a side hobby that would eventually land her a new career. "I was in La Bayadere for the first time, and I was the first girl out for that arabesque sequence in The Kingdom of the Shades," she says. "I had the flexibility, but I was wobbly because I wasn't stretching in the right way. That's when I first started playing around with the idea of the Flexistretcher. It was tied together then, so it was definitely more makeshift," she says with a laugh, "But I trained with it to help me get the correct alignment so that I would have the strength to sustain the whole act."
Now, Hamrick is running her own business, complete with an ever-growing product line and her FLX training method—all because of her initial need to make it through 38 arabesques.
Keep reading...
Show less
The cast of Head Over Heels performs "We Got the Beat." Photo by Joan Marcus, Courtesy Boneau/Bryan-Brown.
For the new Broadway season, Ellenore Scott has scored two associate choreographer gigs: For Head Over Heels, which starts previews June 23, Scott is working with choreographer Spencer Liff on an original musical mashing up The Go-Go's punk-rock hits with a narrative based on Sir Philip Sidney's 1590 book, Arcadia. Four days after that show opens, she'll head into rehearsals for this fall's King Kong, collaborating with director/choreographer Drew McOnie and a 20-foot gorilla.
Scott gave us the inside scoop about Head Over Heels, the craziness of her freelance hustle and the most surprising element of working on Broadway.
Keep reading...
Show less
Get the print edition!
Just for Fun
Jun. 21, 2018 01:27PM EST
Including, of course, Center Stage (Screenshot via Vimeo)
Keep reading...
Show less
In rehearsal for Dreamgirls. Photo Courtesy DM Archives.
Broadway musicals have been on my mind for more than half a century. I discovered them in grade school, not in a theater but electronically. On the radio, every weeknight an otherwise boring local station would play a cast album in its entirety; on television, periodically Ed Sullivan's Sunday night variety show would feature an excerpt from the latest hit—numbers from Bye Bye Birdie, West Side Story, Camelot, Flower Drum Song.
But theater lives in the here and now, and I was in middle school when I attended my first Broadway musical, Gypsy—based, of all things, on the early life of the famed burlesque queen Gypsy Rose Lee. I didn't know who Jerome Robbins was, but I recognized genius when I saw it—kids morphing into adults as a dance number progresses, hilarious stripping routines, a pas de deux giving concrete shape to the romantic yearnings of an ugly duckling. It proved the birth of a lifelong habit, indulged for the last 18 years in the pages of this magazine. But all long runs eventually end, and it's time to say good-bye to the "On Broadway" column. It's not the last of our Broadway coverage—there's too much great work being created and performed, and you can count on hearing from me in print and online.
Keep reading...
Show less
Jeremy Pheiffer, Michael Watkiss in THEM, PC Rachel Papo
If you want to know how scary the AIDS epidemic was in the 1980s, come see Ishmael Houston-Jones' piece THEM from 1986. This piece reveals the subterranean fears that crept into gay relationships at the time. Houston-Jones is one of downtown's great improvisers, and his six dancers also improvise in response to his suggestions. With Chris Cochrane's edgy guitar riffs and Dennis Cooper's ominous text, there's an unpredictable, near-creepy but epic quality to THEM.
Keep reading...
Show less
Popular
Jun. 06, 2018 01:13PM EST
Stagestep's Encore hardwood flooring for full-service broadcast production facility, dance center and venue, Starwest, in Burbank, CA.
What is the right flooring system for us?

So many choices, companies, claims, endorsements, and recommendations to consider. The more you look, the more confusing it gets. Here is what you need to do. Here is what you need to know to get the flooring system suited to your needs.
Keep reading...
Show less
Catherine Conley is now a member of the National Ballet of Cuba. Photo courtesy Riley Robinson
This time last year, Catherine Conley was already living a ballet dancer's dream. After an exchange between her home ballet school in Chicago and the Cuban National Ballet School in Havana, she'd been invited to train in Cuba full-time. It was the opportunity of a lifetime, and one that was nearly unheard of for an American dancer. Now, though, Conley has even more exciting news: She's a full-fledged member of the National Ballet of Cuba's corps de ballet.
"In the school there were other foreigners, but in the company I'm the only foreigner—not just the only American, but the only non-Cuban," Conley says. But she doesn't feel like an outsider, or like a dancer embarking on a historic journey. "Nobody makes me feel different. They treat me as one of them," she says. Conley has become fluent in Spanish, and Cuba has come to feel like home. "The other day I was watching a movie that was dubbed in Spanish, and I understand absolutely everything now," she says.
Keep reading...
Show less
Get the print edition!
Aguirre taking a cooking class in Thailand. Photo courtesy Aguirre
Chantel Aguirre may call sunny Los Angeles home, but the Shaping Sound company member and NUVO faculty member spends more time in the air, on a tour bus or in a convention ballroom than she does in the City of Angels.
Aguirre, who is married to fellow Shaping Sound member Michael Keefe, generally only spends one week per month at home. "When I'm not working, I'm exploring," Aguirre says. "Michael and I are total travel junkies."
Keep reading...
Show less
Florence Welch and Akram Khan share the choreography credit for Florence + the Machine's new music video "Big God." Via Instagram @florence
Akram Khan and Florence Welch (of Florence + The Machine) is not a pairing we ever would have dreamt up. But now that the music video for "Big God" has dropped, with choreography attributed to Khan and Welch, it seems that we just weren't dreaming big enough.
In the video, Welch leads a group of women standing in an eerily reflective pool of water. They seem untouchable, until they begin shedding their colorful veils, movements morphing to become animalistic and aggressive as the song progresses.
Keep reading...
Show less
Savannah Lowery in George Balanchine's "Rubies." Photo by Paul Kolnik
Savannah Lowery is about as well acquainted with the inner workings of a hospital as she is with the intricate footwork of Dewdrop.
As a child, the former New York City Ballet soloist would roam the hospital where her parents worked, pushing buttons and probably getting into too much trouble, she says. While other girls her age were clad in tutus playing ballerina, she was playing doctor.
"It just felt like home. I think it made me not scared of medicine, not scared of a hospital," she says. "I thought it was fascinating what they did."
Keep reading...
Show less
Get the print edition!
Alice Sheppard photographed by Jayme Thornton for Dance Magazine
It can be hard to focus when Alice Sheppard dances.
Her recent sold-out run of DESCENT at New York Live Arts, for instance, offered a constellation of stimulation. Onstage was a large architectural ramp with an assortment of peaks and planes. There was an intricate lighting and projection design. There was a musical score that unfolded like an epic poem. There was a live score too: the sounds of Sheppard and fellow dancer Laurel Lawson's bodies interacting with the surfaces beneath them.
And there were wheelchairs. But if you think the wheelchairs are the center of this work, you're missing something vital about what Sheppard creates.

Keep reading...
Show less
News
Jun. 20, 2018 10:28AM EST
The Broadway revival of CATS. Photo by Matthew Murphy
A Jellicle Ball is coming to the big screen, with the unlikeliest of dancemakers on tap to choreograph.
We'll give you some hints: His choreography can aptly be described as "animalistic," though Jellicle cats have never come to mind specifically when watching his hyper-physical work. He's worked on movies before—even one about Beasts. And though contemporary ballet is his genre of choice, his choreography is certainly theatrical enough to lend itself to a musical.
Keep reading...
Show less


Get Dance Magazine in your inbox