What Dancers Eat
Nov. 22, 2017 11:45AM EST
We're Loving These Nutcracker-Themed Holiday Treats
'Tis the season to have some fun in the kitchen. If you want to get more creative than simply baking another pumpkin pie, try these Nutcracker-themed treats—created by and for dancers. These recipes from former Boston Ballet and Joffrey Ballet dancers were first published in Dance Magazine's December 1990 issue. Today, they're still guaranteed to turn any holiday party or dressing room into a true Land of the Sweets.
---
Mother Ginger Snaps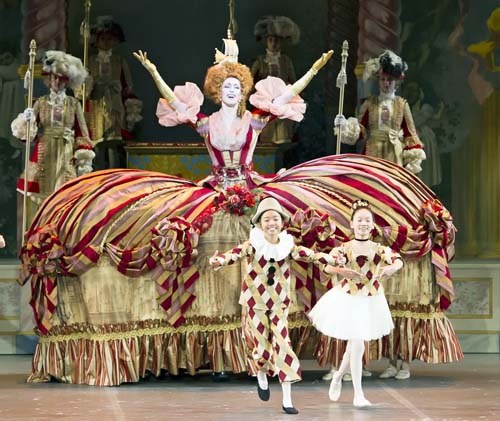 Courtesy Boston Ballet
Sift together:
2 cups sifted flour
1/2 tsp salt
3 tsp baking soda
1 tsp each: ground ginger, ground cloves, cinnamon
In a separate bowl mix:
3/4 cup shortening
1 cup sugar
1/4 cup dark molasses
1 egg, slightly beaten
Mix together wet and dry ingredients. Blend until dough is smooth. With a teaspoon, form dough into 1-inch balls. Roll the balls in sugar and place one inch apart on ungreased cookie sheets. Bake at 350 degrees for 8 to 10 minutes until brown. Let stand for five minutes, then remove cookies carefully. Yields four to five dozen.
Marzipan Soldiers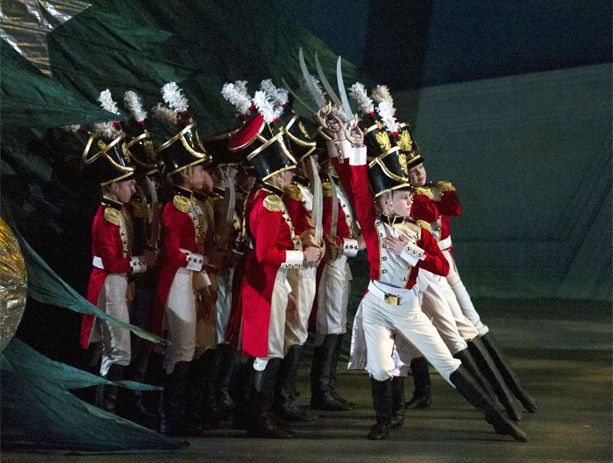 American Ballet Theatre soldiers, via BAM
Mix in a medium bowl:
3/4 cup flour
2 tsp cornstarch or potato flour
2 3/4 cup extrafine sugar
8 egg whites (add two at a time, beating well after each addition)
3/4 pound finely ground almonds
1/2 pound finely chopped candied orange peel
Press mixture through the cone of a pastry tube onto a buttered and floured baking sheet, using a decorative tip to create the shape of a soldier (1 1/2 inches across at most). Bake at 400 degrees for 12 to 15 minutes. Remove carefully from sheet while marzipan is still hot. May be decorated with colored sugar. Yields four to five dozen.
Waltz of the Flower Petals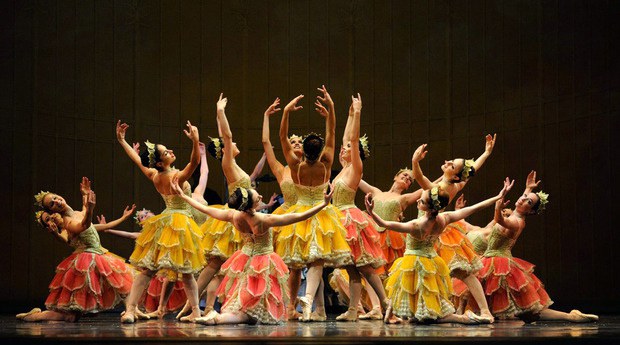 San Francisco Ballet in Waltz of the Flowers. Photo by Erik Tomasson
3 dozen unsprayed rose, violet or other flower petals
1 egg white
1 cup superfine sugar
Choose the petals for color and beauty of shape and make sure they are completely dry. Beat the egg white very lightly. Brush each petal with egg white on both sides and dip it lightly in the sugar. Put the petals on cake racks and dry them in a cool, dry place for two to three hours or overnight. Use as decorations for cakes or pastries.
Mouse King's Cheesecake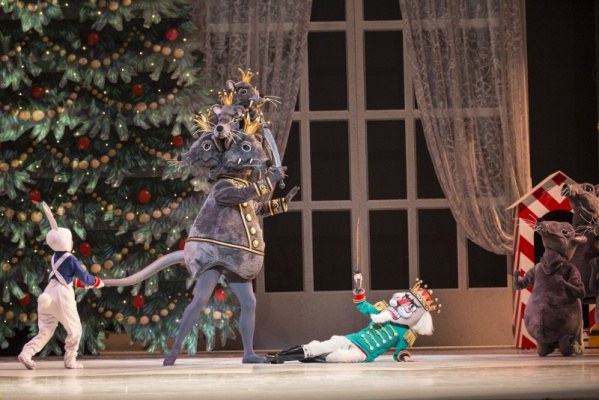 Pacific Northwest Ballet's mouse king. Photo by Angela Sterling.
Crust:
1 cup flour
1/2 cup sugar
1/4 cup butter
2 egg yolks
1 tbsp sour cream
1 tsp lemon rind
Mix together in bowl and put in refrigerator for 30 minutes, then press into an ungreased glass baking dish and bake at 350 degrees for 45 minutes.
Filling:
2 8-oz packages of cream cheese
1/2 cup sugar
2 egg yolks
4 egg whites
1 tsp vanilla
raisins, if desired
Place cream cheese in a bowl and let stand for several hours at room temperature until very soft. Mix in sugar and yolks. Beat whites until stiff and fold into batter, a little at a time. Add vanilla and raisins, if desired. Pour into baked crust and bake 40 minutes at 350 degrees.
Russian Tea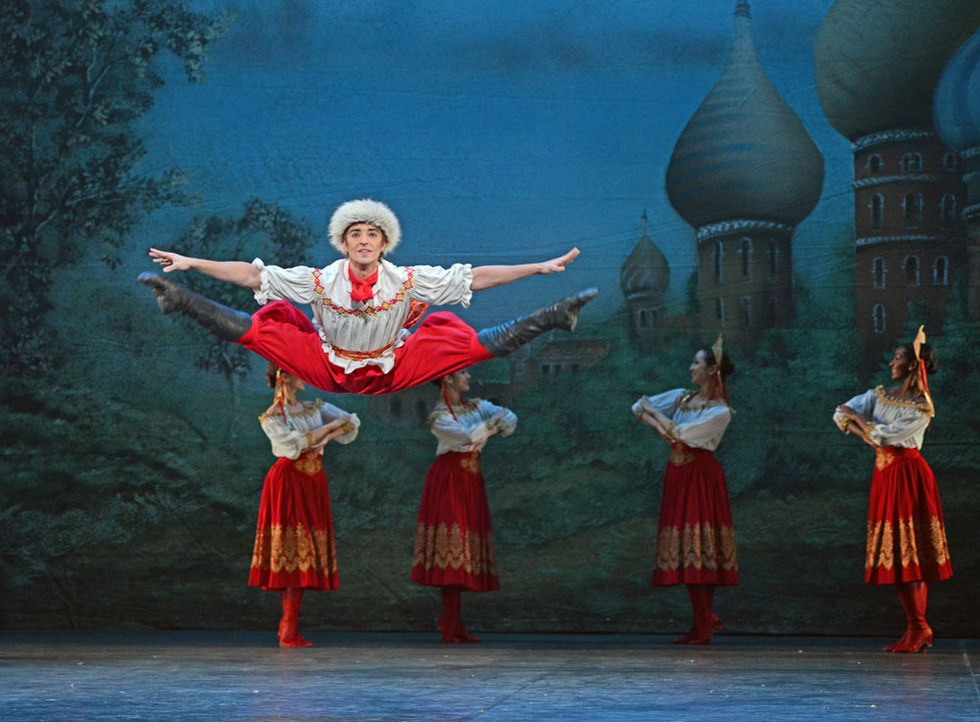 English National Ballet's Fernando Bufala. Photo by Dave Morgan
Brew strong tea. Place 1 tsp whole black cherry preserves or red plum preserves in a glass, and then fill glass with the tea.
Frothy Spanish Cocoa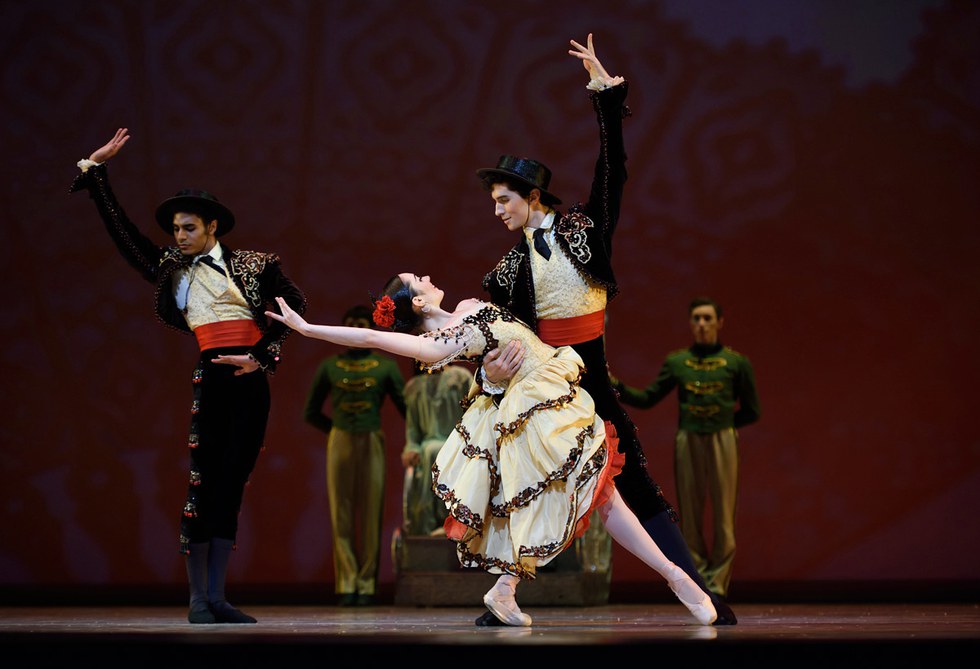 San Francisco Ballet, photo by Erik Tomasson
Whip cocoa and hot low-fat milk in a blender. Garnish with a zest of orange, cinnamon or a toasted marshmallow.
Fragrant Arabian Coffee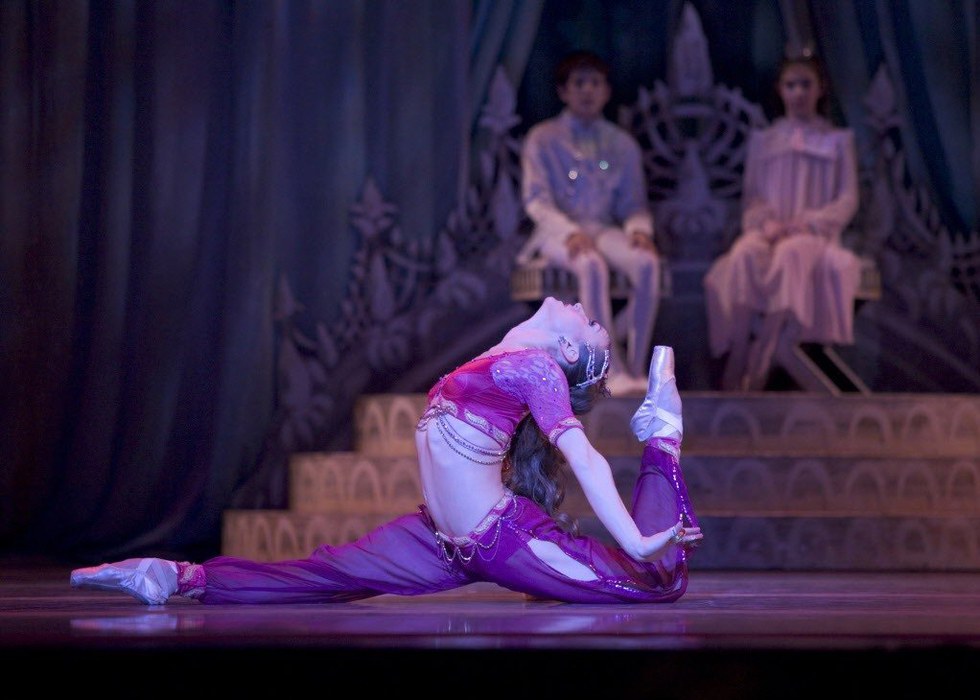 Oregon Ballet Theatre's Kathi Martuza, photo by Blaine Truitt Covert
Brew strong coffee. Crush four cardamom seeds in a cup and add zest of lemon before pouring coffee into cup.
Related Articles Around the Web
Maria Kochetkova blatantly breaks the not-eating-in-your-
Serenade
-costume rules with a personal pint backstage. Photo via
Instagram
One of the biggest myths about ballet dancers is that they don't eat. While we all know that, yes, there are those who do struggle with body image issues and eating disorders, most healthy dancers love food—and eat plenty of it to fuel their busy schedules.
Luckily for us, they're not afraid to show it:
Keep reading...
Show less
Popular
Apr. 24, 2018 03:00PM EST
Looking for your next audition shoe? Shot at and in collaboration with Broadway Dance Center, Só Dança has launched a new collection of shoes working with some pretty famous faces of the musical theater world! Offered in two different styles and either 2.5" or 3" heels, top industry professionals are loving how versatile and supportive these shoes are! Pro tip: The heel is centered under the body so you can feel confident and stable!
StockSnap
When I wrote about my struggle with depression, and eventual departure from dance because of it, I expected criticism. I was prepared to be challenged. But much to my relief, and horror, dancers from all over the world responded with support and stories of solidarity. The most critical response I saw was this one:
"Dance isn't for everyone."
This may as well be a mantra in the dance world. We have become entrenched in the Darwinian notion that the emotionally weak will be weeded out. There is no room for them anyway.
Keep reading...
Show less
Name calling, physical intimidation and cyberbullying are all-too-common experiences among male dancers. Photo by Goh Rhy Yan/Unsplash
Growing up in a family-owned dance studio in Missouri had its perks for tap dancer Anthony Russo. But it also earned him constant taunting, especially in high school.
"There was a junior in my sophomore year health class who was absolutely relentless," he says. "I'd get tripped on my way to the front of the classroom and he'd say, 'Watch out, twinkle toes.' If I raised my hand and answered a question incorrectly, I'd hear a patronizing 'Nice one, Bojangles.' "
Keep reading...
Show less
News
Apr. 25, 2018 12:01PM EST
Acosta Danza in Jorge Crecis' Twelve. Photo by Johan Persson, Courtesy Sadler's Wells
What does a superstar like Carlos Acosta do after bidding farewell to his career in classical ballet? In Acosta's case, he returns to his native country, Cuba, to funnel his fame, connections and prodigious energies back into the dance scene that formed him. Because of its top-notch, state-supported training programs and popular embrace of the art of dance, Cuba is brimming with talented dancers. What it has been short on, until recently, are opportunities outside of the mainstream companies, as well as access to a more international repertoire. That is changing now, and, with the creation of Acosta Danza, launched in 2016, Acosta is determined to open the doors even wider to new ideas and audiences.
Keep reading...
Show less
University of Kentucky students travel to Arts Advocacy Day in DC each year. PC Dana Rogers Photography
There's so much more to the dance world than making and performing dances. Arts administrators do everything from raising money to managing companies to building new audiences. With the growing number of arts administration programs in colleges, dancers have an opportunity to position themselves for a multifaceted career on- or offstage—and to bring their unique perspective as artists to administrative work.
Keep reading...
Show less


Get Dance Magazine in your inbox