Why Do We Let the Industry Tell Us What a Normal Dance Body Is?
Alana Grant, via Facebook
Earlier this week, I came across a daring post by London dancer Alana Grant, sharing her story of how she'd just gotten cut at an audition not because of her talent, but because the director decided she "wouldn't want to see her in hot pants on stage." How appalling, I thought as I jolted to share her post, feeling uneasy about the cruel, body-shaming reality of performing arts. As dancers, our canvas is our flesh and bones and we will always be judged on our appearance as well as our skills (whether we like it or not) because it's the mixture of those two qualities that make us who we are on stage.
But infinitely more appalling was a message I got from an acquaintance berating me for sharing Grant's story. He let me know that she had actually auditioned at his current company. Of course they wouldn't take her, he snickered in angry-red-face-emoji form, "because how could girls as fat as her ever expect to be lifted in the air by another dancer?" He wrote, "She should lose some weight before she even thinks about whining."
---
I gave it my all to try to understand how another performer could be so insensitive and clueless to the power dynamic at play here. As dancers, we are taught to meticulously analyze every point, shape and line on our bodies, trying to figure out what strengths we can play up to distract the eye from any parts that didn't win the genetic lottery. Meanwhile, we're constantly comparing our looks and abilities to those of other bodies around us every single day.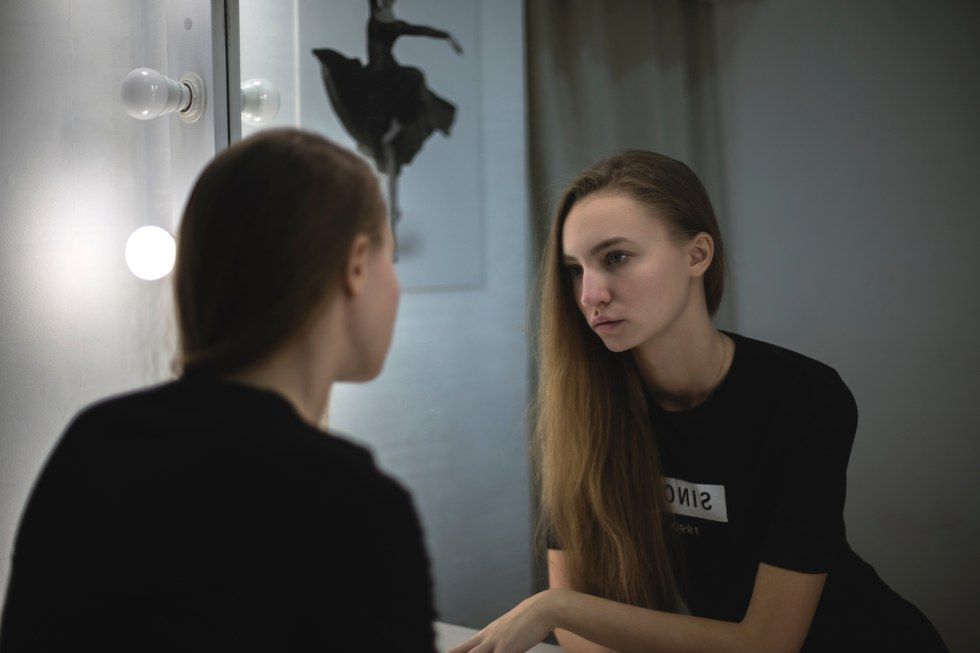 Ivan Obolensky/StockSnap
To tell Grant that she has the talent, but can only get a job if she eventually "sorts out" her body is cruel and shallow. To slam a fellow performer for speaking out about the scrutiny and discrimination we all face on a daily basis is unforgivable.
These actions are not only hideous examples of body shaming. Something much sinister, they aim to attack one's value, worth and freedom of expression. They make a statement that only some bodies are worthy of our gaze.
Sometimes the most interesting bodies are those that do not fit society's mold, physically or cerebrally. It is precisely those bodies that lead me to ask the following questions: Who gets to perform on a stage? Why is there one aesthetic ideal in the dance industry? Do I need to wait for the Pina Bausch company to come back to New York to witness dancers in their 50s and 60s on stage? Do I always need to go below 14th street to find performers that do not "look good" in hot pants on stage? How does looking good in hot pants on stage effectively enhance a production anyway?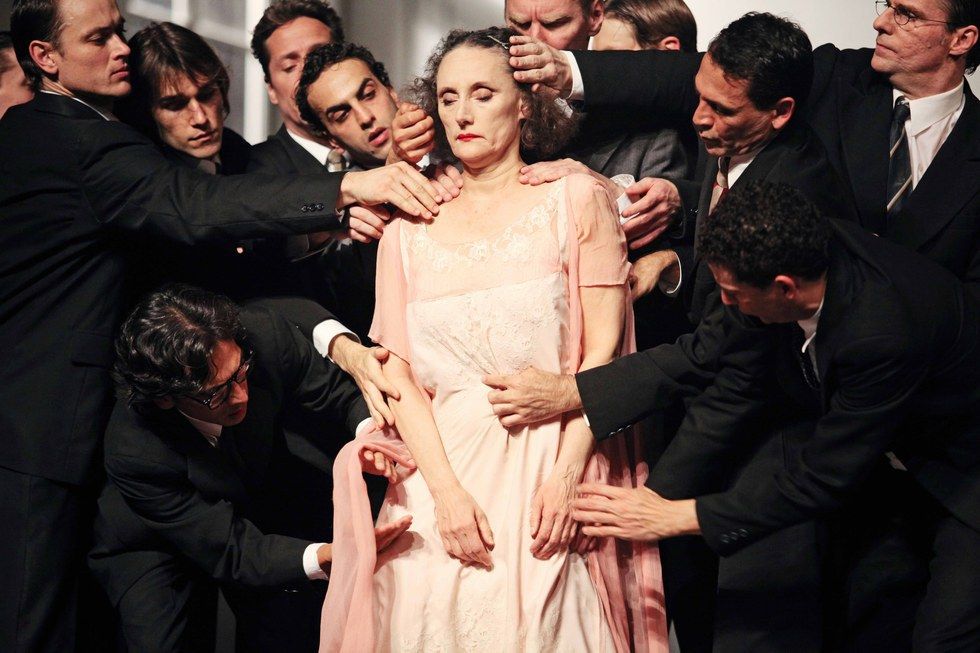 Nazareth Panadero and Tanztheater Wuppertal in Pina Bausch's Kontakthof. Photo by Julieta Cervantes, courtesy Brooklyn Academy of Music.
Some of my most inspiring colleagues are dancers who surprised me with the creative ways they work with the bodies they have. If someone older, younger, heavier, smaller, less experienced than you has learned to do something new, how can you think you've reached your body's limitations of expression?
We cannot help some of the power dynamics we are subjected to on a daily basis. But let's remind ourselves next time in class, rehearsal or auditions that one body is not inherently better than another just because of its type. The same movement does not automatically look better on a skinnier dancer.
Every time you think someone would dance better if they lost weight, ask yourself if it's that's really what you think and not a result of seeing the same body type repeatedly portrayed as "a dancer's body" on stage and screen over and over again. We are lost if we cannot see the effort, vulnerability and significance in each others' hard physical work. We have to offer each other support and advocacy in a way that our superiors can't or don't want to.
And as for the audience, representation on stage carries its own impact. I have had the privilege of performing with many brilliant female dancers who would be considered too large for our industry, and yet, every show there would be a handful of audience members so glad "to have seen someone normal shining on stage for a change." And at the end of the day, there should be no such thing as a normal or not normal performing body. We are all bodies that move, which is already significant.
Related Articles Around the Web
The "Merde" bag. Courtesy Scenery
Jennifer Kahn knew the theater industry could do better. As a professional stage manager for 17 years she worked on regional, off-Broadway and Broadway shows. Nearly each time a show closed, something unsettling happened: "I would watch them throw away our shows. All of the beautiful artwork by my friends in the paint shop would go in the trash." The elaborate backdrops? Gone.

But she had an idea: What if the material used in the backdrops and legs could be upcycled into something new? And what if theater lovers could literally keep a piece of a beloved show?
Keep reading...
Show less
Left: Hurricane Harvey damage in Houston Ballet's Dance Lab; Courtesy Harlequin. Right: The Dance Lab pre-Harvey; Nic Lehoux, Courtesy Houston Ballet.
"The show must go on" may be a platitude we use to get through everything from costume malfunctions to stormy moods. But when it came to overcoming a literal hurricane, Houston Ballet was buoyed by this mantra to go from devastated to dancing in a matter of weeks—with the help of Harlequin Floors, Houston Ballet's longstanding partner who sprang into action to build new floors in record time.
Keep reading...
Show less
News
Oct. 18, 2019 11:54AM EST
Photo by Gabriel Davalos, Courtesy Valdés
For decades the name Alicia Alonso has been virtually synonymous with Ballet Nacional de Cuba, the company she co-founded in Havana in 1948. Alonso died on October 17, just shy of what would have been her 99th birthday. In recent years, she had stepped back from day-to-day decision-making in the company. As if preparing for the future, in January, the company's leading ballerina, 42-year-old Viengsay Valdés, was named deputy director, a job that seems to encompass most of the responsibilities of a traditional director. Now, presumably, she will step into her new role as director of the company. Her debut as curator of the repertory comes in November, when the troupe will perform three mixed bills selected by her at the Gran Teatro de la Habana Alicia Alonso. The following has been translated from a conversation conducted in Spanish, Valdés' native tongue.
Keep reading...
Show less
Sara Mearns in the gym. Photo by Kyle Froman.
New York City Ballet principal Sara Mearns wasn't sure she was strong enough. A ballerina who has danced many demanding full-length and contemporary roles, she was about to push herself physically more than she thought was possible.
"I said, 'I can't. My body won't,' " she says. "He told me, 'Yes, it will.' "
She wasn't working with a ballet coach, but with personal trainer Joel Prouty, who was asking her to do squats with a heavier barbell than she'd ever used.
Keep reading...
Show less