Why There's Nothing Else Like The Bond Between Dancers
Off Beat at Beantown Tap Fest, via Instagram
At one point during my latest show, Unbound, I scamper offstage and disrobe as quickly as possible. Behind me, a friend I have known since we began taking dance class together 20 years ago (we danced to "The Color Song"; she was orange, I was purple) holds out a dress shirt for me to put my arms through. I start buttoning furiously while my dance partner, who was also one of my tap teachers for six years, holds out pants into which I step gingerly. While I fix my belt, she helps snake the microphone wire back up through my shirt so I can clip it into my collar and be back onstage in under a minute.

Among most groups of friends, this would be no ordinary—or comfortable—situation. But for me and the members of my company, Off Beat, it's a ritual that we're used to. We don't even think twice about the closeness, the vulnerability, the physical contact.
Dancers develop bonds unlike any other: Through our passion and commitment for our craft, and all the time we spend together, we develop our own family-like relationships that are almost impossible to explain to non-dancers.
---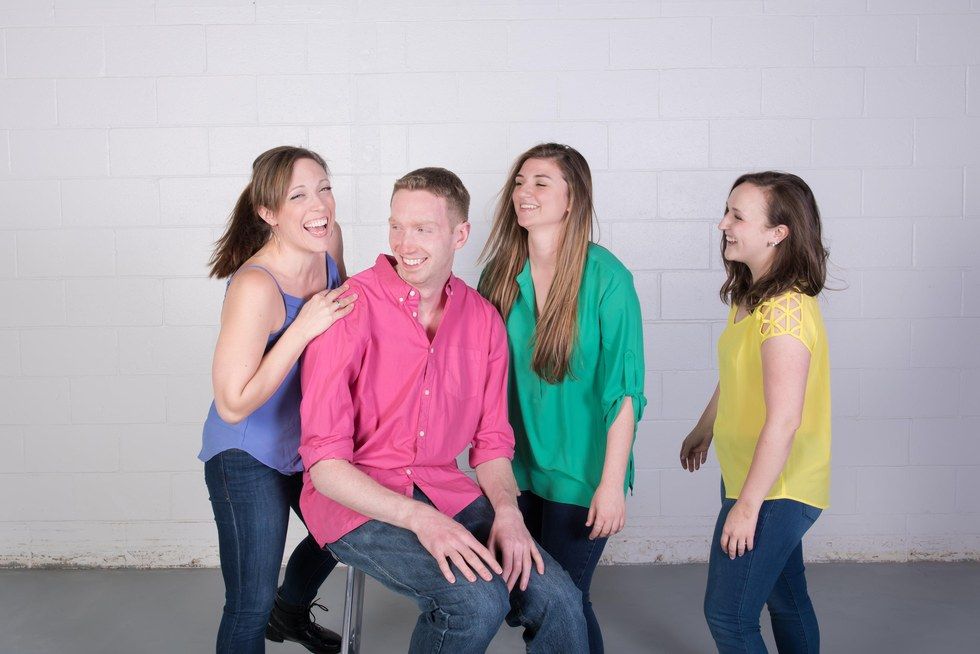 Cynthia Clayton, Courtesy Casey
I've had these ties for as long as I can remember. Like many young dancers who train intensively multiple days per week, my closest friends were my dance friends. They were the only people who could relate to eating dinner at 10 p.m., as though we operated on a European schedule; to spending Friday nights in rehearsal for a production number instead of at a birthday party or a concert; to reviewing tap rhythms under our desks during math class; to the satisfaction of finally nailing a triple pirouette or a syncopated pullback.
We wore our matching team jackets the same way some families might don matching sweaters for their Christmas card photo. We argued over whether the battement was on 8 or 8& not unlike how siblings might fight over who gets the car on Saturday night. We celebrated birthdays, mourned break-ups, even counseled a peer who thought she was pregnant.

For those of us who are still dancing together, now professionally, not much has changed. We spend hours in the studio, in cars and buses and trains, in dressing rooms. All that time together makes us aware of each other's idiosyncrasies (one of my dancers hates the smell of bubble gum), immune to physical boundaries (if your hand ends up on someone else's butt while figuring out a new partnering move, so be it) and reluctantly accustomed to eating everything from handfuls of nuts to munchkins for "lunch" during long rehearsal days (from where do the delicious bins of animal crackers at the studio always seem to materialize?).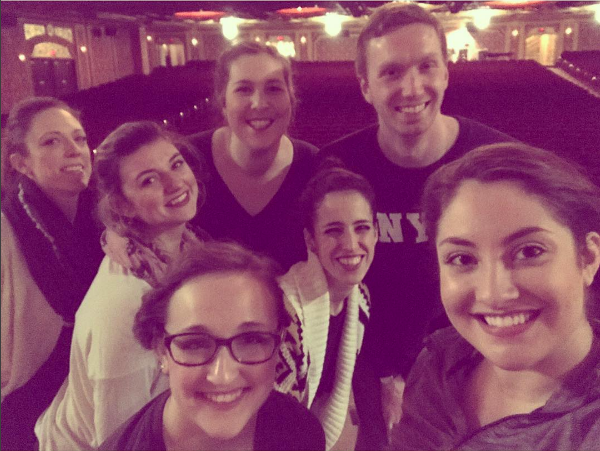 Post-performance in Providence, RI, via Instagram
Our relationships have developed as our work has developed: From being vulnerable and uncertain in front of each other while learning new material to sharing rooms and beds while on tour.

Unlike audience members, who only see me when I am onstage—joyous, focused, put-together—my company members see all sides of me: They see me when I am frustrated and defeated, stymied by what to do next in a piece whose vision I haven't yet clearly articulated. They see me when I'm moody and impatient during a long day of tech rehearsal and am trying to address unexpected difficulties while operating with low blood sugar. They see me exhausted, sweating, lugging props and set pieces down city streets and up stairs. They see me half-naked side stage during myriad quick changes, swearing furiously as a sock refuses to cooperate or my hand gropes wildly for the armhole of a shirt while my entrance cue looms ever closer.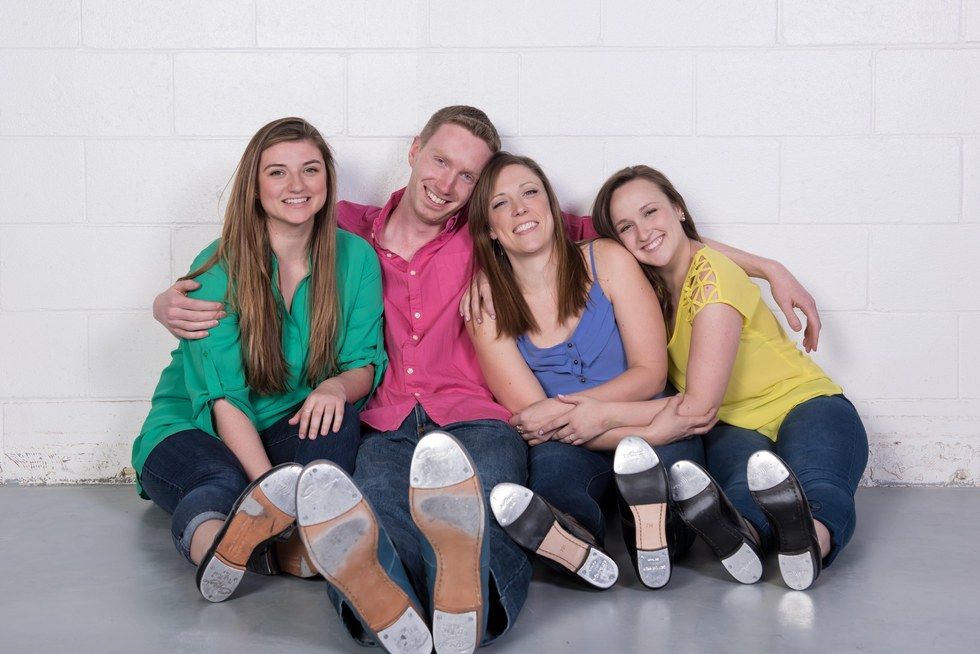 Cynthia Clayton, Courtesy Casey
The rhetoric of family especially pervades the tap community. Many female tappers I know refer to each other as "sis." Dianne Walker is known to many of us as "Aunt Dianne" for her role in mentoring generations of hoofers (I even have her listed in my phone as such). When a colleague talks about "the fam," I know exactly what he or she means. Many photos on my Instagram feed bear the hashtag #tapfam.

At one of the studios where I teach, The Dance Inn of Lexington, MA, we celebrated our graduating seniors this year by profiling each of them in a special social media post. They all wrote about what it meant to them to be a part of the studio's pre-professional company. One described it as "my extra family." Another said it was "like having a second family." A third dancer opined, "I genuinely feel a part of a family."

I'm so glad they've made this great discovery about dance. My hope for them, as they move on to whatever is next, is that they cherish these bonds throughout their lives, as I know I have. I hope they are encouraged, supported and emboldened by their dance family.
There's just nothing else like it.
Getty Images
The Australian Ballet's artistic health team has become a reference worldwide, and not just because they got David Hallberg back onstage after his two-year struggle with injuries. Their results speak for themselves: While foot stress fractures and hip arthroscopies are common elsewhere in the ballet world, The Australian Ballet hasn't had any in over a decade.
Dr. Sue Mayes, the company's principal physiotherapist since 1997 and director of the team, has developed a research-based approach that is now being emulated by other companies. In The Australian Ballet's state-of-the-art Melbourne health and fitness facility, she shared some of her best tips.
Keep reading...
Show less
UA Dance Ensemble members Candice Barth and Gregory Taylor in Jessica Lang's "Among the Stars." Photo by Ed Flores, courtesy University of Arizona
If you think becoming a trainee or apprentice is the only path to gaining experience in a dance company environment, think again.
The University of Arizona, located in the heart of Tucson, acclimates dancers to the pace and rigor of company life while offering all the academic opportunities of a globally-ranked university. If you're looking to get a head-start on your professional dance career—or to just have a college experience that balances company-level training and repertory with rigorous academics—the University of Arizona's undergraduate and graduate programs have myriad opportunites to offer:
Keep reading...
Show less
Alice Sheppard/Kinetic Light in DESCENT, which our readers chose as last year's "Most Moving Performance." Photo by Jay Newman, courtesy Kinetic Light
Yes, we realize it's only August. But we can't help but to already be musing about all the incredible dance happenings of 2019.
We're getting ready for our annual Readers' Choice feature, and we want to hear from you about the shows you can't stop thinking about, the dance videos that blew your mind and the artists you discovered this year who everyone should know about.
Keep reading...
Show less
Via @lizzo on Twitter
On August 20, pop goddess Lizzo tweeted, "Someone do a ballet routine to truth hurts pls," referring to the anthem that's been top on everyone's playlists this summer. Lizzo might not know it yet, but ballet dancers are not known for shying away from a challenge. In the past two days, the internet has exploded which responses, with dancers like Houston Ballet's Harper Watters and American Ballet Theatre's Erica Lall tagging the singer in submissions.
Below are a few of our favorites so far, but we're guessing that this is just the beginning. Ballet world, consider yourselves officially challenged! (Use #LizzoBalletChallenge so we know what you're up to.)
Keep reading...
Show less