An Unexpected (But Surprisingly Appropriate) Career Transition: From Dancer to Pro Wrestler
WWE diva "Naomi" in the ring. Photo via
wwe.com
Although the dance world has its fair share of divas, there is a different type of diva that's coming out of the dance studio.
"Diva" is the coined term for a female professional wrestler in the World Wrestling Entertainment organization. More than a few dancers—as well as gymnasts and cheerleaders—have taken their training and applied it to successful careers in this comical yet physically grueling art form.
---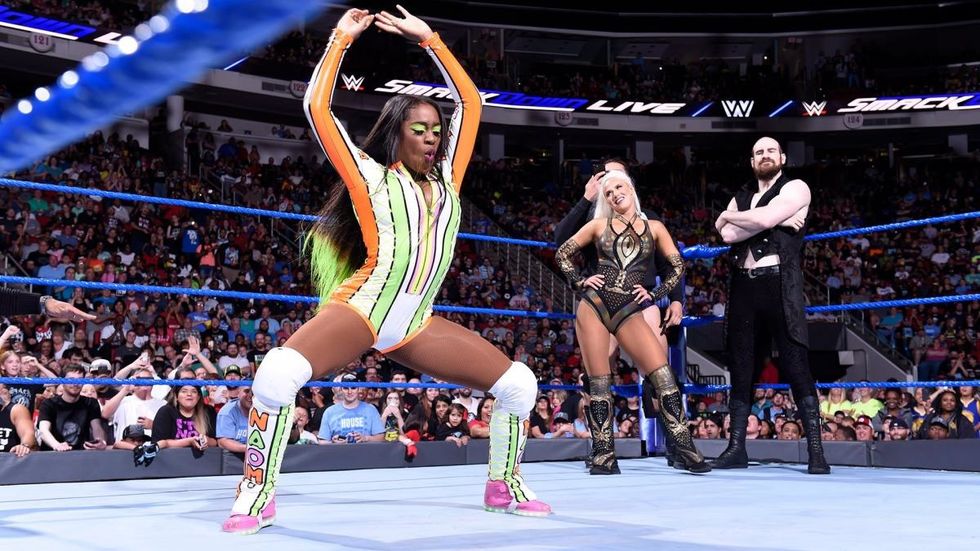 Dance-offs are all part of the fun and games
Newsflash: It's not all Hulk Hogan-style gimmicks.
Despite its reputation, professional wrestling is more similar to the dance world than you might think. It has a mix of intricate physicality and partner work with high levels of performance and storytelling.
Although wrestling is generally regarded as fake, a better description might be "scripted." Yes, the storylines are planned out, but the physicality is real. Professional wrestlers flip, dive, jump and fall—having undergone grueling training similar to that of dancers.
Professional wrestling has a huge cult following, viewed by millions of fans around the world. But a lot has changed since the 1980s golden age. It's no longer about over-the-top gimmicks and steroids. Today the WWE is comprised of some of the world's fittest athletes, including Ronda Rousey, an Olympic medalist and UFC Hall of Famer.
Professional wrestling is also currently in its self-proclaimed "women's evolution" era. WrestleMania, the super bowl of wrestling, featured a female matchup as its main event this year, the first time in its 35-year history.
Wrestling offers a new kind of performance venue.
"Naomi," aka Trinty Fatu, one of the top WWE Divas, used to be a backup dancer for hip hop artists like Flo Rida, and she performed with the Orlando Magic Dance Team. One day, the WWE came to the Orlando Magic's arena and she saw their show.
"When I saw the women perform, I was in awe," she says. "I didn't know much about wrestling, or even that women could do it." She realized it could be a perfect mix for her dance training and love of performance and athleticism.
Fatu does not shy away from her dance past. Like most dancers-turned-wrestlers, she uses her dance skills in her dramatic entrances into the stadium.
"When I first debuted, dancing was part of my gimmick and my character. It has helped me so much with wrestling," she says. Sometimes she even wears her dance uniform for matches. In-ring dance-offs between rivals are also common, such as the duel between Fatu and her noted rival and fellow dancer "Lana," aka Catherine Joy Perry.
Dancers may find the environment feels familiar—just less graceful.
Performance is an essential part in the training of professional wrestlers, which is echoed through its many reality wrestling competition shows. Two-time championship winner "Layla El"—a former dancer with Kayne West, P. Diddy and John Legend—was swept up in the world of WWE when she was convinced to try out for the WWE Diva Search in 2006. Although she did not win on the reality competition show, she was a fan favorite, and in the end, was offered a contract.
The family-like atmosphere of wrestling also feels familiar for dancers. "Coming from the dance world, you have to deal with locker room etiquette, big groups of girls and knowing how to respect each other," says Fatu. "To be able to get along with so many other different women and personalities, it's not always easy. I feel that is something that people struggle with more so than the physical part. I've just always been in that environment, so it wasn't a hard transition for me."
Fatu's advice for dancers interested in making the jump to wrestling? "I think dancers make the best wrestlers. The only hard part is, when you get to wrestling, it's time to not be as graceful. You have to become the complete opposite of graceful. But I think dancers pick it up quicker than anyone else."
Courtesy Macy's, Inc.
As you're prepping your Thanksgiving meal, why not throw in a dash of dance?
This year's Macy's Thanksgiving Day Parade is stuffed (pun intended) with performances from four stellar Broadway shows, the Radio City Rockettes and students from three New York City dance institutions.
Tune in to NBC November 28 from 9 am to noon (in all time zones), or catch the rebroadcast at 2 pm (also in all time zones). Here's what's in store:
Keep reading...
Show less
Ailey II artistic director Troy Powell teaching an Ailey Workshop at NYCDA. Courtesy NYCDA
Back in 2011 when Joe Lanteri first approached Katie Langan, chair of Marymount Manhattan College's dance department, about getting involved with New York City Dance Alliance, she was skeptical about the convention/competition world.
"But I was pleasantly surprised by the enormity of talent that was there," she says. "His goal was to start scholarship opportunities, and I said okay, I'm in."
Today, it's fair to say that Lanteri has far surpassed his goal of creating scholarship opportunities. But NYCDA has done so much more, bridging the gap between the convention world and the professional world by forging a wealth of partnerships with dance institutions from Marymount to The Ailey School to Complexions Contemporary Ballet and many more. There's a reason these companies and schools—some of whom otherwise may not see themselves as aligned with the convention/competition world—keep deepening their relationships with NYCDA.
Now, college scholarships are just one of many ways NYCDA has gone beyond the typical weekend-long convention experience and created life-changing opportunities for students. We rounded up some of the most notable ones:
Keep reading...
Show less
Sergei Polunin. Photo by British Broadcasting Corporation and Polunin Ltd., Courtesy Sundance Selects.
Last week, Variety reported that Sergei Polunin would reunite with the team behind Dancer for another documentary. "Where 'Dancer' looked at his whole life, family and influences," director Steven Cantor said, " 'Satori' will focus more squarely on his creative process as performer and, for the first time ever, choreographer." The title references a poorly received evening of work by the same name first presented by Polunin in 2017. (It recently toured to Moscow and St. Petersburg.)
I cannot be the only person wondering why we should care.
Keep reading...
Show less
Left: Hurricane Harvey damage in Houston Ballet's Dance Lab; Courtesy Harlequin. Right: The Dance Lab pre-Harvey; Nic Lehoux, Courtesy Houston Ballet.
"The show must go on" may be a platitude we use to get through everything from costume malfunctions to stormy moods. But when it came to overcoming a literal hurricane, Houston Ballet was buoyed by this mantra to go from devastated to dancing in a matter of weeks—with the help of Harlequin Floors, Houston Ballet's longstanding partner who sprang into action to build new floors in record time.
Keep reading...
Show less