An Unexpected (But Surprisingly Appropriate) Career Transition: From Dancer to Pro Wrestler
WWE diva "Naomi" in the ring. Photo via
wwe.com
Although the dance world has its fair share of divas, there is a different type of diva that's coming out of the dance studio.
"Diva" is the coined term for a female professional wrestler in the World Wrestling Entertainment organization. More than a few dancers—as well as gymnasts and cheerleaders—have taken their training and applied it to successful careers in this comical yet physically grueling art form.
---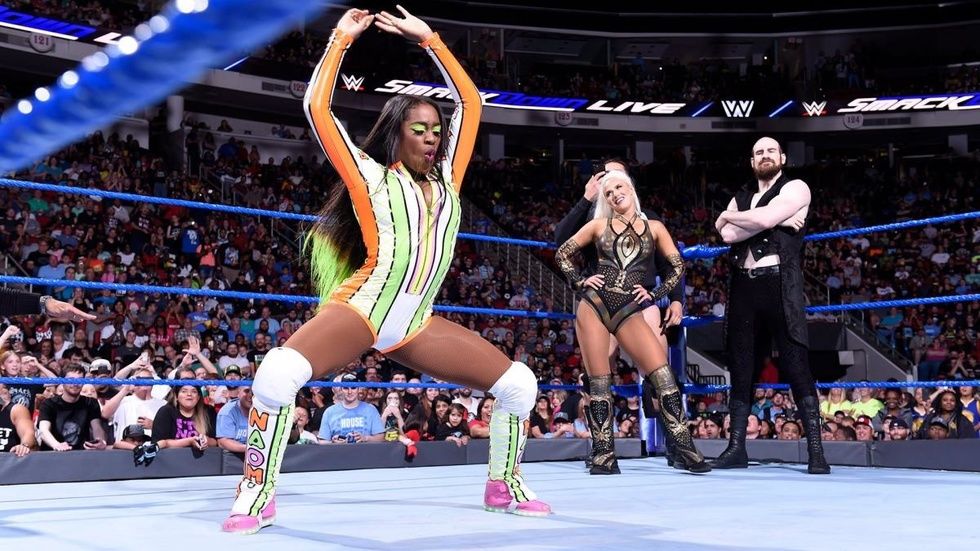 Dance-offs are all part of the fun and games
Newsflash: It's not all Hulk Hogan-style gimmicks.
Despite its reputation, professional wrestling is more similar to the dance world than you might think. It has a mix of intricate physicality and partner work with high levels of performance and storytelling.
Although wrestling is generally regarded as fake, a better description might be "scripted." Yes, the storylines are planned out, but the physicality is real. Professional wrestlers flip, dive, jump and fall—having undergone grueling training similar to that of dancers.
Professional wrestling has a huge cult following, viewed by millions of fans around the world. But a lot has changed since the 1980s golden age. It's no longer about over-the-top gimmicks and steroids. Today the WWE is comprised of some of the world's fittest athletes, including Ronda Rousey, an Olympic medalist and UFC Hall of Famer.
Professional wrestling is also currently in its self-proclaimed "women's evolution" era. WrestleMania, the super bowl of wrestling, featured a female matchup as its main event this year, the first time in its 35-year history.
Wrestling offers a new kind of performance venue.
"Naomi," aka Trinty Fatu, one of the top WWE Divas, used to be a backup dancer for hip hop artists like Flo Rida, and she performed with the Orlando Magic Dance Team. One day, the WWE came to the Orlando Magic's arena and she saw their show.
"When I saw the women perform, I was in awe," she says. "I didn't know much about wrestling, or even that women could do it." She realized it could be a perfect mix for her dance training and love of performance and athleticism.
Fatu does not shy away from her dance past. Like most dancers-turned-wrestlers, she uses her dance skills in her dramatic entrances into the stadium.
"When I first debuted, dancing was part of my gimmick and my character. It has helped me so much with wrestling," she says. Sometimes she even wears her dance uniform for matches. In-ring dance-offs between rivals are also common, such as the duel between Fatu and her noted rival and fellow dancer "Lana," aka Catherine Joy Perry.
Dancers may find the environment feels familiar—just less graceful.
Performance is an essential part in the training of professional wrestlers, which is echoed through its many reality wrestling competition shows. Two-time championship winner "Layla El"—a former dancer with Kayne West, P. Diddy and John Legend—was swept up in the world of WWE when she was convinced to try out for the WWE Diva Search in 2006. Although she did not win on the reality competition show, she was a fan favorite, and in the end, was offered a contract.
The family-like atmosphere of wrestling also feels familiar for dancers. "Coming from the dance world, you have to deal with locker room etiquette, big groups of girls and knowing how to respect each other," says Fatu. "To be able to get along with so many other different women and personalities, it's not always easy. I feel that is something that people struggle with more so than the physical part. I've just always been in that environment, so it wasn't a hard transition for me."
Fatu's advice for dancers interested in making the jump to wrestling? "I think dancers make the best wrestlers. The only hard part is, when you get to wrestling, it's time to not be as graceful. You have to become the complete opposite of graceful. But I think dancers pick it up quicker than anyone else."
A flyer showing Alberto Alonso, Fernando Alonso, Benjamin Steinberg and Alicia Alonso. Photo courtesy the author
Alicia has died. I walked around my apartment feeling her spirit, but knowing something had changed utterly.
My father, the late conductor Benjamin Steinberg, was the first music director of the Ballet de Cuba, as it was called then. I grew up in Vedado on la Calle 1ra y doce in a building called Vista al Mar. My family lived there from 1959 to 1963. My days were filled with watching Alicia teach class, rehearse and dance. She was everything: hilarious, serious, dramatic, passionate and elegiac. You lost yourself and found yourself when you loved her.
Keep reading...
Show less
Left: Hurricane Harvey damage in Houston Ballet's Dance Lab; Courtesy Harlequin. Right: The Dance Lab pre-Harvey; Nic Lehoux, Courtesy Houston Ballet.
"The show must go on" may be a platitude we use to get through everything from costume malfunctions to stormy moods. But when it came to overcoming a literal hurricane, Houston Ballet was buoyed by this mantra to go from devastated to dancing in a matter of weeks—with the help of Harlequin Floors, Houston Ballet's longstanding partner who sprang into action to build new floors in record time.
Keep reading...
Show less
Hansuke Yamamoto in Helgi Tomasson's Nutcracker at San Francisco Ballet, which features an exciting and respectful Chinese divertissement. Photo by Erik Tomasson, Courtesy SFB
It's Nutcracker time again: the season of sweet delights and a sparkling good time—if we're able to ignore the sour taste left behind by the outdated racial stereotypes so often portrayed in the second act.
In 2017, as a result of a growing list of letters from audience members, to New York City Ballet's ballet master in chief Peter Martins reached out to us asking for assistance on how to modify the elements of Chinese caricature in George Balanchine's The Nutcracker. Following that conversation, we founded the Final Bow for Yellowface pledge that states, "I love ballet as an art form, and acknowledge that to achieve a diversity amongst our artists, audiences, donors, students, volunteers, and staff, I am committed to eliminating outdated and offensive stereotypes of Asians (Yellowface) on our stages."
Keep reading...
Show less
Allegra Bautista in Nevertheless, by ka·nei·see | collective. Photo by Robbie Sweeny
An audience member once emailed Dallas choreographer Joshua L. Peugh, claiming his work was vulgar. It complained that he shouldn't be pushing his agenda. As the artistic director of Dark Circles Contemporary Dance, Peugh's recent choreography largely deals with LGBTQ issues.
"I got angry when I saw that email, wrote my angry response, deleted it, and then went back and explained to him that that's exactly why I should be making those works," says Peugh.
With the current political climate as polarized as it is, many artists today feel compelled to use their work to speak out on issues they care deeply about. But touring with a message is not for the faint of heart. From considerations about how to market the work to concerns about safety, touring to cities where, in general, that message may not be so welcome, requires companies to figure out how they'll respond to opposition.
Keep reading...
Show less