What It's Like Dancing Between Palestine and New York City
Jamil Sehwail and Creamart via ysdt.org
One of the only paid contemporary dance companies in Palestine, Yaa Samar! Dance Theatre faces logistical challenges that most American companies could never imagine. Nearly 30 to 40 percent of YSDT programming is cancelled—sometimes on performance days—due to artist visa denials, local violence, or because the company is participating in solidarity strikes with their communities.
But when the show does go on, it is all worth it. "The dancers have a space where they can focus, perform an act of solidarity…it is a safe haven for them," says associate artistic director Zoe Rabinowitz.
---
Choreographer Samar Haddad King founded Yaa Samar! Dance Theatre in New York in 2005, after studying in the Ailey/Fordham BFA program. Born in Alabama to a Palestinian mother, she relocated to Palestine in 2010 due to her husband's denied American visa request.
"I never would have guessed that my life would lead me back to my mother's home," says King. Her company now operates between Palestine and New York City. While the move seemed like an obstacle, new opportunities have presented themselves in unexpected ways. In 2011, she created bound via Skype rehearsals with her New York dancers, delving into the experience of separation and featuring a projected Skype conversation between long-distance lovers.
Despite the overseas challenges, King has found a way to operate YSDT in a fluid, multinational, multilingual way (she speaks both English and Arabic). Building her company in a new country required King hire new YSDT dancers in Palestine. Meanwhile, associate artistic director Rabinowitz remains dedicated to the company in New York City. Together the pair has grown YSDT into an international touring presence, with dancers traveling from both locations to perform together.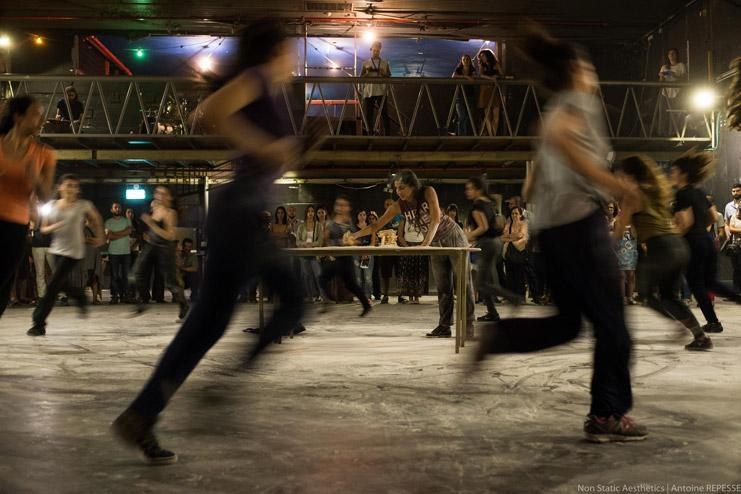 non/static aesthetics. Photo by Antoine Repesse via ysdt.org
King has immersed herself in the Palestinian dance community, developing ballet curriculum for Sareyyet Ramallah—an organization dedicated to cultural growth in Palestinian communities—and she is now one of the premier ballet teachers in the country. Formal dance training in Palestine is minimal, and many of the dancers she works with are self-taught street dancers who learn hip-hop from YouTube. "We see a lot of talent and desire—dance is everywhere here—but training is very limited for young people," explains Rabinowitz.
In 2015, King and two YSDT artists created a site-specific work, non/static aesthetics, in collaboration with 16 young Palestinian women from both sides of the Israeli West Bank wall. The piece was presented in non-traditional spaces throughout Palestine to discover beauty within ruins. This summer, YSDT launches its first summer intensive program in Nazareth.
YSDT's newest piece, directed by King and Amir Nizar Zuabi, Against a Hard Surface premiered during the Ramallah Contemporary Dance Festival and internationally during the Theater der Welt festival in Hamburg. Featuring a giant onstage wall that dancers climb up, ram into or throw their bodies against, the piece is a powerful statement.

But King's aim is to tell universal stories, to spark dialogue and provide an experience. "Conflict and fragmentation are present everywhere; what interests me is finding ways to mobilize and connect individuals and artists through creative projects," says King. "There should always be movement."
Looking for your next audition shoe? Shot at and in collaboration with Broadway Dance Center, Só Dança has launched a new collection of shoes working with some pretty famous faces of the musical theater world! Offered in two different styles and either 2.5" or 3" heels, top industry professionals are loving how versatile and supportive these shoes are! Pro tip: The heel is centered under the body so you can feel confident and stable!
Photo via the Hammer Museum
Keep reading...
Show less
StockSnap
When I wrote about my struggle with depression, and eventual departure from dance because of it, I expected criticism. I was prepared to be challenged. But much to my relief, and horror, dancers from all over the world responded with support and stories of solidarity. The most critical response I saw was this one:
"Dance isn't for everyone."
This may as well be a mantra in the dance world. We have become entrenched in the Darwinian notion that the emotionally weak will be weeded out. There is no room for them anyway.
Keep reading...
Show less
Cover Story
Apr. 16, 2018 04:00PM EST
Robert Fairchild is jumping into the next phase of his career feet-first. Photo by Jayme Thornton
In his final bow at New York City Ballet, during what should have been a heroic conclusion to a celebrated ballet career, Robert Fairchild slipped and fell. His reaction? To lie down flat on his back like he meant to do it. Then start cracking up at himself.
"He's such a ham," says his sister Megan Fairchild, with a laugh. "He's really good at selling whatever his body is doing that day. He'll turn a moment that I would totally go home and cry about into something where the audience is like, 'That's the most amazing thing ever!' "

Keep reading...
Show less
"There is a palpable sense of hope for the future." Photo by Devin Alberda via
Instagram
New York City Ballet continues its first year without Peter Martins at the helm as our spring season opens tonight.
When he retired at the start of the new year, we plunged headfirst into unknown, murky waters. Who would the new director be? When would we know? Would we dancers get some say in the decision? Who would oversee the Balanchine ballets? Who would be in charge of casting? Would a new director bring along huge upheaval? Could some of us be out of a job?
Keep reading...
Show less
Broad is Orlando Ballet's first dancer named artist in residence. Photo by Michael Cairns, Courtesy Orlando Ballet.
In the world of ballet, Arcadian Broad is a one-stop shop: He'll come up with a story, compose its music, choreograph the movement and dance it himself. But then Broad has always been a master of versatility. As a teenager he juggled school, dance and—after the departure of his father—financial responsibility. It was Broad's income from dancing that kept his family afloat. Fast-forward six years and things are far more stable. Broad now lives on his own in an apartment, but you can usually find him in the studio.
Keep reading...
Show less


Get Dance Magazine in your inbox