News
Jan. 08, 2018 11:18AM EST
What's New in the Windy City? 3 Big Takeaways from Elevate Chicago Dance
NIC Kay performs pushit: an exercise in getting well soon at the Dorchester Art + Housing Collaborative during Elevate Chicago Dance. Photo by Zachary Whittenburg.
Having spent most of the past 15 years in Chicago, I can confidently say that Elevate Chicago Dance was the most comprehensive celebration of the city's dance scene this century. A dozen events packed 10 venues for three full days, featuring the work of more than 150 performers, representing nearly 40 locally-based dance artists and organizations. Nearly all were recipients of Lab Artist Awards from Chicago Dancemakers Forum, or had been selected to participate in a Regional Dance Development Initiative that CDF and the New England Foundation for the Arts launched in partnership in 2015.
It was an occasion to recognize how vibrant and diverse Chicago's contemporary dance community is today, spurred in large part by CDF's Lab Artist Program, which awards to up to six dancemakers $15,000 each and will mark its 15th anniversary later this year. (Choreographers can apply now through February 6.)
---
While avid dance fans were likely familiar with at least some of the works presented during Elevate—most of them being current repertory or in-progress, as opposed to premieres—certain things only came into focus once I had an opportunity to take in the bigger picture all at once.
1. Trendwatch: No Trends
More than ever, Chicago dance artists resist the urge to follow each others' leads. Sure, the ensembles ATOM-r and The Humans are both working with video projections, but you'd be hard-pressed to name even one way in which they're using them in the same manner. NIC Kay and Zephyr Dance both presented site-specific pieces, but while Kay used movement to transform indoor and outdoor spaces from the body outward, Zephyr's dancers explored limitations imposed upon them by architect David Sundry's installation. Ginger Krebs, also an accomplished visual artist working in multiple media, creates and builds props and costume pieces to more specifically illustrate her choreographic ideas; Onye Ozuzu's current project begins in many ways within objects and tools, which in turn generate and inform her movement material.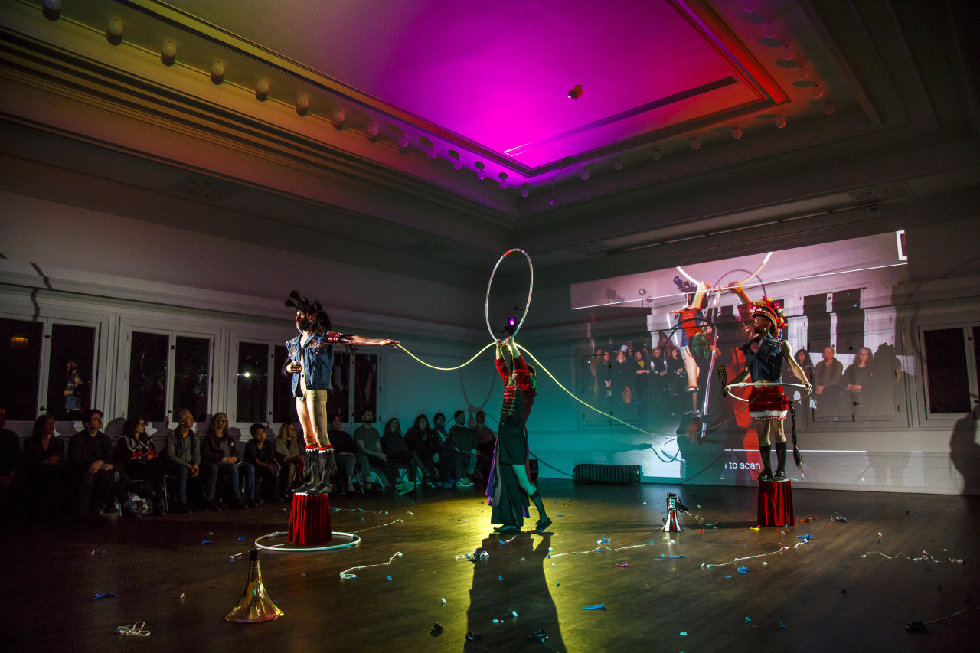 ATOM-r in Kjell Theøry at the Graham Foundation for Advanced Studies in the Fine Arts with, from left, Justin Deschamps, Judd Morrissey, and Christopher Knowlton. Photo © Grace DuVal.
2. No Single Center of Gravity
Those who, like me, sought to experience as much of Elevate as they could spent a lot of time traveling from place to place, in one of the biggest cities in the country. Elevate's producers intentionally avoided bestowing "hub status" on any one venue or institution, in order to underscore the geographic spread of places where dance happens in Chicago, and to highlight the many ways in which the works reflect and live within different communities and neighborhoods.
Elevate's first day included performances at the South Shore Cultural Center, a majestic Chicago Park District fieldhouse closer to Indiana than to downtown; studio showings the following morning were at Loyola Park, equally far north of the Loop. In between, on the West Side, we visited Defibrillator Performance Gallery (dfbrl8r) and Links Hall, in addition to events at the Dorchester Art + Housing Collaborative and High Concept Labs—two strong examples of the adaptive reuse craze that's a key driver of this city's building boom.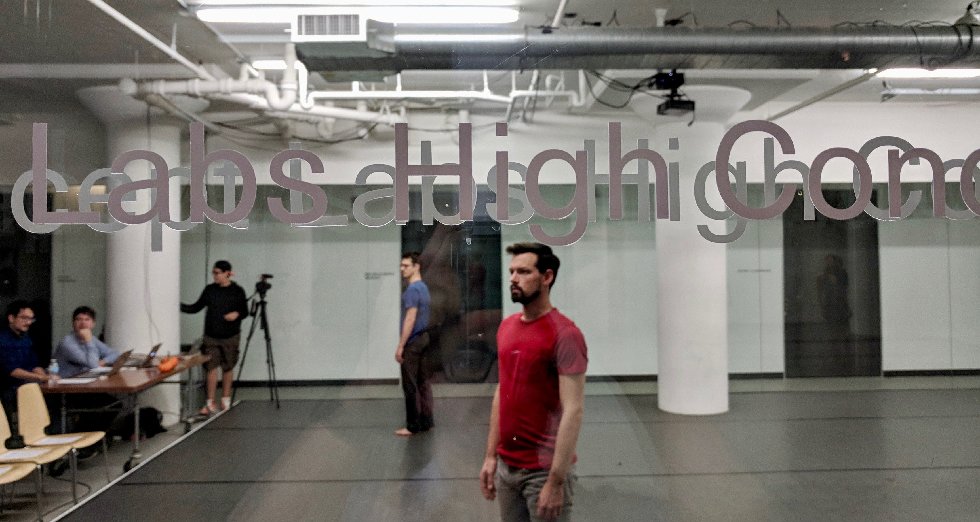 Christopher Knowlton, foreground, and Matthew McMunn at High Concept Labs with, seated at left, Hugh Sato and Ryan Ingebritsen. Photo by Zachary Whittenburg.
3. Versatility in Vogue
One of the great pleasures of Elevate Chicago Dance was seeing busy freelance artists reappear throughout the festival, in works by multiple choreographers. Since these pieces more often than not had very little in common (see point number one), Elevate served as a useful reminder of how versatile Chicago's dancers are—and need to be.
In Mycelial: Street Parliament from Erica Mott Productions, Christopher Knowlton was the responsive avatar of digital information being processed live; in ATOM-r's Kjell Theøry the night before, he was extravagantly costumed in a bicorne hat, spinning dervishly with a giant hoop. Nejla Yatkin returned for Mycelial: Street Parliament after showing her own solo, What Dreams May Come, and videos from her many collaborations overseas. Zachary Nicol performed two works back-to-back, fighting for glory while wearing an acid-green sash in Krebs' Soft Parade, then switching gears to execute tasks and structured improvisations in Joanna Furnans' Genuine Fake. (Nicol also appeared onscreen in The Startled Faction, a new film by Catherine Sullivan.)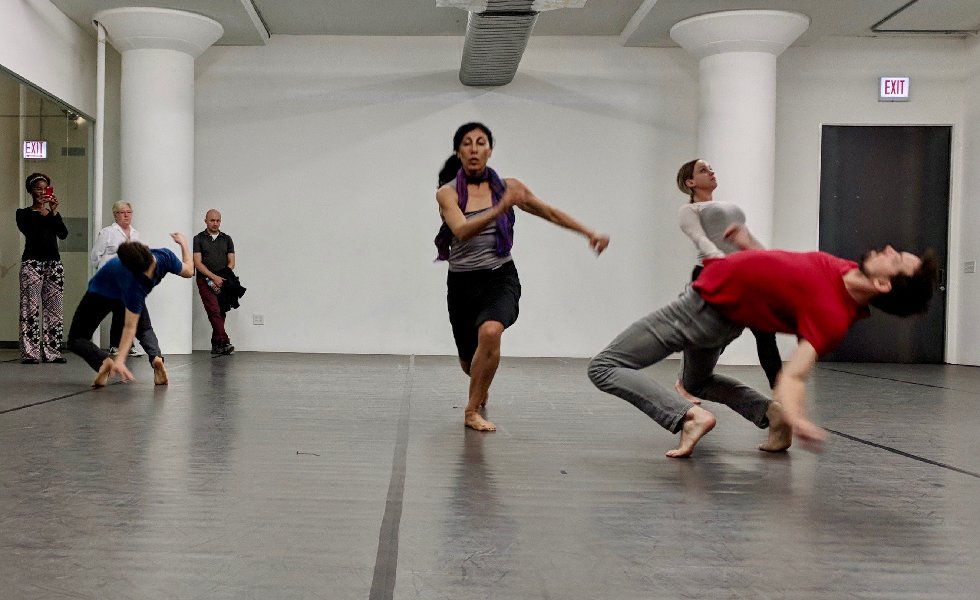 Erica Mott Productions, Mycelial: Street Parliament with, from left, Matthew McMunn, Nejla Yatkin, Michelle Broecker, and Christopher Knowlton. Photo by Zachary Whittenburg.
For a detailed rundown of each event, and further conclusions, click here to read a Summary Journal of Elevate Chicago Dance online at chicagodancemakers.org.
Related Articles Around the Web
Ian Douglas; courtesy Sarah Haarmann. Performing with Pam Tanowitz Dance at The Joyce Theater
Sarah Haarmann stands out without trying to. There is a precision and lack of affectation in her dancing that is very Merce Cunningham. Her movement quality is sharp and clear; her stage presence utterly focused. It's no wonder she caught Mark Morris' eye. Even though she still considers herself "very much the new girl" at Mark Morris Dance Group (she became a full-time member in August 2017), in a recent performance of Layla and Majnun, Haarmann seemed completely in her element.
Company: Mark Morris Dance Group
Age: 27
Hometown: Macungie, Pennsylvania
Training: Lehigh Valley Charter High School for the Performing Arts and Marymount Manhattan College
Keep reading...
Show less
Reframing high-stakes auditions as learning opportunities can make you a better auditioner. Photo by Jim Lafferty.
In 2012, freelance contemporary dancer Adrianne Chu made a major career change: She decided to try out for A Chorus Line. "Even though I didn't get the job, I felt like I was meant to do this," says Chu. So she started going to at least one musical theater audition every weekday, treating each as a learning experience. After several years of building up her resumé, Chu's practice paid off: She booked a starring role as Wendy in the first national tour of Finding Neverland.
Approaching auditions as learning opportunities, especially when you're trying to break into a different style or are new to the profession, can sharpen your skills while helping you avoid burnout. It also builds confidence for the auditions that matter most.
Keep reading...
Show less
How do you warmup? Photo by Jim Lafferty
For many dancers, a "warmup" consists of sitting on the floor stretching their legs in various positions. But this strategy only reduces your muscles' ability to work properly—it negatively affects your strength, endurance, balance and speed for up to an hour.
Save your flexibility training for the end of the day. Instead, follow a warmup that will actually help prevent injury and improve your body's performance.
According to the International Association of Dance Medicine and Science, a smart warmup has four parts: "a gentle pulse-raising section, a joint mobilization section, a muscle lengthening section and a strength/balance building section."
Keep reading...
Show less
Screenshot via YouTube
Keep reading...
Show less
This year, IABD launched a new ballet audition for men of color
Last month, the International Association of Blacks in Dance's third annual ballet audition for women of color was expanded to include a separate audition for men.
The brainchild of Joan Myers Brown (founder of both Philadanco and IABD), the women's audition was created to specifically address the lack of black females in ballet. However, the success and attention that audition drew made the men feel left out, so IABD decided to give the men equal time this year.
Keep reading...
Show less
Students participated in all aspects of Veränderung, from choreography to costumes. Photo by Uwe Stratmann, Courtesy Tanztheater Wuppertal.
Pina Bausch's unique form of German Tanztheater is known for raising questions. Amid water and soil, barstools and balloons, the late choreographer's work contains a distinct tinge of mystery and confrontation. Today, Tanztheater Wuppertal Pina Bausch's dancers use questions as fuel for creativity. The company's most recent project introduced a new group of performers to the stage: local high school ninth-graders from the Gesamtschule Barmen in Wuppertal, Germany, in an original work-in-progress performance called Veränderung (Change).
Keep reading...
Show less


Get Dance Magazine in your inbox