7 Habits Your Podiatrist Wishes You Would Quit
Stretching feet the wrong way will only lead to injury. Photo by Thinkstock
When caring for your feet or trying to make them look good, it's tempting to seek shortcuts. Bad ideas—like dangerous stretches that promise perfect lines or ointments that were never meant to go on your toes—catch on all too easily backstage.
We asked podiatrists who've seen their dance clients try it all share the habits they'd like to see gone for good.
---
Using Anesthetics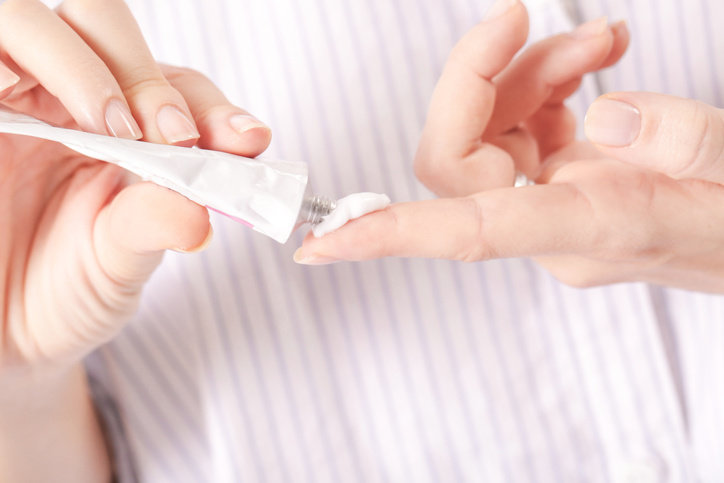 Numbing ointments can mask infections. Photo by Thinkstock
Numbing agents like lidocaine or benzocaine—the active ingredient in Orajel—should never be applied to corns or blisters. These products can lead to serious skin infections. Thomas Novella, a podiatrist in New York City, says he has sent dancers to the hospital to be treated for blood infections from infected corns masked by lidocaine. If corns become painful, see a podiatrist.
Defaulting to the Same Shoe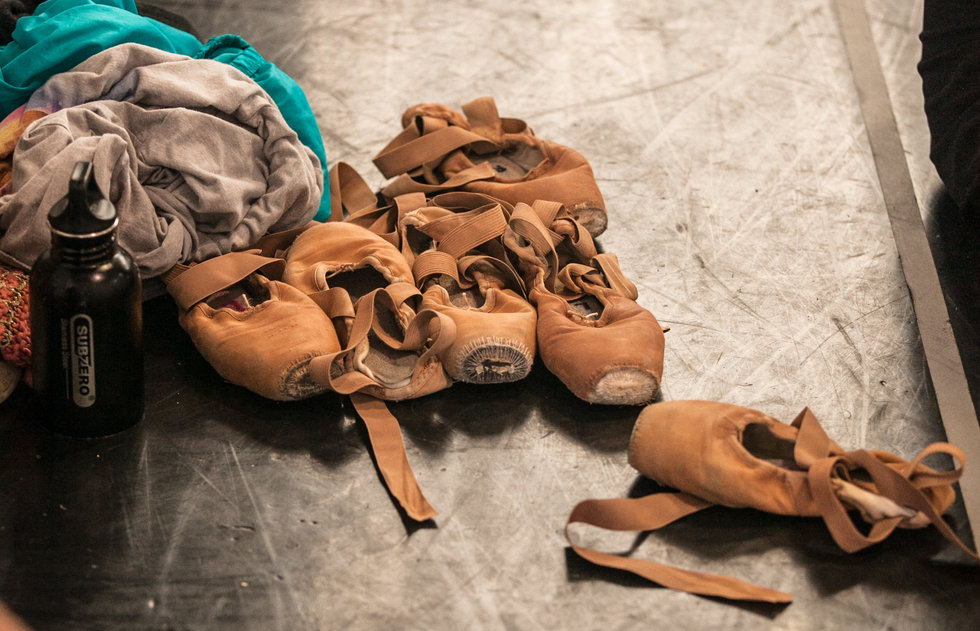 Getting re-fit for pointe shoes could help you find a better option. Photo by Quinn Wharton.
Ordering online may save time and money when replacing pointe shoes, but don't assume that if you've been fitted once you're set for life. Dancers, especially students, should get professionally refitted for pointe shoes once a year, says Frank Sinkoe, an Atlanta podiatrist who specializes in dance medicine. In particular, see a fitter if you're experiencing foot pain. Your feet may have changed.
Getting Foot Peels and Pedicures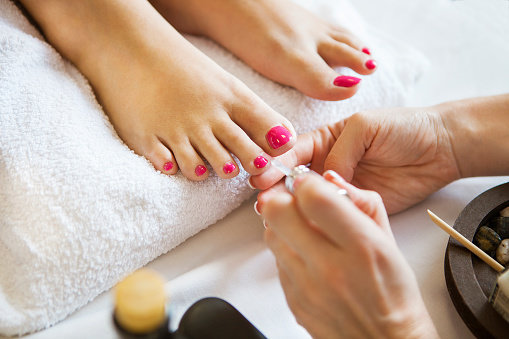 Taking care of your own toenails is safer than going to the salon. Photo by Thinkstock.
Thick or painful calluses can be removed by a podiatrist, but otherwise leave them alone. Novella suggests skipping the salon altogether: The pedicurist may cut the sides of your nails too far back into the grooves of the nail bed or push back your cuticles, both of which can expose protected parts of the toes to infection or lead to ingrown toenails. If you do go, ask the pedicurist not to be aggressive with pushing back the cuticles or separating the skin from the nail, says Sinkoe.
Overstretching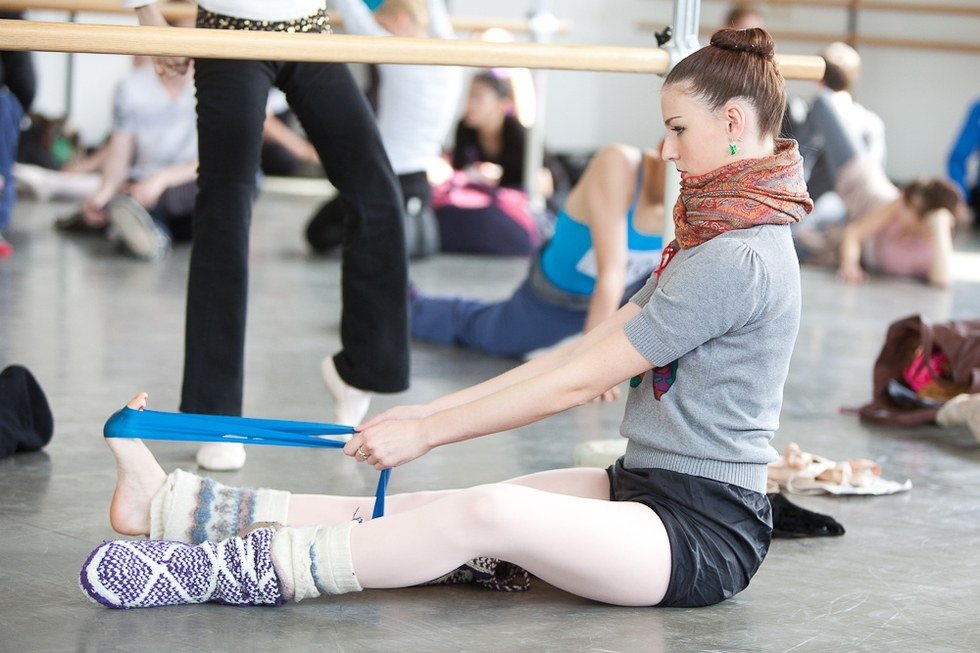 Strengthening will do more for your feet than stretching. Photo by Matthew Murphy for Pointe.
Sticking feet under the piano or couch is a quick route to injury, not more beautiful arches. The gliding joints of the mid-foot, Sinkoe explains, cannot be forced to bend like the hinge joints of the toes, and bending a foot like that can damage ligaments or cause tiny bone pieces to break off. "It's muscles within the foot that, if contracted properly, will arch the foot," Sinkoe says. Keep up the Thera-Band exercises, doming and towel scrunching with straight toes to make those muscles stronger.
Assuming It's Infected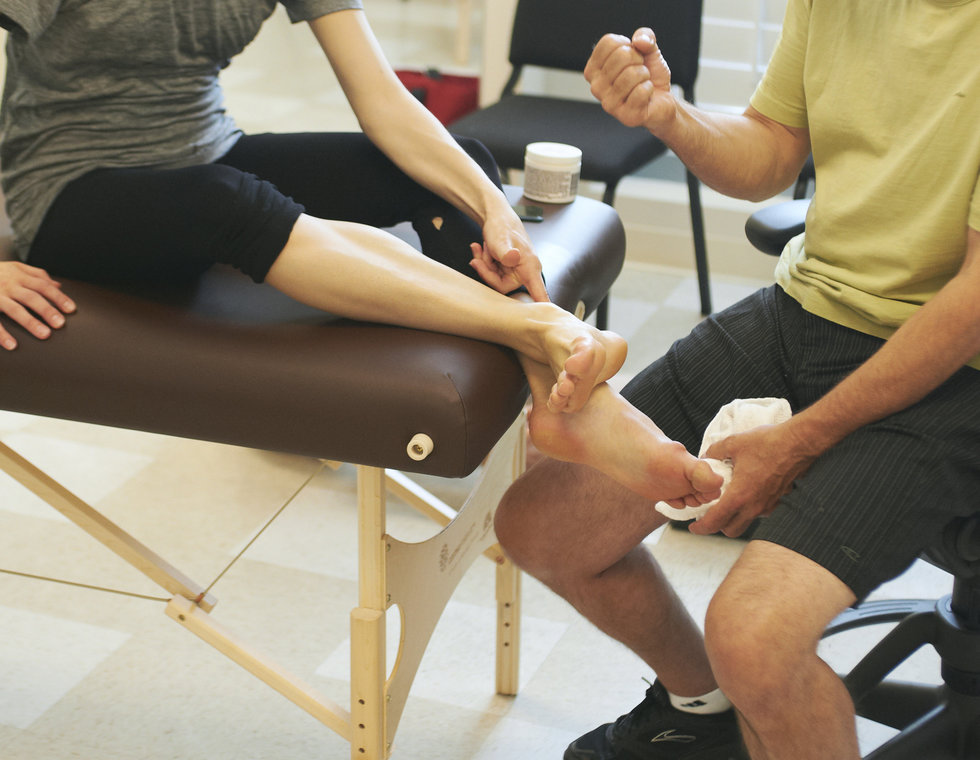 Treating for infection could make allergic reactions worse. Photo by Jim Lafferty
An infected area will be red, swollen, painful and warm, says Novella. If one of those four criteria is not met, it could be something else, like an allergic reaction. See a podiatrist to be sure. Some people are allergic to Neosporin, for example, and if you keep applying the antibiotic ointment to what you think is an infection, you'll only be making it worse.
Sacrificing Safety for Looks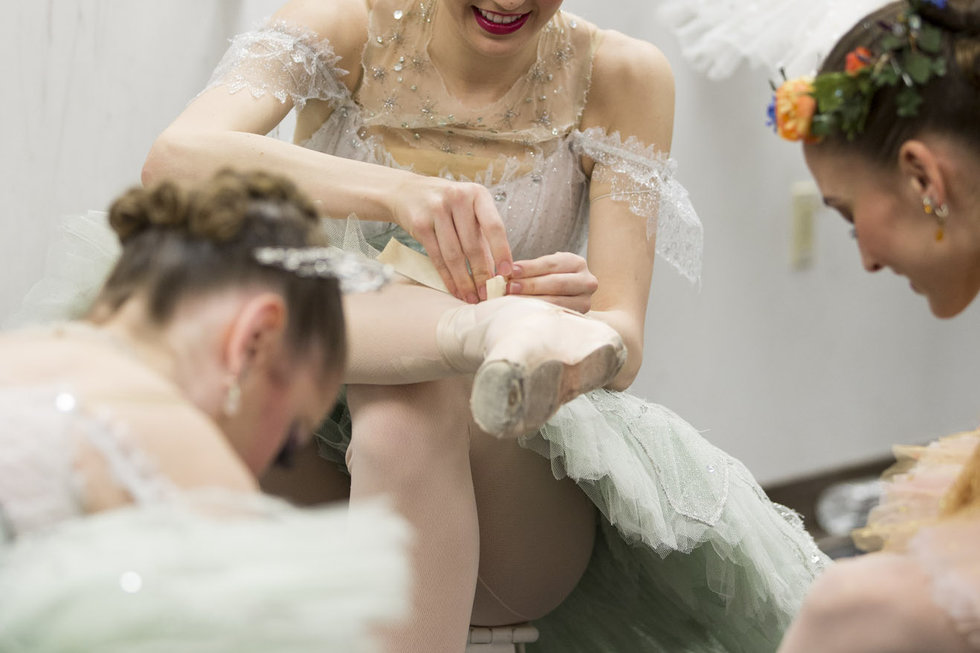 Smart sewing provides better ankle support. Photo by Erik Ostling for Pointe
Sewing your pointe shoe ribbons closer to your arch may exaggerate the shape of your foot. But that tailoring undermines the ribbons' ankle support, says Novella. Similarly, three-quarter–shanking pointe shoes by cutting away the heel increases strain on the mid-foot, potentially causing pain and making you more vulnerable to injury.
Massacring Your Blisters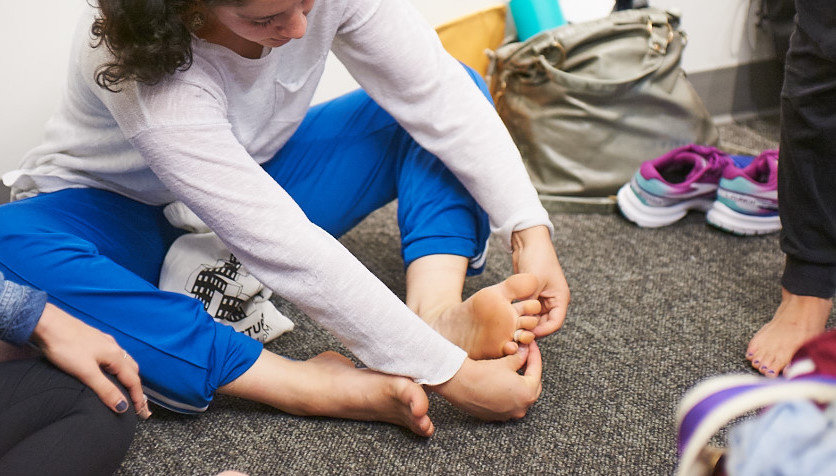 If you need to drain a blister, leave on the layer of skin that protects it, and cover with a bandage before class. Photo by Jim Lafferty
Sometimes a blister just has to go. If it's clear—a red blood blister should be left alone or seen by a podiatrist—you can puncture it with a sterilized needle and gently drain the fluid. But don't remove the roof, the layer of skin covering the blister. Leave that natural protective barrier on, let the drained blister air out, then dress with antibiotic ointment and bandage for class as necessary.
Related Articles Around the Web
Irina Dvorovenko's latest role: Playing Elizaveta Grushinskaya in Grand Hotel at New York City Center. Photo by Joan Marcus, Courtesy New York City Center.
Whether playing a saucy soubrette or an imperious swan, Irina Dvorovenko was always a formidable presence on the American Ballet Theatre stage. Since her 2013 retirement at 39, after 16 seasons, she's been bringing that intensity to an acting career in roles ranging from, well, Russian ballerinas to the Soviet-era newcomer she plays in the FX spy series "The Americans."
We caught up with her after tech rehearsal for the Encores! presentation of the musical Grand Hotel, directed and choreographed by Josh Rhodes and running March 21–25 at New York City Center. It's another tempestuous ballerina role for Dvorovenko—Elizaveta Grushinskaya, on her seventh farewell tour, resentfully checks into the Berlin hostelry of the title with her entourage, only to fall for a handsome young baron and sing "Bonjour, Amour."
Keep reading...
Show less
Photos via Instagram
When Andrew Montgomery first saw the Las Vegas hit Le Rêve - The Dream 10 years ago, he knew he had to be a part of the show one day. Eight years later, he auditioned, and made it to the last round of cuts. On his way home, still waiting to hear whether he'd been cast, he was in a motorcycle accident that ended up costing him half his leg.
But Montgomery's story doesn't end the way you might think. Today, he's a cast member of Le Rêve, where he does acrobatics and aerial work, swims (yes, the show takes places in and around a large pool) and dances, all with his prosthetic leg.
Keep reading...
Show less
When you spend as much time on the road as The Royal Ballet's Steven McRae, getting access to a proper gym can be a hassle. To stay fit, the Australian-born principal turns to calisthenics—the old-school art of developing aerobic ability and strength with little to no equipment.
"It's basically just using your own body weight," McRae explains. "In terms of partnering, I'm not going to dance with a ballerina who is bigger than me, so if I can sustain my own body weight, then in my head I should be fine."
Keep reading...
Show less
Rant & Rave
Mar. 08, 2018 04:18PM EST
Is this the turning point when we'll finally see an end to dancer mistreatment? Photo by Gez Xavier Mansfield/Unsplash
Last week in a piece I wrote about the drama at English National Ballet, I pointed out that many of the accusations against artistic director Tamara Rojo—screaming at dancers, giving them the silent treatment, taking away roles without explanation—were, unfortunately, pretty standard practice in the ballet world:
If it's a conversation we're going to have, we can't only point the finger at ENB.
The line provoked a pretty strong response. Professional dancers, students and administrators reached out to me, making it clear that it's a conversation they want to have. Several shared their personal stories of experiencing abusive behavior.
Christopher Hampson, artistic director of the Scottish Ballet, wrote his thoughts about the issue on his company's website on Monday:
Keep reading...
Show less
Cover Story
Mar. 19, 2018 09:15AM EST
Jayme Thornton
Camille A. Brown is on an impressive streak: In October, the Ford Foundation named her an Art of Change fellow. In November, she won an AUDELCO ("Viv") Award for her choreography in the musical Bella: An American Tall Tale. On December 1, her Camille A. Brown & Dancers made its debut at the Kennedy Center, and two days later she was back in New York City to see her choreography in the opening of Broadway's Once on This Island. Weeks later, it was announced that she was choreographing NBC's live television musical Jesus Christ Superstar Live in Concert, to air on April 1.
An extraordinarily private person, few knew that during this time Brown was in the midst of a health crisis. It started with an upset stomach while performing with her company on tour last summer.
"I was drinking ginger ale, thinking that I would feel better," she says. Finally, the pain became so acute that she went to the emergency room in Mississippi. Her appendix had burst. "Until then, I didn't know it was serious," she says. "I'm a dancer—aches and pains don't keep you from work."
Keep reading...
Show less
Ballez class staples include no mirrors and barres arranged in a circle. Photo by Elyssa Goodman, Courtesy Pyle
A flock of polyamorous princes, a chorus of queer dying swans, a dominatrix witch: These are a few of the characters that populate the works of Katy Pyle, who, with her Brooklyn-based company Ballez, has been uprooting ballet's gender conventions since 2011.
Historically, ballet has not allowed for the expression of lesbian, transgender or gender-nonconforming identities. With Ballez, Pyle is reinventing the classical canon on more inclusive terms. Her work stems from a deep love of ballet and, at the same time, a frustration with its limits on acceptable body types and on the stories it traditionally tells.
Keep reading...
Show less


Get Dance Magazine in your inbox