Got Tight Hips? 5 Exercises to Find Relief
Jim Lafferty
When a muscle is tight, most dancers' natural response is to stretch it. But when it comes to your hip flexors, stretching won't provide a long-term cure, and it could even make the problem worse if the muscle is inflamed.
Often, a more effective fix is building strength in the stabilizing muscles. As a Pilates instructor who specializes in working with dancers, here are five of my favorite exercises to relieve hip tightness—and increase mobility.
---
Toe Taps on a Foam Roller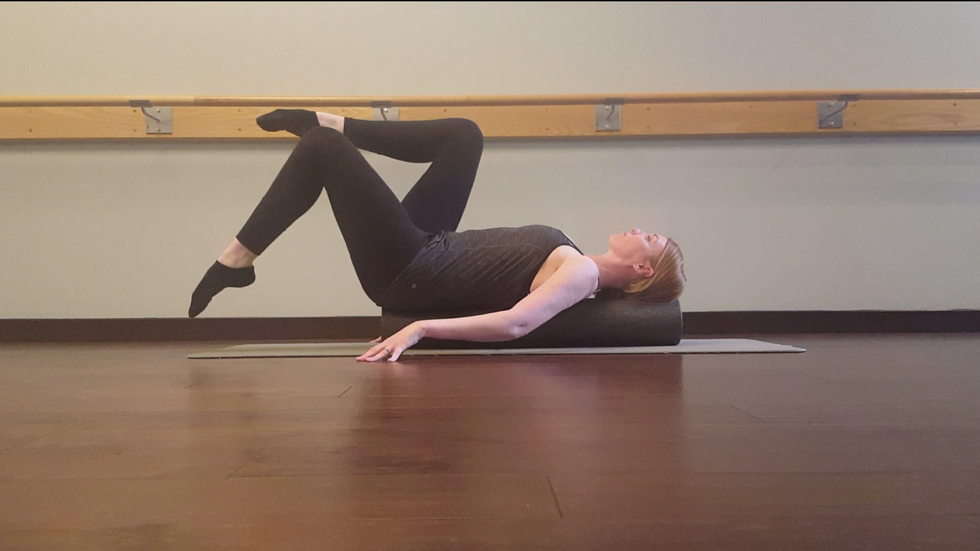 1. Lie on a foam roller in the center of your head and spine. Start with your legs in tabletop position, your pelvis neutral and your fingertips resting on the floor.
2. Keeping your torso still and abdominals flat, lower one leg toward the floor. Go only as far as torso position can be maintained.
3. Return to tabletop, then repeat with opposite leg. Aim for 6–8 taps on each leg, alternating each time.
Single Leg Extension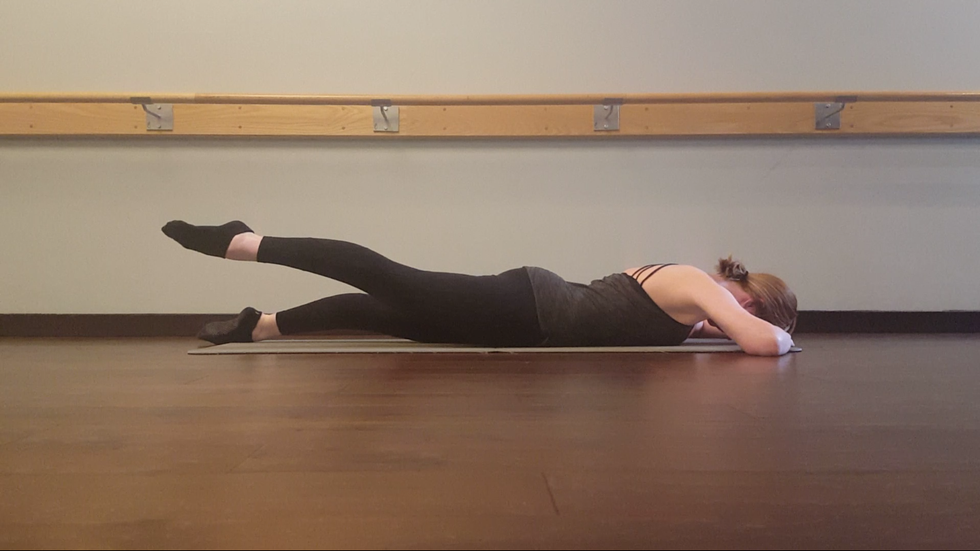 1. Lie face down with your fingertips resting on your forehead. Your leg are turned out, but can be together or hip distance apart.
2. Maintaining a stable pelvis, reach one leg long and off the mat. Be careful to only extend the leg as far as a neutral pelvis can be maintained. Your low back should remain relaxed.
3. Return to start, then repeat with opposite leg. Aim for 6–8 reps with each leg, alternating each time.
Shoulder Bridge Prep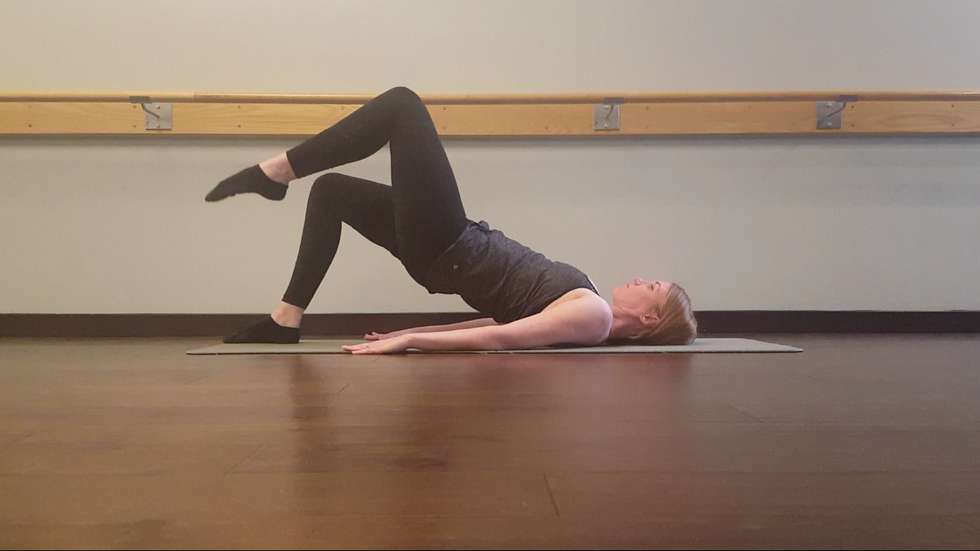 1. Stabilize your pelvis and spine in a neutral position, then extend your hips to lift the pelvis off the mat, creating a diagonal line from shoulders to knees. Be careful to not extend the spine.
2. Lift one foot off mat, making sure that there is no dropping or movement of the pelvis.
3. Return to start, then repeat with opposite leg. Aim for 3–6 reps with each leg, alternating each time.
Heel Squeeze Prone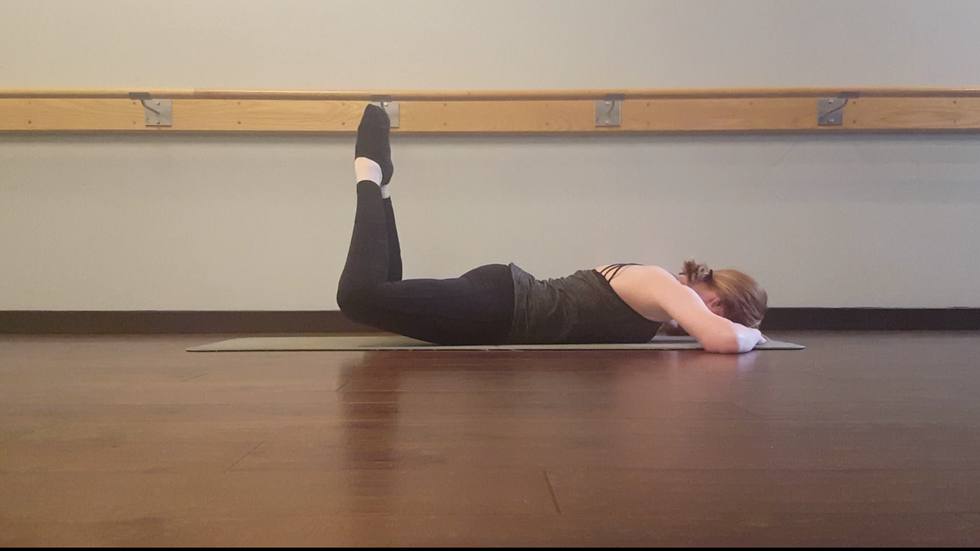 1. Lie on your stomach with spine and pelvis in neutral, fingertips resting on forehead. With your knees slightly wider than hip-distance, bend them at a 90-degree angle.
2. Squeeze heels together and lightly lift your thighs off the mat as far as a neutral pelvis and spine can be maintained.
3. Hold for a second, then return to starting position and repeat for 8–10 repetitions.
Clam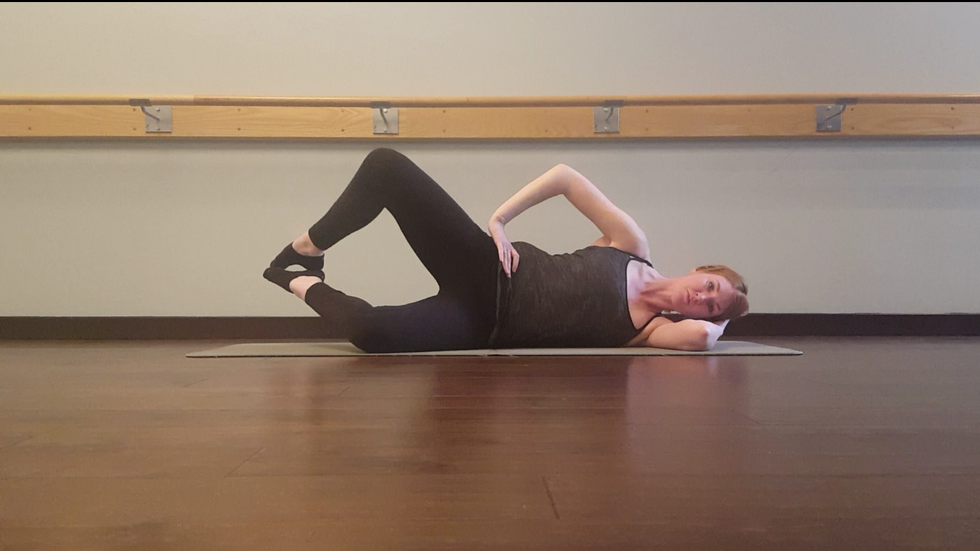 1. Lie on your side with spine and pelvis in neutral, knees bent and together and your bottom heel lifted slightly.
2. Keeping your pelvis neutral and your heels together, lift the top knee.
3. Hold for a second, then return to start. Aim for 8–10 repetitions.
4. Repeat on opposite side.
Ian Douglas; courtesy Sarah Haarmann. Performing with Pam Tanowitz Dance at The Joyce Theater
Sarah Haarmann stands out without trying to. There is a precision and lack of affectation in her dancing that is very Merce Cunningham. Her movement quality is sharp and clear; her stage presence utterly focused. It's no wonder she caught Mark Morris' eye. Even though she still considers herself "very much the new girl" at Mark Morris Dance Group (she became a full-time member in August 2017), in a recent performance of Layla and Majnun, Haarmann seemed completely in her element.
Company: Mark Morris Dance Group
Age: 27
Hometown: Macungie, Pennsylvania
Training: Lehigh Valley Charter High School for the Performing Arts and Marymount Manhattan College
Keep reading...
Show less
Reframing high-stakes auditions as learning opportunities can make you a better auditioner. Photo by Jim Lafferty.
In 2012, freelance contemporary dancer Adrianne Chu made a major career change: She decided to try out for A Chorus Line. "Even though I didn't get the job, I felt like I was meant to do this," says Chu. So she started going to at least one musical theater audition every weekday, treating each as a learning experience. After several years of building up her resumé, Chu's practice paid off: She booked a starring role as Wendy in the first national tour of Finding Neverland.
Approaching auditions as learning opportunities, especially when you're trying to break into a different style or are new to the profession, can sharpen your skills while helping you avoid burnout. It also builds confidence for the auditions that matter most.
Keep reading...
Show less
How do you warmup? Photo by Jim Lafferty
For many dancers, a "warmup" consists of sitting on the floor stretching their legs in various positions. But this strategy only reduces your muscles' ability to work properly—it negatively affects your strength, endurance, balance and speed for up to an hour.
Save your flexibility training for the end of the day. Instead, follow a warmup that will actually help prevent injury and improve your body's performance.
According to the International Association of Dance Medicine and Science, a smart warmup has four parts: "a gentle pulse-raising section, a joint mobilization section, a muscle lengthening section and a strength/balance building section."
Keep reading...
Show less
Screenshot via YouTube
Keep reading...
Show less
This year, IABD launched a new ballet audition for men of color
Last month, the International Association of Blacks in Dance's third annual ballet audition for women of color was expanded to include a separate audition for men.
The brainchild of Joan Myers Brown (founder of both Philadanco and IABD), the women's audition was created to specifically address the lack of black females in ballet. However, the success and attention that audition drew made the men feel left out, so IABD decided to give the men equal time this year.
Keep reading...
Show less
Students participated in all aspects of Veränderung, from choreography to costumes. Photo by Uwe Stratmann, Courtesy Tanztheater Wuppertal.
Pina Bausch's unique form of German Tanztheater is known for raising questions. Amid water and soil, barstools and balloons, the late choreographer's work contains a distinct tinge of mystery and confrontation. Today, Tanztheater Wuppertal Pina Bausch's dancers use questions as fuel for creativity. The company's most recent project introduced a new group of performers to the stage: local high school ninth-graders from the Gesamtschule Barmen in Wuppertal, Germany, in an original work-in-progress performance called Veränderung (Change).
Keep reading...
Show less


Get Dance Magazine in your inbox