popular
Sep. 12, 2017 08:05AM EST
Why Pina Was an Inspiration Like No Other
Peggy Jarell Kaplan, Courtesy BAM
In 1984, New York was introduced to a choreographer who would influence generations of dance artists: Pina Bausch. Tanztheater Wuppertal stunned audiences at Brooklyn Academy of Music in performances of Bausch's now-iconic Café Müller and The Rite of Spring.
Since that groundbreaking premiere, Bausch has been revered as a genius, a trailblazer, a game changer in the dance world. And starting this Thursday, Bausch devotees will make a pilgrimage back to Brooklyn Academy of Music where Tanztheater Wuppertal reprises its historic debut program. To celebrate the occasion, BAM shared some archival photos of the choreographer and her work with Dance Magazine, and we reached out to several of today's choreographers and dancers about how Bausch inspired their own life's work.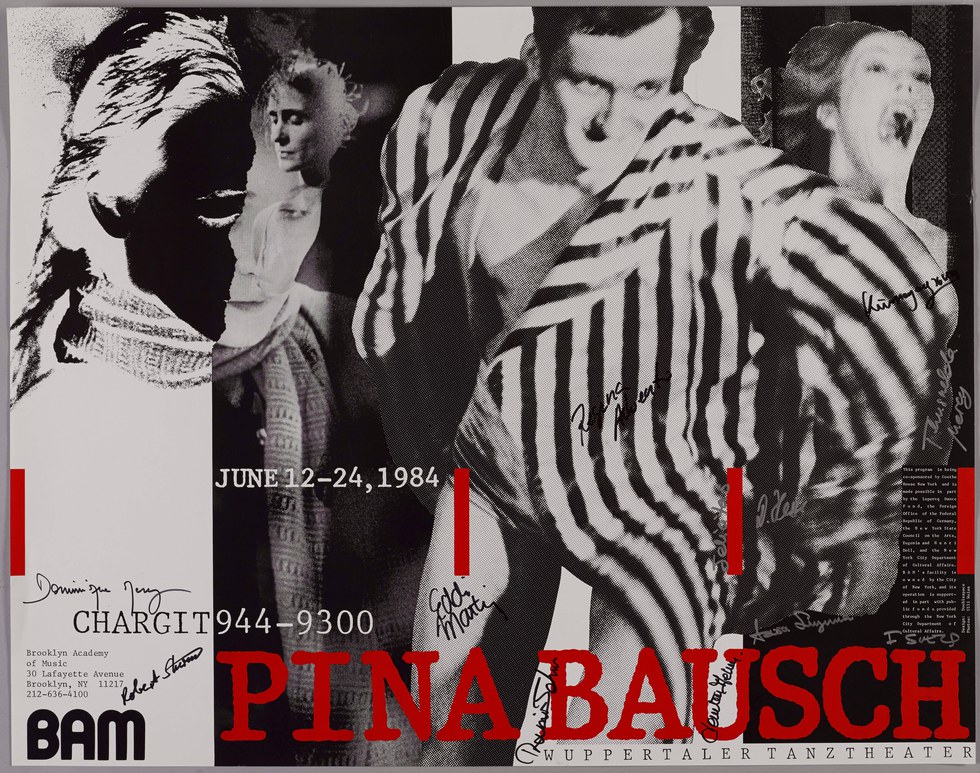 Poster signed by the company for the Tanztheater Wuppertal Pina Bausch self-titled production during BAM Spring Series, 1984
---
"As a young choreographer in 1984, I saw Café Müller on my first visit to BAM. I was intoxicated by Bausch's use of dance in relation to costume, sexuality, relationship, scenario and character. This work was a revelation—a decidedly European perspective on dance, from an entirely different family tree than the downtown dance scene of the time." —Annie-B Parsons, co-director of Big Dance Theater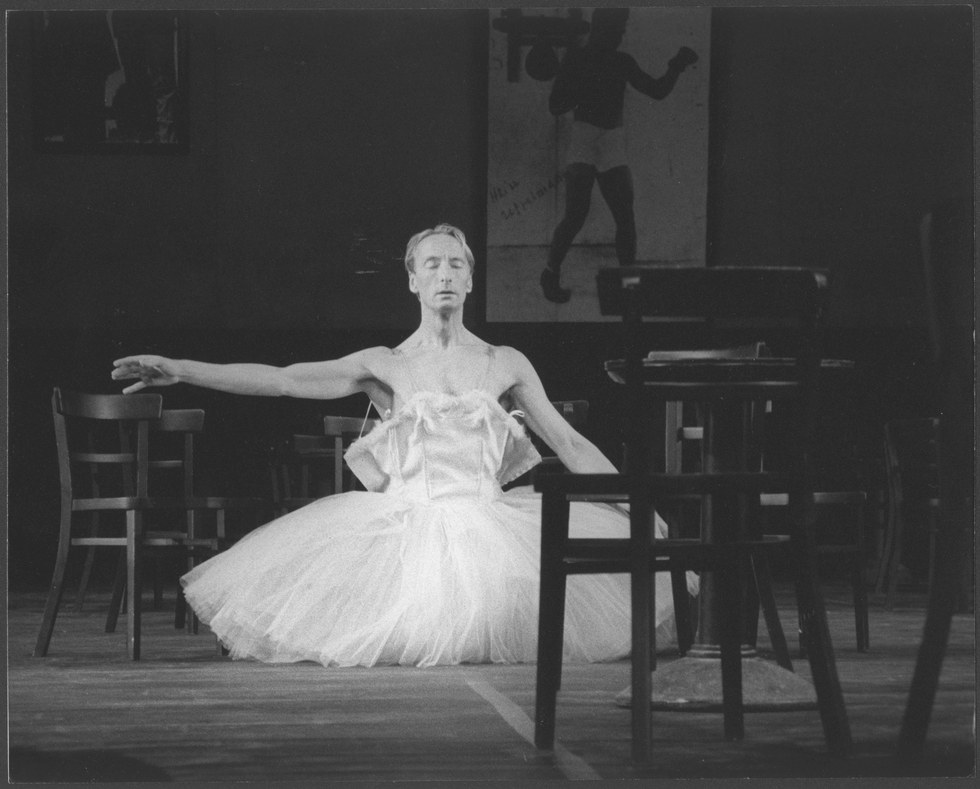 Dominique Mercy in Palermo Palermo at BAM. Photo by Martha Swope, courtesy BAM.
"When I began choreographing, Café Müller and Rite of Spring acted as encyclopedias while I researched my own movement. She encouraged me to not shy away from repetition. And I love that she used formal wear in her works! That she would put a dancer in an evening gown, then mess it all up by having the dancer move through water or a dirt floor, is just jaw dropping." —Maya Taylor, New Orleans based choreographer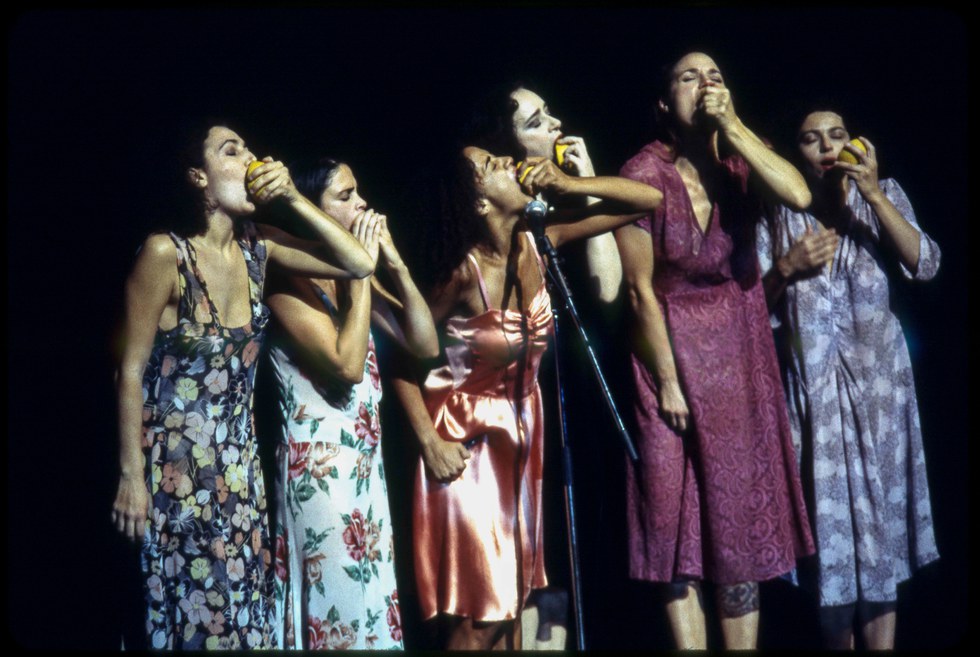 Scene from Tanztheater Wuppertal Pina Bausch in Danzón at BAM Next Wave Festival, 1999. Photo by Dan Rest, Courtesy BAM.
"Pina's commitment inspires me. Her courage to be and do 'Pina', to create and share a kind of work that had not been done before, has forever inspired me to listen to my own intuition. I had the pleasure of meeting her twice, sharing my work with her in studio. These moments were, to say the least, very moving." —Aszure Barton, artistic director of Aszure Barton & Artists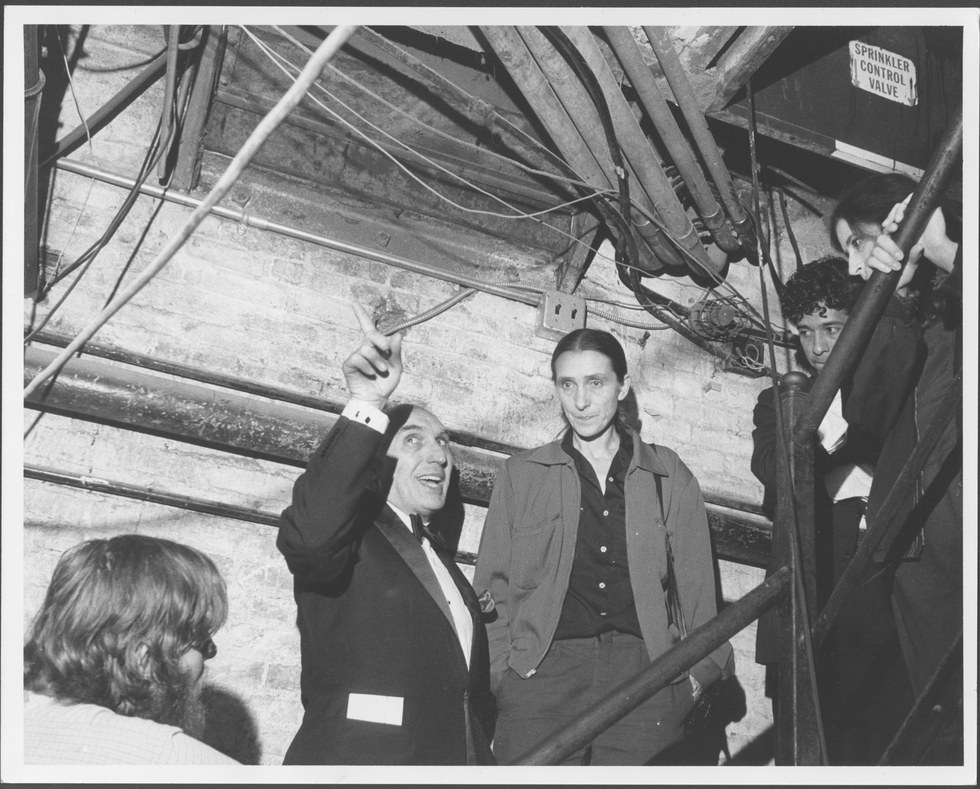 Former BAM president and executive producer Harvey Lichtenstein and Pina Bausch, 1985. Photo by Johan Elbers, courtesy BAM
"I was stunned by Cafe Müller when it first came to BAM—it has lived in my mind ever since as mental furniture and recurring inspiration. Dance has never stopped feeling its impact." —Susan Marshall, artistic director of Susan Marshall & Company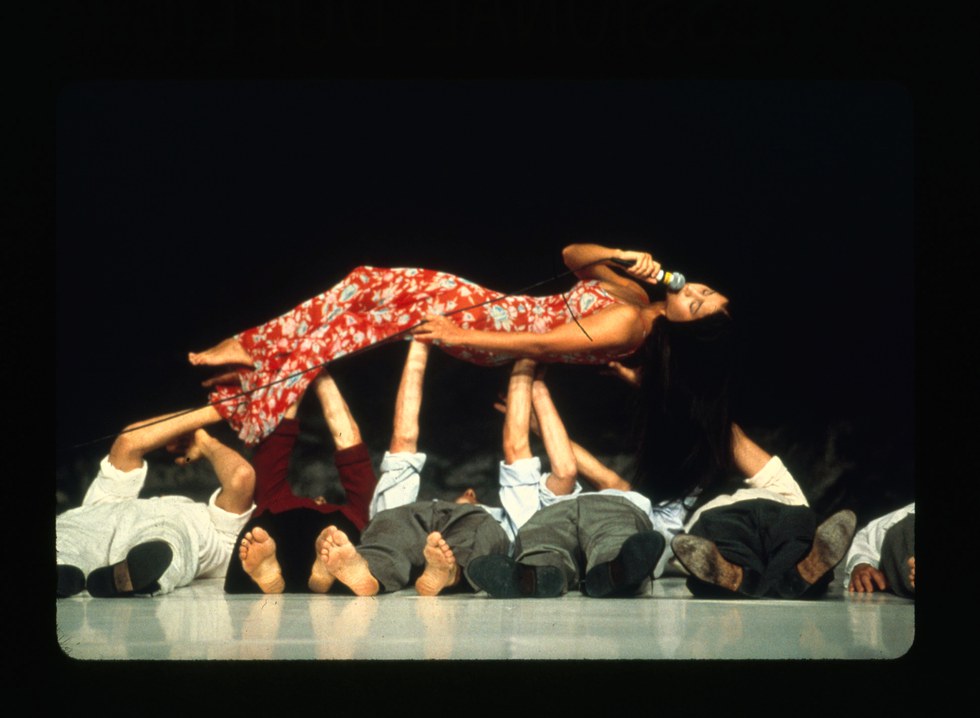 Ruth Amarante in Basuch's Masurca Fogo during BAM Next Wave Festival, 2001. Photo by Michael Rayner, courtesy BAM
"Pina could relay experience without being heavy handed, there is a universalism in her work that I strive for. I'm inspired by her ability to tie humor so closely to sadness and darkness. I've only seen it on film, but Rite of Spring just totally blew my mind! It still lives in me as a choreographer. I also value how long her dancers worked with her, my dream is to provide that kind of career for artists I work with; I love seeing the diversity of age. And being a woman choreographer, seeing Pina's career makes me feel like, 'Yeah, I can do this!' " —Andrea Miller, artistic director of Gallim Dance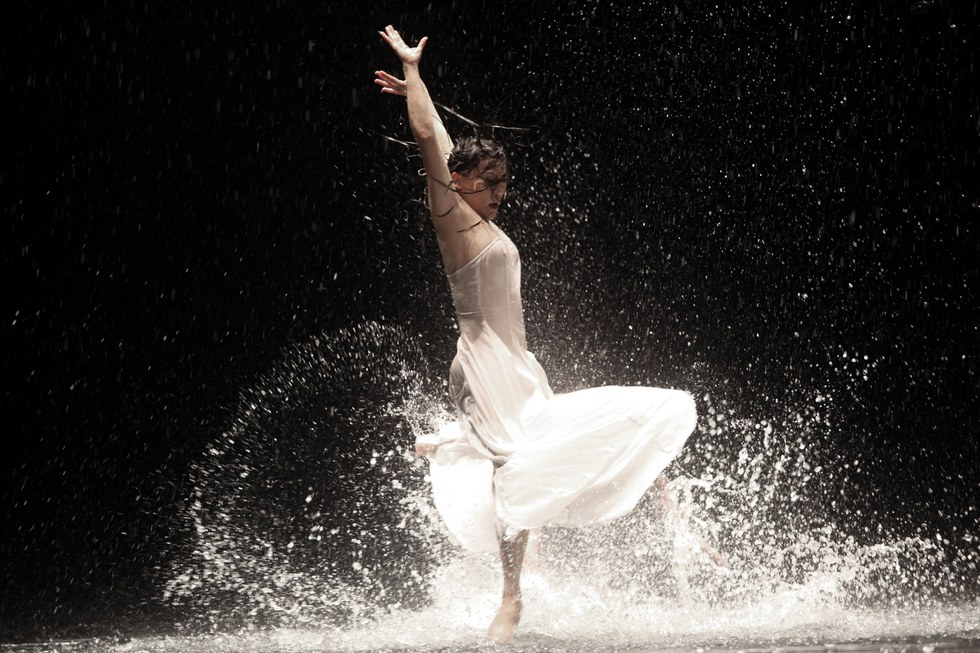 Azusa Seyama in Bausch's Vollmond at BAM Next Wave Festival, 2010. Photo by Julieta Cervantes, courtesy BAM
"Pina stripped away anything that causes a pattern—gender, race, sexuality, age—leaving it at its most raw essential. Within my work with the Graham Company, I relate to the naturalistic vibe that both Martha and Pina create, putting water, dirt, rocks on stage. In my own work, I seem to always have women in dresses—maybe an unconscious connection to Pina!" —Natasha Diamond-Walker, soloist with Martha Graham Company and freelance actor/model/choreographer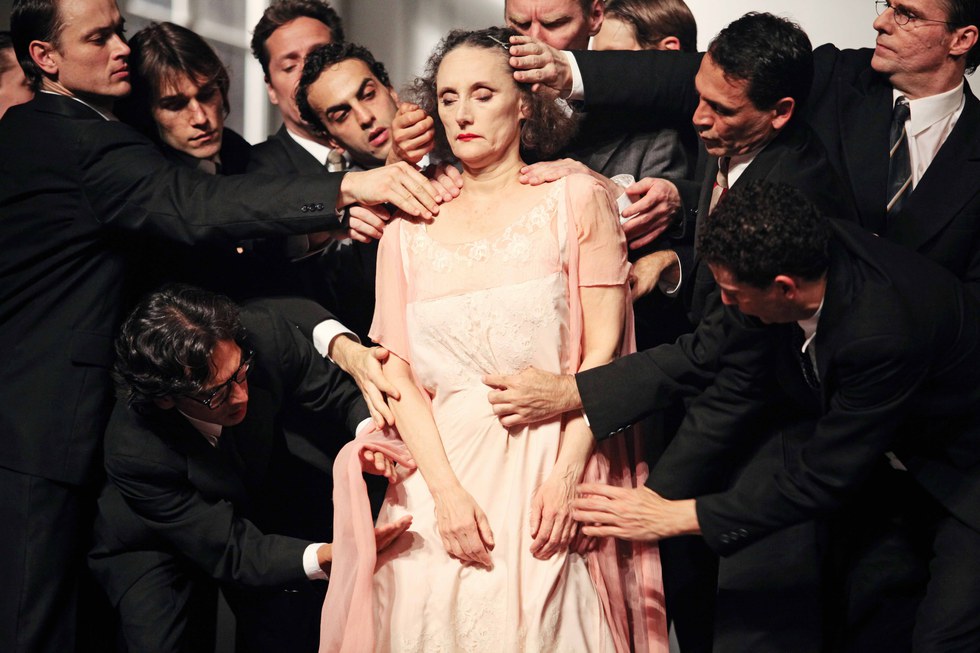 Nazareth Panadero (center) in Bausch's Kontakthof during BAM Next Wave Festival, 2014. Photo by Julieta Cervantes, courtesy BAM.
"I got to see Pina's work live while living in Germany. 1980 was always one of my favorites—it was life! Beauty, humor, profanity residing in the same moment, as it does. She inspired me to make works grounded in humanity, not needing to focus only on harmony. To look for new ideas. To not find a formula. To remember how funny life is, and how the foibles in all of us make us beautiful beings." —Helen Pickett, choreographer
The dancers file into an audition room. They are given a number and asked to wait for registration to finish before the audition starts. At the end of the room, behind a table and a computer (and probably a number of mobile devices), there I sit, doing audio tests and updating the audition schedule as the room fills up with candidates. The dancers, more nervous than they need to be, see me, typing, perhaps teasing my colleagues, almost certainly with a coffee cup at my side.

Keep reading...
Show less
YAGP competitor Bianca Scudamore. Photo by VAM, courtesy YAGP
By itself, a competition trophy won't really prepare you for professional life. Sometimes it is not even a plus. "Some directors are afraid that a kid who wins a lot of medals will come to their company with too many expectations," says Youth America Grand Prix artistic director Larissa Saveliev. "Directors want to mold young dancers to fit their company."
More valuable than taking home a title from a competition is the exposure you can get and the connections you can make while you're there. But how can you take advantage of the opportunity?
Keep reading...
Show less
Photo by Anne Van Aerschot
New York Live Arts opens its 2017-18 season with A Love Supreme, a revised work by Anne Teresa De Keersmaeker and collaborator Salva Sanchis. Known as a choreographer of pure form, pattern and musicality, De Keersmaeker can bring a visceral power to the stage without the use of narrative. She has taken this 2005 work to John Coltrane's famous jazz score of the same title and recast it for four young men of her company Rosas, giving it an infusion of new energy.
Photo by Anne Van Aerschot
Keep reading...
Show less
Career
Sep. 22, 2017 02:31PM EST
Johns' Map
Before too long, dancers and choreographers will get to create on the luxurious 170-acre property in rural Connecticut that is currently home to legendary visual artist Jasper Johns.
If you think that sounds far more glamorous than your average choreographic retreat, you're right. Though there are some seriously generous opportunities out there, this one seems particularly lavish.
Keep reading...
Show less


Get Dance Magazine in your inbox