How SAB Is Working To Fix NYCB's Diversity Problem
Fellow Angela Harris teaching an intermediate girls class at SAB
New York City Ballet has an image problem. Despite having the moniker of one of the most diverse cities on the planet, the company regularly comes under fire for its lack of diversity. A perception of overbearing whiteness has plagued the institution, often acting as a cultural barrier for prospective students and audiences.
Over the last three years, the company's School of American Ballet and its diversity team have been working to change this. Since NYCB preserves its Balanchine legacy by keeping everything in house—dancers are hired almost exclusively from SAB, where they are trained by former members of the company—the school is a logical place to start transforming its image. And it's working. Presently, the children's division and intermediate/advanced division boasts 44% and 29% students of color, respectively.
---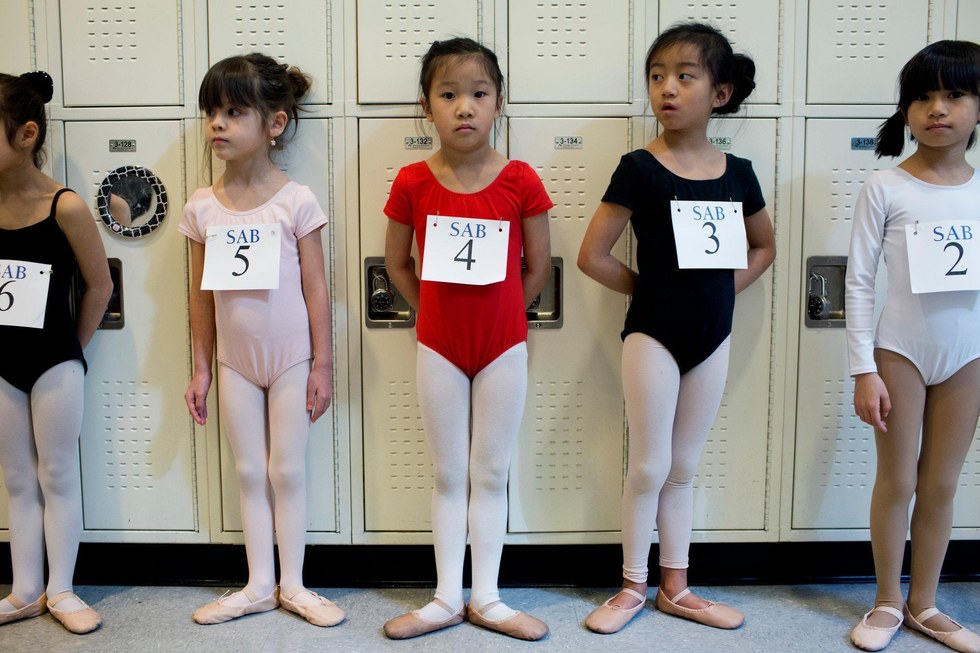 Photo via nytimes.com
The importance of high numbers in the lower levels can not be undervalued. Dance is brutally Darwinian, and SAB is acutely aware that not all beginners will end up in level D. "It's so important that our 6- and 7-year-old pools are as diverse as possible," says Leah Quintiliano, senior manager of diversity and inclusion. "It gets whittled down so much, we need to make sure that we are left with options later on."

In addition to broadening audition locations to identify talented students of color, two years ago, SAB launched the National Visiting Fellows Program. Up to five classical ballet instructors with a commitment to teaching students from diverse backgrounds are invited to participate in two week-long sessions during SAB's Winter Term. They observe classes, discuss pedagogy and curriculum, and have an opportunity to teach in the school then receive feedback.
This is an unprecedented amount of access to the often opaque organization.

The intimate group is highly vetted. "We have to see expertise, and know that we speak the same language," says faculty co-chair Kay Mazzo, whose enthusiasm about the program is palpable. "They have to be good teachers who know what it takes to become a classical ballet dancer."
2016-17 fellow Christopher McDaniel of Connally's Dance Workshop, in San Antonio, TX, says the fellows watch just about every level in the school. "Following each level, different specifications on technique were broken down by a faculty member with a student demonstrating," he says. Participants are in an hands-on environment, Quintiliano explains. "In some other programs, the participants may be working together in an empty studio; our fellows are present in the classroom."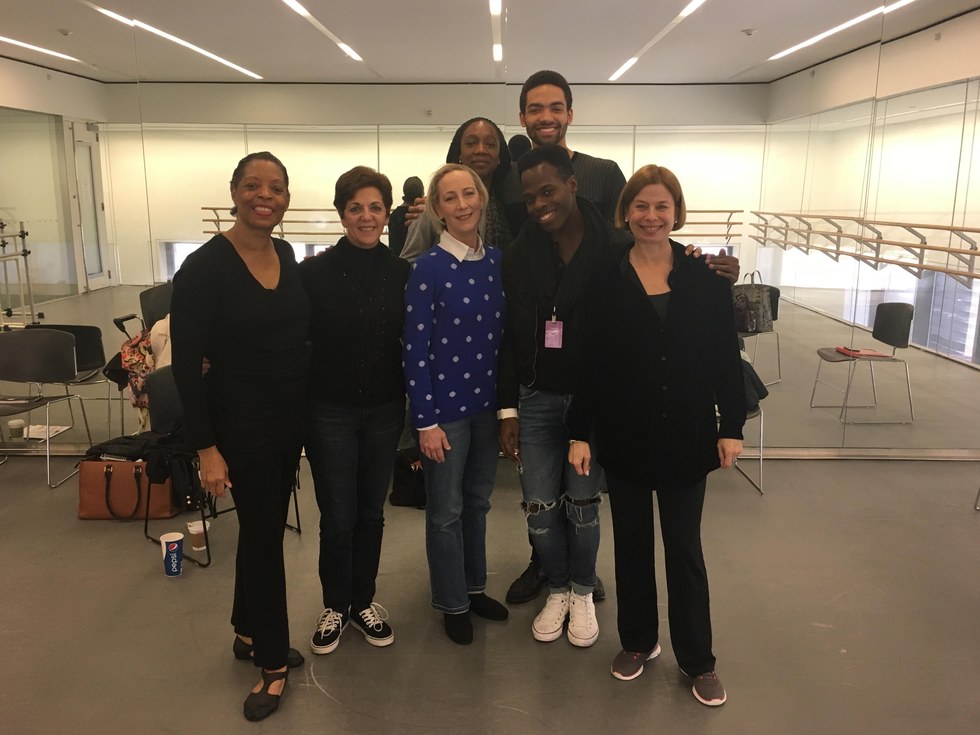 Spring 2017 fellows. Pictured left to right: (front row) Robyn Gardenhire, Mariana Alvarez Brake, Kay Eichman, Christopher McDaniel, SAB faculty member Katrina Killian. (back row) Jennifer Mason, SAB alumnus Silas Farley
For Angela Harris, founder of the Atlanta-based nonprofit Dance Canvas and part of the pilot program class, this level of access was invaluable. "I focused most on the younger classes, to reflect on how I could build my pre-pointe/beginner pointe classes," she says. "The regiment of the combinations, paired with the attention to developing the articulation of the foot, made complete sense to me. I came home and I slowed my classes down and spent two months returning to facing the barre for many combinations to isolate and correct positions. It made a difference, and my students became stronger."
All expenses, including travel and housing, are paid for. "We didn't just want teachers who could afford it coming," says Mazzo. "We felt that if we are taking a teacher away from a school, we wanted to make sure that they were paid for that week." In addition, each fellow's home school receives $5,000. Quintiliano says, "This is our way of saying, 'Please, we would like to help you continue what you are doing."
Many participants find the program actually reaffirms their own mastery. "It solidified my thoughts on, Am I teaching the correctly? Are my combinations taking the student to the next level? Showing my work and writing out my mission gave me great confidence in what I have achieved as an instructor and director of a program," says Robyn Gardenhire, a former American Ballet Theatre dancer who now directs City Ballet of Los Angeles, and who was scouted for the fellowship by SAB faculty member Katrina Killian. Gardenhire was also asked to be on SAB's Diversity Board, made up of school alumni.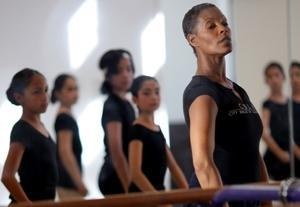 Robyn Gardenhire teaching at City Ballet of Los Angeles
SAB is building these new relationships in hopes of expanding its reach, re-framing its image—and ultimately resulting in brown students seeing SAB as a possibility for them. "SAB's outreach through the fellows allows us to help break down a barrier for our students to feel welcome," says Harris. "Last year, a young dancer I encouraged to audition told me she'd never thought of auditioning because she didn't feel like she was 'what they were looking for.' Although she didn't get in, she had a great experience auditioning, and is headed to Ballet West or Texas Ballet Theater this summer." Students of fellows have their audition fees waived, and over the last two years, Harris has been able to offer 15 of her students audition scholarships for SAB.
Today, as you walk through the SAB halls when the children's program is in session, it looks like the residents of New York City. Though the diversity begins to wane in the upper levels, and there is still work to do, progress is happening.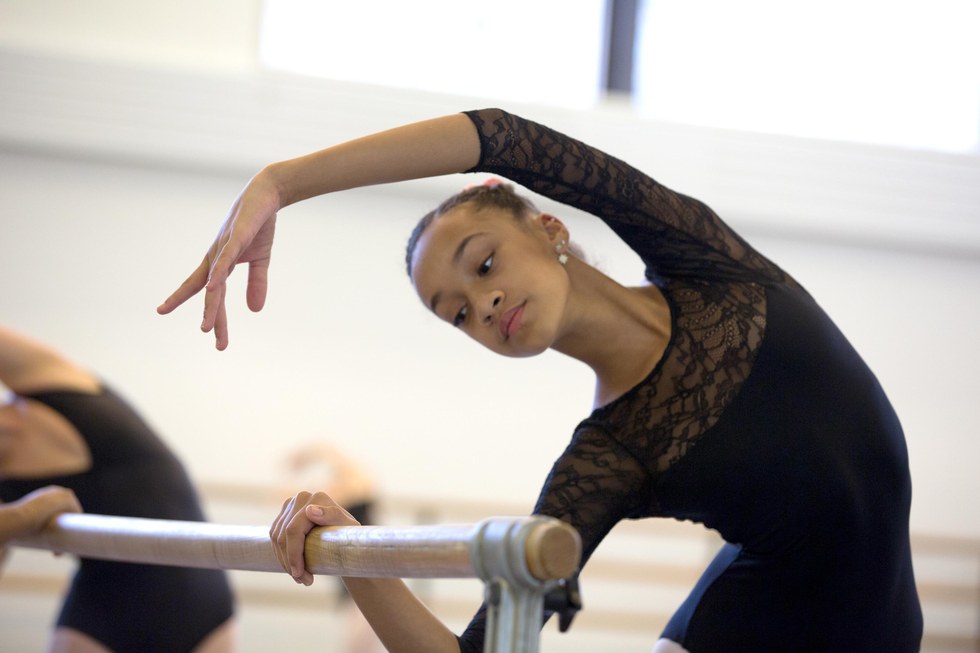 SAB's summer course
The goal of adding ballet faculty of color will be harder to come by, since SAB only hires from NYCB, and there have been so few non-white dancers. However, changes are happening on this front as well: Former NYCB dancer Andrea Long-Naidu has been a guest faculty member, was present on SAB's national audition tour this year and will return for a week of the 2017 summer intensive.
When asked if the fellows might be called on to teach at the school, Mazzo paused. "Down the road…I don't know, we are always evolving. I can certainly see some of our fellows guest teaching here, and then we have to see how it works." She maintains that either way, the door to SAB will always be open to fellows to observe or get feedback. Harris shares that fellows feel supported—SAB's director of development gave her a list of potential funders for new programs at her school, and on a recent trip to New York, she spent an hour catching up with Quintiliano.
It is said that it takes 10 years to make a dancer. It might take just as long to change the perception that people have about NYCB. After all, the final decision on hiring lies with ballet master in chief Peter Martins. But the team at SAB has made it a mission to find and train dancers of color so that Martins has strong candidates to choose from.
We already have evidence of their work. Of the eight apprentices appointed this year, five are of color. Two are African American—India Bradley and Darius Black—and Gilbert Bolden is biracial. Where SAB's tradition might not make "outreach" a model for them, they are working to escort people in.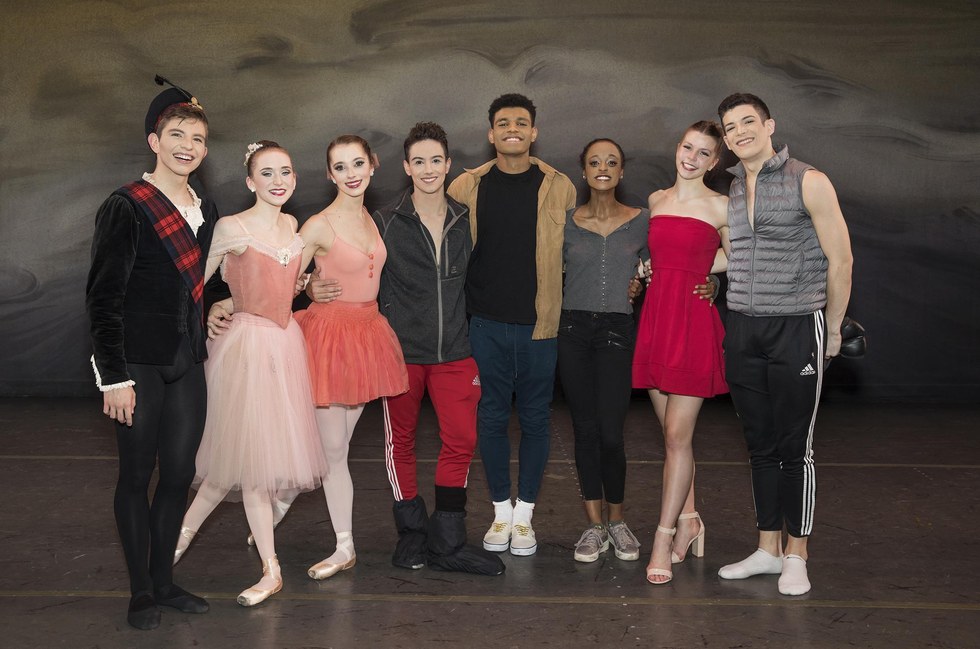 SAB students moments after they were tapped to become NYCB apprentices for the 2017/18 season. Pictured left to right: Andres Zuniga, Gabriella Domini, Nieve Corrigan, Roman Mejia, Darius Black, India Bradley, Mary Thomas MacKinnon, Gilbert Bolden. Photo by Paul Kolnik
Only you can truly decide if you're ready to start your career. Photo by Thinkstock.
My dance coach wants my word that I'll keep competing under his school's name for the next year and not audition. I'm 18 years old and already doing lead roles and winning medals. I love his teaching, but shouldn't I be ready to go out and get a job?
—Gil, Las Vegas, NV
Keep reading...
Show less
Ballet of Difference is now home to a number of Cedar Lake alumni, such as Matthew Min Rich and Ebony Williams, here in Richard Siegal's Pop HD. Photo by Ray Demski, Courtesy Siegal
How do we make ballet, a traditionally homogeneous art form, relevant to and reflective of an increasingly diverse and globalized era? While established companies are shifting slowly, Richard Siegal/Ballet of Difference, though less than 2 years old, has something of a head start. The guiding force of the company, which is based in Germany, is bringing differences together in the same room and, ultimately, on the same stage.
Keep reading...
Show less
BalletMet in company class onstage before a show. Photo by Jennifer Zmuda, courtesy BalletMet
Before she became the 20th century's most revered ballet pedagogue, Agrippina Vaganova was a frustrated ballerina. "I was not progressing and that was a terrible thing to realize," she wrote in a rough draft of her memoirs.
She retired from the Imperial Ballet stage in 1916, and for the next 30-plus years, devoted herself to creating a "science of ballet." Her new, dynamic teaching method produced stars like Rudolf Nureyev, Alla Osipenko, and Galina Ulanova and later Natalia Makarova and Mikhail Baryshnikov. And her approach continues to influence how we think about ballet training to this day.
But is the ballet class due for an update? Demands and aesthetics have changed. So should the way dancers train change too?
Keep reading...
Show less
How do you warmup? Photo by Jim Lafferty
For many dancers, a "warmup" consists of sitting on the floor stretching their legs in various positions. But this strategy only reduces your muscles' ability to work properly—it negatively affects your strength, endurance, balance and speed for up to an hour.
Save your flexibility training for the end of the day. Instead, follow a warmup that will actually help prevent injury and improve your body's performance.
According to the International Association of Dance Medicine and Science, a smart warmup has four parts: "a gentle pulse-raising section, a joint mobilization section, a muscle lengthening section and a strength/balance building section."
Keep reading...
Show less
Sidi Larbi Cherkaoui's Harbor Me. Photo by Laurence Phillipe, Courtesy Joyce Theater
Claude Debussy's only completed opera, Pelléas et Mélisande, emphasizes clarity and subtlety over high-flung drama as a deadly love triangle unfolds. Opera Vlaanderen and Royal Ballet of Flanders are commemorating the 100th anniversary of the composer's death with a new production of the landmark opera that is sure to be anything but traditional: Sidi Larbi Cherkaoui and Damien Jalet are choreographing and directing, while boundary-pushing performance artist Marina Abramović collaborates on the design. Antwerp, Feb. 2–13. Ghent, Feb. 23–March 4. operaballet.be/en.
Jumatatu Poe's Let 'im Move You. PC Theo Cote, via 18th Street Arts Center
Black History Month offers a time to reflect on the artists who have shaped the dance field as we know it today. But equally important is celebrating the black artists who represent the next generation. These seven up-and-comers are making waves across all kinds of styles and across the country:
Keep reading...
Show less


Get Dance Magazine in your inbox