The Self-Care Secrets This Hofesh Shechter Dancer Swears By On Tour
Rachel Fallon (center). Photo by Victor Frankowski, courtesy HSC
Rachel Fallon's first year with the Hofesh Shechter Company has been spent largely on the road. The company performs frequently, and almost always on tour. "Because we are constantly out of our home setting, I like to have some sort of routine that I can count on," says Fallon. She shares how she stays centered despite the nearly-constant traveling.
---
Finding Activities That Feel Like Home
Sleep is an important part of that routine—Fallon aims for about eight hours per night and makes sure to wind down before getting in bed. At home, she often relaxes by sewing and making her own clothes. On tour, she enjoys more portable activities. "In a continually changing environment, I find comfort in having my book, TV series or other familiar things close by," says Fallon. She loves Japanese author Haruki Murakami, and most recently read his book Men Without Women. But after a long day, she prefers something light, like an episode of "The Tonight Show Starring Jimmy Fallon."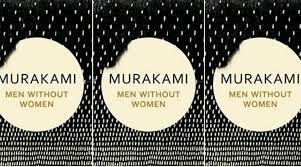 Mentally Warming Up and Cooling Down For Shows
To find focus in each new environment, Fallon meditates before each performance. One of her preferred techniques uses a monitored breathing pattern:
Breathe in for four counts.
Hold for four counts.
Release the breath for four counts.
Hold for four more counts before repeating.
Fallon also allows time for a cooldown after each performance. "I often lay down with my legs up on the wall and close my eyes. I like this ritual of acceptance and calmness before continuing on with my day."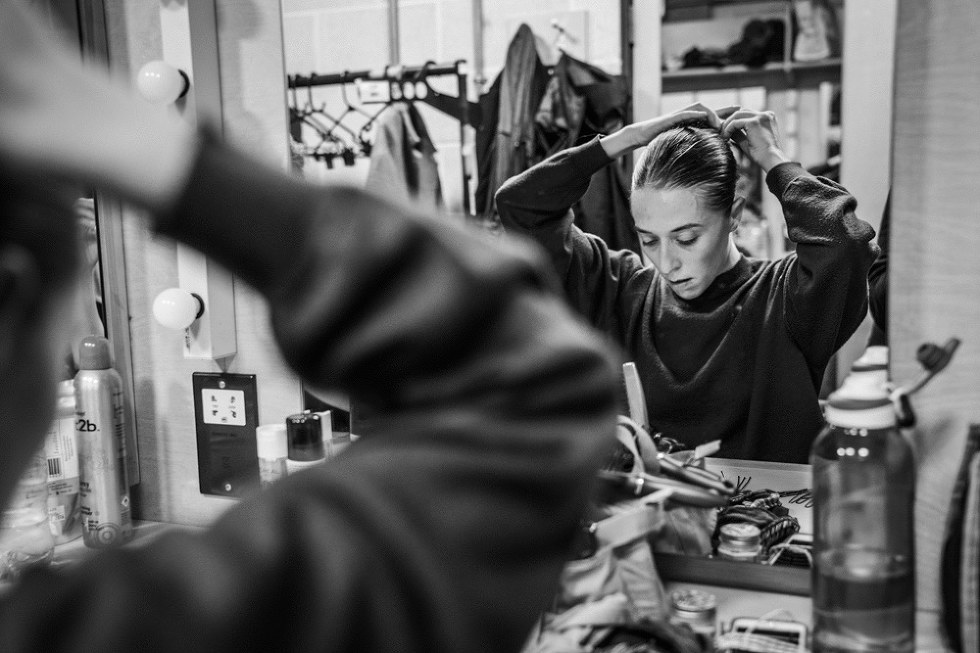 Fallon getting ready backstage. Photo by Gary Copeland, courtesy HSC.
Running to Ramp Up After Breaks
After taking a break from dancing during a layoff or holiday, Fallon likes to start getting in shape again by running 20 to 30 minutes every other day. "Starting out slowly helps to build stamina and activate the whole body," she says. "As much as I like to run outside and enjoy the scenery, I prefer to run on a treadmill because there is less impact on my knees."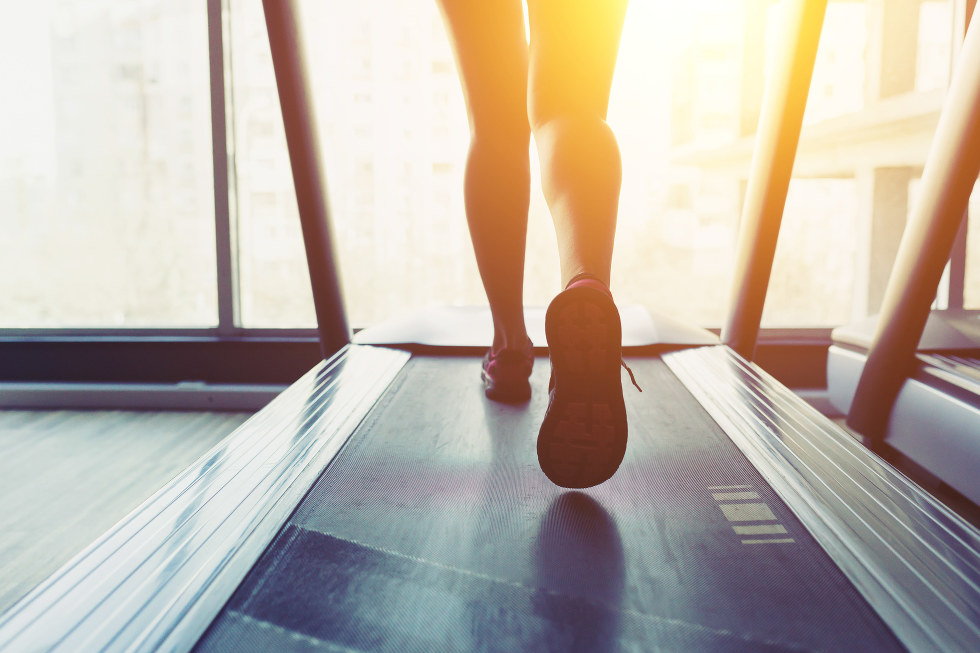 Fallon prefers the treadmill because she feels its easier on her knees. Photo by Thinkstock
Stocking Up On Healthy Foods
Upon arriving in a new city, Fallon's first order of business is to stock her hotel room with healthy foods in case there are few good options near the theater. Her must-haves include:
bananas
hummus
crackers
nuts
salad greens
"And on tiring days I like to have chocolate close by for a nice boost."

Thinkstock

Centering Her Body With Familiar Exercises

One of Fallon's favorite warm-up exercises for the hips and legs is called Airplane. "It's great for aligning your knee and ankle while also testing your balance," she says.
Stand on a bent leg.
Lower your torso forward into a flat-back position, hands on hips.
Lift your other leg into an attitude position behind you.
Rotate the lifted leg in and out at the hip socket, making sure to reach the full range of motion inward and outward.
Make sure the standing knee stays aligned over the toes.
Do about 15 reps with each leg.
Ka'et Contemporary Dance Ensemble in the studio. Still from IFAF documentary.
Mash-ups aren't uncommon in the dance world: Performers of varying styles have been known to share the stage, from ballerina Tiler Peck and famed clown Bill Irwin to Michelle Dorrance, who's mixed tappers and break-dancers. Likewise, collaborations between choreographers and artists from seemingly mismatched disciplines have produced magical creations, such as Alexei Ratmansky's Whipped Cream, featuring Mark Ryden's whimsical and even grotesque designs and costumes.
But the Israeli troupe Ka'et Contemporary Dance Ensemble has found success in one of the most unlikely partnerships: Secular contemporary choreographer Ronen Itzhaki creates movement for a group of rabbis.
Keep reading...
Show less
via Instagram
While undoubtedly best known for her dancing, American Ballet Theatre principal Isabella Boylston has also been getting noticed for her style by Allure and Vogue—and with good reason. Her Instagram feed features a mix of on-trend athleisure wear and detailed dresses from runway designers like Valentino and Anna Sui, none of which would be complete without the makeup and hair to match. With a penchant for skin care and an ever-growing lipstick collection, Boylston talked us through some of her beauty must-haves on and off the stage.
Photo by Jayme Thornton
Keep reading...
Show less
BalletMet in company class onstage before a show. Photo by Jennifer Zmuda, courtesy BalletMet
Before she became the 20th century's most revered ballet pedagogue, Agrippina Vaganova was a frustrated ballerina. "I was not progressing and that was a terrible thing to realize," she wrote in a rough draft of her memoirs.
She retired from the Imperial Ballet stage in 1916, and for the next 30-plus years, devoted herself to creating a "science of ballet." Her new, dynamic teaching method produced stars like Rudolf Nureyev, Alla Osipenko, and Galina Ulanova and later Natalia Makarova and Mikhail Baryshnikov. And her approach continues to influence how we think about ballet training to this day.
But is the ballet class due for an update? Demands and aesthetics have changed. So should the way dancers train change too?
Keep reading...
Show less
How do you warmup? Photo by Jim Lafferty
For many dancers, a "warmup" consists of sitting on the floor stretching their legs in various positions. But this strategy only reduces your muscles' ability to work properly—it negatively affects your strength, endurance, balance and speed for up to an hour.
Save your flexibility training for the end of the day. Instead, follow a warmup that will actually help prevent injury and improve your body's performance.
According to the International Association of Dance Medicine and Science, a smart warmup has four parts: "a gentle pulse-raising section, a joint mobilization section, a muscle lengthening section and a strength/balance building section."
Keep reading...
Show less
Charlie Sutton's "Baby, You Knock Me Out." Photo by Steven Rosen, Courtesy DanceBreak.
DanceBreak came roaring back to life on Monday after seven years on hiatus, and six choreographers now have the opportunity to be the next Andy Blankenbuehler. Or Joshua Bergasse, Kelly Devine, Casey Nicholaw, Josh Prince or Josh Rhodes. These stellar Broadway choreographers all got their first big shows after Melinda Atwood's musical-theater launching pad let them show the industry what they could do.
Since 2002, DanceBreak has been a sort of "So You Think You Can Choreograph" for Broadway. Although not everyone goes straight there—Mandy Moore and Mia Michaels are alumni, too—the program is meant to funnel talented choreographers to the Broadway stage by providing a platform for their work. Prince, who introduced Atwood to the cheering crowd, has paid DanceBreak the ultimate compliment, creating his own non-profit incubator for theater choreographers, Broadway Dance Lab. On Monday, he recalled the story of how he was offered the role of choreographer on Broadway's Shrek just days after its director saw the 2007 edition.
Keep reading...
Show less
Stretching feet the wrong way will only lead to injury. Photo by Thinkstock
When caring for your feet or trying to make them look good, it's tempting to seek shortcuts. Bad ideas—like dangerous stretches that promise perfect lines or ointments that were never meant to go on your toes—catch on all too easily backstage.
We asked podiatrists who've seen their dance clients try it all share the habits they'd like to see gone for good.
Keep reading...
Show less


Get Dance Magazine in your inbox