Why You Should Rethink How You Stretch Your Feet
Joffrey's April Daly. Photo by Quinn Wahrton
Go into almost any dance studio, and you'll find students anxiously trying to stretch their feet. They'll force their body's weight over their toes, or ask a friend to sit on their arches. But stretching your feet might not actually be the most effective strategy to improve your line.
"Stretching is a strategy to go after a tight muscle," explains Mandy Blackmon, a physical therapist for Atlanta Ballet. "But a better-looking foot is not just a range-of-motion issue. What most dancers are after when they want 'better feet' is more about strength and support of the bony structure."
---
To that end, Blackmon recommends that dancers stretch their calves as well as pushing their pointe. Having a good range of motion in dorsiflexion (flex) and plantar flexion (pointe) is key to keeping your feet and ankles healthy, and tight calves can restrict movement in your ankle joint.
Working through your full pointe while seated on the floor with an exercise band is a time-tested warm-up, stretch and strengthener all in one. Blackmon notes that exercise-band work is not just for ballet dancers: "Modern dancers need that strength, too, maybe even more because they don't have the structure of the pointe shoe to work against."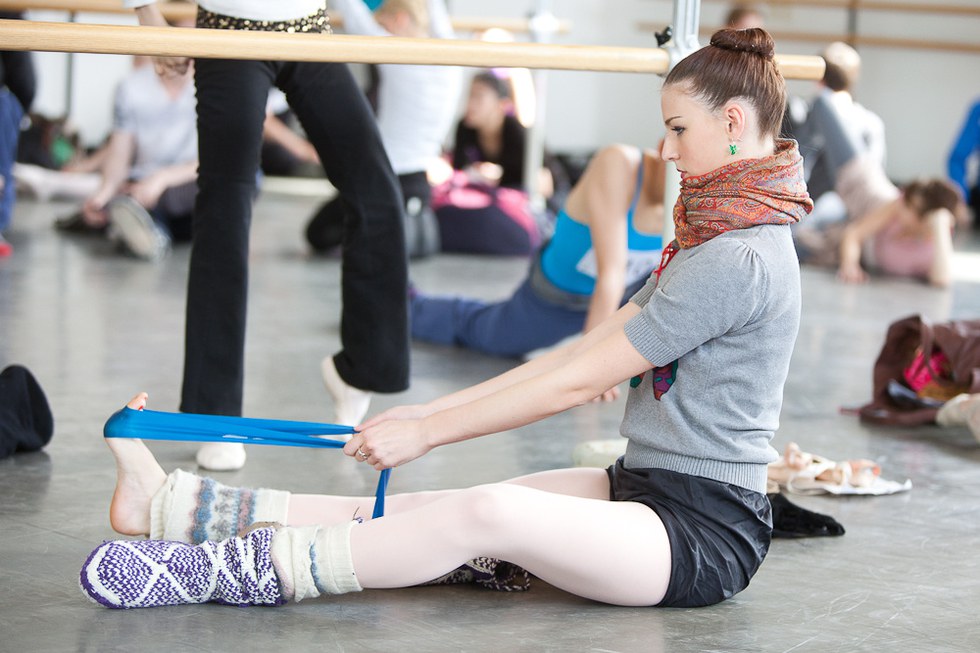 Matthew Murphy for Pointe
For Kathleen Breen Combes, a principal dancer with Boston Ballet, the best foot stretch comes with the process of shaping her pointe shoes. With new shoes on, Combes uses her body weight to push over her pointe shoe, getting a stretch for the top of her foot, even as the underside works to shape the box and shank of her shoe. Blackmon notes that this can be a safe and effective method because it is not simply a passive stretch, but requires foot strength, as well.
As for the controversial foot stretcher? "It can be safe to use a foot stretcher under the supervision of a teacher, say, in a tendu exercise," says Mariaelena Ruiz, director of the professional program at Cary Ballet Conservatory. "But don't sit there for an hour. Every stretch has to be a movement to be useful, and there is no stretch without strength."
A block in either end of your range—whether flexing or pointing—can be an early sign of injury. Get treated before you develop compensations, says Blackmon. Soft-tissue work in the calves and mobilizations performed by a physical therapist can open up your range of motion and keep your limbs healthy.
The dancers file into an audition room. They are given a number and asked to wait for registration to finish before the audition starts. At the end of the room, behind a table and a computer (and probably a number of mobile devices), there I sit, doing audio tests and updating the audition schedule as the room fills up with candidates. The dancers, more nervous than they need to be, see me, typing, perhaps teasing my colleagues, almost certainly with a coffee cup at my side.

Keep reading...
Show less
YAGP competitor Bianca Scudamore. Photo by VAM, courtesy YAGP
By itself, a competition trophy won't really prepare you for professional life. Sometimes it is not even a plus. "Some directors are afraid that a kid who wins a lot of medals will come to their company with too many expectations," says Youth America Grand Prix artistic director Larissa Saveliev. "Directors want to mold young dancers to fit their company."
More valuable than taking home a title from a competition is the exposure you can get and the connections you can make while you're there. But how can you take advantage of the opportunity?
Keep reading...
Show less
Photo by Anne Van Aerschot
New York Live Arts opens its 2017-18 season with A Love Supreme, a revised work by Anne Teresa De Keersmaeker and collaborator Salva Sanchis. Known as a choreographer of pure form, pattern and musicality, De Keersmaeker can bring a visceral power to the stage without the use of narrative. She has taken this 2005 work to John Coltrane's famous jazz score of the same title and recast it for four young men of her company Rosas, giving it an infusion of new energy.
Photo by Anne Van Aerschot
Keep reading...
Show less
Career
Sep. 22, 2017 02:31PM EST
Johns' Map
Before too long, dancers and choreographers will get to create on the luxurious 170-acre property in rural Connecticut that is currently home to legendary visual artist Jasper Johns.
If you think that sounds far more glamorous than your average choreographic retreat, you're right. Though there are some seriously generous opportunities out there, this one seems particularly lavish.
Keep reading...
Show less


Get Dance Magazine in your inbox