What Does It Take to Challenge Dance's Gender Norms?
For Sean Dorsey, the dance studio used to be a source of pain that had nothing to do with dancing. "I would go to the women's dressing room and change there," he says. "That was, every day, this kind of knife in my heart."
Though the classes thrilled him, having to use facilities that didn't correspond with his gender identity made him feel extremely self-conscious and ashamed. Later, as an adult, Dorsey noticed that "people like me weren't onstage. Our stories weren't being told through dance."
An increasing number of out transgender performers and choreographers like Dorsey (one of Dance Magazine's "25 to Watch" in 2010) are working to fill that gap by challenging gender norms in dance, onstage and off. For an art form with deeply ingrained gender divisions, that's no easy task. Currently, from the moment a child steps into a dance studio, their training is often determined by gender. Ballet in particular breaks up genders into separate classes, demands gender-specific clothing, teaches gender-specific combinations and values gender-specific qualities. By explicitly addressing the politics of gender in their work and advocating for changes to these traditions, transgender artists today are helping to expand dance's representation of gender.
---
A self-described "physically precocious" kid, Jules Skloot began ballet early, while being raised as a girl. But at age 5, he came home and said, "It's not what my body wants to do," he recalls. "I had a sense that I wanted to dance, but not in that way." Even when he started serious Graham training, the leotards and flowing skirts felt wrong on his body as he went through puberty. "I just felt a lot of discomfort in costuming," he says. Still, he was drawn to the way modern dance involved people of all genders, shapes and races partnering each other and dancing together. "That was exhilarating to me," he says.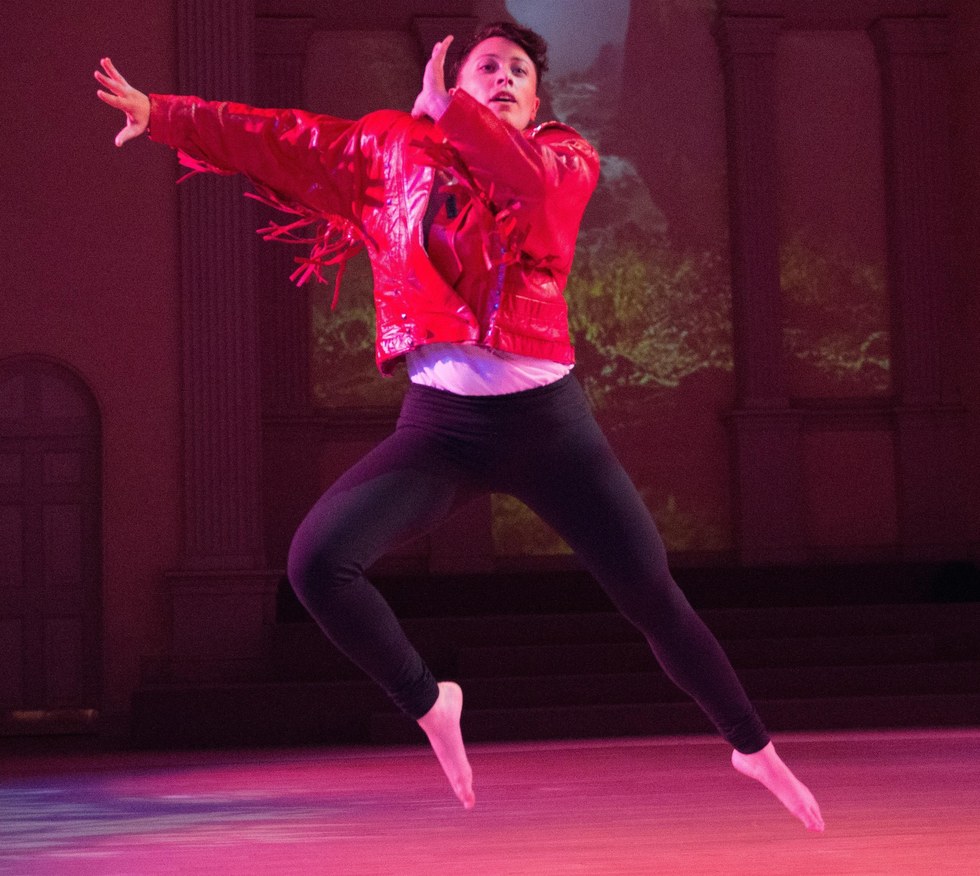 Jules Skloot. Photo by Angela Jimenez, courtesy Skloot.
Shortly after receiving his master's in dance, Skloot started working with Katy Pyle, a cisgender (non-trans) dancer who trained in classical ballet but was interested in scrambling the gender politics of the form. Pyle points out that, unlike some postmodern and experimental dance that tends to ignore gender, her Brooklyn-based company Ballez wants to tackle it head-on. "We're using these definitions of masculinity and femininity to create something that's not neutral, but it's layered and it's complicated," she says.
Ballez's ensemble represents the spectrum of gender identities and it doesn't adhere to traditional gender roles in casting. For example, in the company's 2013 take on The Firebird, Skloot danced the titular role, usually portrayed by a ballerina, and Pyle's character was billed as the "lesbian princess," while the "princes" were danced by women, transmasculine and gender-nonconforming individuals. Gender isn't erased, but it's intentionally and shrewdly dissected. That ethos offers a place in the ballet canon for those who, like Skloot, felt excluded from it in their youth.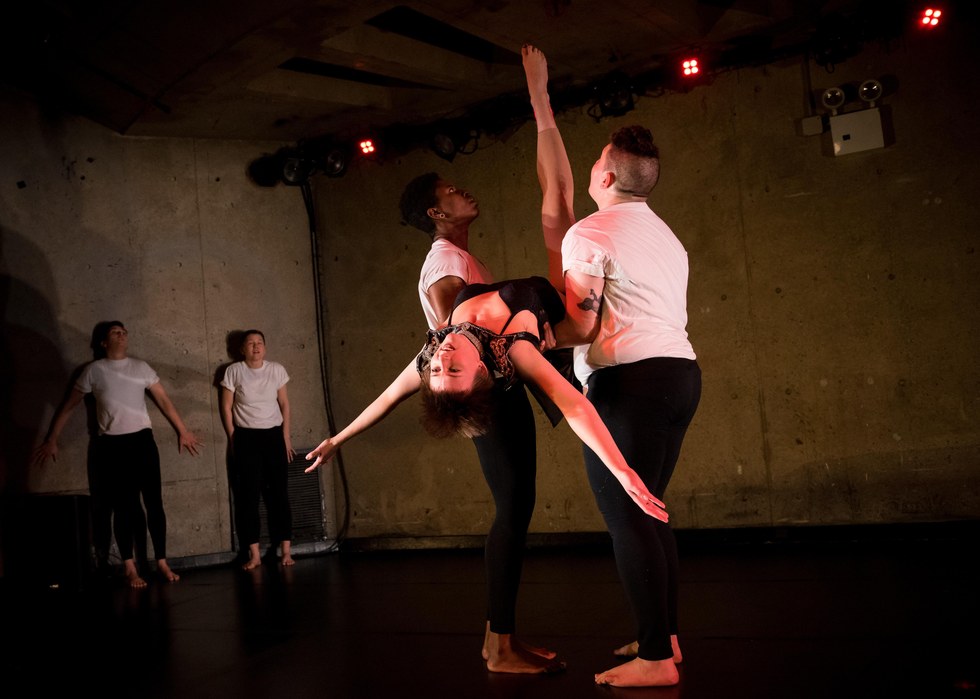 Sorceress and Princes from The Firebird, a Ballez. Photo by Ian Douglas, courtesy American Realness
The experience of valuing the body as an artistic instrument while also feeling disconnected from it can be a disorienting one. Choreographer Arrie Davidson came out as transgender three and a half years ago, though she always knew she was a girl and refers to her childhood as "when I was pretending to be a boy." As a professional dancer, she spent hours editing her bio to avoid using the pronouns "he" or "she."
Now in her 40s and undergoing hormone-replacement therapy, Davidson says that the hesitation to physically transition sooner was partially personal, "but part of it was, 'What does that mean as a dancer?' " She wondered, "If I change my body, is my career over?" She found no out transgender dancers to point the way.
"It's scary to go, 'Well, what is an audience going to think of me now? What are they going to perceive? How do I costume myself?' " Davidson says. Prominent transgender celebrity Caitlyn Jenner may have given people the impression that a transition can take place overnight, but it is a complex multiyear process. Davidson decided she wouldn't stop performing. "I'm on the roller coaster and I'm not turning it around," she says. Instead, she grapples with it in her work, like the recent production Wonder/Through the Looking-Glass Houses, a modern take on Lewis Carroll's Alice tales, in which she uses her character, the White Rabbit, to slyly address transgender issues.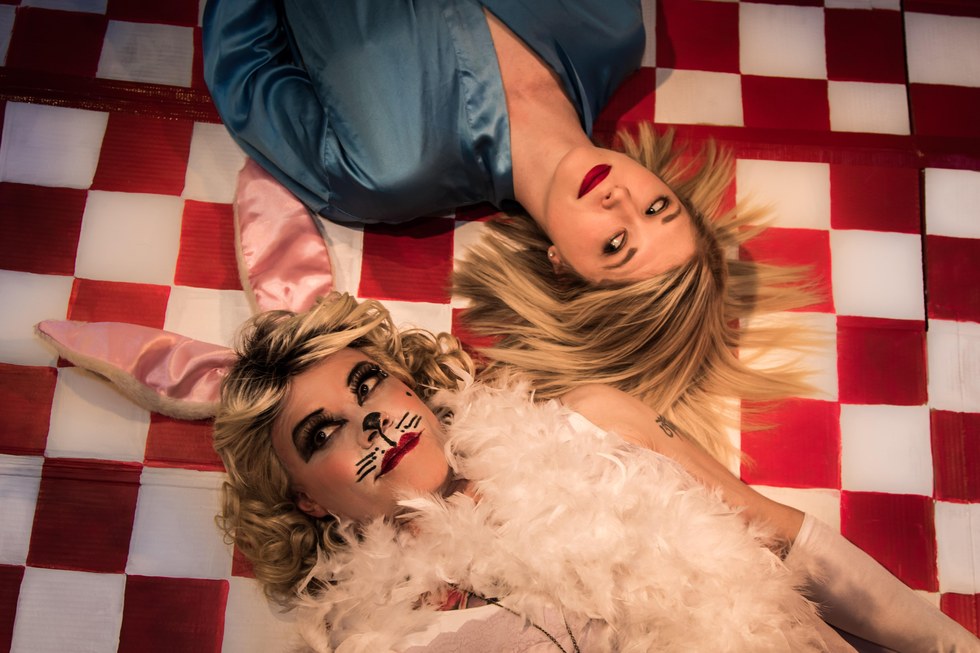 Arrie Davidson with Cecily McCullough in Wonder/Through the Looking-Glass Houses. Photo by Caitlin Shea, Courtesy Davidson
She has also learned to take pleasure in, and laugh at, the process of dealing with a new center of gravity as her body develops curves. Fortunately, she's been able to use her well-honed physical intuition as a dancer to adjust her workouts to give her changing body what it needs. The shift has been psychological, too—losing a bit of control over her body has led to an "openness of exploration on a deeper level" because she no longer judges herself based on past expectations.
Initially, the San Francisco–based Dorsey decided not to physically alter his body. "I was really out and outspoken as trans and making work for 10 years before I chose to take testosterone," he says. "There's a spectrum of the way people express as transgender." During that time, he dealt with the discomfort of dancing with a binder, a restrictive wrap that flattens the chest. He decided to have top surgery (a chest recon­struction similar to a double mastectomy), which he calls a "massive removal of a daily, hourly stress that I lived with moving through the world." Several years later, he began to take testosterone.
The gradual transition allowed Dorsey to closely observe how his dancing changed in relation to his body. His shoulders and chest broadened, which, like Davidson, shifted his center of gravity; he noticed greater physical strength, too. As all dancers learn to do, Dorsey was checking in with his body every step of the way. "It felt very aligned and very right, every moment of that progression."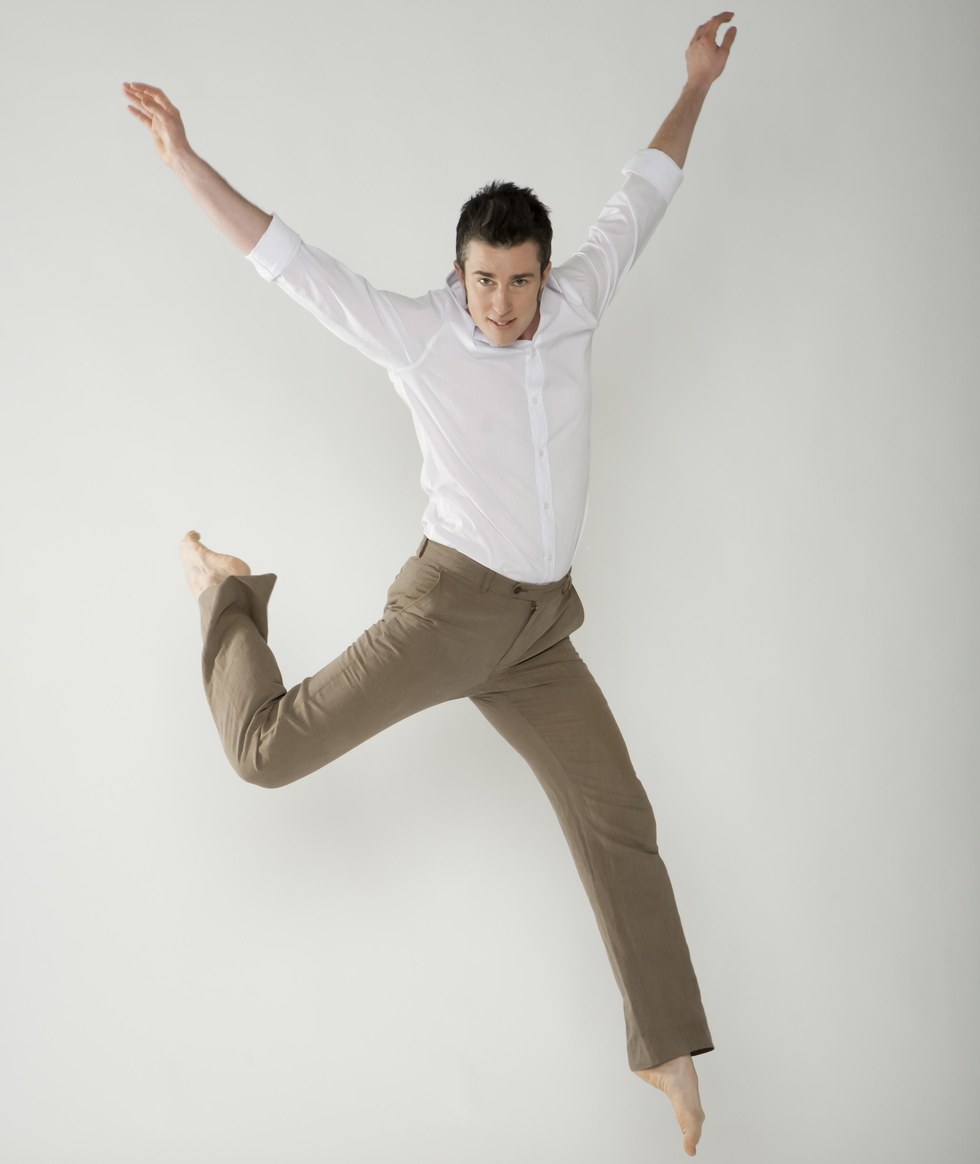 Sean Dorsey. Photo by Lydia Daniller, courtesy Dorsey
That careful attention has served him well in teaching. "I have a unique insider perspective from different parts of the gender spectrum," he says, which helps him connect with students and dancers of all genders.
Transitioning is a very personal journey, but dance is a communal art form. Transgender performers point out that most studios, schools, performance venues, companies and choreographers can do more to make transgender and gender-nonconforming dancers feel welcome. Dorsey shares that many avoid dance studios, yoga studios and gyms because "all of these spaces continue to be profoundly unsafe for trans people, both physically and emotionally."
Over the past several years, Dorsey's company has traveled around the country presenting work like The Missing Generation, The Secret History of Love and Uncovered: The Diary Project, which each address aspects of LGBTQ experiences. He says that "one of the seeds we plant" is asking venues to provide at least one non-gendered restroom.
In terms of training and performance, children who come out at a young age should be welcomed into the class that corresponds to their preferred gender identity, says Davidson. Later in their career, making transgender and gender-nonconforming dancers feel welcome at auditions is another step of inclusion. "Every audition, I put 'All Genders Welcome,' " says Davidson.

Some styles of dance, like ballet, which are more driven by tradition, seem to be less open to transgender dancers compared with contemporary and experimental dance, which tend to be more interested in challenging social norms. Still, Skloot warns choreographers against using transgender dancers just for the sake of incorporating edgy politics, which can feel "tokenizing." "There are so many other parts of me," he says. "And so many other things I want to explore artistically."
Alvin Ailey's life and groundbreaking work are coming to the big screen. Photo courtesy Ailey Archives.
There must be something in the water: Last week, we announced that Madonna is directing Michaela DePrince's upcoming biopic. And yesterday, we got wind of another major dance film: According to The Hollywood Reporter, Fox Searchlight has sealed the deal to make Ailey Ailey's life and work into a movie. Yes, please.
While some movies falter along their way to the big screen, we think this one's got legs (and hopefully a whole lot of lateral T's and hinges and coccyx balances, too). Why?
Keep reading...
Show less
John Heginbotham never walks into rehearsal unprepared. Photo by Janelle Jones, courtesy the Watermill Center
Back in 2012, after 14 years dancing with Mark Morris Dance Group, choreographer John Heginbotham ventured out on his own. Don't think of it as going solo, though.
Almost from the outset, Heginbotham has embarked on a series of fruitful collaborations with other artists, via his namesake company, Dance Heginbotham, and through a stream of independent projects. His creative partners have covered a range of talents and genres: illustrator Maira Kalman (in 2017's The Principles of Uncertainty), opera director Peter Sellars (for Girls of the Golden West, which debuted at San Francisco Opera in November), and contemporary-music luminaries such as Tyondai Braxton and Alarm Will Sound.
Here's What He Has To Say: About starting his company, his rehearsal process and why he's drawn to creative mash-ups.

Keep reading...
Show less
What Dancers Eat
Mar. 09, 2018 09:15AM EST
Pizza can be an excellent recovery meal after a hard day of class and rehearsal. Photo by Thinkstock
Raise your hand if you've ever walked out of the studio with just one thought on your mind: a big, juicy cheeseburger. But raise your other hand if instead of getting that burger, you opted for a hearty salad or stir-fry.
While dancers need to fuel their bodies with nutrient-dense meals and snacks, plenty of foods get an unfair bad rap. "The diet culture in this country vilifies various food groups as being bad while championing others as good," says Kelly Hogan, MS, RD, CDN, clinical nutrition and wellness manager at the Dubin Breast Center at Mount Sinai Hospital in New York City. "But black-and-white thinking like that has no place when it comes to food."
Some foods have less nutrition than others, admits Hogan, but if you're eating what you crave and honoring your hunger and fullness cues, she says you'll probably get the variety of nutrients your body needs. Here are seven foods that can have a place on your plate—guilt-free.
Keep reading...
Show less
When you spend as much time on the road as The Royal Ballet's Steven McRae, getting access to a proper gym can be a hassle. To stay fit, the Australian-born principal turns to calisthenics—the old-school art of developing aerobic ability and strength with little to no equipment.
"It's basically just using your own body weight," McRae explains. "In terms of partnering, I'm not going to dance with a ballerina who is bigger than me, so if I can sustain my own body weight, then in my head I should be fine."
Keep reading...
Show less
Photo by Hugo Glendinning, Courtesy Sadler's Wells
Ten years is a long time for a dance production to run, but Sidi Larbi Cherkaoui's Sutra, an athletic, meditative spectacle featuring 19 Shaolin monks and a malleable set of 21 wooden boxes (designed by Antony Gormley) is still striking a chord with audiences worldwide. To celebrate the milestone, Sutra is returning to Sadler's Wells, where it all began. March 26–28. sadlerswells.com.
Irina Dvorovenko's latest role: Playing Elizaveta Grushinskaya in Grand Hotel at New York City Center. Photo by Joan Marcus, Courtesy New York City Center.
Whether playing a saucy soubrette or an imperious swan, Irina Dvorovenko was always a formidable presence on the American Ballet Theatre stage. Since her 2013 retirement at 39, after 16 seasons, she's been bringing that intensity to an acting career in roles ranging from, well, Russian ballerinas to the Soviet-era newcomer she plays in the FX spy series "The Americans."
We caught up with her after tech rehearsal for the Encores! presentation of the musical Grand Hotel, directed and choreographed by Josh Rhodes and running March 21–25 at New York City Center. It's another tempestuous ballerina role for Dvorovenko—Elizaveta Grushinskaya, on her seventh farewell tour, resentfully checks into the Berlin hostelry of the title with her entourage, only to fall for a handsome young baron and sing "Bonjour, Amour."
Keep reading...
Show less


Get Dance Magazine in your inbox