What It's Like Dancing Between Palestine and New York City
Jamil Sehwail and Creamart via ysdt.org
One of the only paid contemporary dance companies in Palestine, Yaa Samar! Dance Theatre faces logistical challenges that most American companies could never imagine. Nearly 30 to 40 percent of YSDT programming is cancelled—sometimes on performance days—due to artist visa denials, local violence, or because the company is participating in solidarity strikes with their communities.
But when the show does go on, it is all worth it. "The dancers have a space where they can focus, perform an act of solidarity…it is a safe haven for them," says associate artistic director Zoe Rabinowitz.
---
Choreographer Samar Haddad King founded Yaa Samar! Dance Theatre in New York in 2005, after studying in the Ailey/Fordham BFA program. Born in Alabama to a Palestinian mother, she relocated to Palestine in 2010 due to her husband's denied American visa request.
"I never would have guessed that my life would lead me back to my mother's home," says King. Her company now operates between Palestine and New York City. While the move seemed like an obstacle, new opportunities have presented themselves in unexpected ways. In 2011, she created bound via Skype rehearsals with her New York dancers, delving into the experience of separation and featuring a projected Skype conversation between long-distance lovers.
Despite the overseas challenges, King has found a way to operate YSDT in a fluid, multinational, multilingual way (she speaks both English and Arabic). Building her company in a new country required King hire new YSDT dancers in Palestine. Meanwhile, associate artistic director Rabinowitz remains dedicated to the company in New York City. Together the pair has grown YSDT into an international touring presence, with dancers traveling from both locations to perform together.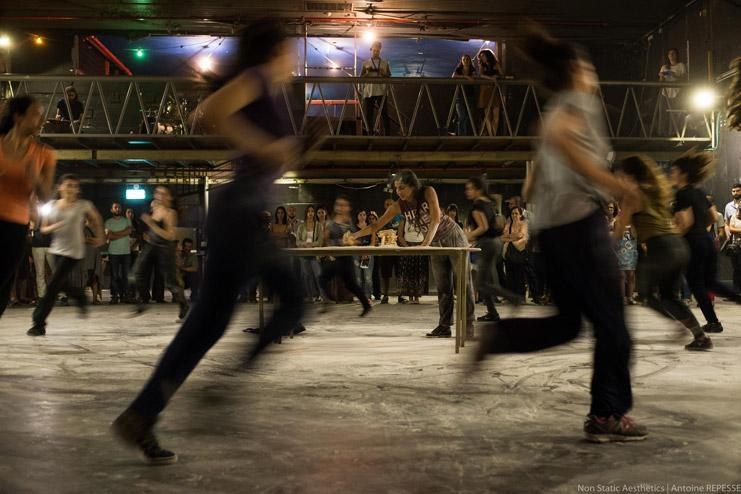 non/static aesthetics. Photo by Antoine Repesse via ysdt.org
King has immersed herself in the Palestinian dance community, developing ballet curriculum for Sareyyet Ramallah—an organization dedicated to cultural growth in Palestinian communities—and she is now one of the premier ballet teachers in the country. Formal dance training in Palestine is minimal, and many of the dancers she works with are self-taught street dancers who learn hip-hop from YouTube. "We see a lot of talent and desire—dance is everywhere here—but training is very limited for young people," explains Rabinowitz.
In 2015, King and two YSDT artists created a site-specific work, non/static aesthetics, in collaboration with 16 young Palestinian women from both sides of the Israeli West Bank wall. The piece was presented in non-traditional spaces throughout Palestine to discover beauty within ruins. This summer, YSDT launches its first summer intensive program in Nazareth.
YSDT's newest piece, directed by King and Amir Nizar Zuabi, Against a Hard Surface premiered during the Ramallah Contemporary Dance Festival and internationally during the Theater der Welt festival in Hamburg. Featuring a giant onstage wall that dancers climb up, ram into or throw their bodies against, the piece is a powerful statement.

But King's aim is to tell universal stories, to spark dialogue and provide an experience. "Conflict and fragmentation are present everywhere; what interests me is finding ways to mobilize and connect individuals and artists through creative projects," says King. "There should always be movement."
PC Lydia Daniller, Courtesy Dorsey
I love being transgender. It's an important part of the story of why I choreograph. Although I loved dance from a very young age, I grew up never seeing a single person like me in dance. So how could I imagine a future for myself there?
The enormous barriers I had to overcome weren't internal: I didn't struggle with feelings of dysphoria, and I wasn't locked down by shame.
Keep reading...
Show less
News
Feb. 16, 2018 02:45PM EST
via Facebook
The dance community is heartbroken to learn that 14-year-olds Jaime Guttenberg and Cara Loughran were among the 17 people killed during the February 14 shooting at Marjory Stoneman Douglas High School in Parkland, FL.
Guttenberg was a talented competition dancer at Dance Theatre in Coconut Creek, FL, according to a report from Sun Sentinel. Dance Theatre owner Michelle McGrath Gerlick shared the below message on her Facebook page, encouraging dancers across the country to wear orange ribbons this weekend in honor of Guttenberg, whose favorite color was orange.
Keep reading...
Show less
Gaga teacher Amy Morrow says investigative styles can help any dancer. PC Ascaf Avraham
In today's dance world, it seems to go without saying: The more varied the training, the better. But is that always the case? Rhonda Malkin, a New York City–based dance coach who performed with the Radio City Rockettes, thinks trendy contemporary techniques that emphasize improvisation and organic movement quality are detrimental to the precision and strength needed to be a Rockette, in a traditional Broadway show or on a professional dance team. Her view is controversial: "If you really want to work, making $40,000 in three months for the Rockettes or $25,000 in one day filming a commercial, you need ballet, Broadway jazz, tap, hip hop—not contemporary," she says.
On the flip side, techniques that allow dancers more freedom may help them connect more deeply with their body and artistry, while providing release for overused muscles. We broke down the argument for both sides:
Keep reading...
Show less
How do you warmup? Photo by Jim Lafferty
For many dancers, a "warmup" consists of sitting on the floor stretching their legs in various positions. But this strategy only reduces your muscles' ability to work properly—it negatively affects your strength, endurance, balance and speed for up to an hour.
Save your flexibility training for the end of the day. Instead, follow a warmup that will actually help prevent injury and improve your body's performance.
According to the International Association of Dance Medicine and Science, a smart warmup has four parts: "a gentle pulse-raising section, a joint mobilization section, a muscle lengthening section and a strength/balance building section."
Keep reading...
Show less
Breaking
Feb. 16, 2018 12:17PM EST
Former NYCB ballet master in chief Peter Martins resigned in January in the midst of an investigation into allegations of harassment and abuse. Photo by Paul Kolnik, Courtesy NYCB
A statement released yesterday by New York City Ballet and School of American Ballet reported that an independent investigation was unable to corroborate allegations of harassment and abuse against former ballet master in chief Peter Martins, according to The New York Times. This marks the end of a two-month inquiry jointly launched by the two organizations in December following an anonymous letter detailing instances of harassment and violence.
The statement also included new policies for both the company and school to create safer, more respectful environments for the dancers, including hiring an independent vendor to handle employee complaints anonymously. These changes are being made despite the independent investigation, handled by outside counsel Barbara Hoey, purportedly finding no evidence of abuse.
Keep reading...
Show less
Lauren Lovette, photographed by Jayme Thornton
Not all ballet dancers cling to their youth. At 26, Lauren Lovette, the New York City Ballet principal, has surpassed the quarter-century mark. And she's relieved.
"I've never felt young," she says. "I can't wait until I'm 30. Every woman I've ever talked to says that at 30 you just don't care. You're free. Maybe I'll start early?"
Keep reading...
Show less


Get Dance Magazine in your inbox