What It's Like Dancing Between Palestine and New York City
Jamil Sehwail and Creamart via ysdt.org
One of the only paid contemporary dance companies in Palestine, Yaa Samar! Dance Theatre faces logistical challenges that most American companies could never imagine. Nearly 30 to 40 percent of YSDT programming is cancelled—sometimes on performance days—due to artist visa denials, local violence, or because the company is participating in solidarity strikes with their communities.
But when the show does go on, it is all worth it. "The dancers have a space where they can focus, perform an act of solidarity…it is a safe haven for them," says associate artistic director Zoe Rabinowitz.
---
Choreographer Samar Haddad King founded Yaa Samar! Dance Theatre in New York in 2005, after studying in the Ailey/Fordham BFA program. Born in Alabama to a Palestinian mother, she relocated to Palestine in 2010 due to her husband's denied American visa request.
"I never would have guessed that my life would lead me back to my mother's home," says King. Her company now operates between Palestine and New York City. While the move seemed like an obstacle, new opportunities have presented themselves in unexpected ways. In 2011, she created bound via Skype rehearsals with her New York dancers, delving into the experience of separation and featuring a projected Skype conversation between long-distance lovers.
Despite the overseas challenges, King has found a way to operate YSDT in a fluid, multinational, multilingual way (she speaks both English and Arabic). Building her company in a new country required King hire new YSDT dancers in Palestine. Meanwhile, associate artistic director Rabinowitz remains dedicated to the company in New York City. Together the pair has grown YSDT into an international touring presence, with dancers traveling from both locations to perform together.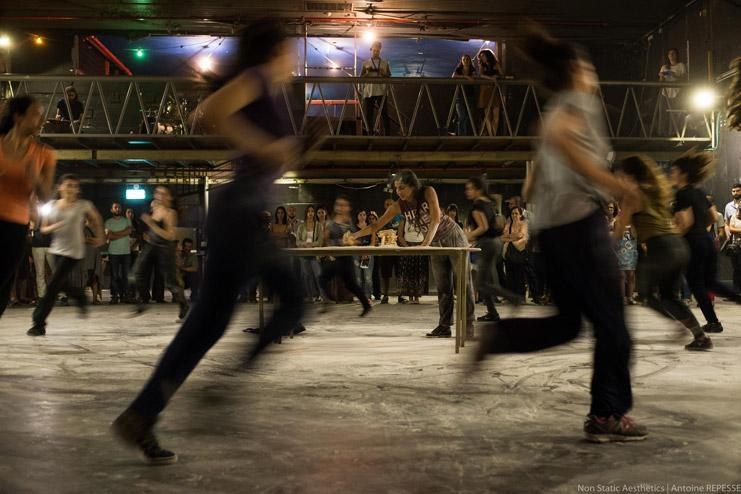 non/static aesthetics. Photo by Antoine Repesse via ysdt.org
King has immersed herself in the Palestinian dance community, developing ballet curriculum for Sareyyet Ramallah—an organization dedicated to cultural growth in Palestinian communities—and she is now one of the premier ballet teachers in the country. Formal dance training in Palestine is minimal, and many of the dancers she works with are self-taught street dancers who learn hip-hop from YouTube. "We see a lot of talent and desire—dance is everywhere here—but training is very limited for young people," explains Rabinowitz.
In 2015, King and two YSDT artists created a site-specific work, non/static aesthetics, in collaboration with 16 young Palestinian women from both sides of the Israeli West Bank wall. The piece was presented in non-traditional spaces throughout Palestine to discover beauty within ruins. This summer, YSDT launches its first summer intensive program in Nazareth.
YSDT's newest piece, directed by King and Amir Nizar Zuabi, Against a Hard Surface premiered during the Ramallah Contemporary Dance Festival and internationally during the Theater der Welt festival in Hamburg. Featuring a giant onstage wall that dancers climb up, ram into or throw their bodies against, the piece is a powerful statement.

But King's aim is to tell universal stories, to spark dialogue and provide an experience. "Conflict and fragmentation are present everywhere; what interests me is finding ways to mobilize and connect individuals and artists through creative projects," says King. "There should always be movement."
ABT's James Whiteside and Isabella Boylston. Photo via Instagram
Last night, American Ballet Theatre held its annual Fall Gala at the David H. Koch Theater in New York City. To celebrate ABT's artistic director Kevin McKenzie's 25 years of leadership, dancers from ABT's company, apprentices, studio company members and students from the Jaqueline Kennedy Onassis School took to the stage in Jessica Lang's The Gift, Alexei Ratmansky's Songs of Bukovina and Christopher Wheeldon's Thirteen Diversions.
But we also love a good behind-the-scenes glimpse—especially when designer gowns are involved. And the dancers gave us plenty of glam looks to obsess over once the curtains closed. Ahead, see our favorite moments from gala straight from the dancers.
Devon Teuscher in the floral print suit of our dreams (by designer Patricia Bonaldi) practices her dance moves with Christine Shevchenko. Both girls accessorized with sparkling jewels from gala sponsor de Grisogono.
Keep reading...
Show less
Popular
Sep. 25, 2017 10:40AM EST
The dancers file into an audition room. They are given a number and asked to wait for registration to finish before the audition starts. At the end of the room, behind a table and a computer (and probably a number of mobile devices), there I sit, doing audio tests and updating the audition schedule as the room fills up with candidates. The dancers, more nervous than they need to be, see me, typing, perhaps teasing my colleagues, almost certainly with a coffee cup at my side.

Keep reading...
Show less
Arolyn Williams and Chase O'Connell in Fox on the Doorstep, PC Beau Pearson
Last week Ballet West breezed into New York City's Joyce Theater from Salt Lake City. The dancers are excellent—especially the women (what else is new). The company brought five pieces including works by Gerald Arpino, Val Caniparoli and resident choreographer Nicolo Fonte.
Arpino's last work, made in 2004, is a duet called RUTH, Ricordi per Due ("remembrance for two"). It's about a man haunted by the memory of the woman he loved. Christopher Ruud is strong and sensitive as the man, and Arolyn Williams is riveting as the ghost of his beloved.
Val Caniparoli energizes his dancers with juicy movement, and always sticks to his theme. (He doesn't ramble, and let's face it, long rambling choreography is a problem these days.) In his premiere for Ballet West, Dances for Lou, he takes on the music of Lou Harrison, a composer known for his Eastern sounds and rhythms.
Keep reading...
Show less
Sidi Larbi Cherkaoui's Pictures at an Exhibition, performed by The Royal Ballet of Flanders.
Photo by Filip VanRoe, courtesy Marquee
Your Saturday nights are about to go from "Netflix and chill" to "Marquee and chill." (Okay, maybe we'll need to coin a new phrase).
But seriously, the new streaming app Marquee Arts TV lets you curl up with Bolshoi Ballet's Swan Lake, Sylvie Guillem dancing Mats Ek's solo Bye, a dance film by Cullberg Ballet called 40 M Under, or a documentary about Alonzo King and LINES Ballet. Marquee unlocks a world of digital arts: dance, theater, opera, music, documentaries and film shorts that you can stream directly to your TV or mobile device.
Keep reading...
Show less


Get Dance Magazine in your inbox