Now that we're in the 20th year of the new millennium, Dance Magazine decided it was time to take stock. What are the new dance classics that have been created since the year 2000? We polled contributors from around the country to put together a very subjective and not at all comprehensive list of 20 top works that we love for all kinds of reasons. These are dances that delighted us, that entertained us, that moved us and that made us think and feel more deeply. Put simply, they're dances that made us fall in love with this art form all over again.
---
Most Moving Take on a Familiar Setting: Kyle Abraham's Pavement, 2012
It was so honest, so relevant, so real, so uncomfortable. A year before the official founding of the Black Lives Matter movement, Kyle Abraham's Pavement used the familiar setting of a basketball court to expose the reality of living under the constant threat of violence. The repeated motion of dancers being guided to the floor with their hands behind their backs, as though being arrested, hauntingly captured a sense of helplessness. Vignettes of deliciously juicy movement showcased toughness, camaraderie, vulnerability—and how quickly each one of those things can morph into another. —Jennifer Stahl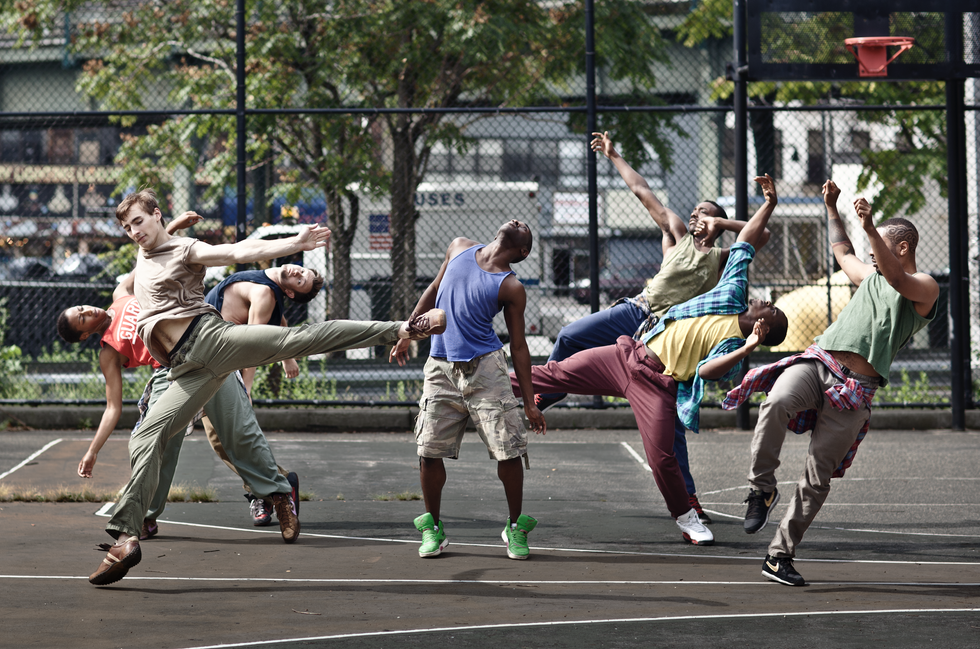 A.I.M in Pavement
Carrie Schneider, Courtesy A.I.M
Best Dance Theater Work: Crystal Pite's Betroffenheit, 2015
The German language has a word for so many circumstances, words like "betroffenheit," which conveys a state of shock and bewilderment. But even German has its limits, and when a word falls short in any language, sometimes movement succeeds. Crystal Pite's Betroffenheit, which debuted in 2015 and has since been presented at 39 tour stops in 15 countries, explores the sparkling highs and humiliating lows of substance abuse. The collaboration between her own troupe, Kidd Pivot, and Vancouver's Electric Company Theatre set a new standard for dance theater with its better-than-Broadway lighting, sound and visual effects. Actor Jonathon Young starred as the wretchedly watchable addict, surrounded by dancers sucking him into "the show," a shiny world of break dance, tap and contorted modern movement. What we see onstage is an epic breakdown. Pite took the ugliest of human experiences and made it beautiful, without ever aggrandizing her subject matter. Until there's a word for exactly that accomplishment, there's Betroffenheit. —Rebecca J. Ritzel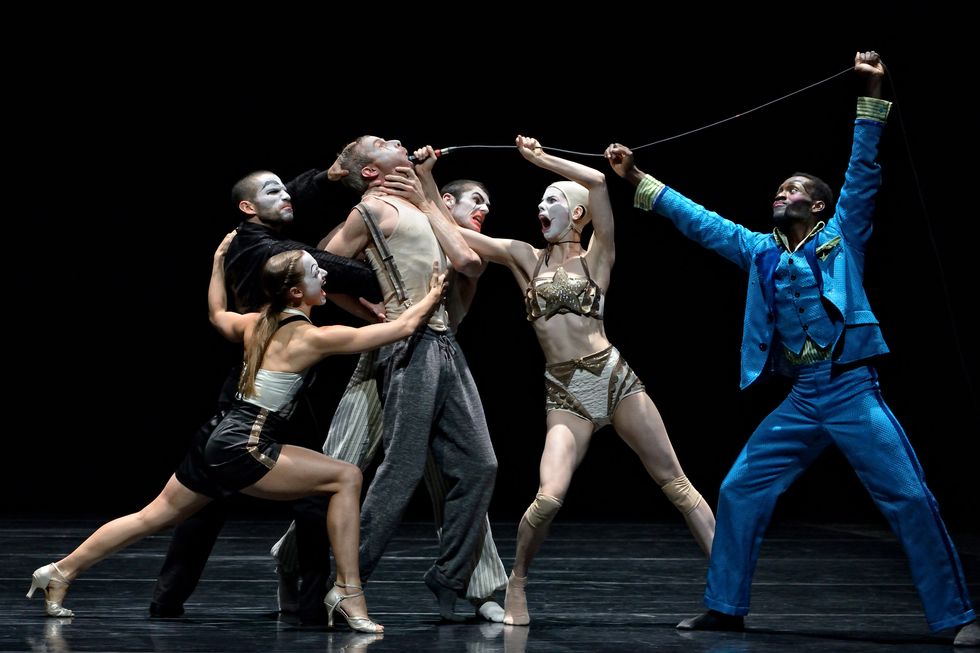 Kidd Pivot and Jonathon Young in Betroffenheit
Michael Slobodian, Courtesy Kidd Pivot
Best Audience Interaction: Monica Bill Barnes & Company's Happy Hour, 2015
Replete with streamers, karaoke, candy and drinks, Monica Bill Barnes & Company's Happy Hour looks like your typical office party. Created by Barnes, Anna Bass and Robbie Saenz de Viteri, this show brilliantly distills the vulnerability behind performed machismo. Barnes' signature comedic style shines through in characters whose wonderful earnestness and awkwardness is deeply—albeit sometimes painfully—relatable. Performed in small spaces to small crowds, Happy Hour is uniquely intimate, incorporating audience interaction in a way that pushes the boundaries of concert dance. —Chava Lansky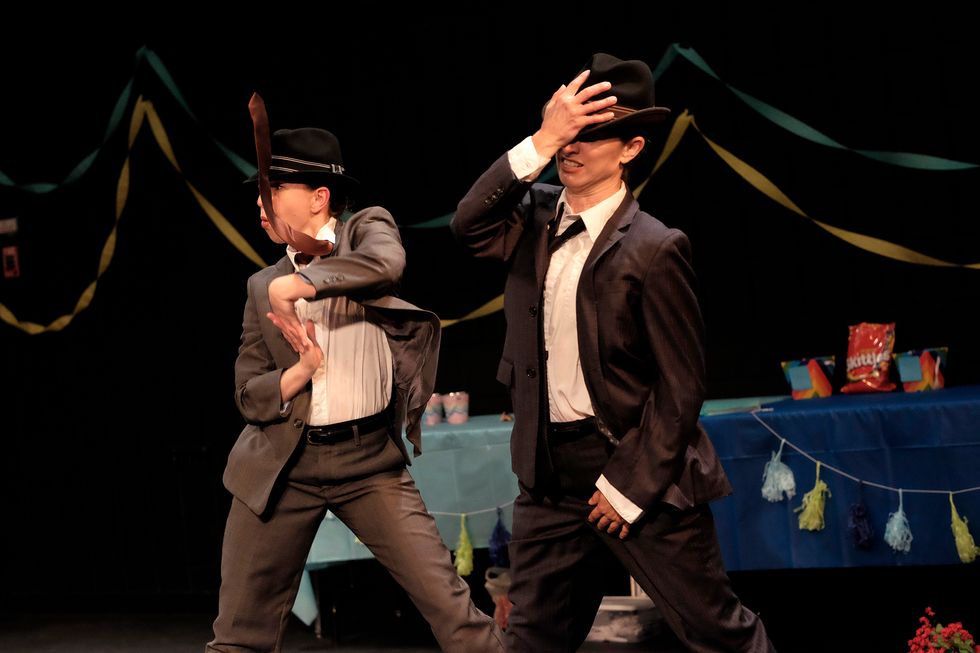 Anna Bass and Monica Bill Barnes in Happy Hour
Grant Halverson, Courtesy MBB & CO
Most Creative Use of Tables: William Forsythe's One Flat Thing, reproduced, 2000
Its premiere just 33 days into Y2K wasn't the only way One Flat Thing, reproduced marked a pivotal moment. The work's original venue, a former tram depot almost exactly a century old, and its 20 metal tables forecast William Forsythe's growing interest in site-specific choreography around obstacles—both physical and intangible. Then 15 years into his collaboration with electronic-music composer Thom Willems, Forsythe maximized the dynamic range of the short piece, wild enough in some sections to make your seat shake, and quiet enough in others to hear a pin drop. In 2009, One Flat Thing, reproduced became the basis for the still-impressive interactive website Synchronous Objects. —Zachary Whittenburg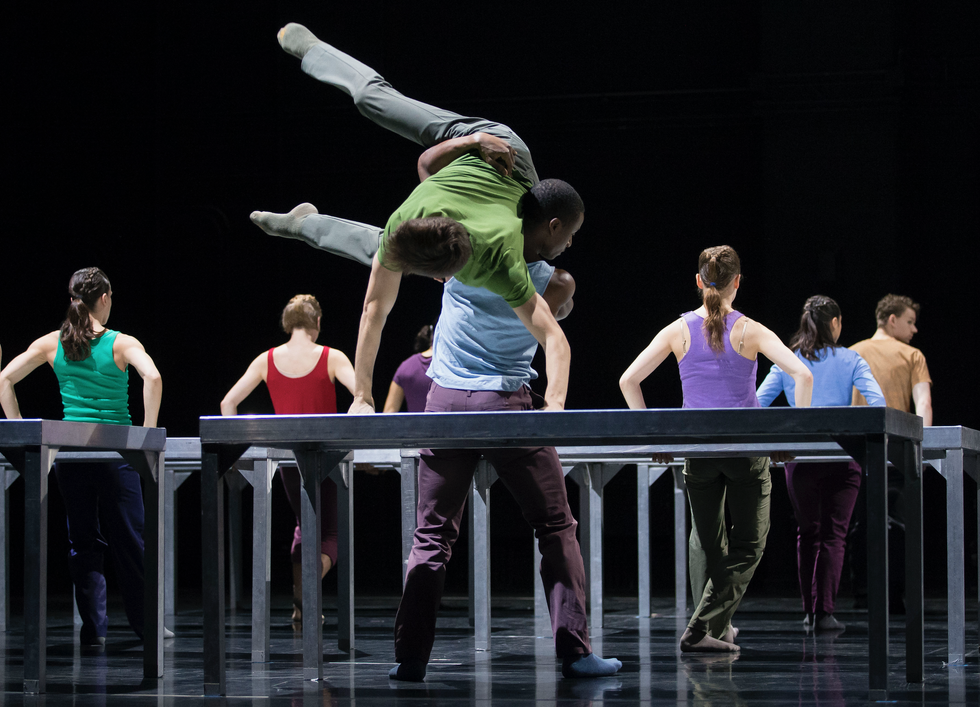 Hubbard Street Dance Chicago in One Flat Thing, reproduced
Todd Rosenberg, Courtesy Hubbard Street
Most Magical Tech: Chunky Move's GLOW, 2006
Chunky Move's GLOW premiered in 2006 (basically eons ago in terms of media technology), but it remains the best overall deployment of projection mapping for live dance. The piece used an array of sensors that followed where and how a soloist moved, and seamlessly composed stage lighting responsive to the performer. This digital wizardry revealed the mechanism of the dancer's body, with lighting effects fundamentally indistinguishable from magic. —Sydney Skybetter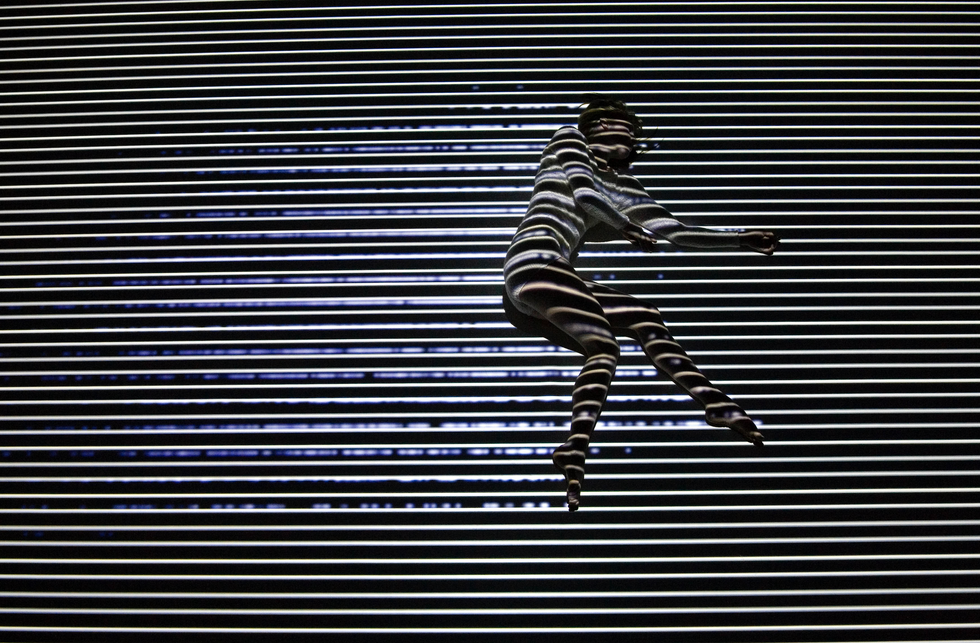 Chunky Move's Kristy Ayre in Glow
Rom Anthonis, Courtesy Chunky Move
Most Fun at the Ballet: Justin Peck's Year of the Rabbit, 2012
Justin Peck's choreography has become so ubiquitous that it's easy to forget just how unexpected Year of the Rabbit was. Only his second work for New York City Ballet, the piece contained the seeds of everything he's done since. Complex architectural structures were crafted and then deconstructed piecemeal before our eyes. The corps stopped halfway through an exit to lie on their backs, halfway in the wings, as a pas de deux unfolded upstage. The composition was serious, its execution playful (except when it needed to be poignant), and the music—an orchestration of Sufjan Stevens' "Enjoy Your Rabbit"—marked the beginning of one of the coolest collaborations of the decade. Rabbit proved that ballet, despite reports to the contrary, was alive and well, and reminded us that it could be fresh, surprising and, yes, fun. —Courtney Escoyne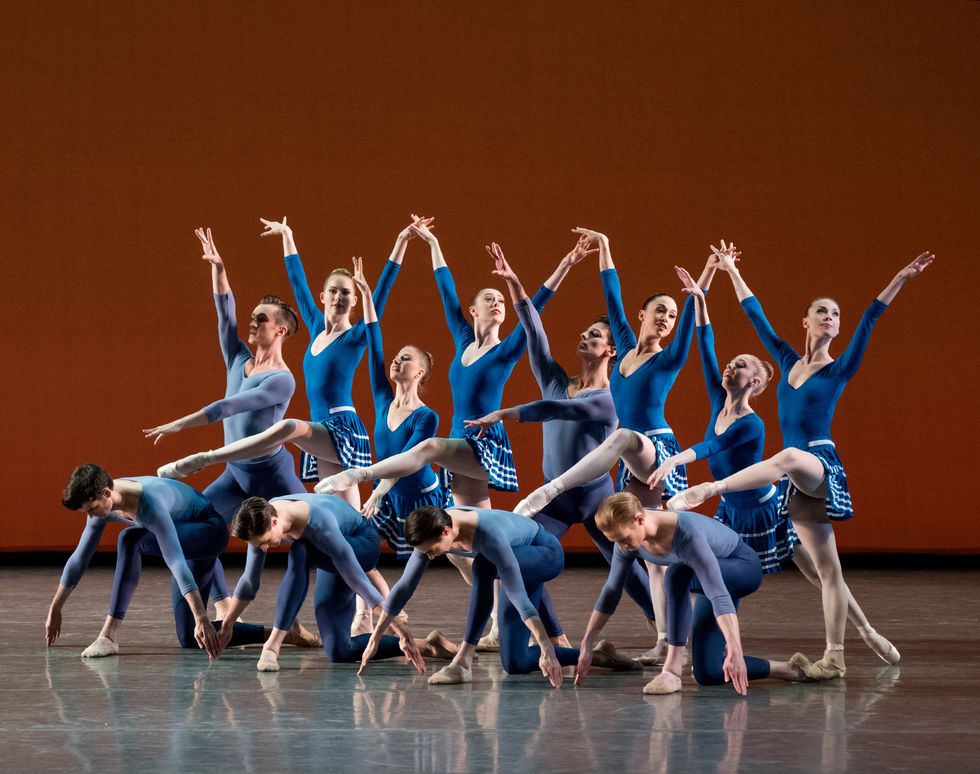 NYCB in Year of the Rabbit
Paul Kolnik, Courtesy NYCB
Most Moving Elegy: Paul Taylor's Beloved Renegade, 2008
One decade before his death, Paul Taylor made a masterpiece—his last, as it turned out. Beloved Renegade, set to Francis Poulenc's Gloria and inspired by the life of Walt Whitman, had an elegiac tone. A man in white, danced at the premiere by the Apollonian Michael Trusnovec, seemed to conjure up images from his past: men and women entwined in ecstatic love; young men falling to the ground, as if injured in war; children frolicking. And then an angelic figure prepared the man for death and led him into the unknown. It felt very much as if Taylor, then 78, was somehow taking stock of his own life and perhaps preparing us for his future absence. The tears flowed. —Marina Harss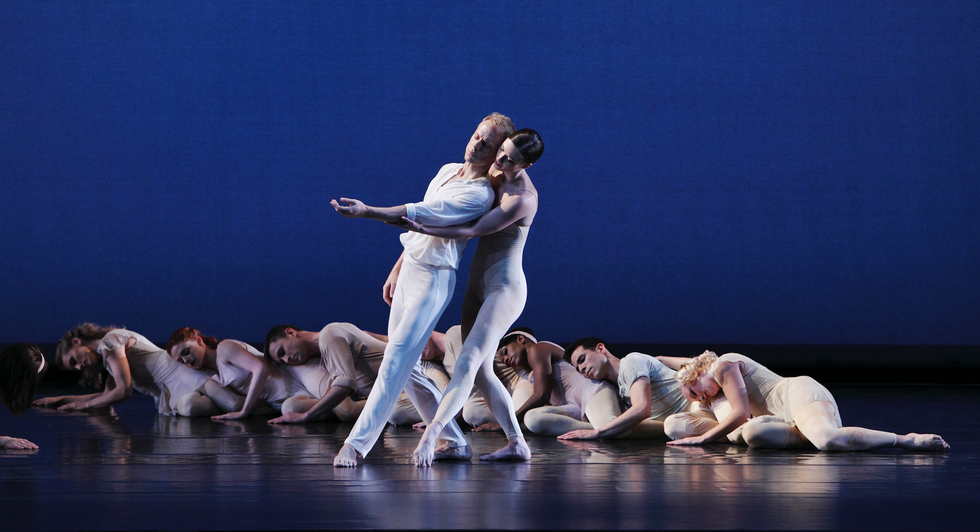 Michael Trusnovec and Laura Halzack in Beloved Renegade
Paul B. Goode, Courtesy PTDC
Best Dance on Broadway: Hamilton, 2015
If the MO of Hamilton's main character was not throwing away his shot, the same rang true for Tony-winning choreographer Andy Blankenbuehler. Upping the ante for dance in musical theater, he crafted drastically different tracks for each dancer with a vocabulary that pulled from hip hop, contemporary, Fosse and stepping. Working with Lin-Manuel Miranda's complex rhythms to accentuate prominent lyrics, the choreography puts this retelling of early American history further into hyperdrive. There's the emotional nuance of "Satisfied," as the cast retraces choreography from the previous scene, but in reverse. The Battle of Yorktown unfolds with soldiers executing tightly synchronized phrases in shape-shifting formations. Even the bullet that kills Hamilton is embodied through dance. —Madeline Schrock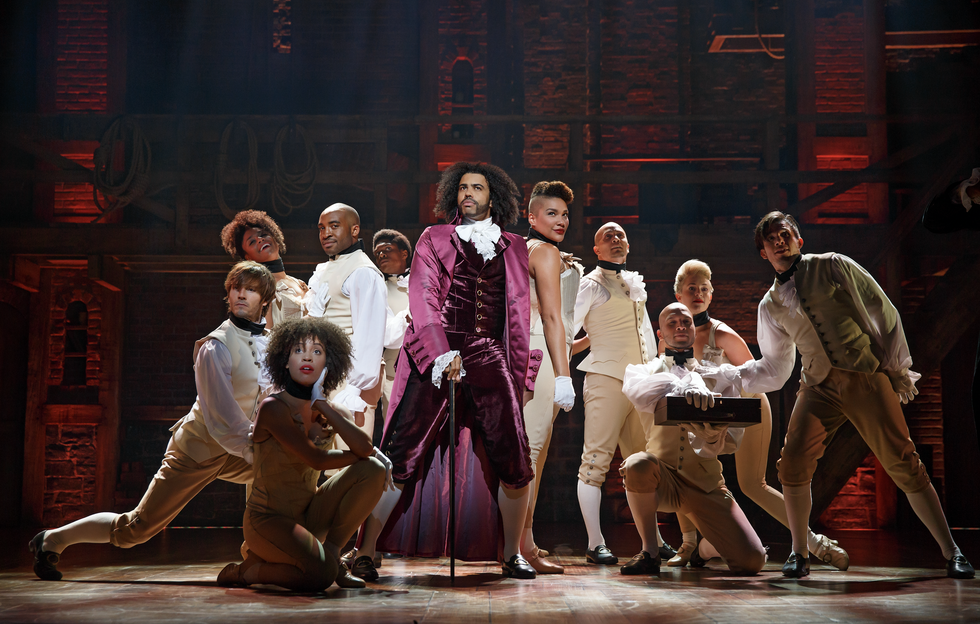 Daveed Diggs and the ensemble of Hamilton
Joan Marcus, Courtesy Hamilton
Most Inviting Confrontation: Okwui Okpokwasili's Bronx Gothic, 2014
As the audience trickled into Bronx Gothic, Okwui Okpokwasili was already deep inside the work, violently shaking as sweat pooled on her body. It was an accurate introduction to what would come: a powerful magnum opus that fearlessly investigated what it means to have a black body in America today. What was remarkable, though, was that as Okpokwasili trekked further into the complexities of her own identity, she simultaneously drew the audience (which, during her national tour captured in a documentary of the same name, was largely white) closer, forcing them to confront uncomfortable realities while also offering them points of access. —Lauren Wingenroth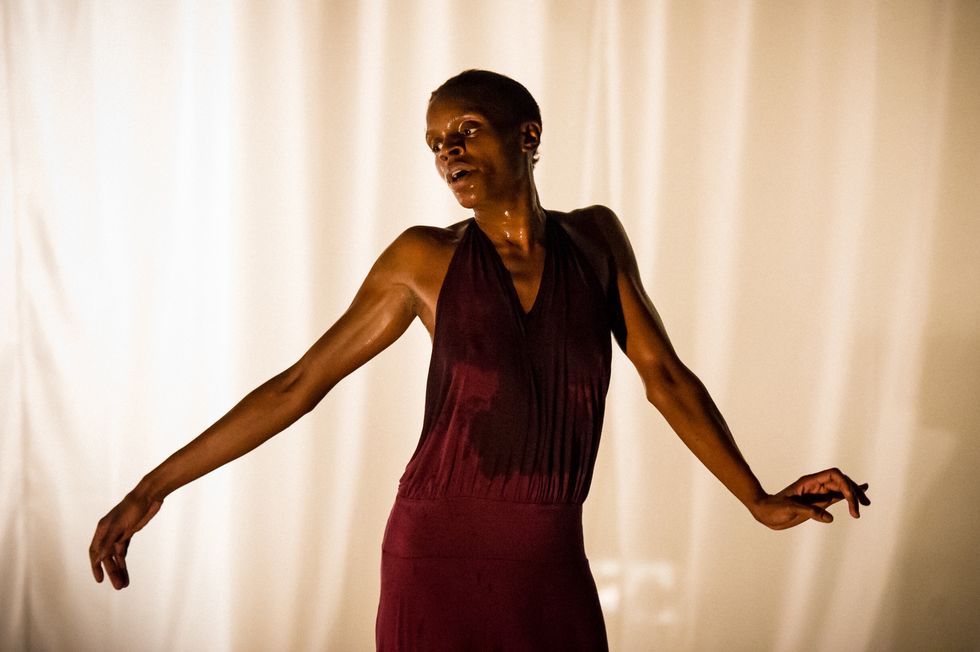 Okwui Okpokwasili in Bronx Gothic
Ian Douglas, Courtesy Okpokwasili
Most Satisfying Confusion: Surupa Sen's "Vibhakta" at The Met, 2015
The Odissi company Nrityagram is known for the highly innovative and well-crafted choreography of artistic director Surupa Sen. And for the extraordinary dancing of Sen and her star dancer Bijayini Satpathy. The duets Sen has created for the two of them have taken the art of Odissi to a pinnacle of the form. In "Vibhakta," which the two performed as part of an unforgettable evening of duets in front of the Temple of Dendur at the Metropolitan Museum of Art, you weren't always sure what you were seeing: one dancer or two, man or woman, moving sculpture or simply music in physical form. It was dance as transformation and deep emotional and spiritual connection. —Marina Harss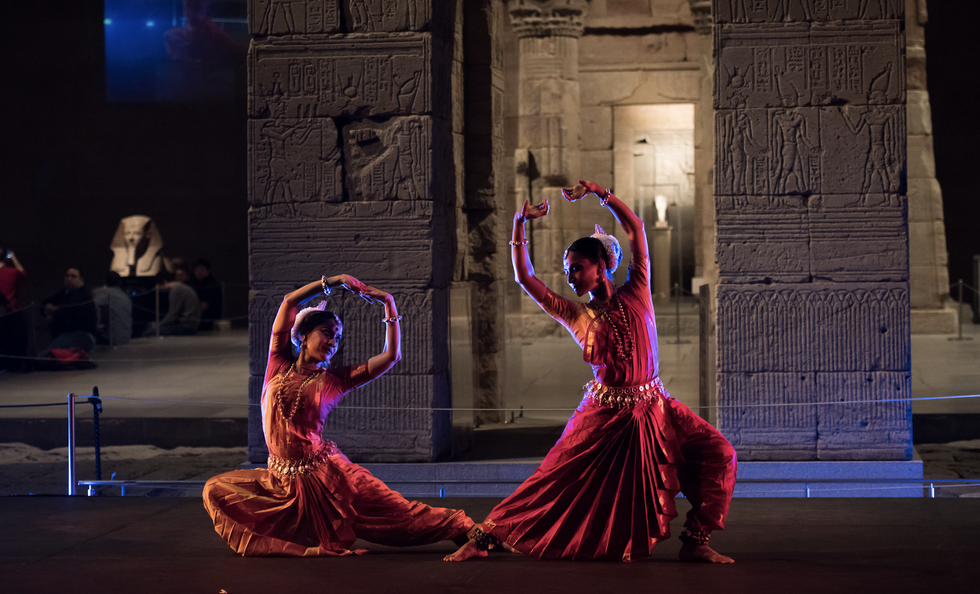 Surupa Sen and Bijayini Satpathy in "Vibhakta"
Nan Melville, Courtesy Met Museum
Most Artistic Use of Physicality: Arthur Pita's The Metamorphosis, 2011
In 2011, Royal Ballet audiences might have known of Edward Watson's uncommonly hypermobile facility, and they might have known of his penchant for portraying dark, neurotic characters. But there was a peculiar alchemy at work in The Metamorphosis, Arthur Pita's dance-theater reimagining of the Kafka novella in which a man is transformed overnight into an insect. It marked the first time Watson utilized the fullest extent of his incredible physicality in service of his unnerving dramatic ability, forging a singular, riveting vehicle from the many facets of his talent. Surreal, strange and startling, Watson's unceasing movement stuck in the mind long after leaving the theater. —Courtney Escoyne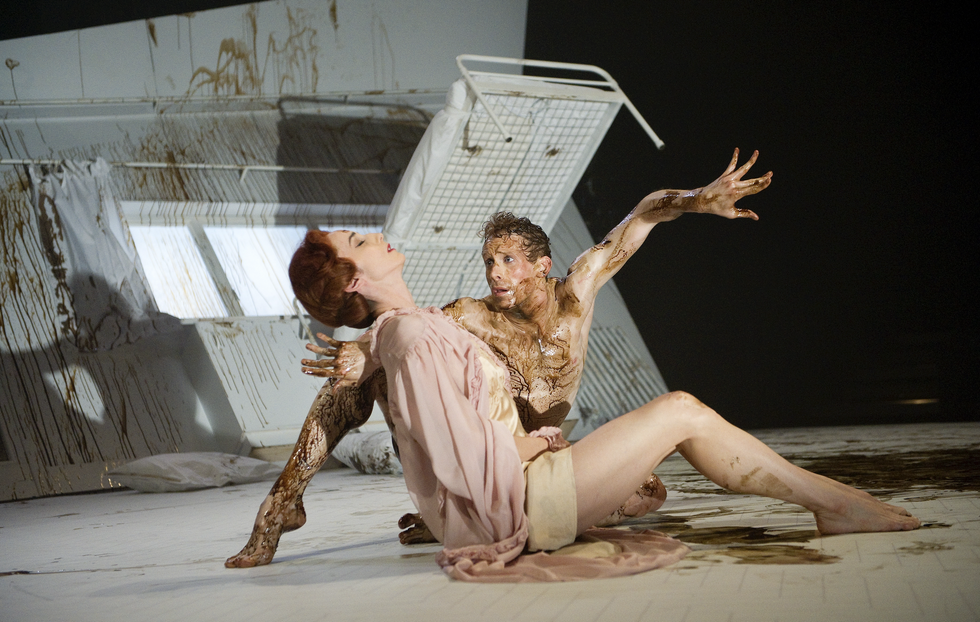 Nina Goldmand and Edward Watson in Metamorphosis
Tristram Kenton, Courtesy ROH
Best Tribute to Dance History: Dorrance Dance in The Blues Project, 2013
While many of Michelle Dorrance's works aim to move tap into the future, The Blues Project, co-choreographed with Derick K. Grant and Dormeshia Sumbry-Edwards, pays a beautiful homage to the past. The piece was created in collaboration with musician Toshi Reagon, who performs live with her band, BIGLovely; the sublime conversation between music and dance could convert any nonbeliever into a tap fan. While the ensemble numbers are an ode to the form's social dance lineage, improvisatory solos by the three creators reveal their deep understanding of tap's complex history, proving them to be true visionaries in the field. —Chava Lansky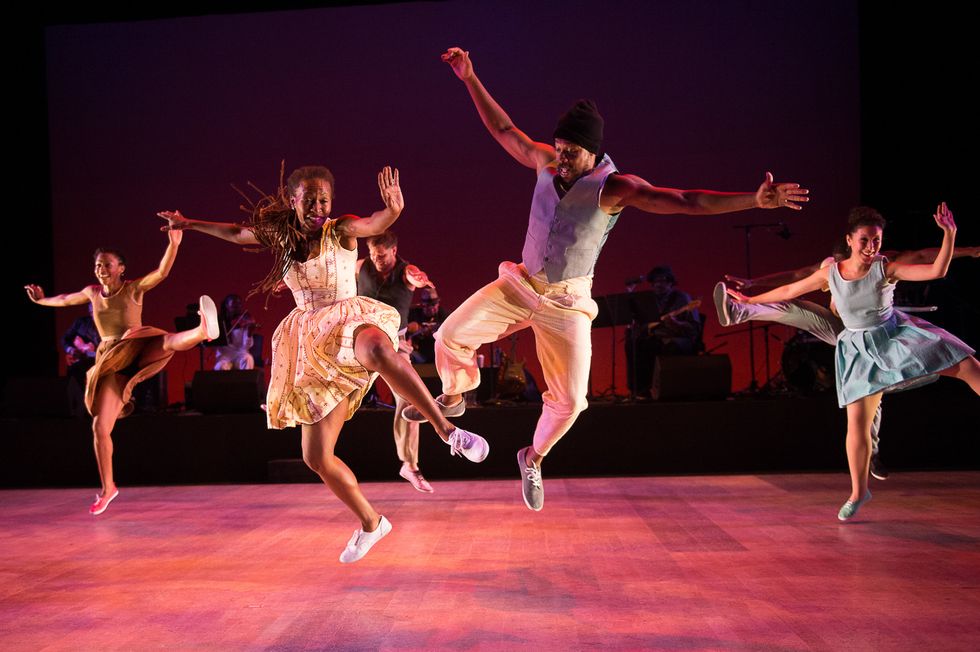 Dormeshia Sumbry-Edwards and Derick K. Grant in The Blues Project
Christopher Duggan, Courtesy Dorrance Dance
Best Story Ballet Remake: Alexei Ratmansky's The Bright Stream, 2003
In 2003, Alexei Ratmansky was still a dancer with the Royal Danish Ballet, albeit one with a burgeoning choreographic career. Then he made The Bright Stream for the Bolshoi Ballet. This tongue-in-cheek remake of an early Soviet work, set on a collective farm, to a score by Shostakovich, was an instant sensation in Russia. In 2005 the Bolshoi brought it to the U.S.; people were surprised by the vividness of the characterizations, the fluency and playfulness of the storytelling, and the musicality of the choreography. After years of plotless ballets, we were reminded that it was okay to tell stories, even light ones, and that it could be done with sophistication and ease. —Marina Harss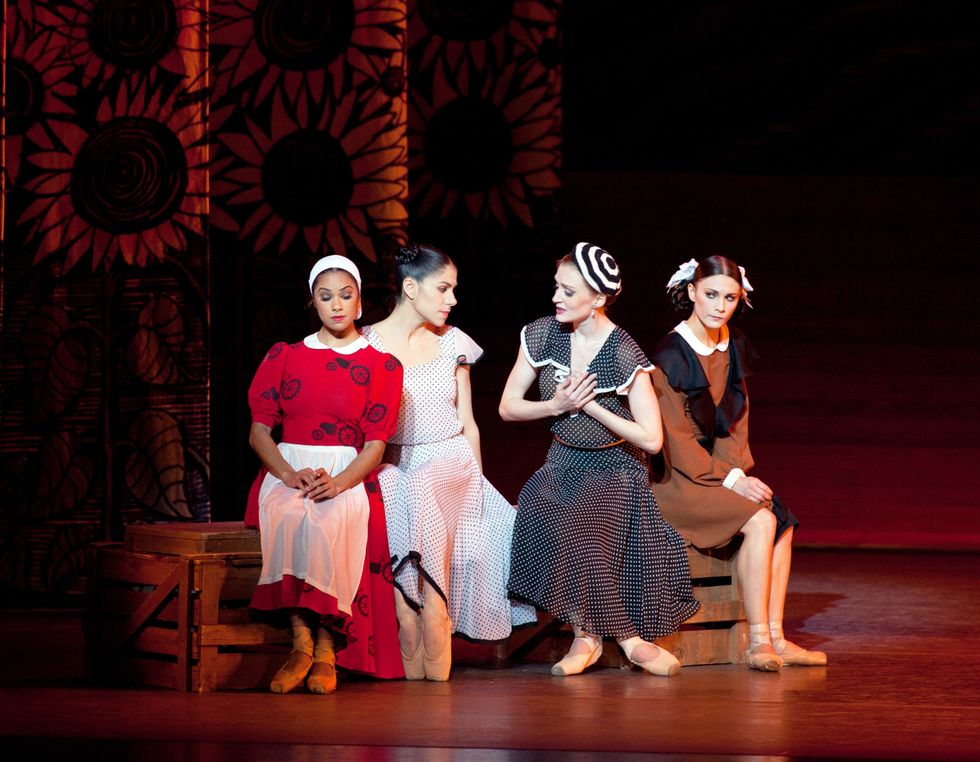 American Ballet Theatre in The Bright Stream
Rosalie O'Connor, Courtesy ABT
Most Exciting Reinvention of Neoclassicism: Christopher Wheeldon's Polyphonia, 2001
A startling amplification of his choreographic voice, Polyphonia was Christopher Wheeldon's first major collaboration with Wendy Whelan, a seminal partnership that showcased her sleek, musical style. The ballet opens and closes with eight dancers boldly etching out machine-efficient phrases, a sort of neo-Futuristic ceremony. But the choreography dynamically journeys forward with an achingly lyrical duet and a touching solo, among its 10 sections danced to the hauntingly dissonant piano music of György Ligeti. In a Royal Ballet rehearsal shared on YouTube, Wheeldon said, "We hear disorder but what we actually see is order." Polyphonia is a grandchild of Balanchine's Agon. Wheeldon expanded on that neoclassical lineage for a new era. —Joseph Carman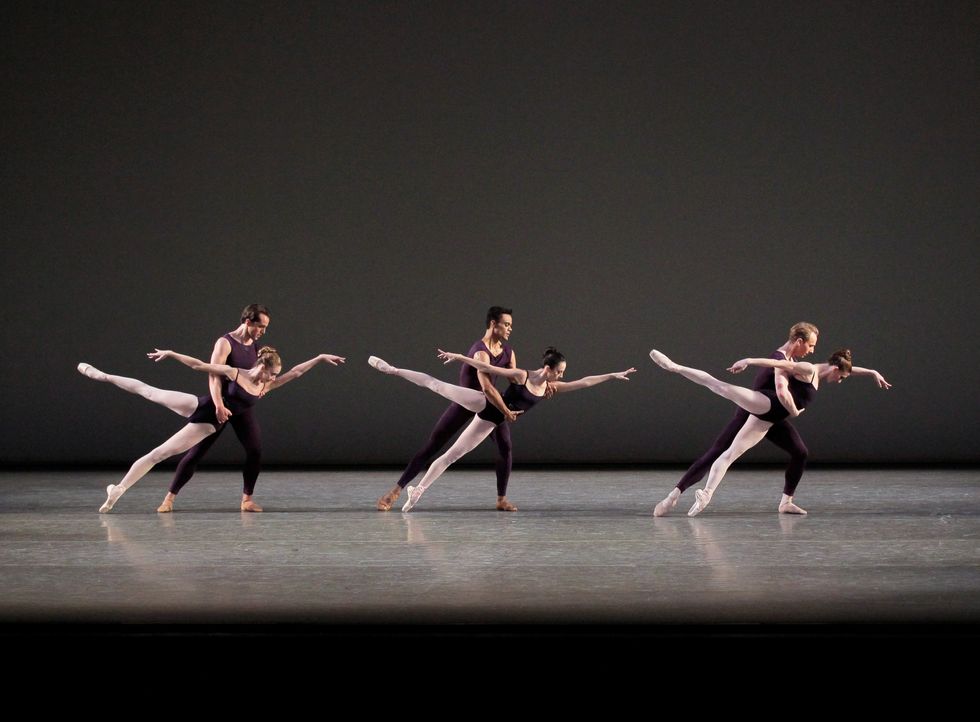 NYCB in Polyphonia
Paul Kolnik, Courtesy NYCB
Most Powerful Street Dance Onstage: Rennie Harris' Rome & Jewels, 2000
Centuries after Shakespeare's Romeo and Juliet, Rennie Harris translated the timeless tale for a new generation by bringing the streets to the stage with his evening-length Rome & Jewels.
Rodney Mason, as Rome, calls out, "Yo, Rome, thou art a villain, so what's up?" to begin Harris' "hip-hopera" blending Ebonics with Elizabethan text, DJs, an MC and star-crossed homeys vying for street cred though dance battles. With Rome & Jewels, hip hop gained respect, and its raw and ruthless stance was amplified. "Thou art more lovely than a summer's day…Word," says Rome to his imaginary Jewels. Who does that? Harris does. —Charmaine Patricia Warren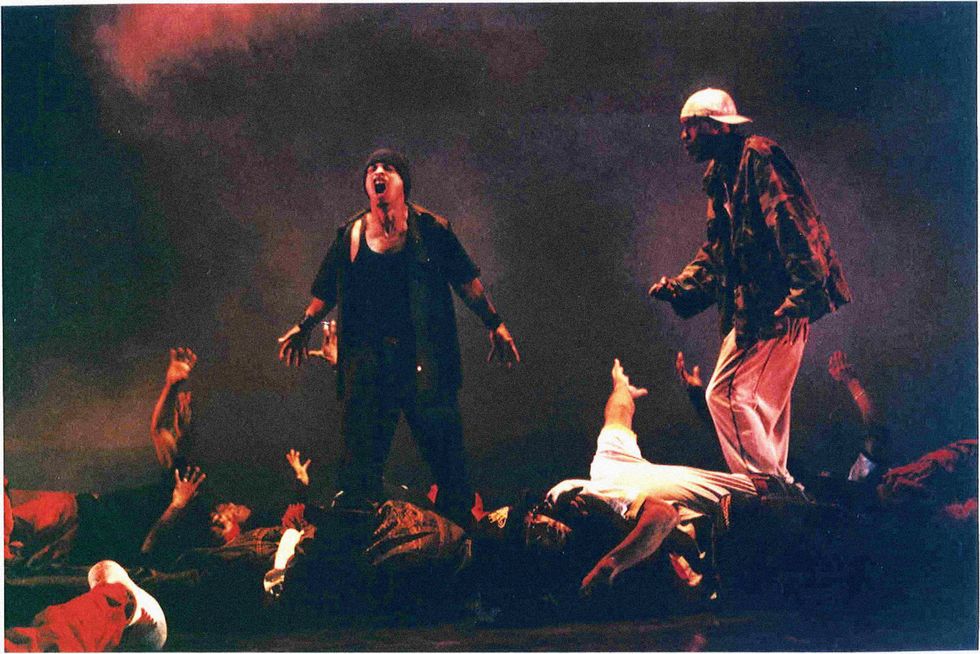 Rennie Harris Puremovement in Rome & Jewels
Courtesy Rennie Harris American Street Dance Theater
Best Solo Show: Akram Khan's DESH, 2011
With DESH, Akram Khan delivered just about everything you could ask for from a work of dance: It inspired awe, it made you laugh, it transported you to another side of the world, it made you question the big stuff—like the very idea of "home." And somehow, Khan accomplished this all as the sole performer, playing himself as a teenager, bringing to life an invisible niece, brilliantly using the top of his bald head to transform into his father. The shape-shifting eloquence of his crisp, specific body language was the ultimate storytelling tool. —Jennifer Stahl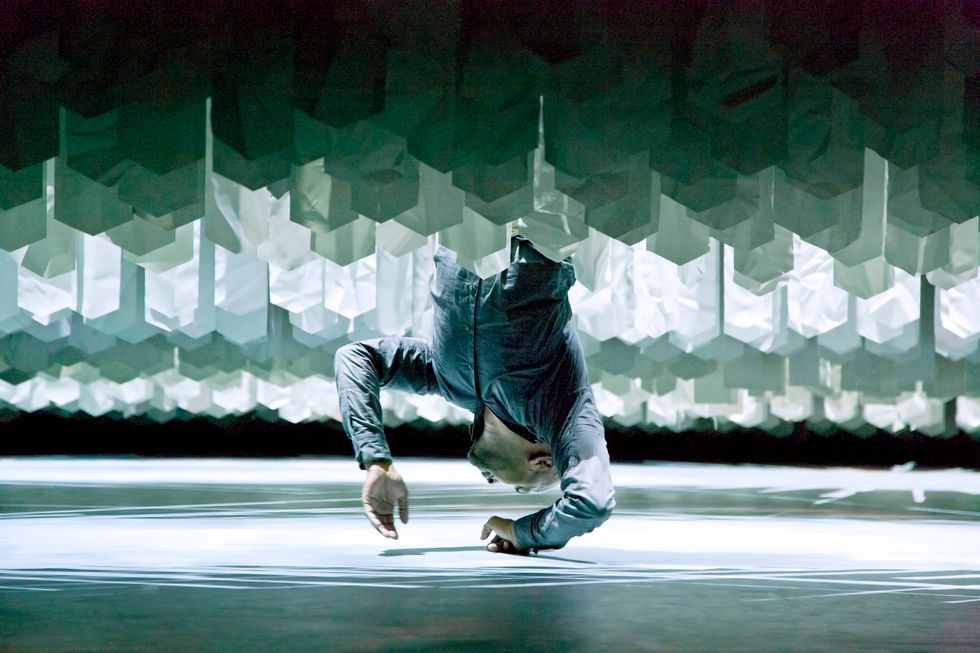 Akram Khan in DESH
Richard Haughton, Courtesy Akram Khan Company
Most Illuminating Update: Donald Byrd's Petruchska, 2006
Donald Byrd's Petruchska offered little relief—anything slow and sweet was merely a prelude to more abuse in this vision of horrors. Although Byrd's singularly bold ballet was melodramatic and unsettling, he did not glorify violence but rather exposed it, calling out all of us who would be complicit. Petruchska followed much the same story as the earlier Fokine. Yet Byrd revealed in it the hate-mongering of an all-too-brutal society like few others can. —Gigi Berardi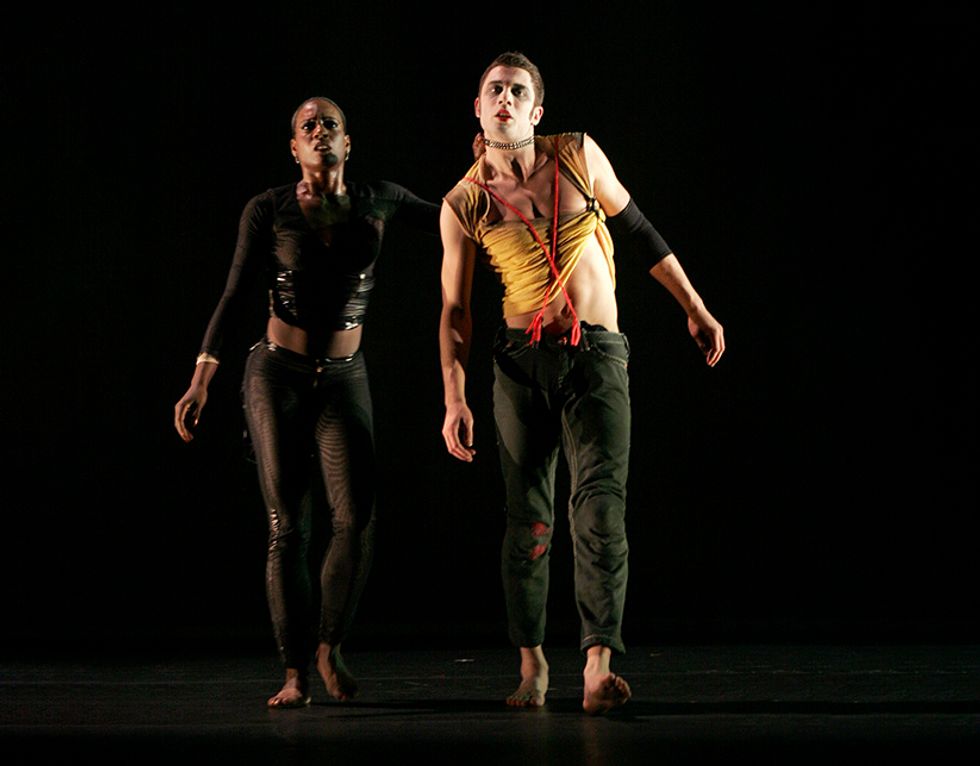 Spectrum Dance Theater in Petruchska
Chris Bennion
Most Insightful Scholarship in Performance: Netta Yerushalmy's Paramodernities, 2018
Did you know that Arthur Mitchell and others hypothesized that George Balanchine's Agon choreography was influenced by observing black staff members rehab patients at the whites-only polio facility where Balanchine's then-wife Tanaquil Le Clercq was treated? This is just one of many arresting insights illuminated in Netta Yerushalmy's ambitious Paramodernities. The four-hour interdisciplinary show, equal parts dance and scholarship, surveyed works by six canonical choreographers—Balanchine's Agon; Vaslav Nijinsky's Le Sacre du printemps; Martha Graham's Night Journey; Bob Fosse's Sweet Charity; Merce Cunningham's Rainforest, Sounddance, Points In Space, Beach Birds and Ocean; and Alvin Ailey's Revelations—using movement and words to deconstruct, rebuild and interpret the pieces. The distinguished group of dancers and scholar-performers revealed new ways to see some of our foundational dances. —Caroline Shadle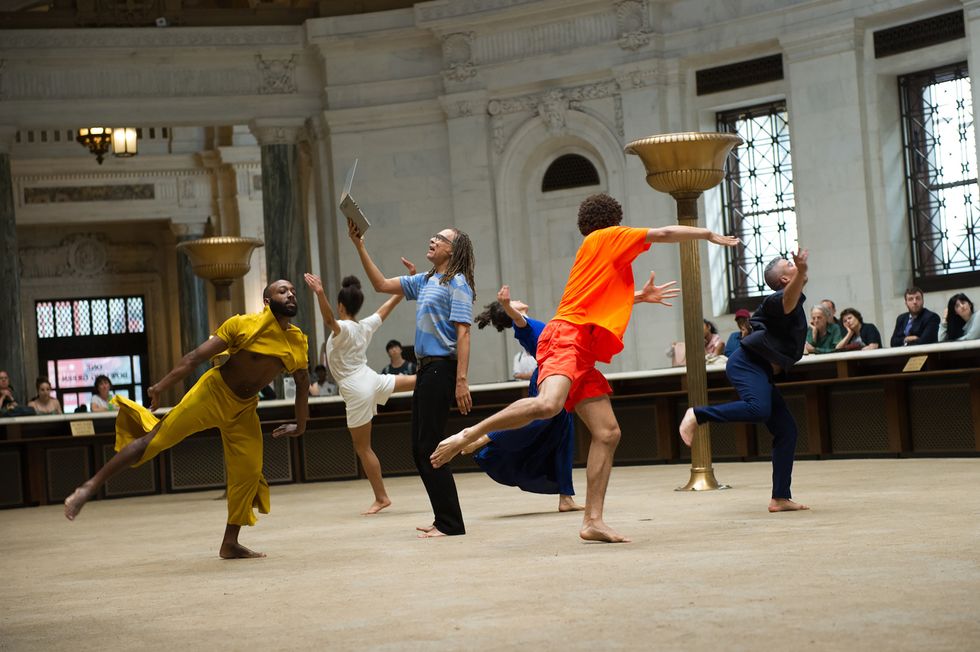 Paramodernities
Paula Lobo, Courtesy Yerushalmy
Best Dance Film: Pina, 2011
With Pina Bausch's choreography literally popping off the screen in 3-D, director Wim Wenders brought us right inside her surreal (and sometimes all-too-real) dances. The Tanztheater Wuppertal dancers were shot performing her iconic phrases everywhere from the stage to the sidewalk; an epic sequence dancing up into the mountains effectively made an anthem out of her Nelken line. Although Pina initially began with Bausch as a collaborator, it was completed after her unexpected death, and ended up as a masterful love letter to her work. —Jennifer Stahl
Best Mixing of Genres: Sidi Larbi Cherkaoui's Fractus V., 2015
Leave it to Sidi Larbi Cherkaoui to create a dance inspired by the longtime MIT linguist and cultural critic Noam Chomsky. Using dancers of different lineages established the stage space as a global meeting place where physical language was amplified and reframed. Cherkaoui mixed his own movement with that of French circus dancer Dimitri Jourde, American Lindy hopper Johnny Lloyd, Spanish dancer Fabian Thomé Duten and hip-hop dancer Patrick Williams Seebacher. The democratically shifting boundaries between bodies and movement not only made for a timely statement of shared power, but the use of gesture, multiples and sequence packed one potent kinetic cocktail. —Nancy Wozny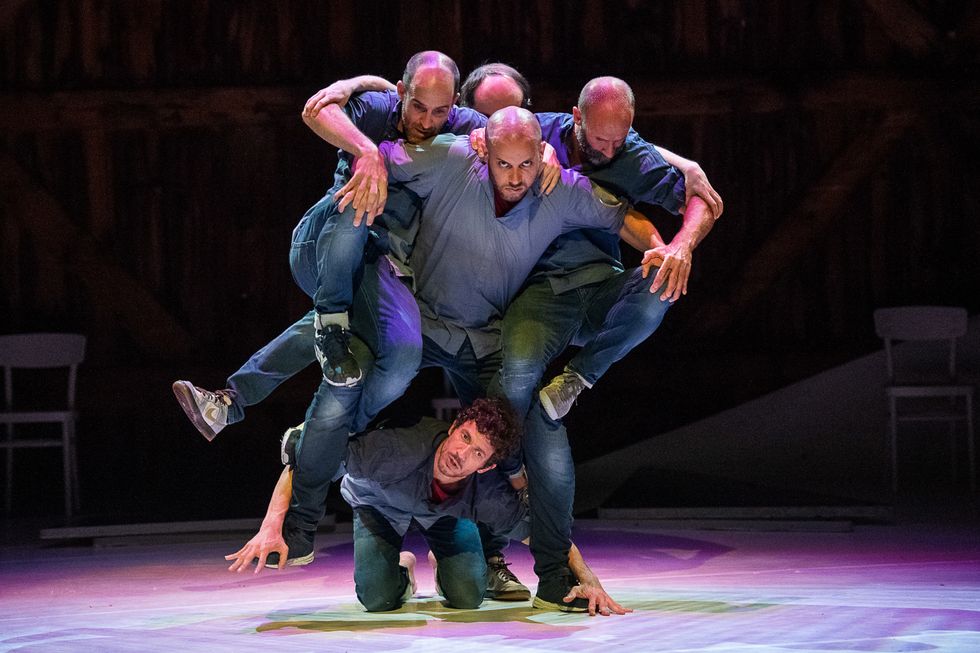 Fractus V.
Christopher Duggan, Courtesy Jacob's Pillow