We Tried It: Afro Flow Yoga—Connecting With the Indian and African Gods Through Dance
Courtesy Salmon-Jones
Afro Flow Yoga is a body-and-soul awakening. Created by dancer-yogini Leslie Salmon Jones and multi-instrumentalist Jeff Jones, the dance form melds yoga with West African diasporic dance.
The majestic entrance into Sky-Mind Hall, an exquisite 3,000-square foot floor-to-ceiling-windowed studio with breathtaking views of the Playa Guiones along the Pacific Ocean, at Blue Spirit Retreat Center in Nosara, Costa Rica, recently introduced me to the practice.
---
The Experience
In the far end of the studio, Jones, with Indian bells on one ankle and a foot tambourine on the other, sits amidst an orchestra of instruments: bongo and Conga drums, shekere gourds, wood chimes and bells, a Balinese flute, Sudanese aholi lyre, African kalimba and Ukelele mini bass.
We form a semi-circle with our yoga mats, Salmon Jones reminding us of the power of the circle in indigenous cultures, and settle into a cross-legged lotus pose. Then, lying back and stretching limbs into a languorous savasana (corpse pose), we press our knees into the heart and our hands into the soles of the feet, rolling our backs into happy baby, as Jones hums a lullaby on the lyre.
While the early poses like Adho Mukha Savasana (downward facing dog) are recognizably yoga, each move resounds with a shake of a rattle, or strum on the ukulele, propelling us to dance our yoga. When we arch and scoop the spine in cat/cow and bring that to a standing flow of Yanvalou, the sacred Haitian Voudou dance known for undulating the spine, we move from India to Africa to the Caribbean.
Soon, Jones ups the tempo, and with bodies crouching and feet stomping, we are catapulted into the ecstatic movements of Manjani, the West African dance of Mali and Guinea performed as a female rite of passage.
We segue from the unrelenting back arches and forward folds of Surya Namaskar (sun salutation) to the heart-opening sweeps of the arms of Chandra Namaskar (moon salutation) as Jones chants John Coltrane's iconic jazz prayer, "A Love Supreme." The drumming slows to a heartbeat, the melody softens, and we retreat with deeply satisfying sighs to the mat.
Where Did Afro Yoga Come From?
Salmon Jones, whose ancestral roots are in Jamaica, with African and Scotch-Irish ancestry, began her yoga training in 1991 while on a certification/scholarship program at the Alvin Ailey School. "Hilary Cartwright was my first yoga teacher. She created her own form of yoga for dancers called 'Yoga Narada,' " says Salmon Jones.
In the mid-1990s, Salmon Jones studied with Queen Afua, the Kamitic (Egyptian) wellness coach and holistic health practitioner; and with the Kundalini yoga and Kabbalah master Gurunam, from the Ivory Coast, both of whom introduced her to the roots of yoga in Africa.
Salmon Jones and husband Jeff Jones, a musician and engineer, created Afro Flow Yoga in 2008 after traveling for two years throughout West Africa, Haiti and Jamaica. The couple discovered that yoga had been practiced in ancient Egypt, with such poses as wheel, spinal twist, fish, forward bend inscribed in the hieroglyphics of ancient Egypt.
"African dance movements come out of the connection to the earth, to the sky, to the heart," Salmon Jones says, "and are similar to the heart-opening and rooting asanas of yoga."
Afro Flow doesn't alternate between West African dance moves and yoga poses, but offers sequences in which one exists inside the other. Each of the Chakras (energy centers) connects to the African Orishas (gods).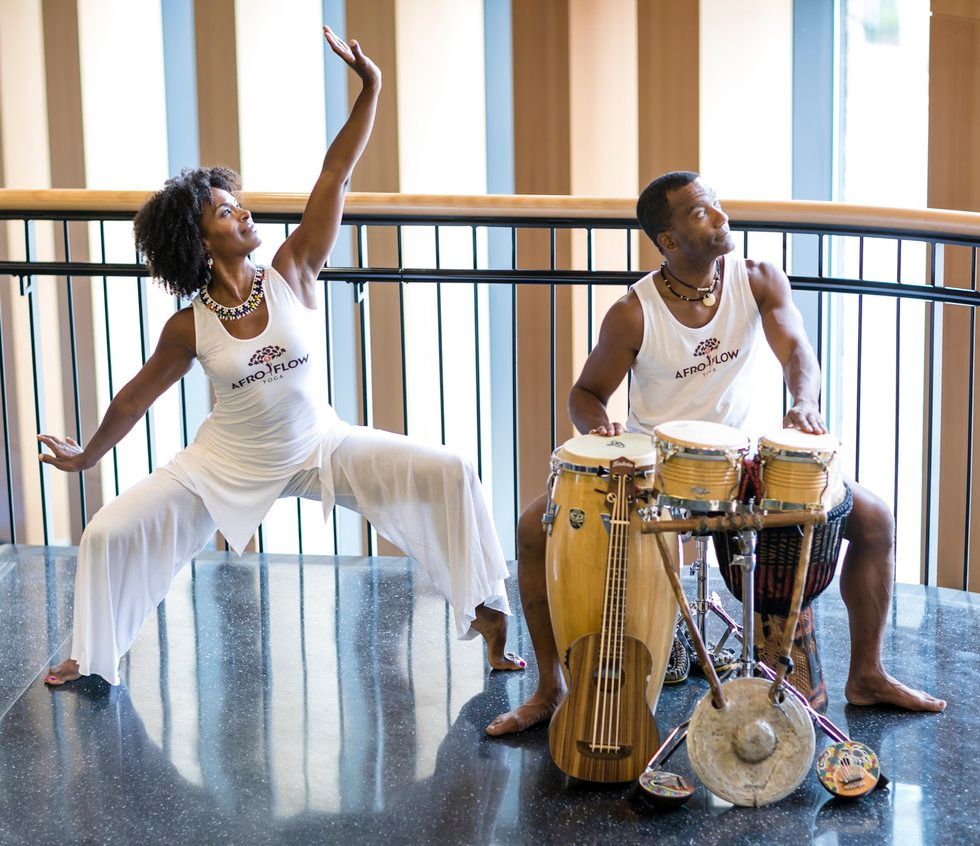 Courtesy Salmon-Jones
What Does It Offer Dancers?
The melding of West African/Caribbean dance and heart-opening styles of vinyasa yoga builds muscular strength and elasticity, breath control, endurance, musicality and rhythmic intelligence. The contrasting change of dynamics, from peaceful to energetic, meditative to propulsive, invigorates and cools the physical and mental state, culminating in a sense of calmness.
You Don't Have to Fly to Costa Rica
Salmon Jones teaches in Boston, where she lives, and offers teacher training workshops including students in Tel Aviv, Toronto, Oakland and Los Angeles. In New York City, another certified teacher, Pilin Anice, teaches Afro Flow at the Ailey Extension.
In yoga the class ends with the saying, "Namaste," meaning, "I bow to you; I honor the place in you that is the same as it is in me." The Yoruba people of West Africa would say, "Ashe," meaning, "the spiritual life force that flows through things."
As Afro Flow proponents would say:
Ashe
Namaste
Related Articles Around the Web
From Your Site Articles
News
Jul. 15, 2019 12:30PM EST
Courtesy Ritzel
Capezio, Bloch, So Dança, Gaynor Minden.
At the top of the line, dancers have plenty of quality footwear options to choose from, and in most metropolitan areas, stores to go try them on. But for many of North America's most economically disadvantaged dance students, there has often been just one option for purchasing footwear in person: Payless ShoeSource.
Keep reading...
Show less
Jayme Thornton
When Sonya Tayeh saw Moulin Rouge! for the first time, on opening night at a movie theater in Detroit, she remembers not only being inspired by the story, but noticing the way it was filmed.
"What struck me the most was the pace, and the erratic feeling it had," she says. The camera's quick shifts and angles reminded her of bodies in motion. "I was like, 'What is this movie? This is so insane and marvelous and excessive,' " she says. "And excessive is I think how I approach dance. I enjoy the challenge of swiftness, and the pushing of the body. I love piling on a lot of vocabulary and seeing what comes out."
Keep reading...
Show less
Robbie Fairchild in a still from In This Life, directed by Bat-Sheva Guez. Photo courtesy Michelle Tabnick PR
Back when Robbie Fairchild graced the cover of the May 2018 issue of Dance Magazine, he mentioned an idea for a short dance film he was toying around with. That idea has now come to fruition: In This Life, starring Fairchild and directed by dance filmmaker Bat-Sheva Guez, is being screened at this year's Dance on Camera Festival.
While the film itself covers heavy material—specifically, how we deal with grief and loss—the making of it was anything but: "It was really weird to have so much fun filming a piece about grief!" Fairchild laughs. We caught up with him, Guez and Christopher Wheeldon (one of In This Life's five choreographers) to find out what went into creating the 11-minute short film.
Keep reading...
Show less
Terry Notary in a movement capture suit during the filming of Rise of the Planet of the Apes. Photo by Sigtor Kildal, Courtesy Notary
When Hollywood needs to build a fantasy world populated with extraordinary creatures, they call Terry Notary.
The former gymnast and circus performer got his start in film in 2000 when Ron Howard asked him to teach the actors how to move like Whos for How the Grinch Stole Christmas. Notary has since served as a movement choreographer, stunt coordinator and performer via motion capture technology for everything from the Planet of the Apes series to The Hobbit trilogy, Avatar, Avengers: Endgame and this summer's The Lion King.
Since opening the Industry Dance Academy with his wife, Rhonda, and partners Maia and Richard Suckle, Notary also offers movement workshops for actors in Los Angeles.
Keep reading...
Show less