News
Sep. 17, 2018 11:46AM EST
The Dance Community Responds to NYCB's Firing of Amar Ramasar & Zachary Catazaro
Ramasar and Catazaro, photos via Instagram
New York City Ballet fired principal dancers Amar Ramasar and Zachary Catazaro on Saturday. Both had initially been suspended until 2019 for engaging in "inappropriate communications," while principal Chase Finlay, who was the instigator of those communications, resigned. (Although, in a statement on Saturday, NYCB made it clear they had decided to terminate Finlay prior to his resignation.)
The New York Times reports that NYCB says the change from suspension to termination resulted from hearing the concerns of dancers, staff members and others in the NYCB community. Yet it's hard to ignore the fact that a lawsuit against NYCB had been filed in the meantime. A statement from NYCB executive director Katherine Brown and interim artistic team leader Jonathan Stafford stated:
"We have no higher obligation than to ensure that our dancers and staff have a workplace where they feel respected and valued, and we are committed to providing that environment for all employees of New York City Ballet."
Since the news was announced, both Catazaro and Ramasar have spoken out publicly about being fired.
---
The Two Dancers Speak Out
Catazaro's manager shared this statement via email, which Catazaro also posted on social media:
"I am deeply saddened by New York City Ballet's termination of my contract. I have been a dedicated and respected member of my beloved company for 11 years, fulfilling all of my obligations of rehearsals and performances, and everything else under my contract, while most importantly, giving my all to create the most artistic performances possible, for our audiences.

Firstly, I want to clarify that I did not initiate, was not involved in, or associated with any of Alexandra Waterbury's personal material that was allegedly shared with others.

Although I was initially suspended for other private and personal communications, the NYCB dancers' union--AGMA (American Guild of Musical Artists)--maintains that these communications were during off-work hours, and do not justify termination.

Clearly, the negative press from the lawsuit filed by Ms. Waterbury--in which I stress that I have not been named as a defendant--has caused harm to the company's reputation, as well as mine. These circumstances could happen to anyone, in any profession, when personal and private communications are involved but where the intent was not to harm or embarrass anyone.

I have worked my whole life to reach the level of Principal Dancer at a company having the highest prestige, and I am devastated at the possibility to no longer be able to share the stage with the wonderful, talented artists and my friends there. I respect and admire every ballerina with whom I dance at the company, and strive every day to be the best partner I possibly can be.

I sincerely hope that my contract is reinstated, based on AGMA's analysis of the situation, and that I can continue to work with my hard-working and dedicated colleagues at the company. They are my 'family,' and I love and admire them."

Meanwhile, Ramasar posted twice on Instagram, with a promise to soon tell his side of the story:
The Union Plans To Push Back
The dancers' union, American Guild of Musical Artists, also announced that they would challenge the decision to fire Ramasar and Catazaro. They told the NYT that the firings "relate entirely to non-work related activity and do not rise to the level of 'just cause' termination."
Of course, it is AGMA's responsibility to ensure that dancers are only fired for "just cause." Yet shouldn't it also fall on the union to make sure that dancers can work in a safe environment, and protect the women at the center of the degrading conversations that have been alleged? It will be interesting to see how they balance these two obligations.
About That Donor
With the news of the terminations also came more information on the anonymous donor who was implicated in comparing female dancers to "farm animals." Apparently, he was a former member of the Young Patrons Circle, and had donated a total of $12,000 over six years. At the suggestion of some very smart dancers, NYCB has now donated that same amount to a local charity focused on women's issues.
But the knowledge that the donor was a member of the Young Patrons Circle reminded some people on social media of NYCB's 2013 ad that overtly marketed the opportunity to meet young, beautiful female dancers as a reason to join. It becomes even more hair-raising in light of the accusations:
Fans React on Social Media
One of the most common reactions on social media over the weekend was summed up succinctly by Dance Magazine's editor at large:
As sad as dance lovers are to see such talent leave the stage, the thought that these accusations might be true is even more depressing.
What It Means for the Company
Dance critic Sarah Kaufman wrote in The Washington Post, "With the company's fall season at New York's Lincoln Center starting Tuesday, audiences must decide whether buying a ballet ticket means checking their consciences at the door."
But tickets to the gala performance next week are already sold out—the drama might not yet be affecting ticket sales as much as one might imagine.
Still, it calls for a serious look at NYCB's company culture. Kaufman writes: "Firing the dancers is not the same thing as fixing, in a carefully considered, long-term manner, what appear to be deep problems at City Ballet."
Meanwhile, a petition has been started to encourage the search committee to hire Wendy Whelan as NYCB's new artistic leader, making her the first woman to hold that role. As of Monday morning, it had already reached nearly 7,000 signatures in less than three days.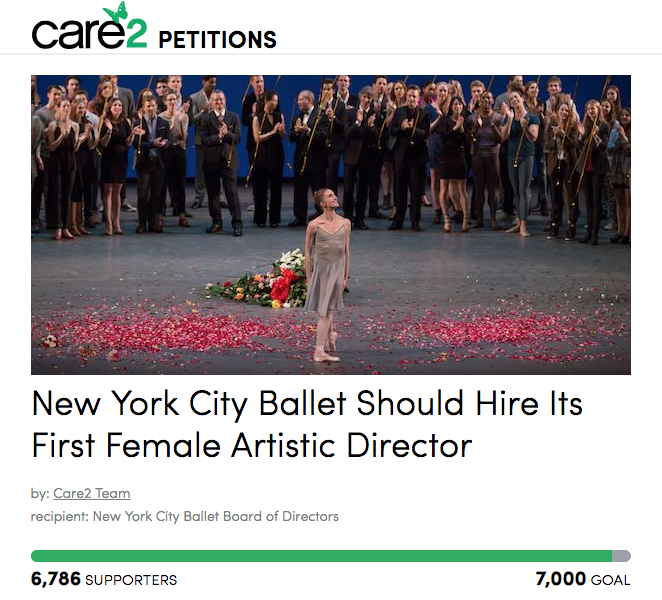 Others on Twitter are throwing their support behind Jenifer Ringer (despite not knowing whether she'd even want the job).
Why is it taking so long for the search committee to make a decision? The rumor is that everyone on the committee has their own favorite pick for the job, and no one will compromise. Which raises another one of Kaufman's suggestions: to replace the board itself, whose members have long overlooked problematic behavior in the company.
Either way, it's obviously high time to start a fresh new era at the company.
Update 9/18: The lawsuit has been amended to add Catazaro, Ramasar and donor Jared Longhitano as defendants.

Related Articles Around the Web
From Your Site Articles
Bruce Mars via Unsplash
Summer is almost upon us, and whether you're a student about to go on break or a pro counting the days till layoff, don't forget that with warm weather comes a very serious responsibility: To maintain your cross-training routine on your own.
Those of us who've tried to craft our own cross-training routine know it's easier said than done. So we consulted the stars, and rounded up the best options for every zodiac sign. (TBH, you should probably consult an expert, too—we'd recommend a physical therapist, a personal trainer or your teacher.)
Keep reading...
Show less
Hive by Boston Conservatory student Alyssa Markowitz. Photo by Jim Coleman
The way we create and consume dance is changing every day. Now more than ever, the field demands that dancers not only be able to perform at the highest level, but also collaborate with choreographers to bring their artistic visions to life. Dancers who miss out on choreographic training may very well find themselves at a disadvantage as they try to launch their careers.

Keep reading...
Show less
It's become second nature in dance studios: The instant anyone gets hurt, our immediate reaction is to run to the freezer to grab some ice (or, more realistically, a package of frozen peas).
But as routine as icing our injuries might be, the benefits are not actually backed up by scientific studies. And some experts now believe icing could even disrupt the healing process.
Keep reading...
Show less
Getty Images
I'm a contemporary dancer, and I'm nervous about trying to get pregnant since I can't predict if it might happen during the middle of the season. We have a union contract that is supposed to protect us. But I'm scared because several of my colleagues' contracts weren't renewed for no particular reason. Having a big belly could be a big reason to get rid of me!
—Andrea, New York, NY
Keep reading...
Show less
Last year's winner: Manuel Vignoulle's EARTH. Jack Hartin Photography, Courtesy McCallum Theatre
It's not often that a promising choreographer gets to stage work in a world-class theater, on a skillfully-curated program with professional dancers, and with the possibility of winning a substantial cash prize. But at the McCallum Theatre's Palm Desert Choreography Festival, that's been the status quo for over twenty years.
Since Shea New, the festival's artistic director, founded the festival in 1998, she's worked tirelessly with McCallum's director of education and festival producer, Kajsa Thuresson-Frary, and stage manager and festival production manager Joanna Fookes to build a festival that nurtures choreographers, highlights high quality work, powerfully engages the local community and cultivates an audience base for dance in the Coachella Valley. The trio is backed by a strong team of professionals at McCallum and the brilliant volunteers from the local and national level who serve as adjudicators.
Keep reading...
Show less
Get Dance Magazine in your inbox
From Dance of Urgency. © Ekvidi
When the going gets tough, the tough start dancing: That's the premise behind "Dance of Urgency," a recently opened exhibit at MuseumsQuartier Vienna that features photos, video and other documentary material relating to the use of dance as political protest or social uprising.
The groups featured in the show, largely based around clubs and electronic dance music scenes, span the globe and respond to a variety of issues—from inequality and social stratification to racial divides to crackdowns on club culture itself.
Keep reading...
Show less
News
May. 20, 2019 04:24PM EST
Last night, longtime theater legends (including Chita Rivera herself!) as well as rising stars gathered to celebrate one of Broadway's danciest events: the third annual Chita Rivera Awards.
The evening paid tribute to this season's dancer standouts, fabulous ensembles, and jaw-dropping choreography—on- and off-Broadway and on film.
As usual, several of our faves made it into the mix. (With such a fabulous talent pool of nominees to choose from, we're glad that ties were allowed.) Here are the highlights from the winner's list:
Keep reading...
Show less
Lorenzo Di Cristina/Unsplash
When you're a foreign dancer, gaining legal rights to work in the U.S. is a challenging process. It's especially difficult if you're petitioning to work as a freelance dancer without an agent or company sponsorship.
The process requires professional muscle along with plenty of resources and heart. "There's a real misnomer that it's super easy," says Neena Dutta, immigration attorney and president of Dutta Law Firm. "People need to educate themselves and talk to a professional."
Here are four things every foreign dancer who wants to work in the U.S. needs to know to build a freelance dance career here.
Keep reading...
Show less
Quinn Wharton
What does it take to "make it" in dance? It's no secret that turning this passion into a profession can be a struggle. In such a competitive field, talent alone isn't enough to get you where you want to be.
So what kinds of steps can you take to become successful? Dance Magazine spoke to 33 people from all corners of the industry to get their advice on the lessons that could help us all, no matter where we are in our careers.
Keep reading...
Show less
Still of Fonteyn from the 1972 film I Am a Dancer. Photo courtesy DM Archives
On May 18, 1919, Margot "Peggy" Hookham was born. She would grow up to become Dame Margot Fonteyn, England's first homegrown prima ballerina. She joined the Sadler's Wells School in 1934 and was performing principal roles with the precursor to The Royal Ballet the next year. Fonteyn was a company-defining figure, dancing Aurora for the re-opening of the Royal Opera House after World War II, creating numerous roles with Sir Frederick Ashton and forging a legendary partnership with Rudolf Nureyev.
Keep reading...
Show less
Courtesy #Dance4OurLives
Memorial Day is notoriously one of Chicago's bloodiest weekends. Last year, 36 people were shot and seven died that weekend. In 2017 and 2016, the number of shootings was even higher.
When Garley "GiGi Tonyé" Briggs, a dance teacher and Chicago native, started noticing this pattern, she was preparing her second annual Memorial Day workshop for local youth.
The event's original aim was simple: "I wanted the youth of Chicago to have somewhere they could come and learn from different dancers and be off the streets on the South Side on this hot holiday," she says.
Keep reading...
Show less
A recent trip I took to Nashville coincided with the NFL draft. As we drove into town, my Uber driver was a fount of information on the subject.
I learned that there are 32 NFL teams and that the draft takes place over seven rounds. That the team that did the poorest during the previous season gets first pick. That during an earlier event called the scouting combine, the teams assess college football players and figure out who they want.
There is also the veteran combine for "free agents"—players who have been released from their contracts or whose contracts have expired. They might be very good players, but their team needs younger members or ones with a certain skill set. All year round, experienced NFL scouts scan games across the country, checking out players and feeding that information back to the teams. Players' agents keep their eyes on opportunities for their clients which might be more rewarding.
While I sat in the traffic of 600,000 NFL fans I got thinking, is there something ballet could learn from football? Could a draft system improve young dancers' prospects and overall company caliber and contentment?
Keep reading...
Show less
Getty Images
Despite what you might think, there's no reason for dancers to be afraid of bread.
"It's looked at as this evil food," says New York State–certified dietitian and former dancer Tiffany Mendell. But the truth is, unless you have celiac disease or a gluten intolerance, bread can be a healthy source of carbohydrates—our body's preferred fuel—plus fiber and vitamins.
The key is choosing your loaf wisely.
Keep reading...
Show less