News
Sep. 17, 2018 11:46AM EST
The Dance Community Responds to NYCB's Firing of Amar Ramasar & Zachary Catazaro
Ramasar and Catazaro, photos via Instagram
New York City Ballet fired principal dancers Amar Ramasar and Zachary Catazaro on Saturday. Both had initially been suspended until 2019 for engaging in "inappropriate communications," while principal Chase Finlay, who was the instigator of those communications, resigned. (Although, in a statement on Saturday, NYCB made it clear they had decided to terminate Finlay prior to his resignation.)
The New York Times reports that NYCB says the change from suspension to termination resulted from hearing the concerns of dancers, staff members and others in the NYCB community. Yet it's hard to ignore the fact that a lawsuit against NYCB had been filed in the meantime. A statement from NYCB executive director Katherine Brown and interim artistic team leader Jonathan Stafford stated:
"We have no higher obligation than to ensure that our dancers and staff have a workplace where they feel respected and valued, and we are committed to providing that environment for all employees of New York City Ballet."
Since the news was announced, both Catazaro and Ramasar have spoken out publicly about being fired.
---
The Two Dancers Speak Out
Catazaro's manager shared this statement via email, which Catazaro also posted on social media:
"I am deeply saddened by New York City Ballet's termination of my contract. I have been a dedicated and respected member of my beloved company for 11 years, fulfilling all of my obligations of rehearsals and performances, and everything else under my contract, while most importantly, giving my all to create the most artistic performances possible, for our audiences.

Firstly, I want to clarify that I did not initiate, was not involved in, or associated with any of Alexandra Waterbury's personal material that was allegedly shared with others.

Although I was initially suspended for other private and personal communications, the NYCB dancers' union--AGMA (American Guild of Musical Artists)--maintains that these communications were during off-work hours, and do not justify termination.

Clearly, the negative press from the lawsuit filed by Ms. Waterbury--in which I stress that I have not been named as a defendant--has caused harm to the company's reputation, as well as mine. These circumstances could happen to anyone, in any profession, when personal and private communications are involved but where the intent was not to harm or embarrass anyone.

I have worked my whole life to reach the level of Principal Dancer at a company having the highest prestige, and I am devastated at the possibility to no longer be able to share the stage with the wonderful, talented artists and my friends there. I respect and admire every ballerina with whom I dance at the company, and strive every day to be the best partner I possibly can be.

I sincerely hope that my contract is reinstated, based on AGMA's analysis of the situation, and that I can continue to work with my hard-working and dedicated colleagues at the company. They are my 'family,' and I love and admire them."

Meanwhile, Ramasar posted twice on Instagram, with a promise to soon tell his side of the story:
The Union Plans To Push Back
The dancers' union, American Guild of Musical Artists, also announced that they would challenge the decision to fire Ramasar and Catazaro. They told the NYT that the firings "relate entirely to non-work related activity and do not rise to the level of 'just cause' termination."
Of course, it is AGMA's responsibility to ensure that dancers are only fired for "just cause." Yet shouldn't it also fall on the union to make sure that dancers can work in a safe environment, and protect the women at the center of the degrading conversations that have been alleged? It will be interesting to see how they balance these two obligations.
About That Donor
With the news of the terminations also came more information on the anonymous donor who was implicated in comparing female dancers to "farm animals." Apparently, he was a former member of the Young Patrons Circle, and had donated a total of $12,000 over six years. At the suggestion of some very smart dancers, NYCB has now donated that same amount to a local charity focused on women's issues.
But the knowledge that the donor was a member of the Young Patrons Circle reminded some people on social media of NYCB's 2013 ad that overtly marketed the opportunity to meet young, beautiful female dancers as a reason to join. It becomes even more hair-raising in light of the accusations:
Fans React on Social Media
One of the most common reactions on social media over the weekend was summed up succinctly by Dance Magazine's editor at large:
As sad as dance lovers are to see such talent leave the stage, the thought that these accusations might be true is even more depressing.
What It Means for the Company
Dance critic Sarah Kaufman wrote in The Washington Post, "With the company's fall season at New York's Lincoln Center starting Tuesday, audiences must decide whether buying a ballet ticket means checking their consciences at the door."
But tickets to the gala performance next week are already sold out—the drama might not yet be affecting ticket sales as much as one might imagine.
Still, it calls for a serious look at NYCB's company culture. Kaufman writes: "Firing the dancers is not the same thing as fixing, in a carefully considered, long-term manner, what appear to be deep problems at City Ballet."
Meanwhile, a petition has been started to encourage the search committee to hire Wendy Whelan as NYCB's new artistic leader, making her the first woman to hold that role. As of Monday morning, it had already reached nearly 7,000 signatures in less than three days.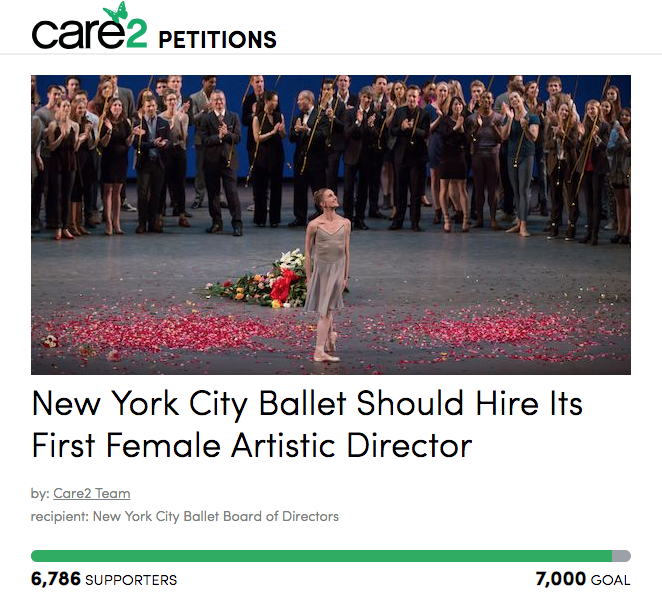 Others on Twitter are throwing their support behind Jenifer Ringer (despite not knowing whether she'd even want the job).
Why is it taking so long for the search committee to make a decision? The rumor is that everyone on the committee has their own favorite pick for the job, and no one will compromise. Which raises another one of Kaufman's suggestions: to replace the board itself, whose members have long overlooked problematic behavior in the company.
Either way, it's obviously high time to start a fresh new era at the company.
Update 9/18: The lawsuit has been amended to add Catazaro, Ramasar and donor Jared Longhitano as defendants.

Related Articles Around the Web
From Your Site Articles
News
Jun. 18, 2019 05:16PM EST
Left: Misa Kuranaga in The Veritginous Thrill of Exactitude. Gene Schiavone, Courtesy Boston Ballet. Right: Sasha Mukhamedov in Apollo. Altin Kaftira, Courtesy Dutch National Ballet.
Keep reading...
Show less
News
Jun. 18, 2019 03:36PM EST
The cast of Dragon Spring Phoenix Rise in rehearsal. Photo by Stephanie Berger, Courtesy The Shed
Akram Khan loves to dive into genres he is unfamiliar with. While his own movement vocabulary is a hybrid of kathak and contemporary dance, he has choreographed a new Giselle for English National Ballet, collaborated with flamenco artist Israel Galván and made a dance theater duet with film star Juliette Binoche. Now, in between touring Xenos, his final full-length solo, and several other projects, he's found time to tackle kung fu. Khan is part of the collaborative team behind Dragon Spring Phoenix Rise, a blockbuster musical based on themes of migration and the fight for survival, running June 22–July 27. Directed by Chen Shi-Zheng and featuring a score that remixes songs by Sia, it's part of the inaugural season of The Shed,
a new venue in New York City.
Keep reading...
Show less