Where Are Today's Dynamite Ballerina Roles?
Have roles like Giselle gone missing? Photo courtesy Stanislavsky Theatre
"Ballet," said George Balanchine, "is woman." Throughout his long choreographic career, he placed the ballerina at the center of the action, and all eyes were on her. There are numerous examples, from Mozartiana to Theme and Variations, Square Dance and Chaconne.
In this sense, Balanchine was carrying on the tradition of Marius Petipa and other 19th-century choreographers whose story ballets, such as Swan Lake, The Sleeping Beauty and Giselle, featured vibrant ballerinas at the heart of their tales.
---
Other 20th-century choreographers, like Sir Frederick Ashton with Ondine and Sylvia and Antony Tudor with his Pillar of Fire, also centered some of their masterpieces around a female protagonist. She was partnered with a principal male dancer, but still claimed center stage.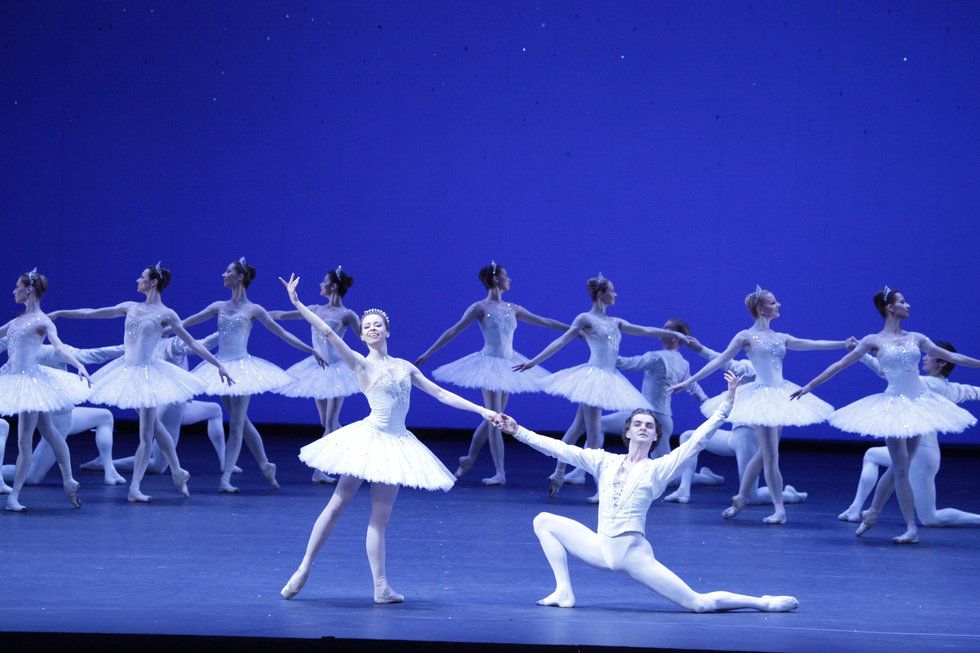 In many Balanchine works, like Diamonds, a central ballerina leads the corps. Photo by Damir Yusupov, courtesy Bolshoi Theatre
But where are the great prima donna roles of the 21st century? Many of today's top choreographers concoct ballets with impressive corps de ballets that form dizzying, computer-graphic-like patterns. Numerous male and female soloists grab the audience's attention and then disappear back into the group. Think of Crystal Pite's Dark Matters or Justin Peck's In Creases and Paz de la Jolla.

But are they quick to spotlight those juicy ballerina roles? Not really. To many current choreographers, building a ballet around just one commanding female dancer feels like a moth-eaten method of choreographing. To others, it feels too restrictive.
Times Are Changing—So Choreography Is, Too
In many ways, this shift reflects changes in our culture at large. One factor that has indisputably altered our art is the increasing acceptance of same-sex relationships and the rise of gender fluidity.
"There's more focus now on male-male partnering and female-female partnering, and that shows perhaps a shift away from the singular-ballerina role within a ballet," says choreographer Christopher Wheeldon. "As the world becomes more accepting of same-sex partnerships, that is inevitably going to influence and inspire artists."
Choreographer Helen Pickett believes that as gender and racial equality penetrate the ballet world, its center of gravity will move.

"New stories are being created from other people's histories," she says. When ballets don't always come from the imaginations of white men, new perspectives emerge. "I think ballet will spread its wings," she says, then adds, "but I think we have a long way to go."
Pickett points out that traditional ballerina roles haven't always been empowering ones. "Putting the female on the pedestal was a way to say she is untouchable, but not in an elevated way—in a way that she is perhaps suffering," she says. "There was a lot of that in the Romantic era: Giselle goes nuts for her love. In Swan Lake she turns into an animal."
In her own work, Pickett has been keen to feature strong female characters, including in her next full-length ballet, an adaptation of Arthur Miller's The Crucible for the Scottish Ballet.
Where The Singular Ballerina Hierarchy Came From
The traditional hierarchy with a sovereign ballerina at the core emerged from the origins of ballet: a dance for royalty and their court.
"You had the queen or king at the center of it, and it all kind of radiated out," says Robert Binet, choreographic associate at the National Ballet of Canada. "As our culture has become less hierarchical we've seen choreographers more interested in a diverse set of social and, therefore, balletic structures."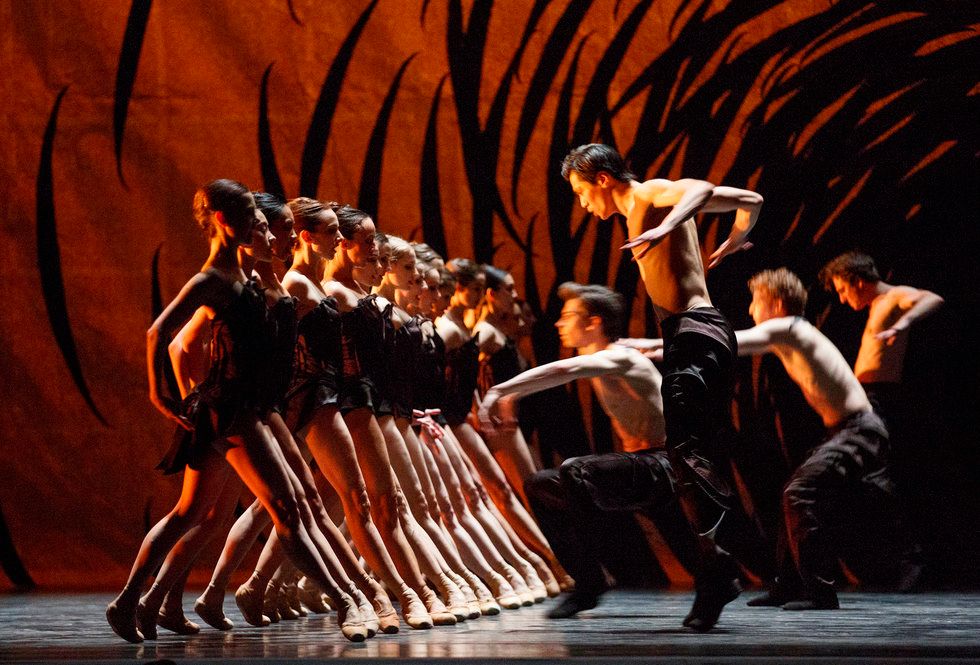 In Crystal Pite's Emergence uses the power of the group. Photo by Bruce Zinger, courtesy National Ballet of Canada
In today's ballets, the soloists often stand on almost equal footing with the corps. "They're part of the patterns. They don't sit outside the patterns," says Binet, "so it creates much more of a sense of community."
Part of that democratic feel can be traced back to ballet's embrace of modern-dance techniques and crafting, led by iconoclasts like William Forsythe and Wayne McGregor. Contemporary ballet choreography owes much to the more egalitarian modern-dance approach, as Merce Cunningham, Paul Taylor and Twyla Tharp have demonstrated. (Martha Graham, on the other hand, usually featured a grand dame—typically herself.)
Of course, there are some exceptions among current choreographers. Annabelle Lopez Ochoa has created works centered on female protagonists, such as Blanche DuBois and Frida Kahlo. Wheeldon has choreographed a few ballerina-centric pieces, such as Mercurial Manoeuvres. "I think using one central ballerina very much depends on the subject matter of the work and/or on the music," he says.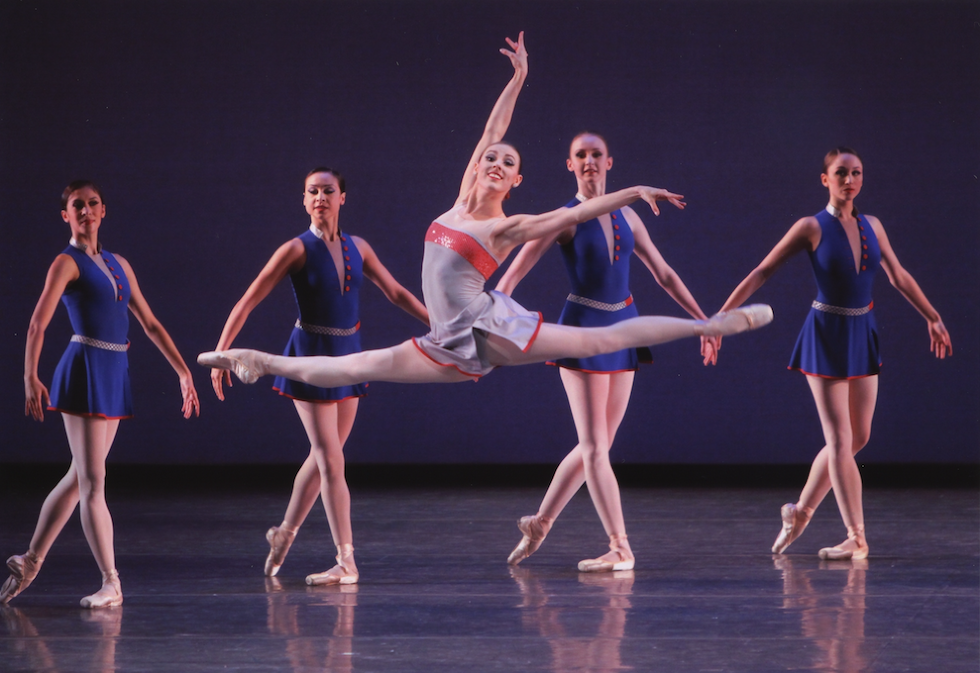 Tiler Peck in Wheeldon's Mercurial Manoeuvres. Photo by Paul Kolnik, courtesy NYCB
Trends Have Pulled Choreographers In Other Directions

Binet points out that the single-ballerina prototype typically has two uses: telling a story with one clear protagonist; or creating an abstract work where the patterns center around one person.
"Anything that lives in-between, which is where I think a lot of dancemakers' work is landing now, doesn't really make sense with that kind of structure," says Binet. "That hierarchy brings such a specific aesthetic and a very rigid structure to exist within. You can find many different ways for the structure to flow when you have more soloists in the work."
The ways today's choreographers approach musicality is often more varied—for better or worse—than the example set by Balanchine. In his ballets, Balanchine reveals the three-dimensionality of the score, as the dominant orchestral instruments steer and spotlight the ballerina's actions, placing her center stage. The oboe in Symphony in C shepherds the ballerina, while the piano briskly propels her through Allegro Brillante. Today's choreographers are seldom that single-mindedly resolute with their use of music.
And as stagecraft evolves to include multimedia technology like projections, videos, computerized graphics and other wizardry, the focus easily switches from the dancers to the dazzling performance elements. One ballerina, no matter how splendid, can get lost in that mix. On her way to the ball, Wheeldon's Cinderella, for example, gets vastly upstaged by designer Basil Twist's mega-sized puppetry.
Choreographers have also turned to men as muses. Alexei Ratmansky's recent work Whipped Cream pivoted around a sugar-shocked party boy, and "Chamber Symphony," from 2013's Shostakovich Trilogy, starred David Hallberg as a tortured artist. (To be fair, Balanchine, like other choreographers, created great male roles like Apollo and The Prodigal Son; but his greatest muses clearly were ballerinas.)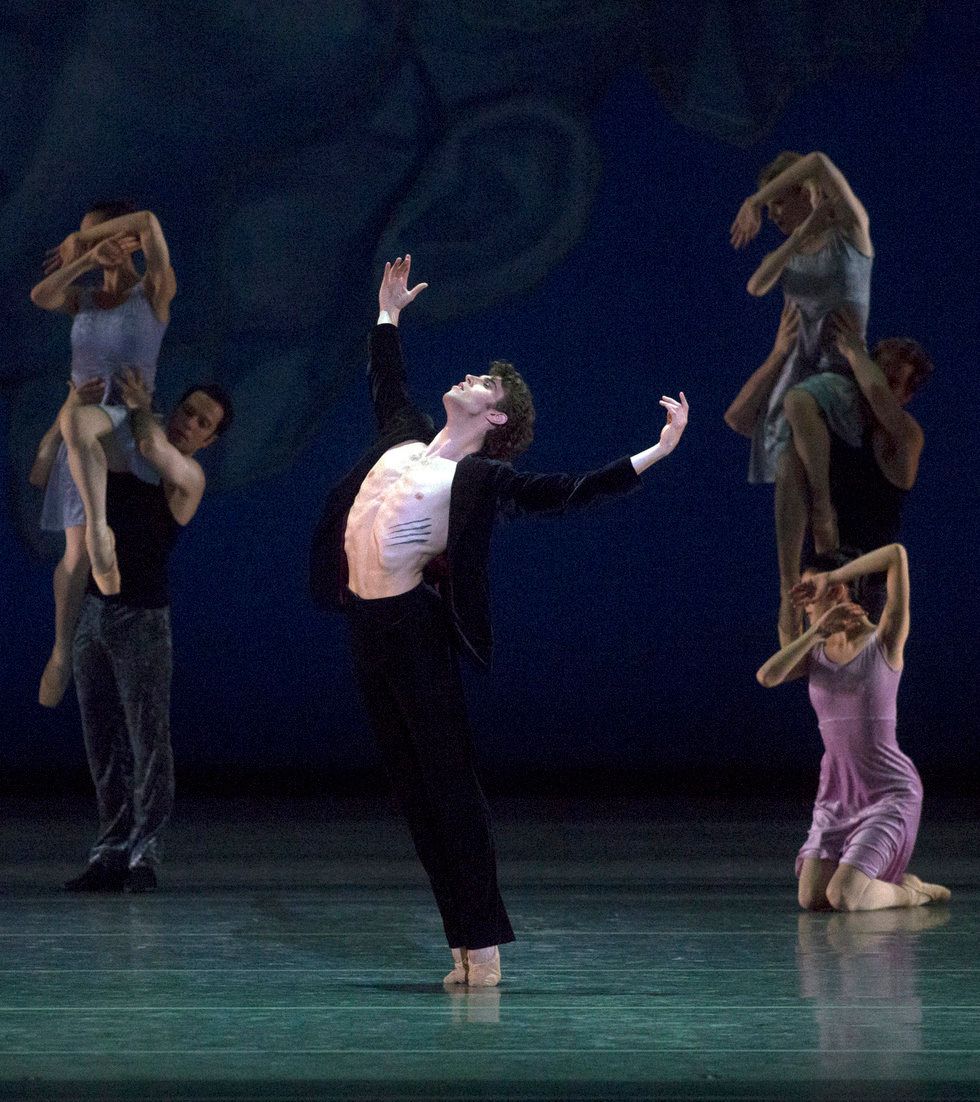 James Whiteside in Ratmansky's Chamber Symphony. Photo by Rosalie O'Connor, courtesy ABT
Are We Better Off Without One Ballerina?

Plenty of dancers would love to claim the stage in one of those classic queen bee roles. But the old model of spotlighting one ballerina seems like an endangered species. Is that a good thing or a bad thing? Maybe it's neither. Perhaps ballet has been refashioned to a point without a conventional framework. Using unorthodox vocabulary and a democratic structure to shape ballets seems to be the way of the future.
"It's a reflection of the way the world is moving socially," says Binet. "Hopefully our art form is leading. But if not leading, at least keeping up."
Related Articles Around the Web
From Your Site Articles
James Fosberg, courtesy Mason
Over the past 15 years, Gesel Mason has asked 11 choreographers—including legends like Donald McKayle, David Roussève, Bebe Miller, Jawole Willa Jo Zollar, Rennie Harris and Kyle Abraham—to teach her a solo. She's performed up to seven of them in one evening for her project No Boundaries: Dancing the Visions of Contemporary Black Choreographers.
Now, Mason is repackaging the essence of this work into a digital archive. This online offering shares the knowledge of a few with many, and considers how dance can live on as those who create it get older.
Keep reading...
Show less
Hive by Boston Conservatory student Alyssa Markowitz. Photo by Jim Coleman
The way we create and consume dance is changing every day. Now more than ever, the field demands that dancers not only be able to perform at the highest level, but also collaborate with choreographers to bring their artistic visions to life. Dancers who miss out on choreographic training may very well find themselves at a disadvantage as they try to launch their careers.

Keep reading...
Show less
News
May. 22, 2019 05:57PM EST
Fox produced a live broadcast of Rent in January—but could an original musical be next? Photo by Kevin Estrada, Courtesy Fox
When a musical prepares to make the transfer from a smaller, lesser-known venue to Broadway (where theaters hold 500-plus seats), often there's a collective intake of breath from all involved. After all, a bigger house means more tickets to sell in order to stay in the black, and sometimes shows with even the most tenacious fan bases can't quite navigate such a jump. But what about the transfer from stage…to screen? Is Broadway ready to be consumed from the comfort of your couch?
Keep reading...
Show less
Courtesy Lee
Daphne Lee was dancing with Collage Dance Collective in Memphis, Tennessee, when she received two difficult pieces of news: Her mother had been diagnosed with multiple myeloma cancer, and her father had Parkinson's disease, affecting his mobility and mental faculties.
The New Jersey native's reaction: "I really need to move home."
Keep reading...
Show less
Last year's winner: Manuel Vignoulle's EARTH. Jack Hartin Photography, Courtesy McCallum Theatre
It's not often that a promising choreographer gets to stage work in a world-class theater, on a skillfully-curated program with professional dancers, and with the possibility of winning a substantial cash prize. But at the McCallum Theatre's Palm Desert Choreography Festival, that's been the status quo for over twenty years.
Since Shea New, the festival's artistic director, founded the festival in 1998, she's worked tirelessly with McCallum's director of education and festival producer, Kajsa Thuresson-Frary, and stage manager and festival production manager Joanna Fookes to build a festival that nurtures choreographers, highlights high quality work, powerfully engages the local community and cultivates an audience base for dance in the Coachella Valley. The trio is backed by a strong team of professionals at McCallum and the brilliant volunteers from the local and national level who serve as adjudicators.
Keep reading...
Show less
Get Dance Magazine in your inbox
Bruce Mars via Unsplash
Summer is almost upon us, and whether you're a student about to go on break or a pro counting the days till layoff, don't forget that with warm weather comes a very serious responsibility: To maintain your cross-training routine on your own.
Those of us who've tried to craft our own cross-training routine know it's easier said than done. So we consulted the stars, and rounded up the best options for every zodiac sign. (TBH, you should probably consult an expert, too—we'd recommend a physical therapist, a personal trainer or your teacher.)
Keep reading...
Show less
It's become second nature in dance studios: The instant anyone gets hurt, our immediate reaction is to run to the freezer to grab some ice (or, more realistically, a package of frozen peas).
But as routine as icing our injuries might be, the benefits are not actually backed up by scientific studies. And some experts now believe icing could even disrupt the healing process.
Keep reading...
Show less
Getty Images
I'm a contemporary dancer, and I'm nervous about trying to get pregnant since I can't predict if it might happen during the middle of the season. We have a union contract that is supposed to protect us. But I'm scared because several of my colleagues' contracts weren't renewed for no particular reason. Having a big belly could be a big reason to get rid of me!
—Andrea, New York, NY
Keep reading...
Show less
From Dance of Urgency. © Ekvidi
When the going gets tough, the tough start dancing: That's the premise behind "Dance of Urgency," a recently opened exhibit at MuseumsQuartier Vienna that features photos, video and other documentary material relating to the use of dance as political protest or social uprising.
The groups featured in the show, largely based around clubs and electronic dance music scenes, span the globe and respond to a variety of issues—from inequality and social stratification to racial divides to crackdowns on club culture itself.
Keep reading...
Show less
News
May. 20, 2019 04:24PM EST
Last night, longtime theater legends (including Chita Rivera herself!) as well as rising stars gathered to celebrate one of Broadway's danciest events: the third annual Chita Rivera Awards.
The evening paid tribute to this season's dancer standouts, fabulous ensembles, and jaw-dropping choreography—on- and off-Broadway and on film.
As usual, several of our faves made it into the mix. (With such a fabulous talent pool of nominees to choose from, we're glad that ties were allowed.) Here are the highlights from the winner's list:
Keep reading...
Show less
Lorenzo Di Cristina/Unsplash
When you're a foreign dancer, gaining legal rights to work in the U.S. is a challenging process. It's especially difficult if you're petitioning to work as a freelance dancer without an agent or company sponsorship.
The process requires professional muscle along with plenty of resources and heart. "There's a real misnomer that it's super easy," says Neena Dutta, immigration attorney and president of Dutta Law Firm. "People need to educate themselves and talk to a professional."
Here are four things every foreign dancer who wants to work in the U.S. needs to know to build a freelance dance career here.
Keep reading...
Show less
Quinn Wharton
What does it take to "make it" in dance? It's no secret that turning this passion into a profession can be a struggle. In such a competitive field, talent alone isn't enough to get you where you want to be.
So what kinds of steps can you take to become successful? Dance Magazine spoke to 33 people from all corners of the industry to get their advice on the lessons that could help us all, no matter where we are in our careers.
Keep reading...
Show less
Still of Fonteyn from the 1972 film I Am a Dancer. Photo courtesy DM Archives
On May 18, 1919, Margot "Peggy" Hookham was born. She would grow up to become Dame Margot Fonteyn, England's first homegrown prima ballerina. She joined the Sadler's Wells School in 1934 and was performing principal roles with the precursor to The Royal Ballet the next year. Fonteyn was a company-defining figure, dancing Aurora for the re-opening of the Royal Opera House after World War II, creating numerous roles with Sir Frederick Ashton and forging a legendary partnership with Rudolf Nureyev.
Keep reading...
Show less