Popular
May. 10, 2018 09:45AM EST
These Three Tap Legends Argue That Tap Deserves More Respect
Dormeshia Sumbry-Edwards, Jason Samuels Smith and Derick K. Grant take the floor during our cover shoot.
In 1989, Congress passed a resolution naming May 25—the birthday of tap legend Bill "Bojangles" Robinson—as National Tap Dance Day, and it has been celebrated annually on that date ever since. For years, the May issue of Dance Magazine featured a tap dancer on its cover to coincide with the holiday and highlight the form.
But some considered the gesture to be mere tokenism. "It feels like a handout," says tap dancer Jason Samuels Smith. "Our art form deserves more than that."
---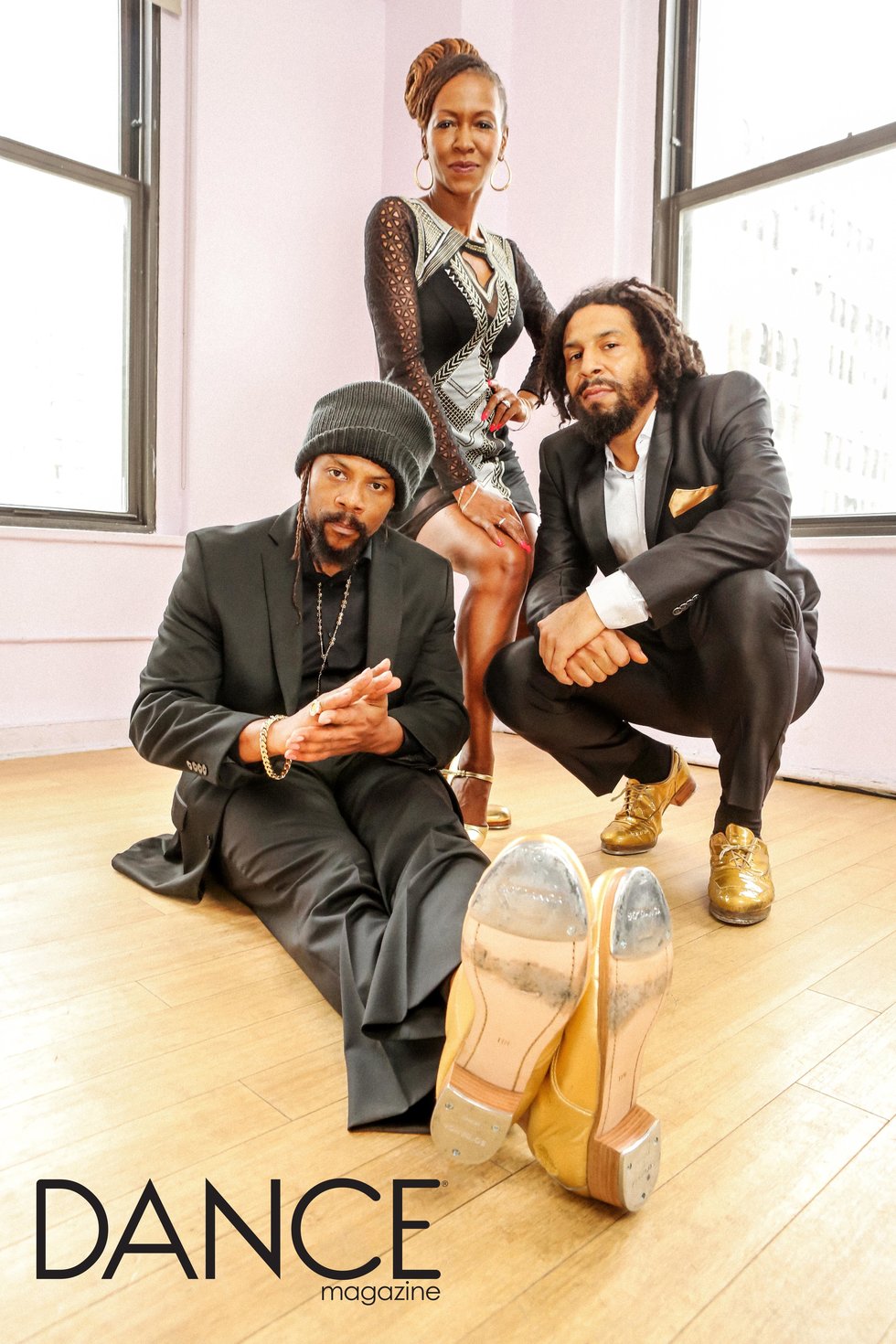 Derick K. Grant, Dormeshia Sumbry-Edwards and Jason Samuels Smith. Photo by Jayme Thornton.
The magazine no longer designates a tap issue, but frustrations persist about how, and how much, tap is represented in the broader dance world.

When Smith, 37, and his fellow tap dignitaries Dormeshia Sumbry-Edwards, 42, and Derick K. Grant, 45, gathered recently for an intimate conversation at Dance Magazine's New York offices, they offered frank assessments of the current state of tap and its relationship to other dance forms. They also laughed about the early years of their decades-long friendship, discussed with pride their recent collaborations and championed a new generation of dancers who give them hope for tap's future.
They Are All Passionate Ambassadors For Tap

In the 20-plus years since they've known each other, Smith, Sumbry-Edwards and Grant, who interact with the ease of siblings, have emerged as some of their generation's most passionate tap ambassadors and among the most exciting performers in dance.
Sumbry-Edwards is known for her elegance and precision, Grant exhibits uncanny power and lightness, and Smith is lauded for his suaveness and attack. (Shoe brands have taken note of their reputation and influence: Sumbry-Edwards represents Capezio, Grant is an ambassador for Só Dança, and Smith has designed a tap shoe for Bloch. "I couldn't even afford tap shoes when I was growing up," Smith says in disbelief.)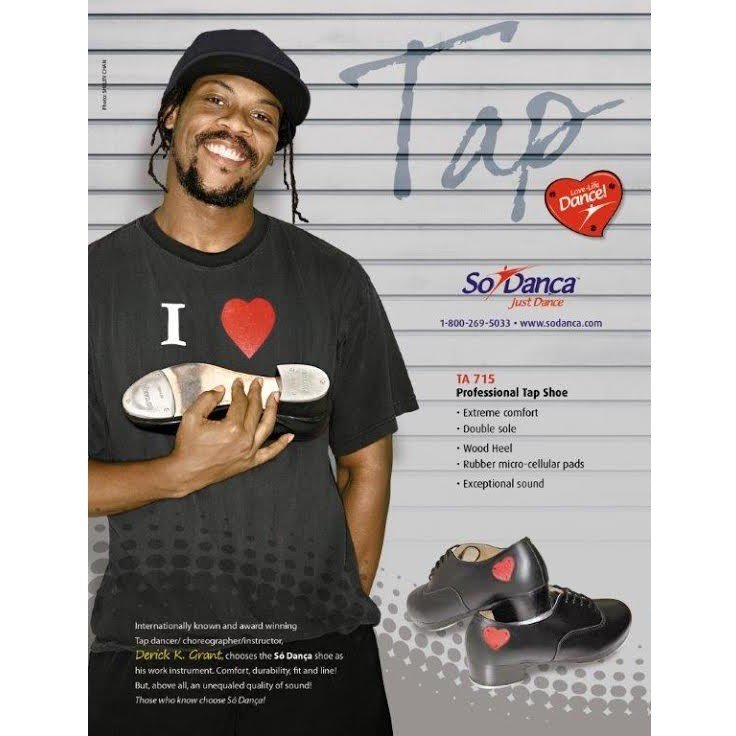 Grant is an ambassador for Só Dança, while Sumbry-Edwards represents Capezio and Smith has designed a tap shoe for Bloch.
This May, the three co-directed the first annual Tap Family Reunion in New York, a three-day celebration of National Tap Dance Day. Events spanned the city, honoring New York's contribution to tap and the city's tap landmarks, like the Apollo Theater, the Minskoff Theatre (where the acclaimed blues, jazz and tap revue Black and Blue ran on Broadway from 1989 to 1991) and the Tree of Hope in Harlem, now a sculpture representing an elm that Robinson used to rub for good luck. "We're trying to elevate the general tap community's consciousness," Smith says.
That focus on history is meant to reconnect the tap festival to its origins: Robinson's birthday, the role tap plays in American and African-American history and its connection to jazz music. "When you make this culture-less and people-less," Smith says, "you start changing the dialogue of what tap is." In August, Smith will also co-direct the L.A. Tap Fest with Cathie Nicholas, the granddaughter of tap legend Fayard Nicholas.
One factor contributing to what they see as a weakening of the link between tap and its roots is happening overseas, where despite growing popularity, the history of tap is not always taught alongside the movement.
Another factor is the enthusiasm for tap that is combined with other styles, like modern dance or hip hop. (All groaned when the word "contaporary" was mentioned.) They say they feel institutional pressure to "dress like other forms in order to sneak into these rooms and be accepted, in order to sneak into this money and get funded," as Grant explains it. "Tap as it is, for what it is, doesn't seem to be enough."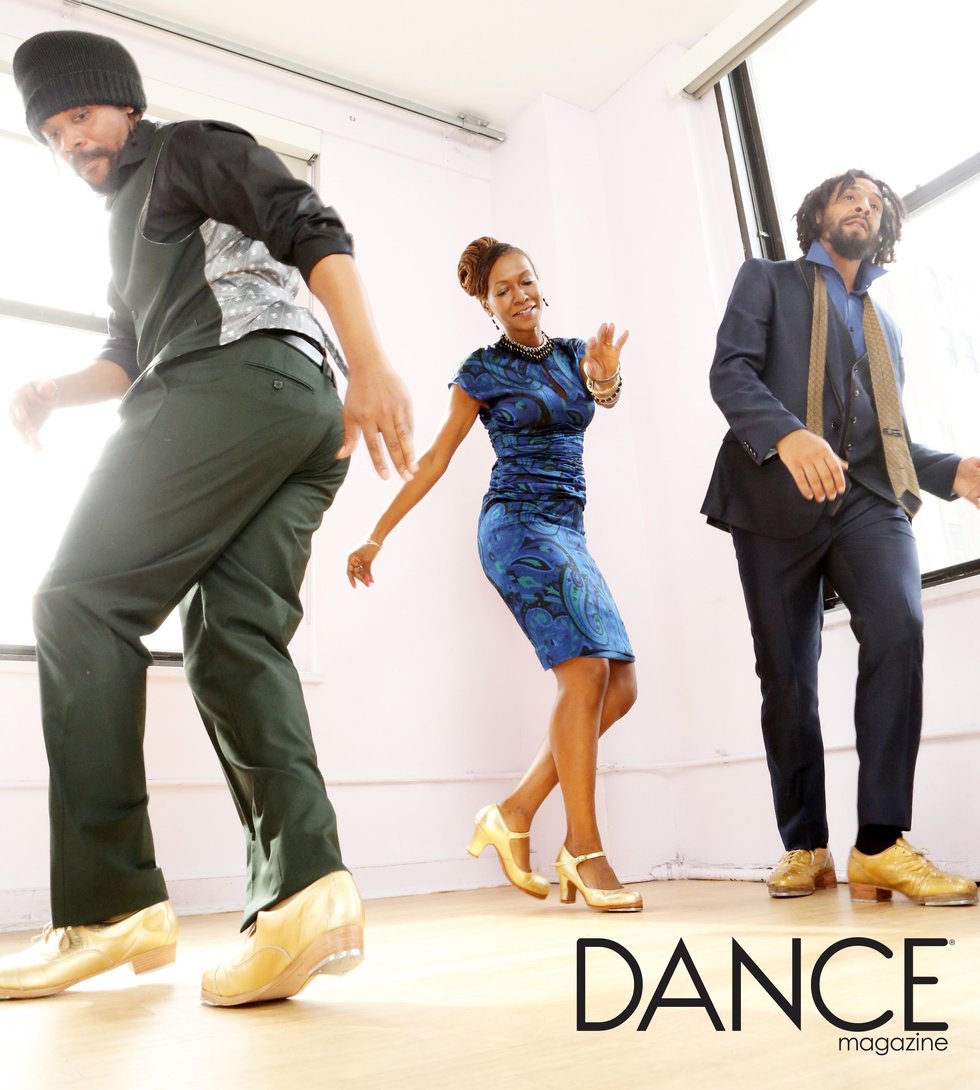 "When you make this culture-less and people-less," Smith says, "you start changing the dialogue of what tap is." Photo by Jayme Thornton
The three have largely managed to resist that trend by focusing on producing their own programming of the types of shows that they find meaningful. "We just have to stay true to who we are," Sumbry-Edwards says. "We know our lineage, we know our history. We want it to be that way, so we walk like that."
They've Been Dancing Together Since They Were Kids
They've been walking like that for a long time. Sumbry-Edwards and Grant met in 1984: She was 8 and he was 11 and they were on their way to Rome for a show called the Tip Tap Festival. Both were budding tap phenoms brought to Italy by their teachers, the tap legends Dianne Walker and the brother-sister team of Paul and Arlene Kennedy.
"They're family," says Sumbry-Edwards of their teachers, "so that made us family immediately." (Walker studied with Paul and Arlene's mother, Mildred Kennedy Bradic, so Sumbry-Edwards and Grant share lineage on the tap family tree.)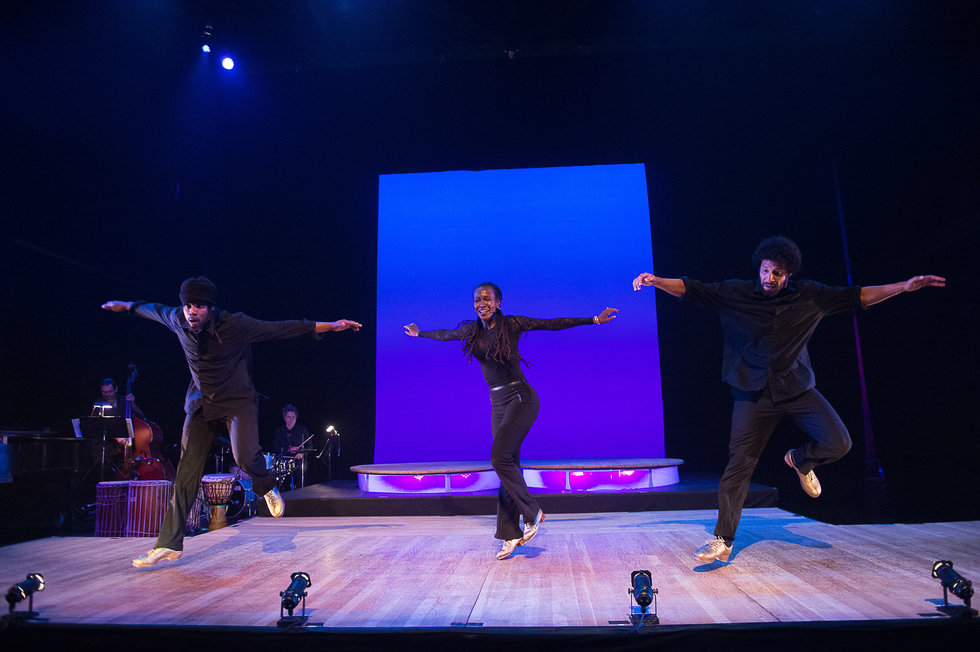 And Still You Must Swing at Jacob's Pillow. Photo by Christopher Duggan, courtesy Divine Rhythm Productions
As a kid Smith was a student of Grant's, and he recalls watching a 13-year-old Sumbry-Edwards in Black and Blue with a young Savion Glover. Since then, these three have frequently performed together and share resumé highlights: All are alumni of the game-changing, Tony Award–winning Broadway musical Bring in 'da Noise, Bring in 'da Funk; all have worked with the pioneering Jazz Tap Ensemble. And they continue to collaborate on a number of projects and productions.
In 2006, Smith and Sumbry-Edwards were featured in Grant's well-received revue Imagine Tap! Two years later, Sumbry-Edwards starred in Smith's ode to Charlie Parker, called Charlie's Angels. And in 2016, the three garnered praise for And Still You Must Swing, which Sumbry-Edwards conceptualized and directed. When she was commissioned by the Jacob's Pillow Dance Festival to create the show, she knew who to call.
"It was a no-brainer," she says, pointing to Smith and Grant, sitting on either side of her. Smith pipes up: "It was one of the funnest shows I've ever done."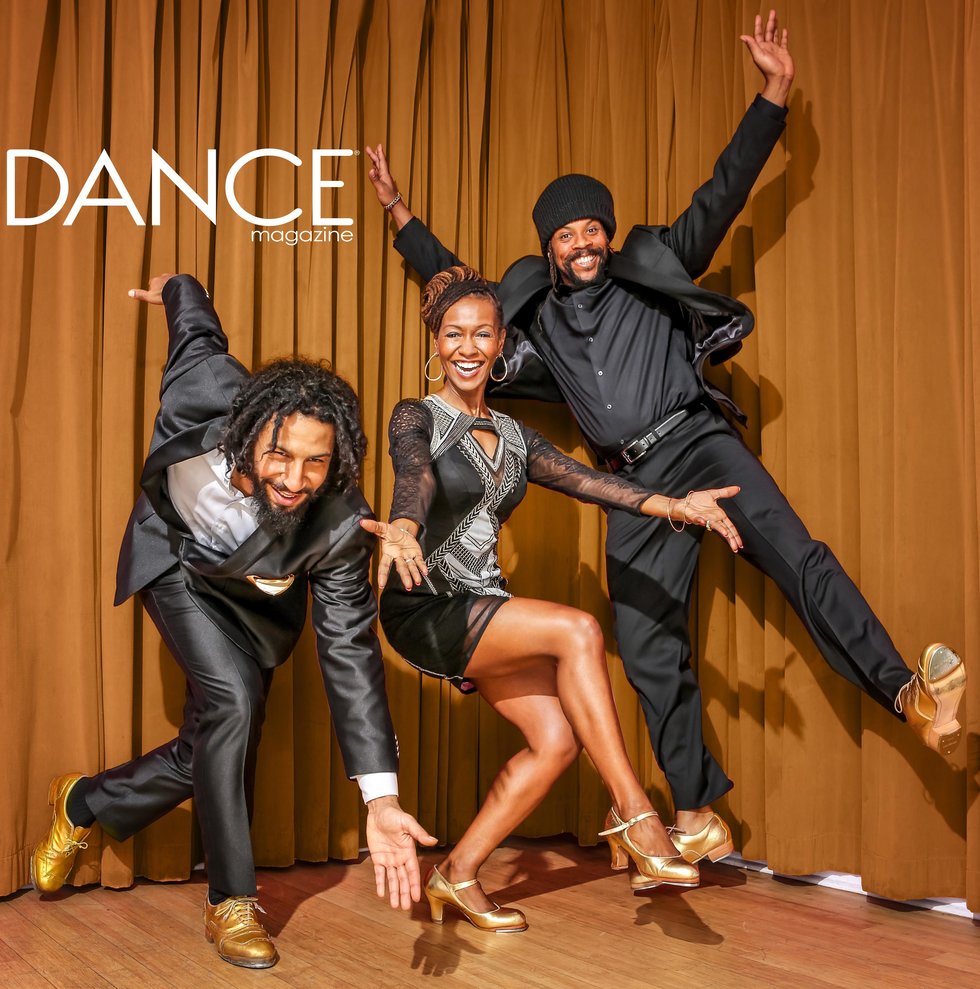 When Sumbry-Edwards was commissioned by Jacob's Pillow, she knew who to call. Photo by Jayme Thornton.
Sumbry-Edwards says her intention with that production was to address "the state of the dance," to connect it back to its history, specifically to jazz and swing music.
They Value Experimentation, But Also Integrity
Offstage, the artists imbue these values in the classes and workshops they teach across the United States and around the globe. "It starts with talking about our teachers, and our teachers' teachers," Smith says. "That lineage leads us all the way back to the roots of this dance."
In this way, they maintain the authenticity of the form from one generation to the next. Though they admit to being strict guardians of the origins of steps, they also appreciate thoughtful innovation.
"Inside of tap you're seeing people do different things with the foot, with the shoe, things musically, inverted steps, twisted steps," says Grant. They agree that experimentation has a place in tap as long as the experimenter honors the precedent set by others. "Through the connection, you'll maintain integrity," Grant says.
Despite some of their concerns about tap's direction, the three are heartened by the talent they see coming up. "There's some young bucks on the rise," Smith says, and the three mention young hoofers like Jumaane Taylor, Josette and Joseph Wiggan, and Star Dixon, among others.

"Some of these young tap dancers I see, they have the potential to be leaders beyond tap dance in the world in general," Smith adds. "I think tap is one of the ways these positive messages of enlightenment are going to be carried on."
Looking at the generation of dancers that they helped cultivate, Sumbry-Edwards, Smith and Grant reflected on their own roles as some of the form's future elders, though to apply the term to such a young, active trio feels laughably premature.
Still, they've watched tap change—and have helped shape it—for decades, so maybe the term applies. "We've been here for 30 years, so if you consider experience a badge, then we are vets," says Smith. "We are elders."
Related Articles Around the Web
What Wendy's Watching
May. 22, 2018 02:50PM EST
PC Paul Kolnik
New York City Ballet is celebrating the Jerome Robbins Centennial with twenty (20!) ballets. The great American choreographer died in 1998, so very few of today's dancers have actually worked with him. There are plenty of stories about how demanding (at times brutally so) he could be in rehearsal. But Peter Boal has written about Robbins in a more balanced, loving way. In this post he writes about how Robbins' crystal clear imagery helped him approach a role with clarity and purpose.
Keep reading...
Show less
92Y Harkness Dance Center is hosting the first festival dedicated to dance films captured on mobile devices. Photo by Adam Grannick, Courtesy 92Y
Who says you need fancy equipment to make a festival-worthy dance film? Right now, two New York City–based dance film festivals are calling for aspiring filmmakers to show their stuff—and you don't need anything more cumbersome than a smartphone to get in on the action.

Here's everything you need to know about how to submit:
Keep reading...
Show less
News
May. 18, 2018 12:05PM EST
The inimitable Alicia Alonso, now 97, remains at the helm of Ballet Nacional de Cuba. Photo by Leysis Quesada, Courtesy BNC
On the occasion of its 70th anniversary, the Ballet Nacional de Cuba tours the U.S. this spring with the resolute Cuban prima ballerina assoluta Alicia Alonso a the helm. Named a National Hero of Labor in Cuba, Alonso, 97, has weathered strained international relations and devastating fiscal challenges to have BNC emerge as a world-class dance company. Her dancers are some of ballet's best. On offer this time are Alonso's Giselle and Don Quixote. The profoundly Cuban company performs in Chicago May 18–20, Tampa May 23, Washington, D.C., May 29–June 3 and Saratoga, New York June 6–8.
Dance in Pop Culture
May. 17, 2018 10:12AM EST
Participants show off their plié. Screenshot via YouTube
We all know that the general population's knowledge of ballet is sometimes...a bit skewed. (See: people touching their fingertips to the top of their head, and Kendall Jenner hopping around at the barre.)
Would your average Joe know how to do ballet's most basic step: a plié? Or, more to the point, even know what it is?
SELF decided to find out.
Keep reading...
Show less
Lisset Santander is adding more contemporary works to her repertoire. Here with Jarrett Reimers in Christopher Wheeldon's Fools Paradise. Photo by Jennifer Zmuda, Courtesy BalletMet.
When Lisset Santander bourréed onstage as Myrtha in BalletMet's Giselle this past February, her consummate portrayal of the Queen of the Wilis was marked by steely grace and litheness. The former Cuban National Ballet dancer had defected to the U.S. at 21, and after two years with the Ohio company, she's now closer to the dance career she says she always wanted: one of limitless possibilities.
Keep reading...
Show less
James Samson in Three Dubious Memories. Photo by Paul B. Goode, courtesy Paul Taylor Dance Company
For 17 years, James Samson has been the model Paul Taylor dancer. There is something fundamentally decent about his stage persona. He's a tall dancer—six feet—but never imposes himself. He's muscular, but gentle. And when he moves, it is his humanity that shines through, even more than his technique.
But all dancing careers come to an end, and James Samson's is no exception; now 43, he'll be retiring in August, after a final performance at the Teatro Romano in Verona, where he'll be dancing in Cloven Kingdom, Piazzolla Caldera and Promethean Fire.
Keep reading...
Show less


Get Dance Magazine in your inbox