What It's Like to Be A Dancer & Choreographer When You're Blind
Mana Hashimoto began training as a dancer before going blind in her early 20s. Photo Fred Hatt, courtesy Hashimoto
Since losing her eyesight due to an undiagnosed optic nerve atrophy, choreographer and performer Mana Hashimoto has dedicated her life's work to exploring how the body exists in space with or without sight.
Trained in ballet, jazz and Graham technique, she has performed all over the world, from her native home in Japan to New York City's Metropolitan Museum of Art and Jacob's Pillow. Hashimoto is also the founder of Dance without Sight, a series of workshops designed to discover movement through touch, sound and smell.
Dance Magazine recently say down with Hashimoto to learn more about her process, and what it's like to be a bridge between the seen and unseen worlds.
---
Where She Gets Ideas When She Can No Longer Watch Dance Alone
"I was able to see until my 20s. I have seen classic ballets, performing arts, pictures and paintings. It's in my physical memory."
"A challenge now is where can I get new information. I go to shows with close friends and ask them to describe what they see or show me through movement."
"I get ideas through everyday life. I listen to YouTube and get inspiration through people I meet, books I read. I am inspired by Helen Keller, goze (groups of blind female musicians), and Japanese female writers Sei Sh¯onagon, Murasaki Shikibu and Ichiy¯o Higuchi."
"I constantly question what it means to be a blind, Asian female dancer experiencing the world right now."
On Her Piece for the Metropolitan Museum of Art Last May
"Bridge over Troubled Water, performed at the Metropolitan Museum of Art last May, is a collaboration with the Lighthouse Guild Vocal Ensemble, a visually impaired choir. Before the performance, I showed them my movement by describing what I was doing and having them feel my body with their hands."
What Her Rehearsal Process Is Like
"I believe dance comes from my soul. I am presenting my soul. I have to make it convincing for those who can see. I invite close friends and family members to rehearsals for feedback to help make sure my work makes sense."
How She Makes Her Work Accessible to Visually Impaired Audiences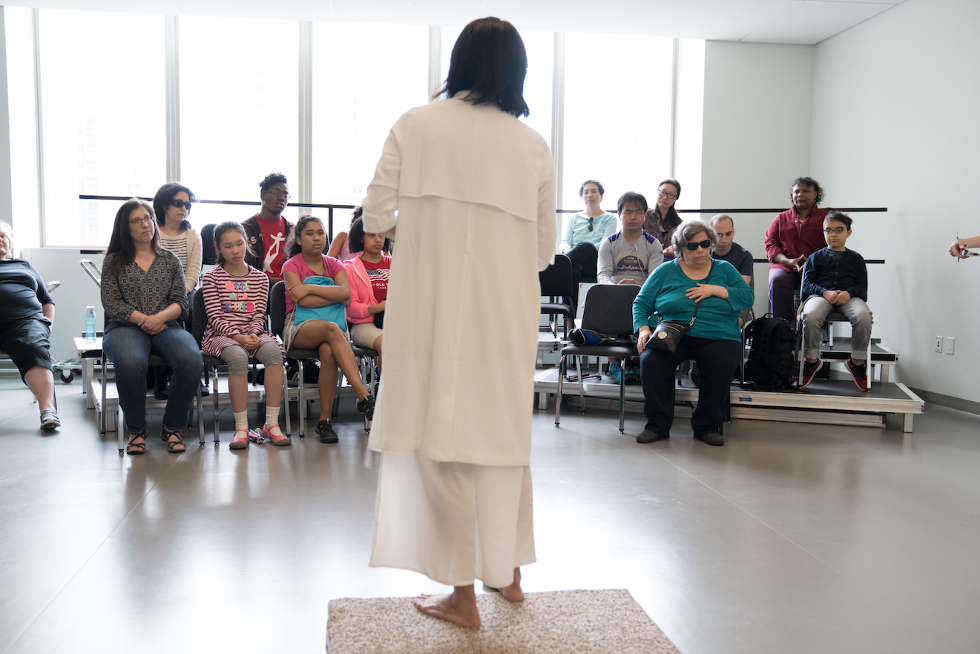 Hashimoto's Dances Without Sight workshops are designed to share movement through other senses. Photo by Julieta Cervantes, courtesy Hashimoto.
"My performances include a seating area for audio descriptions where people describe the work. It's difficult to say everything, so I work with the speaker to make a balance between the abstract images and technical parts of the dance."
"Before the performance, I also invite visually impaired audiences on a touching tour where they can feel the costumes, walk on the stage, make sound and feel my body move."
"Dance is a visual art. It is difficult for visually impaired individuals to enjoy dance as an art form, not only as therapy. We need accessibility and sight assistance through touch to take classes. I teach workshops throughout the year. I would love to work with university dance departments to start a program to introduce movement for visually impaired dancers. They are our next generation of educators."
News
Sep. 16, 2019 11:00AM EST
Teaċ Daṁsa in Michael Keegan-Dolan's Loch na hEala. Photo by Marie-Laure Briane, courtesy Walker Art Center
The 2019–20 season is here, and with it more performances than any one person could reasonably catch. But fear not: We polled our writers and editors and selected the 31 most promising tickets, adding up to one endlessly intriguing year of dance.
Keep reading...
Show less
Taylor Stanley in Apollo. Photo by Erin Baiano, Courtesy New York City Ballet
You nominated your favorite dance moments so far in 2019, and we narrowed them down to this list. Now it's time to cast your vote to help decide who will be deemed our Readers' Choice picks for the year!
Voting is open until September 17th. Only one vote per person will be counted.
Keep reading...
Show less
The USC Kaufman graduating class with Mikhail Baryshnikov. Gus Ruelas/USC
Just four years ago, the University of Southern California's Glorya Kaufman School of Dance welcomed its first class of BFA students. The program—which boasts world-class faculty and a revolutionary approach to training focused on collaboration and hybridity—immediately established itself as one of the country's most prestigious and most innovative.
Now, the first graduating class is entering the dance field. Here, six of the 33 graduates share what they're doing post-grad, what made their experience at USC Kaufman so meaningful and how it prepared them for their next steps:
Keep reading...
Show less
Original photos: Getty Images
Keep reading...
Show less