Why Are So Many Male Dance Students Still Bullied Today?
Name calling, physical intimidation and cyberbullying are all-too-common experiences among male dancers. Photo by Goh Rhy Yan/Unsplash
Growing up in a family-owned dance studio in Missouri had its perks for tap dancer Anthony Russo. But it also earned him constant taunting, especially in high school.
"There was a junior in my sophomore year health class who was absolutely relentless," he says. "I'd get tripped on my way to the front of the classroom and he'd say, 'Watch out, twinkle toes.' If I raised my hand and answered a question incorrectly, I'd hear a patronizing 'Nice one, Bojangles.' "
---
A different classmate, who often called Russo "Dancing Queen," would lurk near the cafeteria doors each day at lunchtime, hoping for an opportunity to corner him. "I'd find ways to exit the cafeteria at the same time as a teacher, or go as far as walking out through the kitchen and reentering the building somewhere else," Russo admits.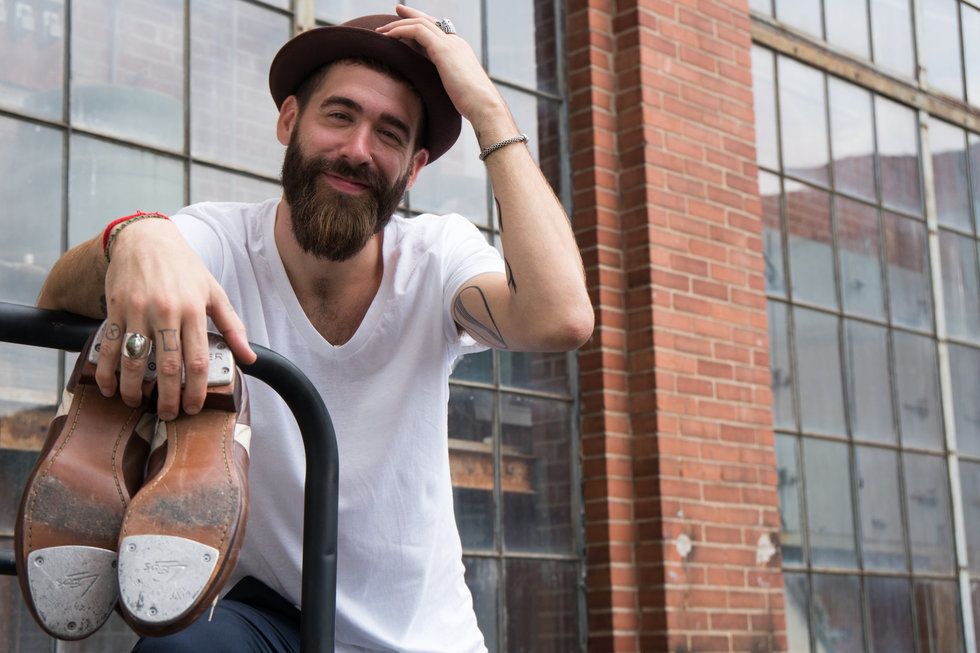 Anthony Russo was called names like Bojangles, Twinkle Toes and Dancing Queen while growing up. Photo by Christopher Erk, courtesy Russo.
His experience is sadly similar to what many male dancers endure throughout their training and careers: name calling, physical intimidation, cyberbullying, sometimes even death threats.
Although girls, too, can be bullying victims, it's far less common, as our culture views dance as a more acceptable activity for them to pursue. Boys who dance are frequently stereotyped as gay and mocked for participating in what many consider to be a feminine art.
As conversations about bullying heat up throughout the country, with the role of social media and the effects on adolescent mental health emerging as related concerns, there's no better time to consider what the dance world can do to help male students of all ages feel safe and accepted.
Teachers Can Make a Difference

Many male dancers agree that positive adult role models are essential for bullying prevention. Dancer and choreographer Chris Bell, who remembers being incessantly called a "faggot" throughout middle and high school in San Antonio, Texas, says he channeled his anger into his school work, focusing on excelling academically.
Now a performer with Eryc Taylor Dance and dendy/donovan projects, he realizes how necessary it is for teachers—both in academic schools and dance studios—to speak up.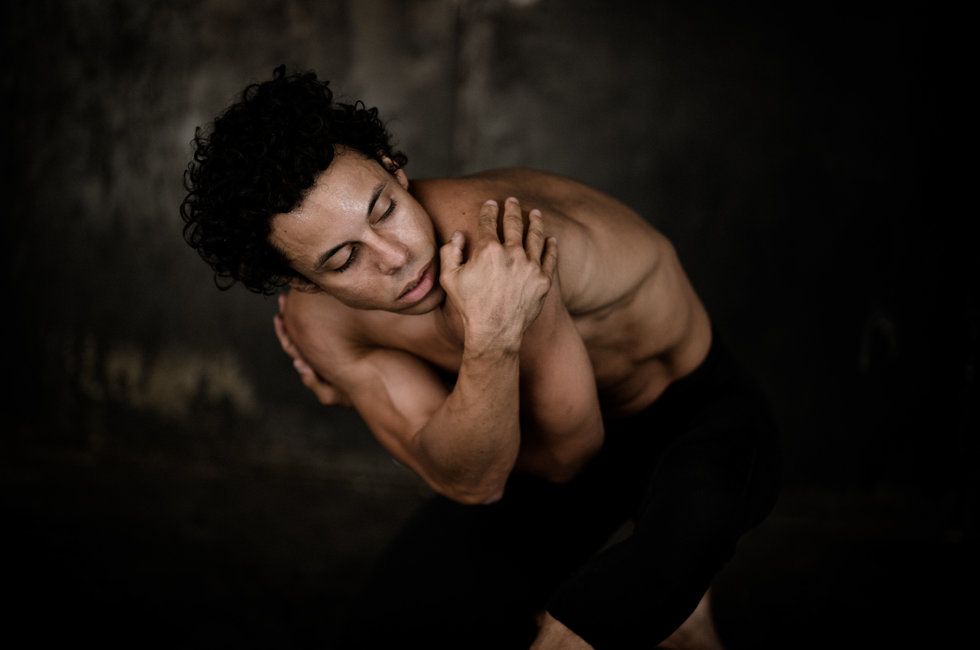 Chris Bell says teachers need to stop bullying in its tracks. Photo by Craig Macleod, courtesy Bell.
"The second that you hear anything demeaning or demoralizing, stop it and talk about it," he says. "You have to acknowledge that it's wrong, explain why it's wrong and then move on."
The message is especially effective if teachers work in schools that support dance as part of the curriculum. "The dance world should get into public schools, especially younger grades, to show what both men and women do in the dance world—any kind of dance," says Andy Jacobs, a modern/contemporary dancer and choreographer in New York City. "It's all going to open up their eyes and show them there's no boundaries to what you can like."
Dance Should Be Introduced More Like a Sport
Tap dancer Leo Lamontagne, assistant director at North Andover School of Dance and former company member with Chicago's Jump Rhythm Jazz Project, asks what would happen if dance were treated more like sports in school. "What if dance were introduced at the same age that basketball was? What if dance were used to teach gross motor skills?" he asks. "Bullies are intimidated by what they don't understand, so it's up to us to educate not just dancers but also non-dancers on what dance can be."
"So You Think You Can Dance" finalist Peter Sabasino suggests creating more performing arts schools altogether. "Then more kids would look at dance as a cool thing to do," he says.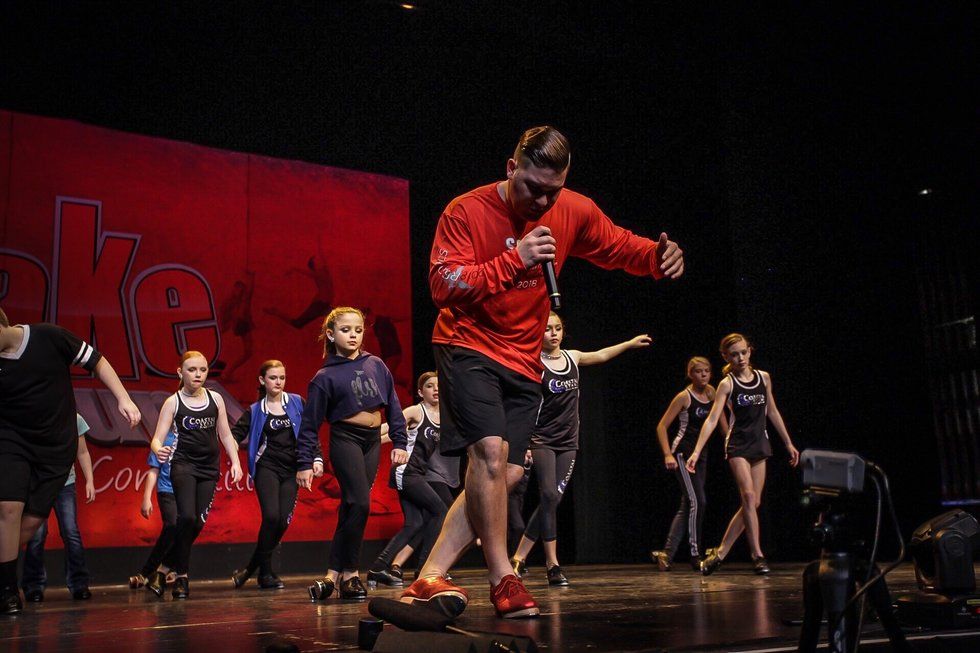 Peter Sabasino suggests more performing arts schools could help dance look "cooler" among kids. Photo by Matthew Carby, courtesy Sabasino.
We Need More Role Models
More male ambassadors in popular culture could also help. "We could certainly use another Gene Kelly or Fred Astaire to show how cool dance is, not just showing hip-hop dancers as cool or men as strippers, like in Magic Mike," says Todd Shanks, an artist in residence at Dean College. "Honestly, though, dance doesn't have to be masculine to be cool. Talent doesn't have a sexual preference."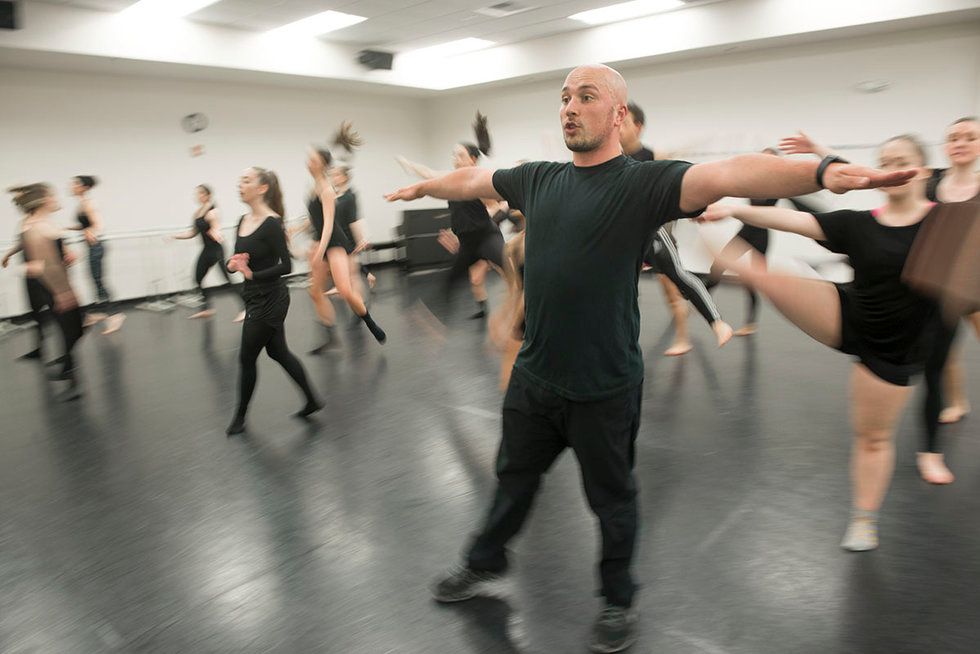 Todd Shanks feels another Fred Astaire or Gene Kelly could show that men dance, too. Photo courtesy Dean College/Paladino School of Dance.
But maybe we don't have to wait for a dance celebrity: Young men can also be role models for each other. "We need to expose boys to other male dancers, not just the professionals," Lamontagne says. "We need to come together to support our boys to support one another."
He suggests that competitions and conventions offer classes exclusively to boys, as all-male classes can sometimes be impossible in many small communities, where few male students are in attendance.
That is exactly the idea behind the Male Dancer Conference, launched last year by the founders of online dancewear store Boys Dance Too. The event gives boys a chance to be surrounded by their peers in classes led by role models like Sascha Radetsky and Alex Wong.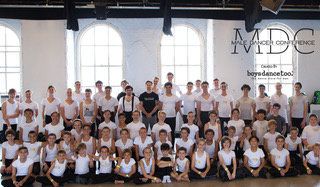 Similarly, Earl Mosley's Hearts of Men intensive offers two weeks of training and networking for male dancers. The National Dance Education Organization also held a symposium last year for teachers of male students to address how dance can attract more boys.
Power in numbers, after all, may be a valuable tactic. Bell points out that all dancers who are bullied have something in common—a shared experience that has made them stronger. "These experiences help you to become a better, more enriched person," he says. "A lot of the kids who bully want some kind of essential quality that you have. They want the freedom that you already have to do what you love."
Related Articles Around the Web
From Your Site Articles
News
May. 20, 2019 04:24PM EST
Last night, longtime theater legends (including Chita Rivera herself!) as well as rising stars gathered to celebrate one of Broadway's danciest events: the third annual Chita Rivera Awards.
The evening paid tribute to this season's dancer standouts, fabulous ensembles, and jaw-dropping choreography—on- and off-Broadway and on film.
As usual, several of our faves made it into the mix. (With such a fabulous talent pool of nominees to choose from, we're glad that ties were allowed.) Here are the highlights from the winner's list:
Keep reading...
Show less
Hive by Boston Conservatory student Alyssa Markowitz. Photo by Jim Coleman
The way we create and consume dance is changing every day. Now more than ever, the field demands that dancers not only be able to perform at the highest level, but also collaborate with choreographers to bring their artistic visions to life. Dancers who miss out on choreographic training may very well find themselves at a disadvantage as they try to launch their careers.

Keep reading...
Show less
Lorenzo Di Cristina/Unsplash
When you're a foreign dancer, gaining legal rights to work in the U.S. is a challenging process. It's especially difficult if you're petitioning to work as a freelance dancer without an agent or company sponsorship.
The process requires professional muscle along with plenty of resources and heart. "There's a real misnomer that it's super easy," says Neena Dutta, immigration attorney and president of Dutta Law Firm. "People need to educate themselves and talk to a professional."
Here are four things every foreign dancer who wants to work in the U.S. needs to know to build a freelance dance career here.
Keep reading...
Show less
Quinn Wharton
What does it take to "make it" in dance? It's no secret that turning this passion into a profession can be a struggle. In such a competitive field, talent alone isn't enough to get you where you want to be.
So what kinds of steps can you take to become successful? Dance Magazine spoke to 33 people from all corners of the industry to get their advice on the lessons that could help us all, no matter where we are in our careers.
Keep reading...
Show less
Last year's winner: Manuel Vignoulle's EARTH. Jack Hartin Photography, Courtesy McCallum Theatre
It's not often that a promising choreographer gets to stage work in a world-class theater, on a skillfully-curated program with professional dancers, and with the possibility of winning a substantial cash prize. But at the McCallum Theatre's Palm Desert Choreography Festival, that's been the status quo for over twenty years.
Since Shea New, the festival's artistic director, founded the festival in 1998, she's worked tirelessly with McCallum's director of education and festival producer, Kajsa Thuresson-Frary, and stage manager and festival production manager Joanna Fookes to build a festival that nurtures choreographers, highlights high quality work, powerfully engages the local community and cultivates an audience base for dance in the Coachella Valley. The trio is backed by a strong team of professionals at McCallum and the brilliant volunteers from the local and national level who serve as adjudicators.
Keep reading...
Show less
Get Dance Magazine in your inbox
Still of Fonteyn from the 1972 film I Am a Dancer. Photo courtesy DM Archives
On May 18, 1919, Margot "Peggy" Hookham was born. She would grow up to become Dame Margot Fonteyn, England's first homegrown prima ballerina. She joined the Sadler's Wells School in 1934 and was performing principal roles with the precursor to The Royal Ballet the next year. Fonteyn was a company-defining figure, dancing Aurora for the re-opening of the Royal Opera House after World War II, creating numerous roles with Sir Frederick Ashton and forging a legendary partnership with Rudolf Nureyev.
Keep reading...
Show less
Courtesy #Dance4OurLives
Memorial Day is notoriously one of Chicago's bloodiest weekends. Last year, 36 people were shot and seven died that weekend. In 2017 and 2016, the number of shootings was even higher.
When Garley "GiGi Tonyé" Briggs, a dance teacher and Chicago native, started noticing this pattern, she was preparing her second annual Memorial Day workshop for local youth.
The event's original aim was simple: "I wanted the youth of Chicago to have somewhere they could come and learn from different dancers and be off the streets on the South Side on this hot holiday," she says.
Keep reading...
Show less
A recent trip I took to Nashville coincided with the NFL draft. As we drove into town, my Uber driver was a fount of information on the subject.
I learned that there are 32 NFL teams and that the draft takes place over seven rounds. That the team that did the poorest during the previous season gets first pick. That during an earlier event called the scouting combine, the teams assess college football players and figure out who they want.
There is also the veteran combine for "free agents"—players who have been released from their contracts or whose contracts have expired. They might be very good players, but their team needs younger members or ones with a certain skill set. All year round, experienced NFL scouts scan games across the country, checking out players and feeding that information back to the teams. Players' agents keep their eyes on opportunities for their clients which might be more rewarding.
While I sat in the traffic of 600,000 NFL fans I got thinking, is there something ballet could learn from football? Could a draft system improve young dancers' prospects and overall company caliber and contentment?
Keep reading...
Show less
Getty Images
Despite what you might think, there's no reason for dancers to be afraid of bread.
"It's looked at as this evil food," says New York State–certified dietitian and former dancer Tiffany Mendell. But the truth is, unless you have celiac disease or a gluten intolerance, bread can be a healthy source of carbohydrates—our body's preferred fuel—plus fiber and vitamins.
The key is choosing your loaf wisely.
Keep reading...
Show less
It can be hard to imagine life without—or just after—dance. Perhaps that's why we find it so fascinating to hear what our favorite dancers think they'd be doing if they weren't performing for a living.
We've been asking stars about the alternate career they'd like to try in our "Spotlight" Q&A series, and their answers—from the unexpected to the predictable—do not disappoint:
Keep reading...
Show less
Unity Phelan in John Wick: Chapter 3 – Parabellum. Photo by Niko Tavernise, Courtesy FRANK PR
"New York City Ballet star appears in a Keanu Reeves action movie" is not a sentence we ever thought we'd write. But moviegoers seeing John Wick: Chapter 3 – Parabellum will be treated to two scenes featuring soloist Unity Phelan dancing choreography by colleague Tiler Peck. The guns-blazing popcorn flick cast Phelan as a ballerina who also happens to be training to become an elite assassin. Opens in theaters May 17.
News
May. 16, 2019 02:22PM EST
Walsh's Moon Fate Sin at Danspace Project. Like Fame Notions, the title was derived from Yvonne Rainer's "No" manifesto. Photo by Ian Douglas, Courtesy Danspace Project
The Brooklyn-based choreographer Gillian Walsh is both obsessed with and deeply conflicted about dance. With her latest work, Fame Notions, May 17–19 at Performance Space New York, she seeks to understand what she calls the "fundamentally pessimistic or alienating pursuit" of being a dancer. Noting that the piece is "quiet and introverted," like much of her other work, she sees Fame Notions as one step in a larger project examining why dancers dance.
Keep reading...
Show less
Via YouTube
What does Mikhail Baryshnikov have to say to dancers starting their careers today? On Friday, he gave the keynote speech during the graduation ceremony for the inaugural class of the USC Glorya Kaufman School of Dance.
The heart of his message: Be generous.
Keep reading...
Show less