Congrats to the 2018 Capezio A.C.E. Awards Winners!
Mary Grace McNally's "Not for Picking" (Rachel Papo for Dance Teacher)
What's better than a competition that gives promising choreographers a whole bunch of funding? How about a competition that also puts on a must-see show as part of the process? That's the genius model of the Capezio A.C.E. Awards. Every year since 2009, the contest has brought upwards of a dozen finalists, selected from a pool of hundreds of applicants, to present their choreography in a fabulous showcase at the Dance Teacher Summit. On Saturday night, we got to see the work of no fewer than 21(!) talented finalists in this year's performance.
The judging panel—whose task we did not envy—featured boldface names Mia Michaels, Tyce Diorio, Tessandra Chavez, and Dance Magazine Editor in Chief Jennifer Stahl. Who'd they select for the top prizes? The winners are...
---
Second Runners-Up (It's a Tie!): Rudy Abreu and Erik Saradpon
All hail the power of a strong all-male ensemble. Abreu's powerful work, "Pray," set to Sam Smith's song of the same name, featured a tribe of men in white grappling with the ideas of death and spirituality. Saradpon's "Play" also highlighted a talented cast of guys in an infectiously fun Michael Jackson mashup, which turned a collection of briefcases into a crazy sort of jukebox.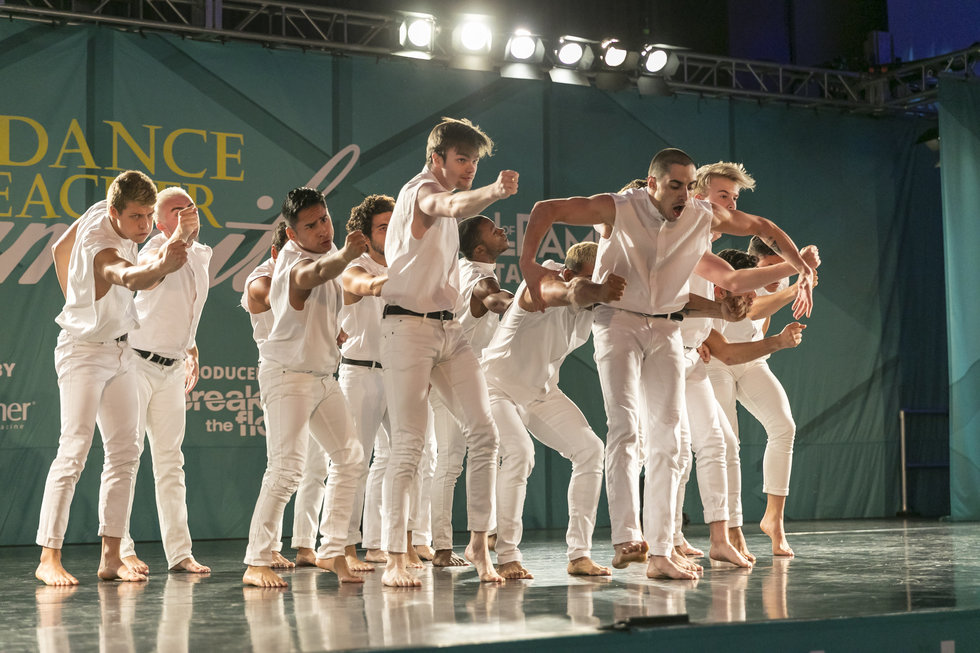 Rudy Abreu's "Pray" (Rachel Papo for Dance Teacher)
First Runner-Up: Aidan Carberry and Jordan Johnson
This choreographic duo (also known as JA Collective) from the USC Kaufman School of Dance mixed contemporary and hip hop in mind-meltingly ingenious ways in their piece, "Off the Hill." A special shout-out to their excellent group of dancers, which included our faves Simrin Player and Jake Tribus.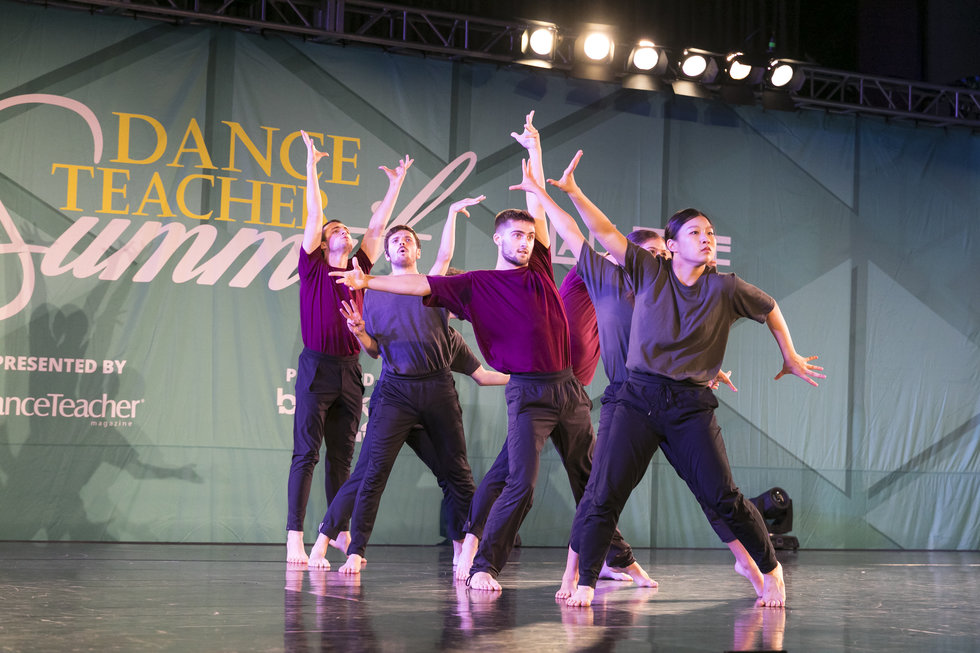 Aidan Carberry and Jordan Johnson's "Off the Hill" (Rachel Papo for Dance Teacher)
Winner: Mary Grace McNally
Mixing earnest emotion with tongue-in-cheek wit can be a tricky thing, but McNally's remarkable piece, "Not for Picking," found just the right balance between the two. Her sophisticated choreographic voice found beautiful expression in a strong cast of women.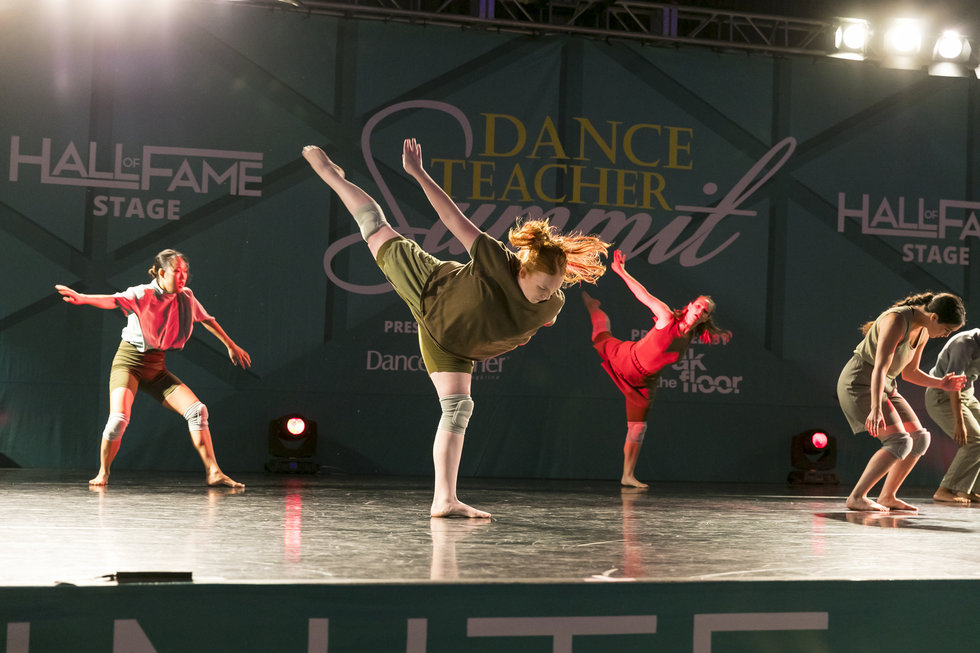 Mary Grace McNally's "Not for Picking" (Rachel Papo for Dance Teacher)
Congrats to all the winners! Each will receive funds to produce a full-length show—and we can't wait to see what their brilliant minds come up with.
Courtesy Boneau/Bryan-Brown
If "Fosse/Verdon" whet your appetite for the impeccable Gwen Verdon, then Merely Marvelous: The Dancing Genius of Gwen Verdon is the three-course meal you've been craving. The new documentary—available now on Amazon for rental or purchase—dives into the life of the Tony-winning performer and silver-screen star lauded for her charismatic dancing.

Though she's perhaps most well-known today as Bob Fosse's wife and muse, that's not even half of her story. For starters, she'd already won four Tonys before they wed, making her far more famous in the public eye than he was at that point in his career. That's just one of many surprising details we learned during last night's U.S. premiere of Merely Marvelous. Believe us: You're gonna love her even more once you get to know her. Here are eight lesser-known tidbits to get you started.
Keep reading...
Show less
Lindsay Thomas
Every dancer knows that how you fuel your body affects how you feel in the studio. Of course, while breakfast is no more magical than any other meal (despite the enduring myth that it's the most important one of the day), showing up to class hangry is a recipe for unproductive studio time.
So what do your favorite dancers eat in the morning to set themselves up for a busy rehearsal or performance day?
Keep reading...
Show less
News
Sep. 20, 2019 09:17AM EST
Simon Soong, Courtesy DDT
When it comes to dance in the U.S., companies in the South often find themselves overlooked—sometimes even by the presenters in their own backyard. That's where South Arts comes in. This year, the regional nonprofit launched Momentum, an initiative that will provide professional development, mentorship, touring grants and residencies to five Southern dance companies.
Keep reading...
Show less
News
Sep. 19, 2019 12:46PM EST
Alice Pennefather, Courtesy ROH
You ever just wish that Kenneth MacMillan's iconic production of Romeo and Juliet could have a beautiful love child with the 1968 film starring Olivia Hussey? (No, not Baz Luhrmann's version. We are purists here.)
Wish granted: Today, the trailer for a new film called Romeo and Juliet: Beyond Words was released, featuring MacMillan's choreography and with what looks like all the cinematic glamour we could ever dream of:
Keep reading...
Show less