Congrats to the 2018 Capezio A.C.E. Awards Winners!
Mary Grace McNally's "Not for Picking" (Rachel Papo for Dance Teacher)
What's better than a competition that gives promising choreographers a whole bunch of funding? How about a competition that also puts on a must-see show as part of the process? That's the genius model of the Capezio A.C.E. Awards. Every year since 2009, the contest has brought upwards of a dozen finalists, selected from a pool of hundreds of applicants, to present their choreography in a fabulous showcase at the Dance Teacher Summit. On Saturday night, we got to see the work of no fewer than 21(!) talented finalists in this year's performance.
The judging panel—whose task we did not envy—featured boldface names Mia Michaels, Tyce Diorio, Tessandra Chavez, and Dance Magazine Editor in Chief Jennifer Stahl. Who'd they select for the top prizes? The winners are...
---
Second Runners-Up (It's a Tie!): Rudy Abreu and Erik Saradpon
All hail the power of a strong all-male ensemble. Abreu's powerful work, "Pray," set to Sam Smith's song of the same name, featured a tribe of men in white grappling with the ideas of death and spirituality. Saradpon's "Play" also highlighted a talented cast of guys in an infectiously fun Michael Jackson mashup, which turned a collection of briefcases into a crazy sort of jukebox.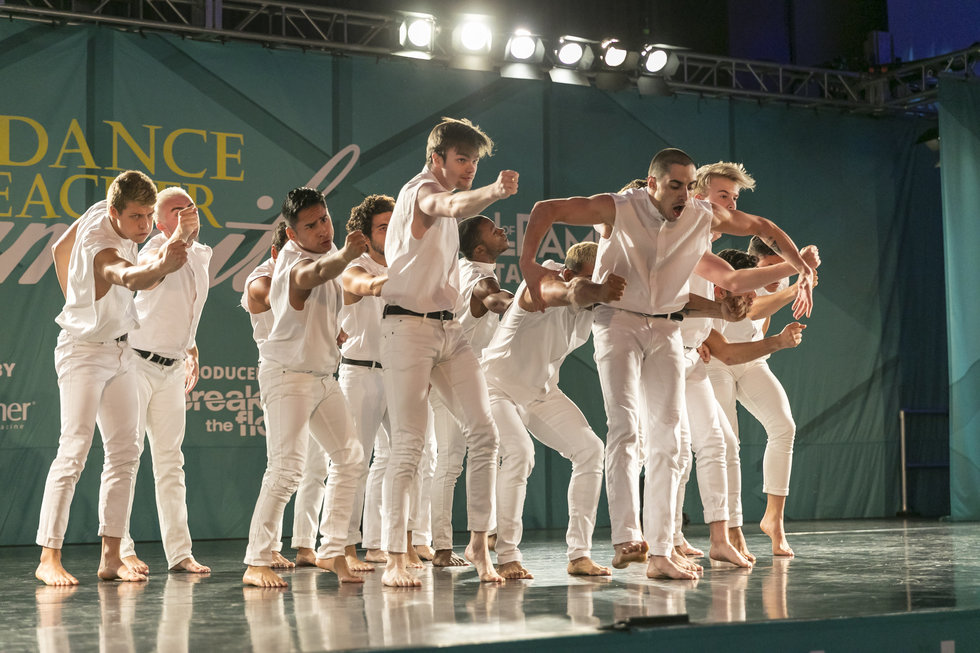 Rudy Abreu's "Pray" (Rachel Papo for Dance Teacher)
First Runner-Up: Aidan Carberry and Jordan Johnson
This choreographic duo (also known as JA Collective) from the USC Kaufman School of Dance mixed contemporary and hip hop in mind-meltingly ingenious ways in their piece, "Off the Hill." A special shout-out to their excellent group of dancers, which included our faves Simrin Player and Jake Tribus.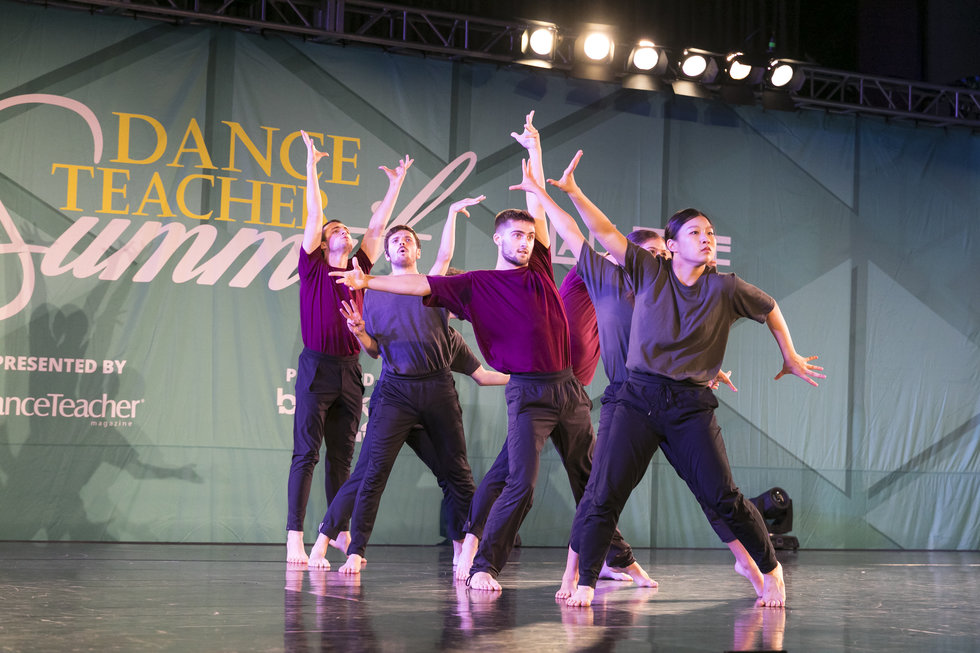 Aidan Carberry and Jordan Johnson's "Off the Hill" (Rachel Papo for Dance Teacher)
Winner: Mary Grace McNally
Mixing earnest emotion with tongue-in-cheek wit can be a tricky thing, but McNally's remarkable piece, "Not for Picking," found just the right balance between the two. Her sophisticated choreographic voice found beautiful expression in a strong cast of women.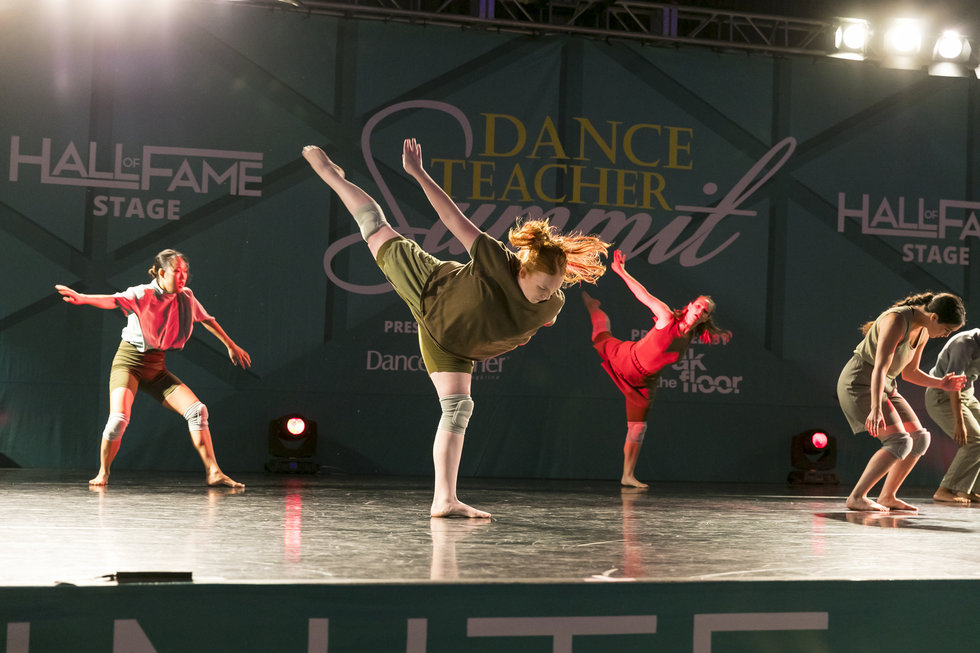 Mary Grace McNally's "Not for Picking" (Rachel Papo for Dance Teacher)
Congrats to all the winners! Each will receive funds to produce a full-length show—and we can't wait to see what their brilliant minds come up with.
Rachel Papo
In the middle of one of New York City Center's cavernous studios, Misty Copeland takes a measured step backwards. The suggestion of a swan arm ripples before she turns downstage, chest and shoulders unfurling as her legs stretch into an open lunge. She piqués onto pointe, arms echoing the sinuous curve of her back attitude, then walks out of it, pausing to warily look over her shoulder. As the droning of Ryuichi Sakamoto and Alva Noto's mysterious "Attack/Transition" grows more insistent, her feet start to fly with a rapidity that seems to almost startle her.
And then she stops mid-phrase. Copeland's hands fall to her hips as she apologizes. Choreographer Kyle Abraham slides to the sound system to pause the music, giving Copeland a moment to remind herself of a recent change to the sequence.
"It's different when the sound's on!" he reassures her. "And it's a lot of changes."
The day before was the first time Abraham had seen Copeland dance the solo in its entirety, and the first moment they were in the studio together in a month. This is their last rehearsal, save for tech, before the premiere of Ash exactly one week later, as part of the opening night of City Center's Fall for Dance festival.
Keep reading...
Show less
Ailey II artistic director Troy Powell teaching an Ailey Workshop at NYCDA. Courtesy NYCDA
Back in 2011 when Joe Lanteri first approached Katie Langan, chair of Marymount Manhattan College's dance department, about getting involved with New York City Dance Alliance, she was skeptical about the convention/competition world.
"But I was pleasantly surprised by the enormity of talent that was there," she says. "His goal was to start scholarship opportunities, and I said okay, I'm in."
Today, it's fair to say that Lanteri has far surpassed his goal of creating scholarship opportunities. But NYCDA has done so much more, bridging the gap between the convention world and the professional world by forging a wealth of partnerships with dance institutions from Marymount to The Ailey School to Complexions Contemporary Ballet and many more. There's a reason these companies and schools—some of whom otherwise may not see themselves as aligned with the convention/competition world—keep deepening their relationships with NYCDA.
Now, college scholarships are just one of many ways NYCDA has gone beyond the typical weekend-long convention experience and created life-changing opportunities for students. We rounded up some of the most notable ones:
Keep reading...
Show less
Getty Images
Dancers are understandably obsessed with food. In both an aesthetic and athletic profession, you know you're judged on your body shape, but you need proper fuel to perform your best. Meanwhile, you're inundated with questionable diet advice.
"My 'favorite' was the ABC diet," says registered dietitian nutritionist Kristin Koskinen, who trained in dance seriously but was convinced her body type wouldn't allow her to pursue it professionally. "On the first day you eat only foods starting with the letter A, on the second day only B, and so on."
Keep reading...
Show less
Left: Hurricane Harvey damage in Houston Ballet's Dance Lab; Courtesy Harlequin. Right: The Dance Lab pre-Harvey; Nic Lehoux, Courtesy Houston Ballet.
"The show must go on" may be a platitude we use to get through everything from costume malfunctions to stormy moods. But when it came to overcoming a literal hurricane, Houston Ballet was buoyed by this mantra to go from devastated to dancing in a matter of weeks—with the help of Harlequin Floors, Houston Ballet's longstanding partner who sprang into action to build new floors in record time.
Keep reading...
Show less