The Summer Intensive Where Students Become a Choreographer's Muse
Alexander Iziliaev, courtesy MCB
It's the second week of Miami City Ballet School's Choreographic Intensive, and the students stand in a light-drenched studio watching as choreographer Durante Verzola sets a pas de trois. "Don't be afraid to look at the ceiling—look that high," Verzola shows one student as she holds an arabesque. "That gives so much more dimension to your dancing." Other students try the same movement from the sidelines.
When Arantxa Ochoa took over as MCB School's director of faculty and curriculum two years ago, she decided to add a second part to the summer intensive: five weeks focused on technique would be followed by a new two-week choreography session. The technique intensive is not a requirement, but students audition for both at the same time and many attend the two back-to-back.
---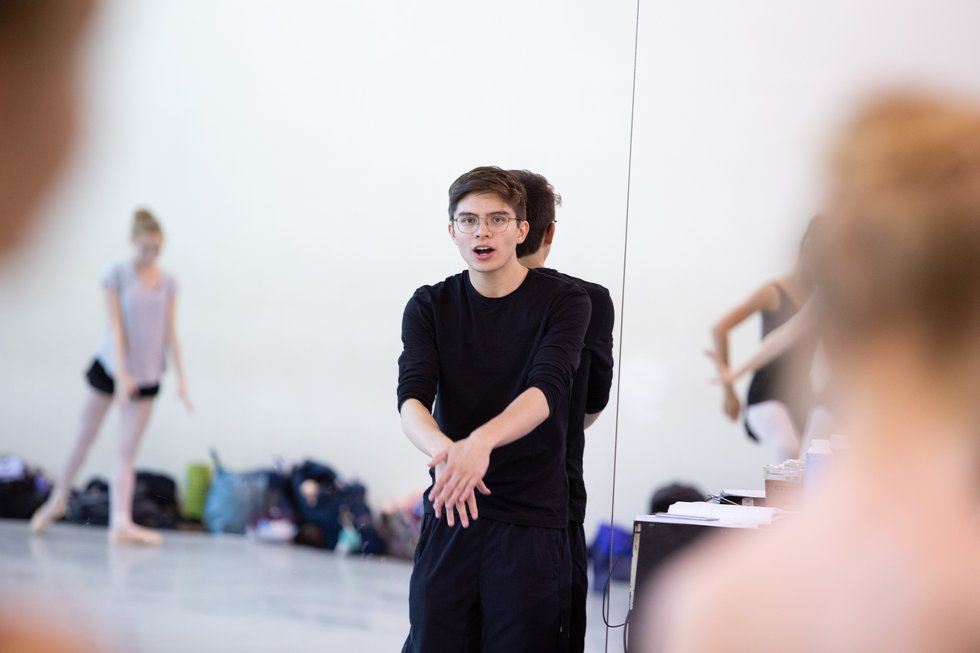 Durante Verzola. Photo by Alexander Iziliave, courtesy MCB
After morning technique class on pointe, students work with Verzola as he creates new phrases, or in smaller groups with Ochoa, polishing sections from one of the three pieces Verzola is setting. Spirited Syncopations, which features the pas de trois, was choreographed before the intensive and uses a jazzy Leroy Anderson score to create a quirky, showbiz feel. In a rehearsal, Verzola urges the dancers to let the movement flow.
"It has to be a little bit more Bob Fosse," he says. "Don't make the next pose you're going to so obvious."
Verzola got his start choreographing at MCB School, graduating in 2014. He then went on to dance with Pennsylvania Ballet's second company, and has worked as a freelance choreographer with schools like Central Pennsylvania Youth Ballet and The School of Pennsylvania Ballet.
"I love working with students because they're usually willing to try any step you throw at them, at any tempo," he says. "However, since they are constantly working on their technique, they can sometimes get sidetracked from what dance is all about. They can't forget to bring personality and feeling."
Verzola is making two new pieces on the students: Classical Symphony, a large-scale ensemble piece for all 58 students, and Liebtänze, a quieter piece composed of three pas de deux and a pas de trois. It's a rare opportunity for students to have work created on them.
"Some dancers have to wait until they get into a company to get that," Ochoa says. "Also, it's done in a very short amount of time, so they have to learn to pick up choreography very quickly. It teaches them what they're going to have to go through when they get into a company."
For some students, the experience has opened up fresh possibilities. "Working with Durante inspired many of us to give choreographing a try," says Sarah Gavilla, an 18-year-old student who attends the Miami City Ballet School year-round.
Alexander Iziliaev, courtesy MCB
For next year's Choreographic Intensive, Ochoa plans to invite several choreographers to create work. She believes that the process prepares students in ways that aren't simply about learning new movement.
"They have to act professionally because they have nine days to put this onstage," she says. She also encourages the students to attend rehearsals for a piece even if they are not cast. "We want them to learn as many parts as possible, just like in a company setting."
For Gavilla, that taste of company life is what has meant the most. "It gave me a glimpse of what life is like working in a ballet company," she says. "That's really rare to get out of a summer program."
The Details
Attendance: 58 last summer
Auditions: U.S. audition tour; video submissions accepted
Timeline: Two weeks
Ages: 14–18
Housing: Residence hall available two blocks away
From Your Site Articles
Related Articles Around the Web
Michelle Dorrance. Photo by Jayme Thornton
What do Percy Jackson, Princess Diana and Tina Turner have in common? They're all characters on Broadway this season. Throw in Michelle Dorrance's choreographic debut, Henry VIII's six diva-licious wives and the 1990s angst of Alanis Morissette, and the 2019–20 season is shaping up to be an exciting mix of past-meets-pop-culture-present.
Here's a look at the musicals hitting Broadway in the coming months. We're biding our time until opening night!

Keep reading...
Show less
UA Dance Ensemble members Candice Barth and Gregory Taylor in Jessica Lang's "Among the Stars." Photo by Ed Flores, courtesy University of Arizona
If you think becoming a trainee or apprentice is the only path to gaining experience in a dance company environment, think again.
The University of Arizona, located in the heart of Tucson, acclimates dancers to the pace and rigor of company life while offering all the academic opportunities of a globally-ranked university. If you're looking to get a head-start on your professional dance career—or to just have a college experience that balances company-level training and repertory with rigorous academics—the University of Arizona's undergraduate and graduate programs have myriad opportunites to offer:
Keep reading...
Show less
Alice Sheppard/Kinetic Light in DESCENT, which our readers chose as last year's "Most Moving Performance." Photo by Jay Newman, courtesy Kinetic Light
Yes, we realize it's only August. But we can't help but to already be musing about all the incredible dance happenings of 2019.
We're getting ready for our annual Readers' Choice feature, and we want to hear from you about the shows you can't stop thinking about, the dance videos that blew your mind and the artists you discovered this year who everyone should know about.
Keep reading...
Show less
Getty Images
Ah, stretching. It seems so simple, and is yet so complicated.
For example: You don't want to overstretch, but you're not going to see results if you don't stretch enough. You want to focus on areas where you're tight, but you also can't neglect other areas or else you'll be imbalanced. You were taught to hold static stretches growing up, but now everyone is telling you never to hold a stretch longer than a few seconds?
Considering how important stretching correctly is for dancers, it's easy to get confused or overwhelmed. So we came up with 10 common stretching scenarios, and gave you the expert low-down.
Keep reading...
Show less