"Everybody's emotional," says former Boston Ballet principal Alexandra Koltun. "So, how do you pull that out of a student?"
For Koltun, who is the founding artistic director (with husband Alex Lapshin) of Koltun Ballet Boston—a pre-professional ballet school with three Youth America Grand Prix Outstanding School awards under its belt—the process of bringing out more artistry in her students, and putting that emotional work into their solos, begins with knowing her students as more than just dancers. "We're working with people," she says. "So, I get to know my students and their families."
---
But developing a bond between teacher and dancer is simply one step in helping a student tap into their inner artist.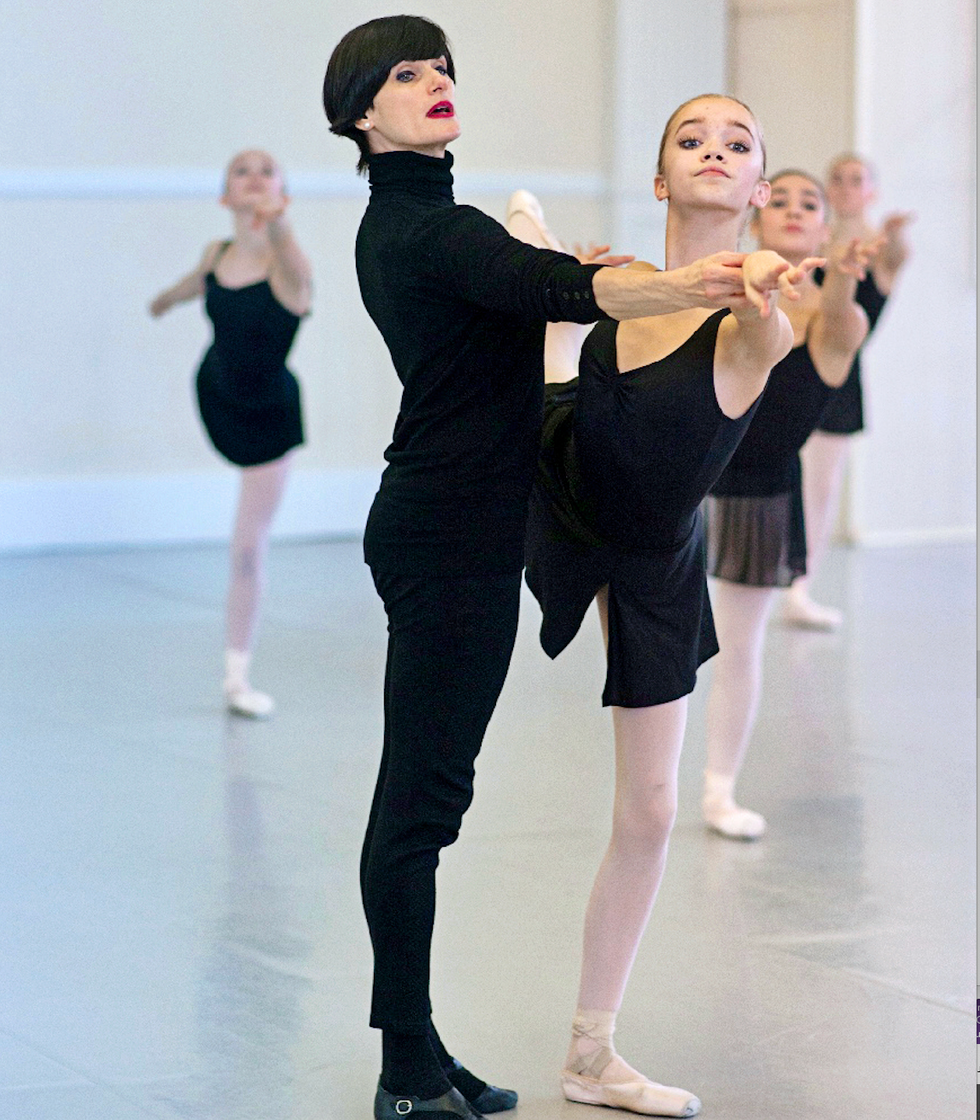 Alexandra Koltun coaching a student at her ballet academy
Courtesy Koltun Ballet Boston
Guide Dancers Through Their Fears
Not all students feel confident performing a solo, especially when emotional hurdles like stage fright, lack of self-esteem or the stress of overbearing parents are at play. Krystal Matsuyama-Tsai, who teaches at Dmitri Kulev Classical Ballet Academy and coaches soloists and duos at the school's Westside Dance Project (where multiple students have won national titles at The Dance Awards), says, "I always try to first meet them where they're at. It can be so easy to fall into the trap of brushing past those uncomfortable feelings, but in my experience, that doesn't work out well."
Instead, Matsuyama-Tsai says, acknowledge your students' fears, which can help the dancer feel seen. "I'll often remind them that those feelings are in their mind and body because they're human and because they care," she says. Then, depending on the emotional intention of the solo, she might encourage students to channel that in the choreography.
Communicate the Theme Early On
If possible, discuss the ideas or emotions you want the dancer to convey before you begin the creative process. Such communication "can help dancers to connect right away to the purpose of the solo," says Performance Edge 2 owner and artistic director Ricardo Pena, whose student Mason Evans is the 2020 New York City Dance Alliance National Teen Male Outstanding Dancer.
Use Anecdotes
Pena often uses the scenario of a friend who starts a conversation with "all this energy and enthusiasm; and then 20 seconds later, that friend seems less excited; and then, all of a sudden, they're excited again; and then a minute later, they can't find the words to explain their story anymore." By this point, that friend has probably lost your attention.
Similarly, when a dancer goes in and out of performing, they run the risk of losing their audience. The performance, Pena says, "should feel like a long conversation with the judges and the audience. You want them 'listening' to you the entire time."
Give Students Ample Time
"We start choosing the variation in September," Koltun says. "We even work on some of the movements in the summer, so students get to know the vocabulary." Putting aside this time—months and months—to prepare allows Koltun to thoroughly address the small details of the work, and often helps her students to better retain her directives.
Encourage Exploration
Pena says it can be helpful to give students space to discover their own artistic voices within his choreography—perhaps allowing them to direct their own use of focus, or mixing movement textures within the solo vocabulary.
To guide such discovery, Pena asks his soloists to participate in the choreographic process: "Let's say we're working on a floor section," he says. "I might ask a student, 'Now, how do you see yourself getting up from that position?' "
Pena also challenges students to weave their unique personalities into the work, reminding them: "You are your best quality in this solo."