Don't Get It Twisted: Dance Is An Intellectual Pursuit
How many times have you been questioned for not pursuing something "more serious"? Photo by Nadim Merrikh/Unsplash
People have a tendency to think of dance as purely physical and not intellectual. But when we separate movement from intellect, we limit what dance can do for the world.
It's not hard to see that dance is thought of as less than other so-called "intellectual pursuits." How many dancers have been told they should pursue something "more serious"? How many college dance departments don't receive funding on par with theater or music departments, much less science departments?
---
Perhaps that's because dance only leaves behind traces. The words and decisions that go into making dances have a hard time being accounted for, and choreographic notes and videos cannot fully capture a dance work. Dance depends on the presence of the body. Unfortunately, it's difficult to explain to non-dancers how corporal movement is a means of thinking and engaging with complex ideas. That's why it's so important that dancers can talk or write about their work, translating the corporal knowledge into language.
When we acknowledge that our bodies think, move, translate, react—often in conjunction with linguistic thought or prior to it—we can use dance as a tool.
Dance Can Share Our Stories Across Borders & Generations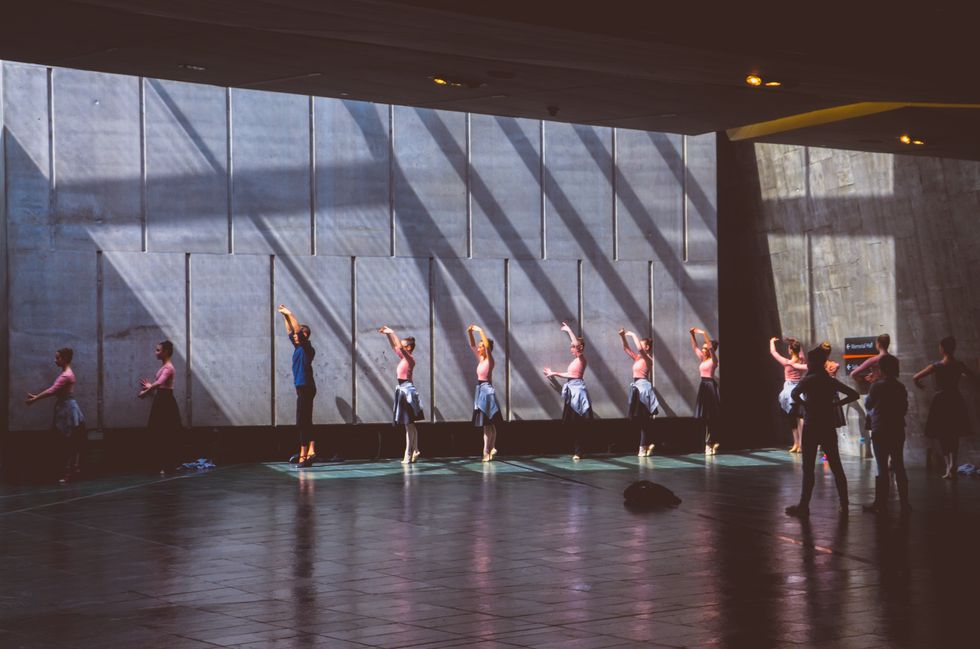 Sharing dance shares stories from generation to generation. Photo by Joy Real/Unsplash
As dancers, we know that more than just emotions and physical training go into dancing. Cultural knowledge gets passed on through music and dance, particularly for cultures with strong oral traditions. The gestures, stories and symbolisms, passed from generation to generation, and across borders, help us connect and understand our own and others' histories.
Movement Creates Empathy in The Audience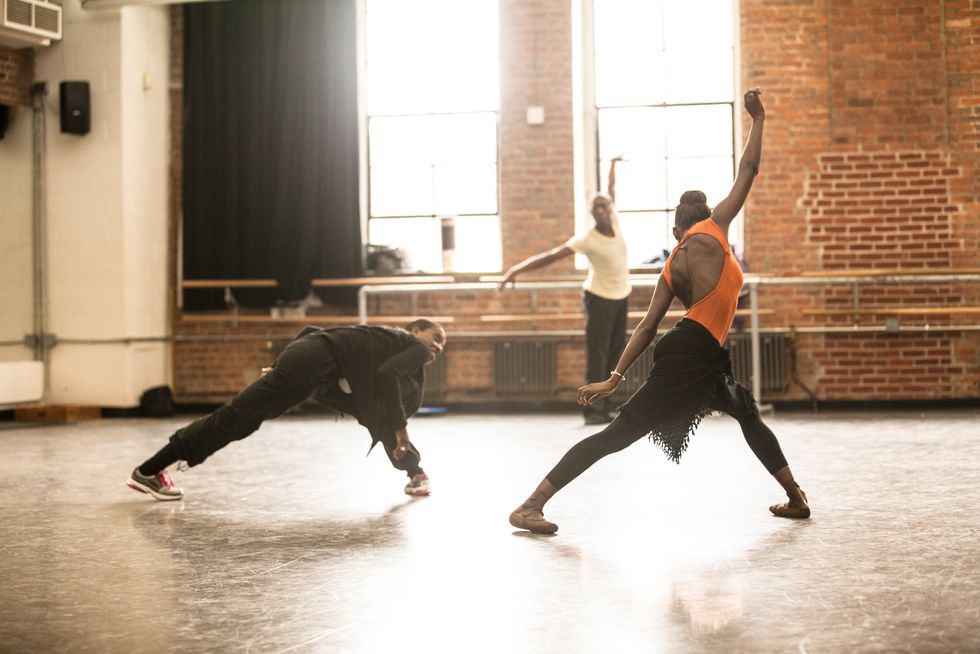 A change in movement can affect our minds. Photo of a Dance Theatre of Harlem rehearsal by Quinn Wharton
Research has also shown that when we change our posture, we can change our state of mind, and gestures and movements influence our emotions. And that affects not only the dancer. Dance has a unique power to communicate through a process known as kinesthetic empathy. Recent discoveries in neuroscience prove that we can empathize, and even experience (through what have been termed "mirror neurons"), the movements we see someone else doing. Dance oversteps the need for language as a mediator.
Linguistic Intelligence Has Its Place in Dance, Too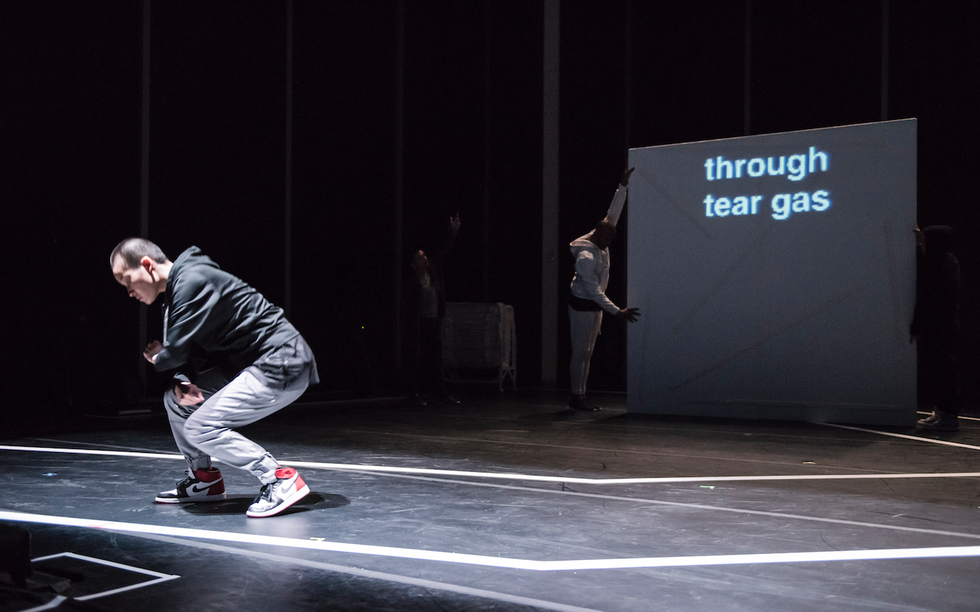 Bill T. Jones has long used text to deepen his dance work. Photo by Liza Voll, courtesy BTJ/AZDC
That's not to say that language isn't part of dance. Choreographers craft dancers' intentions and movements with words, images and metaphors. Even in improvisation, a director dictates a score, and dancers translate the imagery into corporal form.
When choreographers layer dance and words, it engages the audience in new ways. As Bill T. Jones explains, "You see one thing and you hear another thing, and then the audience puts together what they mean."
Dance Can Help Us Better Understand Our World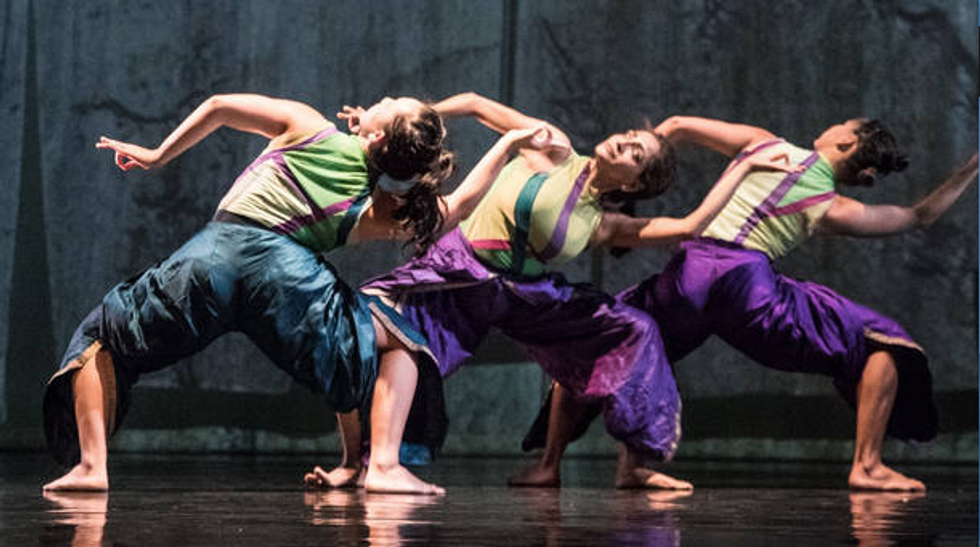 Ananya Chatterjea's Shyamali was created as a tribute to women who've stood up to oppression. Photo via ananyadancetheatre.org
Many choreographers use dance to shed light on today's most pressing topics. Some use dance in conjunction with social activism, like Ananya Dance Theatre's Ananya Chatterjea, who recently created Shyamali as a tribute to women across the world who have stood up against oppression. Others explore the nuances of science: Michelle Dorrance's Myelination, for example, translates the biological process of a myelin sheath forming around a nerve into tap dance. Not to mention artists who use their dance practice as research, focusing on the process of dance making to explore a question or subject.
The Mind-Body Connection Is a Powerful Coping Tool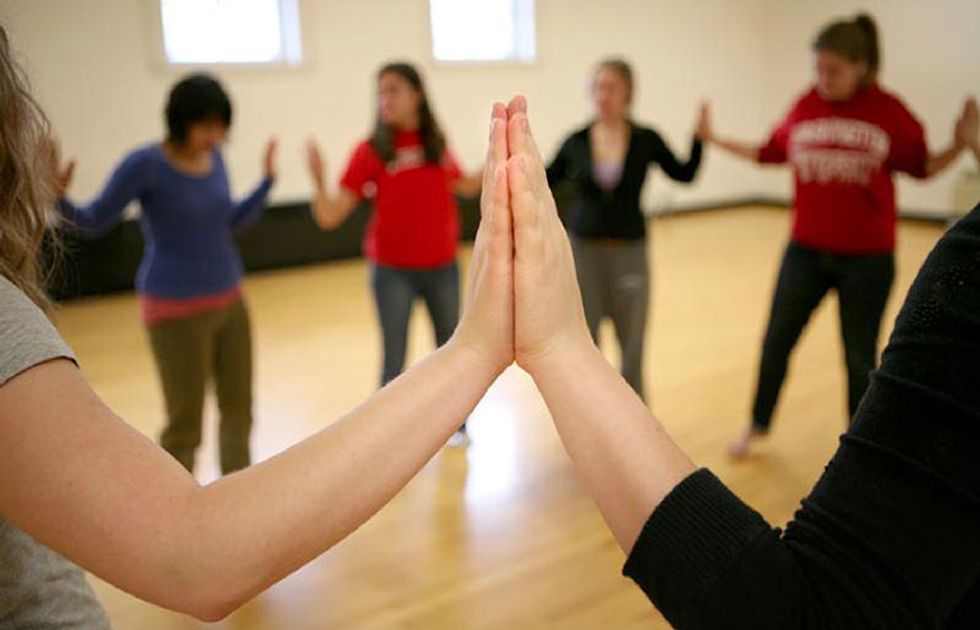 Movement can help us better cope with traumatic experiences. Photo via marylhurst.edu
In dance therapy, movement functions as a critical tool in understanding and coping with traumatic experiences. It relies on the fact that movement communicates, acknowledging the crucial mind-body connection.
Through Dance, We Can Embody a Brighter Future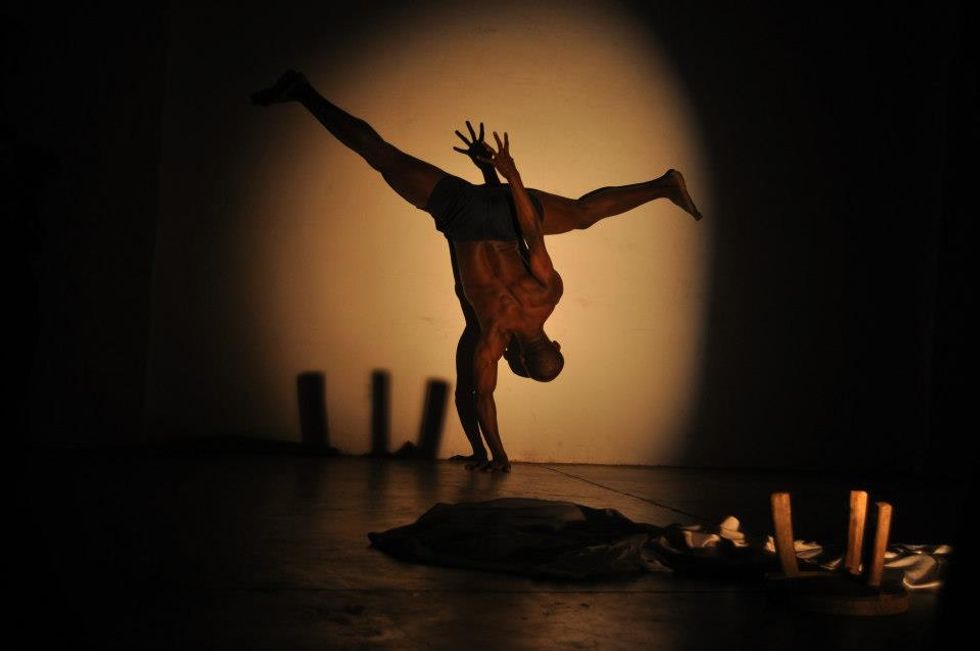 Théogène Niwenshuti shared the healing powers of dance after the Rwandan genocide. Photo via Facebook.
On a community level, dance has been successfully used in reconciliation processes in previously divided or war-torn countries, such as Rwanda, Australia, South Africa and Colombia. We relate to others not just with language, but with gestures and physical contact.
Through dance, we can imagine new futures or ways of interacting with the world—in performance we can become anyone (or anything), which can be more than an escape, but a way of pushing beyond the status quo and finding new ways of moving through the world.
Dancers Connect Multiple Parts of Ourselves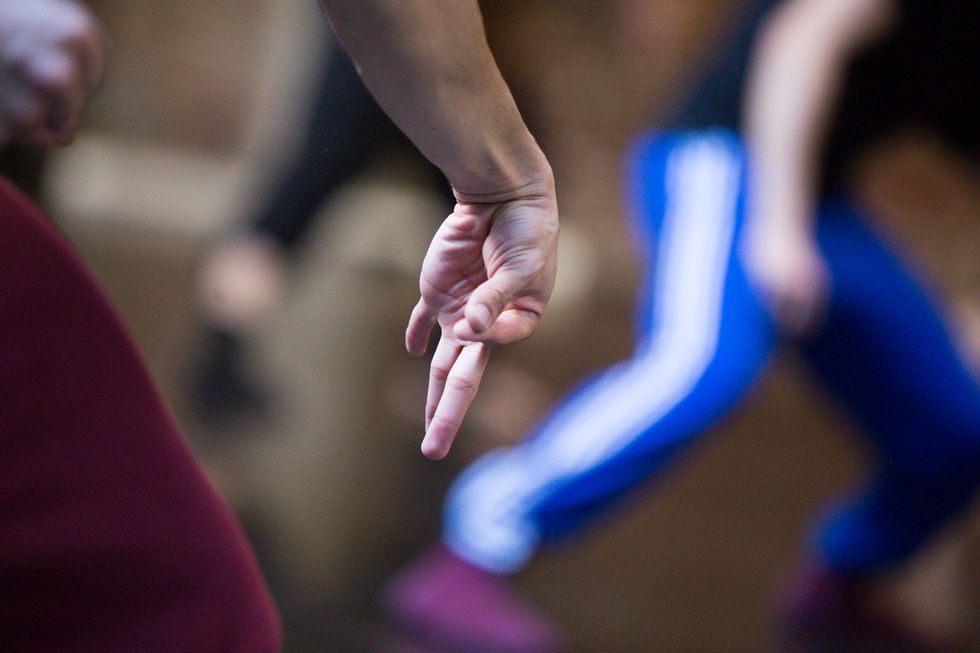 Dance uses the connections between the cerebral, physical and emotional parts of ourselves to delve into our humanity. Photo by Matthew Murphy.
Dance intertwines the cerebral, physical and emotional; science tries to unravel the connections between these. Dance uses these inherent connections to delve deeper into our humanity, and create new ways of reflecting on the world. In that way, dance is a crucial tool in intellectual pursuits.
From Your Site Articles
Related Articles Around the Web
Rachel Papo
In the middle of one of New York City Center's cavernous studios, Misty Copeland takes a measured step backwards. The suggestion of a swan arm ripples before she turns downstage, chest and shoulders unfurling as her legs stretch into an open lunge. She piqués onto pointe, arms echoing the sinuous curve of her back attitude, then walks out of it, pausing to warily look over her shoulder. As the droning of Ryuichi Sakamoto and Alva Noto's mysterious "Attack/Transition" grows more insistent, her feet start to fly with a rapidity that seems to almost startle her.
And then she stops mid-phrase. Copeland's hands fall to her hips as she apologizes. Choreographer Kyle Abraham slides to the sound system to pause the music, giving Copeland a moment to remind herself of a recent change to the sequence.
"It's different when the sound's on!" he reassures her. "And it's a lot of changes."
The day before was the first time Abraham had seen Copeland dance the solo in its entirety, and the first moment they were in the studio together in a month. This is their last rehearsal, save for tech, before the premiere of Ash exactly one week later, as part of the opening night of City Center's Fall for Dance festival.
Keep reading...
Show less
Ailey II artistic director Troy Powell teaching an Ailey Workshop at NYCDA. Courtesy NYCDA
Back in 2011 when Joe Lanteri first approached Katie Langan, chair of Marymount Manhattan College's dance department, about getting involved with New York City Dance Alliance, she was skeptical about the convention/competition world.
"But I was pleasantly surprised by the enormity of talent that was there," she says. "His goal was to start scholarship opportunities, and I said okay, I'm in."
Today, it's fair to say that Lanteri has far surpassed his goal of creating scholarship opportunities. But NYCDA has done so much more, bridging the gap between the convention world and the professional world by forging a wealth of partnerships with dance institutions from Marymount to The Ailey School to Complexions Contemporary Ballet and many more. There's a reason these companies and schools—some of whom otherwise may not see themselves as aligned with the convention/competition world—keep deepening their relationships with NYCDA.
Now, college scholarships are just one of many ways NYCDA has gone beyond the typical weekend-long convention experience and created life-changing opportunities for students. We rounded up some of the most notable ones:
Keep reading...
Show less
Getty Images
Dancers are understandably obsessed with food. In both an aesthetic and athletic profession, you know you're judged on your body shape, but you need proper fuel to perform your best. Meanwhile, you're inundated with questionable diet advice.
"My 'favorite' was the ABC diet," says registered dietitian nutritionist Kristin Koskinen, who trained in dance seriously but was convinced her body type wouldn't allow her to pursue it professionally. "On the first day you eat only foods starting with the letter A, on the second day only B, and so on."
Keep reading...
Show less
Left: Hurricane Harvey damage in Houston Ballet's Dance Lab; Courtesy Harlequin. Right: The Dance Lab pre-Harvey; Nic Lehoux, Courtesy Houston Ballet.
"The show must go on" may be a platitude we use to get through everything from costume malfunctions to stormy moods. But when it came to overcoming a literal hurricane, Houston Ballet was buoyed by this mantra to go from devastated to dancing in a matter of weeks—with the help of Harlequin Floors, Houston Ballet's longstanding partner who sprang into action to build new floors in record time.
Keep reading...
Show less