Dec. 07, 2018 02:42PM EST
Whoops, We Made a Mistake at the Dance Magazine Awards
A very important name got skipped in the introductions.
I want to make an apology because, in my opening speech at the Dance Magazine Awards on Monday, I inadvertently left out one awardee. I said, "Tonight we are honoring four outstanding dance artists who have contributed to the dance field over time." But then I named only three. How could I have forgotten Lourdes Lopez?!?!
We had all been hearing about Lourdes's taking the helm at Miami City Ballet with grace, intelligence, compassion and new ideas. I was planning to say, "Lourdes Lopez, who has brought new life to Miami City Ballet" because I thought that would cover a lot of ground. (My only quibble with myself was whether to say "brought new life" or "gave new life.")
---
But I got mixed up in the sequence. I had put Lourdes second on my list to mention, but at the last minute decided to say the names in order of their appearance, with Crystal Pite second, and Lourdes third. But in that moment onstage, I forgot my plan, and when I looked down at my notes after I identified Crystal, the next name was Ronald K. Brown. I am now appalled at myself for this.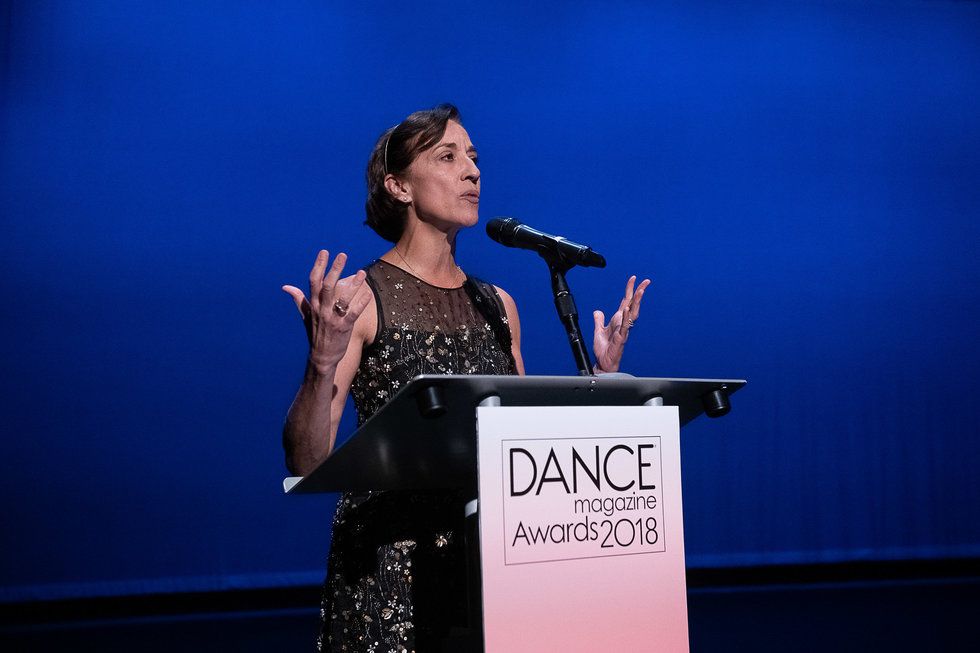 Lopez gave an eloquent speech that highlighted what it's felt like to have been the first Latina principal at NYCB and now the only Latina artistic director of a major American ballet company
And thinking about that night, one of the highlights for me was standing shoulder to shoulder with Lourdes in the cramped backstage area as Darren Walker, in his warm and wonderful way, raved about her as a dancer, as a leader, as an advisor. I could just feel Lourdes reacting to his praise with humor and modesty.
Another highlight, of course, was watching Tricia Albertson and Renan Cerdeiro of MCB rehearse the delicate second-act pas de deux from Balanchine's A Midsummer Night's Dream. We were all so thankful that the dancers and Lourdes could fit our event into their schedules.
While watching Lourdes adjust Tricia's headpiece, I was touched by her attention to detail, and it reminded me of the pictures of another detail-oriented artistic director—Balanchine.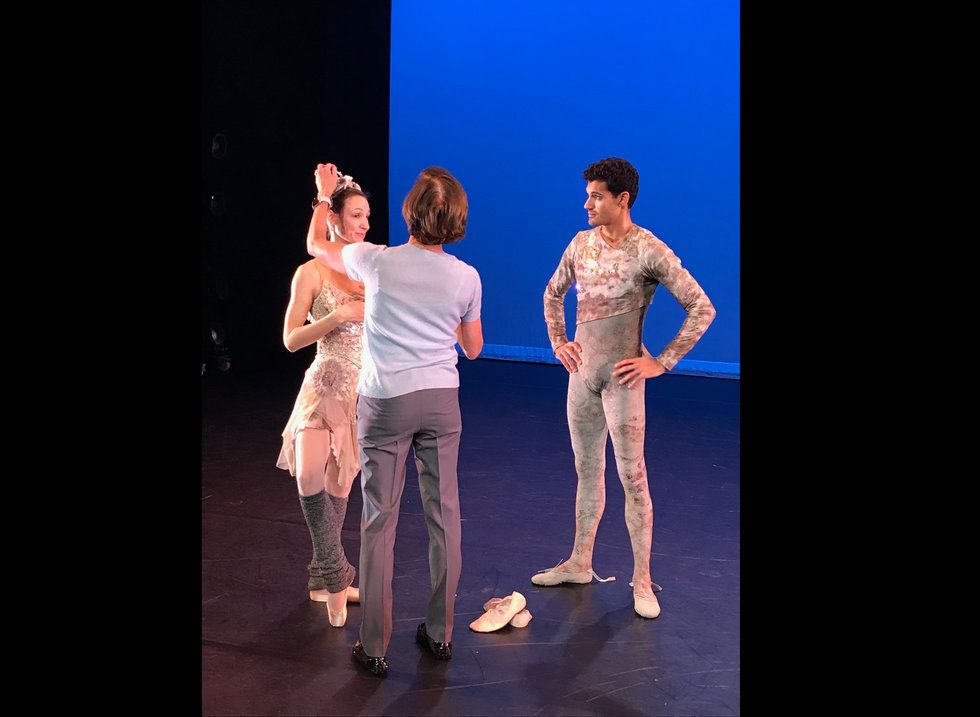 I was so touched that Lourdes Lopez was there, that I tried to snap a photo of her with her dancers.
I take my responsibility as part of the Dance Magazine Awards committee very seriously, so I want to apologize to Lourdes Lopez and Miami City Ballet for my omission.
From Your Site Articles
Related Articles Around the Web
Rosalie O'Connor, Courtesy Mark Morris Dance Group
You know compelling musicality when you see it. But how do you cultivate it? It's not as elusive as it might seem. Musicality, like any facet of dance, can be developed and honed over time—with dedicated, detailed practice. At its most fundamental, it's "respect for the music, that this is your partner," says Kate Linsley, academy principal of the School of Nashville Ballet.
Keep reading...
Show less
Ross Parkes, right, teaching in Shanghai in 1983. Lan-Lan Wang is at left. Courtesy Lan-Lan Wang.
Notable dancer and beloved teacher, Ross Parkes, 79, passed away on August 5, 2019 in New York City. He was a founding faculty member at Taipei National University of the Arts in Taiwan, where he taught from 1984 to 2006. Lin Hwai-min, artistic director of Cloud Gate Dance Theater, said: "He nurtured two generations of dancers in Taiwan, and his legacy will continue."
About his dancing, Tonia Shimin, professor emerita at UC Santa Barbara and producer of Mary Anthony: A Life in Modern Dance, said this: "He was an exquisite, eloquent dancer who inhabited his roles completely."
Keep reading...
Show less
The USC Kaufman graduating class with Mikhail Baryshnikov. Gus Ruelas/USC
Just four years ago, the University of Southern California's Glorya Kaufman School of Dance welcomed its first class of BFA students. The program—which boasts world-class faculty and a revolutionary approach to training focused on collaboration and hybridity—immediately established itself as one of the country's most prestigious and most innovative.
Now, the first graduating class is entering the dance field. Here, six of the 33 graduates share what they're doing post-grad, what made their experience at USC Kaufman so meaningful and how it prepared them for their next steps:
Keep reading...
Show less
Lindsay Martell at a class performance. Courtesy Martell.
More than once, when I'm sporting my faded, well-loved ballet hoodie, some slight variation of this conversation ensues:
"Is your daughter the dancer?"
"Actually," I say, "I am."
"Wow!" they enthuse. "Who do you dance with? Or have you retired...?"
"I don't dance with a company. I'm not a professional. I just take classes."
Insert mic drop/record scratch/quizzical looks.
Keep reading...
Show less