A Dietitian Weighs In On Three Dancers' Rehearsal-Day Diets
How do you optimize your nutrition in the studio? Photo by Getty Images.
Finding the right balance of meals and snacks to get through a dancer's day can take a lot of trial and error. To give you ideas, Dance Magazine asked three professional dancers to share the meals that kept them moving throughout one rehearsal day this season. Registered dietitian Emily Cook Harrison, who runs Nutrition for Great Performances, weighed in with her advice on how they could optimize their fuel even further.
---
Jacqueline Callahan, Pennsylvania Ballet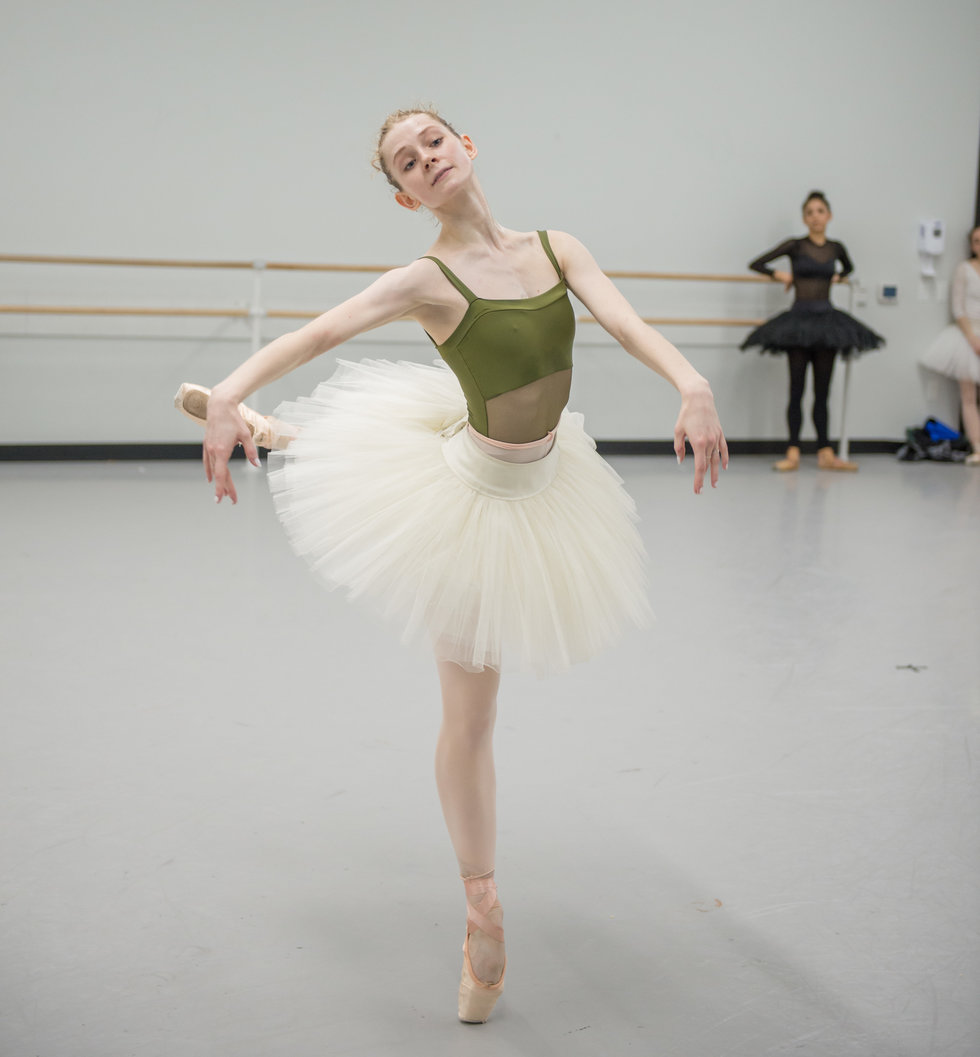 Jacqueline Callahan prefers to snack during her hourly rehearsal breaks. Photo by Arian Molina Soca, courtesy Pennsylvania Ballet.
Breakfast:
green tea
two runny eggs
•smoothie with spinach, protein powder, cashews, banana and almond milk
"I like a high-protein breakfast. I want to go into class with the energy to really push myself."
Ballet class: 9:30–11 am
Rehearsal: 11 am–2 pm and 3–6 pm
Snacks:
apple and banana
Greek yogurt
"Supreme Green" juice from Sip-N-Glo, a local juicery
a bottle of water each hour
Clif Bar
nuts (pistachios, almonds)
"I don't like to eat a full meal in the middle of the day. Instead, I snack during our hourly five-minute rehearsal breaks, so I'm always prepared for what's next."
Dinner:
chickpea pasta with red sauce, tomatoes, squash, zucchini and other vegetables
tea before bed
"I eat a pretty big dinner, because I eat so lightly during the day. I've been a vegetarian (eating a little fish) for a couple years. I used to have bad eczema, and I heard that switching my diet would help; I haven't had any flare-ups since cutting out meat. I'm always careful to get enough protein, which is why I like chickpea pasta."
Dietitian's Notes:
"I love Jacqueline's dinner. Chickpea and bean-flour pastas are full of key nutrients like protein, iron and zinc. Bonus points for so many veggies in the pasta! Being a vegetarian, Jacqueline is clearly working hard to get protein and a variety of food throughout the day.
"I would suggest adding another carbohydrate at breakfast, because carbs are the body's preferred source of energy—especially for what dancers do. Research shows that eating carbohydrates pre-exercise can actually help maintain or even build muscle.
"I would also recommend adding even a small lunch, in addition to the array of healthy snacks. Six hours of rehearsal can really drain the body's energy stores."
Quincy Ellis, Pilobolus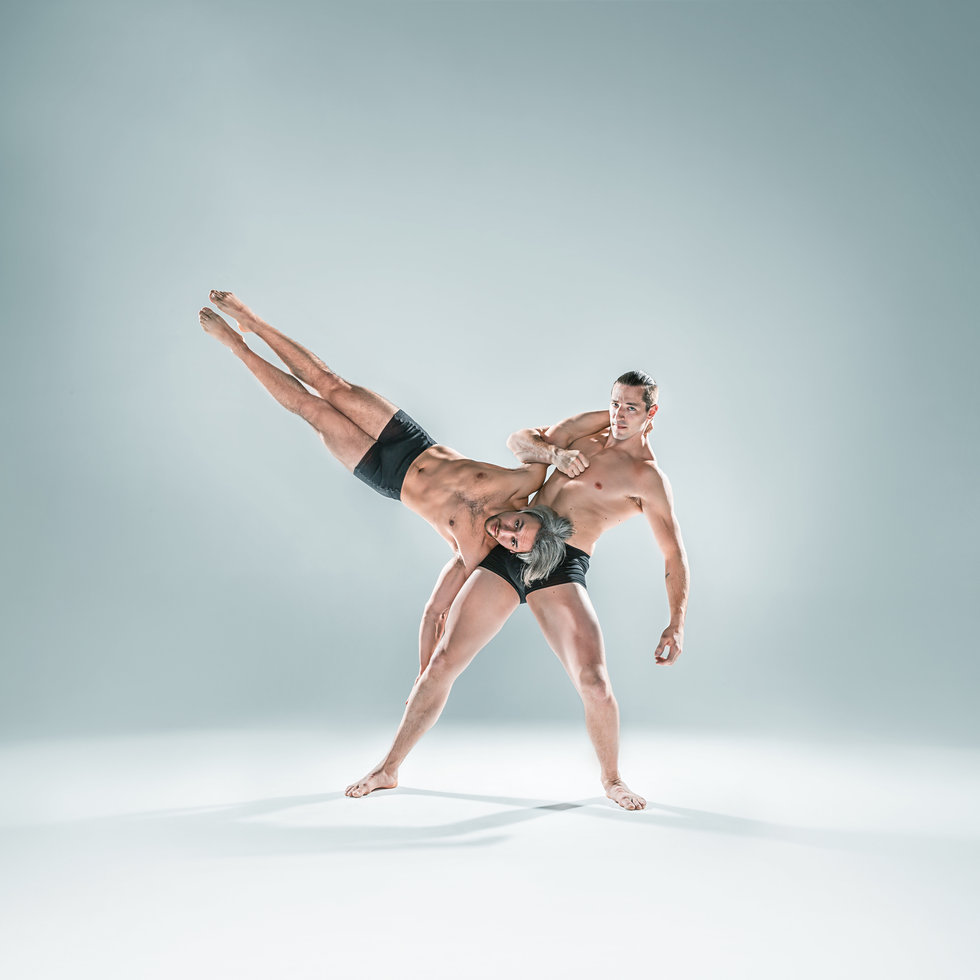 Quincy Ellis (lifted) with Jacob Michael Warren in Gnomen. Photo by Hibbard Nash Photography, courtesy Pilobolus
Workout with light weights
Breakfast:
black beans with onion and garlic
roasted broccoli
roasted chicken
green apple
coffee
water
"My breakfasts usually include eggs, but right now I'm rehearsing in Connecticut, so I prepped food at home in New York that I wouldn't need to cook here. I do like to have chicken in the morning, to get protein early in the day."
Rehearsal: 9 am–2 pm
Snack:
roasted vegetables (squash, bell pepper, onion)
tortilla chips
water
Lunch:
quinoa
roasted chicken
roasted vegetables
raspberries
water
Rehearsal: 3–5 pm
Snack:
raspberries
hummus and pita
water
Dinner:
gnocchi with vodka sauce, peas and mushrooms
table bread
white wine (2 glasses)
water
"The company went out to dinner at a local Italian restaurant. There was a time that I would have felt guilty for going off my diet, but I've learned that it isn't mentally healthy for me to be so strict. I don't like to think of certain foods as 'bad.' Also, working with Pilobolus is so athletic—there's so much partnering involved. I know from experience what will make me feel better and what won't, and I'll make choices knowing what the consequences might be."
Dietitian's Notes:
"I agree with Quincy that he shouldn't feel guilty for going out occasionally. Dancers expend so much energy, and they deserve to enjoy a night out. This dinner with healthy carbohydrates could be good for replenishing his glycogen for the next day.
"Quincy is getting plenty of protein, and doing a great job with fruits and vegetables, which will help with muscle recovery. I might suggest adding a carbohydrate source in the morning. If that would make him feel too full, he could cut down on his chicken portion, and replace that with a carbohydrate serving like oats, sweet potatoes or whole-grain natural bread."
Patricia Zhou, L.A. Dance Project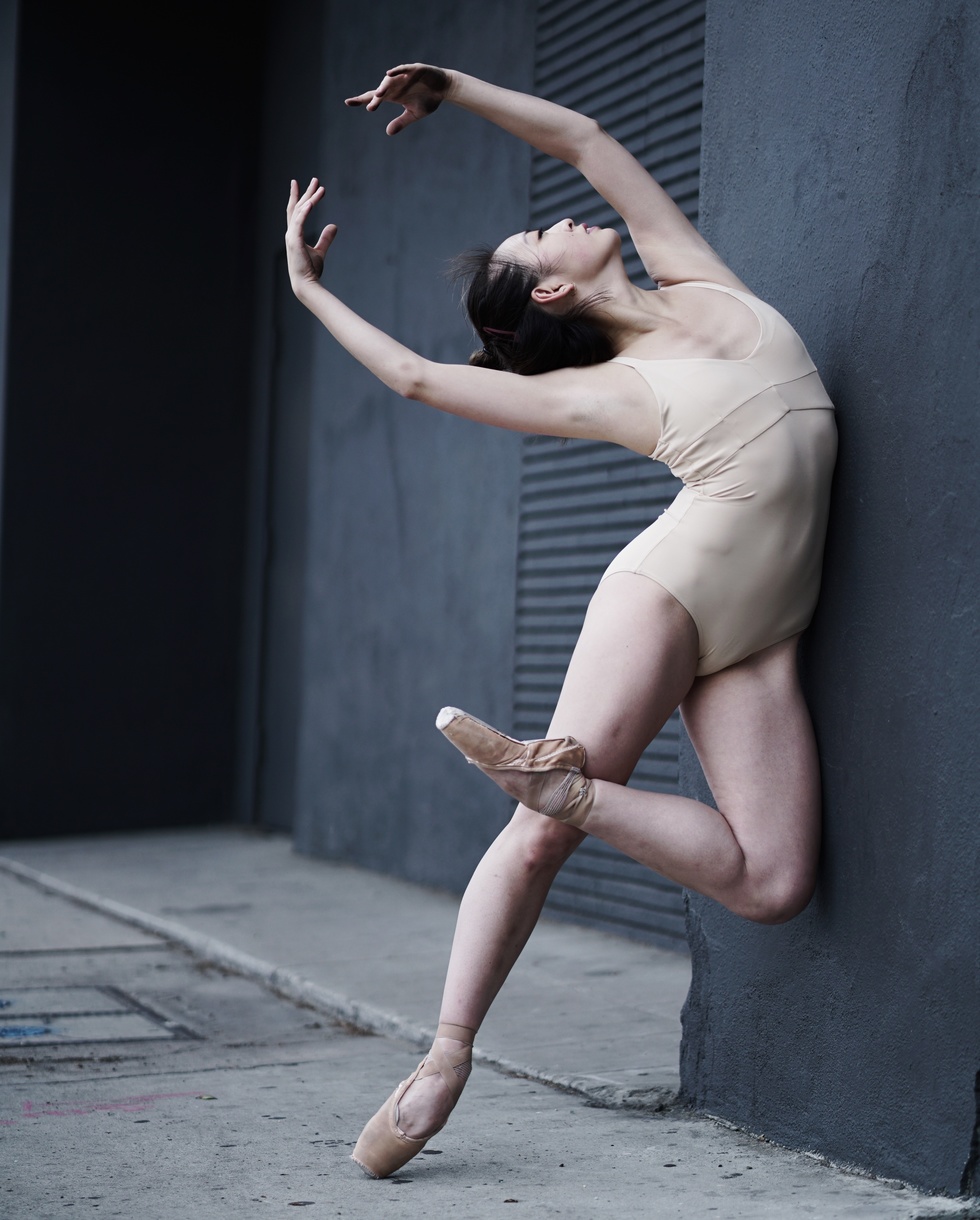 Patricia Zhou saves her biggest meal for dinner. Photo by Jacob Jonas, Courtesy L.A. Dance Project
Breakfast:
plain yogurt
paleo granola
black coffee
"I usually make Bircher muesli using plain whole-fat yogurt, shredded apple, oats, raisins and a touch of cinnamon. I'll make a big batch that lasts through the week. But this morning I ran out, so I just had plain yogurt. For the granola, I like to avoid added refined sugars, and picking paleo-friendly foods is a good way to do that."
Class and rehearsal: 10 am–2:15 pm
Snack:
"If I'm really peckish, I'll snack on nuts or popcorn in addition to the banana. As for water, we have a five-minute break every hour, and I try to drink a bottle each time."
Lunch:
farro with homemade mango salsa (mango, corn, cilantro, onion, lime)
half an avocado
water
Rehearsal: 3:15–6:15 pm
Snack:
Yoga class: 7:30–9 pm
Dinner:
butternut squash noodles with curly kale, feta cheese and two fried eggs
Four Sigmatic mushroom hot cacao with reishi, at bedtime
"I save my biggest meal for dinner, and tend to have my main protein at night. I cook simply: I use olive oil or butter, and season with salt, pepper and crushed pepper flakes. The reishi mushrooms in the hot chocolate are supposed to help with calming down for a better sleep."
Dietitian's Notes:
"Granola, yogurt and fruit can be a good start to a dancer's day. In general, I suggest choosing a granola or muesli that has a carbohydrate source (like oats), rather than just nuts and seeds. This may not be the case for Patricia, but sometimes paleo products can contribute to dancers' unfounded fears of carbohydrates. We have decades of research that demonstrates the performance-enhancing effects of whole grains, starchy vegetables and carbohydrates from fruit. The American College of Sports Medicine recommends that at least 55 percent of total calories come from carbohydrates. So enjoy those oats and fruit!
"Overall, Patricia's meals are great, but I would suggest a wider variety of snacks. Dancers need adequate fuel to preserve muscle mass, prevent injury and help the brain remember choreography. A banana is a nice choice—potassium, vitamin C and phytonutrients are good for muscle recovery and soreness prevention—but she might benefit from having more than almonds before yoga. Maybe a half-sandwich of almond butter on millet/spelt bread?
"I am a big fan of all of the Four Sigmatic mushroom elixirs. The reishi one is good for calming the nervous system at night, and the ones that contain cordyceps mushrooms are good for an energy boost during the day."
Related Articles Around the Web
From Your Site Articles
Still of Fonteyn from the 1972 film I Am a Dancer. Photo courtesy DM Archives
On May 18, 1919, Margot "Peggy" Hookham was born. She would grow up to become Dame Margot Fonteyn, England's first homegrown prima ballerina. She joined the Sadler's Wells School in 1934 and was performing principal roles with the precursor to The Royal Ballet the next year. Fonteyn was a company-defining figure, dancing Aurora for the re-opening of the Royal Opera House after World War II, creating numerous roles with Sir Frederick Ashton and forging a legendary partnership with Rudolf Nureyev.
Keep reading...
Show less
Hive by Boston Conservatory student Alyssa Markowitz. Photo by Jim Coleman
The way we create and consume dance is changing every day. Now more than ever, the field demands that dancers not only be able to perform at the highest level, but also collaborate with choreographers to bring their artistic visions to life. Dancers who miss out on choreographic training may very well find themselves at a disadvantage as they try to launch their careers.

Keep reading...
Show less
Courtesy #Dance4OurLives
Memorial Day is notoriously one of Chicago's bloodiest weekends. Last year, 36 people were shot and seven died that weekend. In 2017 and 2016, the number of shootings was even higher.
When Garley "GiGi Tonyé" Briggs, a dance teacher and Chicago native, started noticing this pattern, she was preparing her second annual Memorial Day workshop for local youth.
The event's original aim was simple: "I wanted the youth of Chicago to have somewhere they could come and learn from different dancers and be off the streets on the South Side on this hot holiday," she says.
Keep reading...
Show less
A recent trip I took to Nashville coincided with the NFL draft. As we drove into town, my Uber driver was a fount of information on the subject.
I learned that there are 32 NFL teams and that the draft takes place over seven rounds. That the team that did the poorest during the previous season gets first pick. That during an earlier event called the scouting combine, the teams assess college football players and figure out who they want.
There is also the veteran combine for "free agents"—players who have been released from their contracts or whose contracts have expired. They might be very good players, but their team needs younger members or ones with a certain skill set. All year round, experienced NFL scouts scan games across the country, checking out players and feeding that information back to the teams. Players' agents keep their eyes on opportunities for their clients which might be more rewarding.
While I sat in the traffic of 600,000 NFL fans I got thinking, is there something ballet could learn from football? Could a draft system improve young dancers' prospects and overall company caliber and contentment?
Keep reading...
Show less
Last year's winner: Manuel Vignoulle's EARTH. Jack Hartin Photography, Courtesy McCallum Theatre
It's not often that a promising choreographer gets to stage work in a world-class theater, on a skillfully-curated program with professional dancers, and with the possibility of winning a substantial cash prize. But at the McCallum Theatre's Palm Desert Choreography Festival, that's been the status quo for over twenty years.
Since Shea New, the festival's artistic director, founded the festival in 1998, she's worked tirelessly with McCallum's director of education and festival producer, Kajsa Thuresson-Frary, and stage manager and festival production manager Joanna Fookes to build a festival that nurtures choreographers, highlights high quality work, powerfully engages the local community and cultivates an audience base for dance in the Coachella Valley. The trio is backed by a strong team of professionals at McCallum and the brilliant volunteers from the local and national level who serve as adjudicators.
Keep reading...
Show less
Get Dance Magazine in your inbox
Getty Images
Despite what you might think, there's no reason for dancers to be afraid of bread.
"It's looked at as this evil food," says New York State–certified dietitian and former dancer Tiffany Mendell. But the truth is, unless you have celiac disease or a gluten intolerance, bread can be a healthy source of carbohydrates—our body's preferred fuel—plus fiber and vitamins.
The key is choosing your loaf wisely.
Keep reading...
Show less
It can be hard to imagine life without—or just after—dance. Perhaps that's why we find it so fascinating to hear what our favorite dancers think they'd be doing if they weren't performing for a living.
We've been asking stars about the alternate career they'd like to try in our "Spotlight" Q&A series, and their answers—from the unexpected to the predictable—do not disappoint:
Keep reading...
Show less
Unity Phelan in John Wick: Chapter 3 – Parabellum. Photo by Niko Tavernise, Courtesy FRANK PR
"New York City Ballet star appears in a Keanu Reeves action movie" is not a sentence we ever thought we'd write. But moviegoers seeing John Wick: Chapter 3 – Parabellum will be treated to two scenes featuring soloist Unity Phelan dancing choreography by colleague Tiler Peck. The guns-blazing popcorn flick cast Phelan as a ballerina who also happens to be training to become an elite assassin. Opens in theaters May 17.
News
May. 16, 2019 02:22PM EST
Walsh's Moon Fate Sin at Danspace Project. Like Fame Notions, the title was derived from Yvonne Rainer's "No" manifesto. Photo by Ian Douglas, Courtesy Danspace Project
The Brooklyn-based choreographer Gillian Walsh is both obsessed with and deeply conflicted about dance. With her latest work, Fame Notions, May 17–19 at Performance Space New York, she seeks to understand what she calls the "fundamentally pessimistic or alienating pursuit" of being a dancer. Noting that the piece is "quiet and introverted," like much of her other work, she sees Fame Notions as one step in a larger project examining why dancers dance.
Keep reading...
Show less
Via YouTube
What does Mikhail Baryshnikov have to say to dancers starting their careers today? On Friday, he gave the keynote speech during the graduation ceremony for the inaugural class of the USC Glorya Kaufman School of Dance.
The heart of his message: Be generous.
Keep reading...
Show less
Launching a dancewear line seems like a great way for professional dancers to flex new artistic muscles and make side money. Several direct-to-consumer brands founded by current or former professional dancers, like Elevé and Luckleo, currently compete with bigger retailers, like Capezio.
But turning your brand into the next Yumiko is more challenging than some budding designers may realize.
Keep reading...
Show less
Not an outsider? No worries. Train yourself to see and think like one. Let go of preconceived notions and old habits of mind. Let dance take you by surprise! Photo by Getty Images
When I first came to dance criticism in the 1970s, the professional critics were predominantly much older than me. I didn't know them personally and, as the wide-eyed new kid on the block, I assumed most had little or no physical training in the art.
As slightly intimidated as I felt at the time—you try sitting around a conference room table with Dance Magazine heavy hitters like Tobi Tobias and David Vaughan—I smugly gave myself props for at least having had recent brushes with ballet, Graham, Duncan and Ailey and more substantial engagement with jazz and belly dance. Watching dancers onstage, I enjoyed memories of steps and moves I knew in my own bones. If the music was right, my shoulders would wriggle. I wasn't just coolly judging things from my neck up.
Keep reading...
Show less