Will the Real Dancing Deadpool Please Stand Up? UPDATE: Found Him!
Céline Dion and a dancing Deadpool with surprisingly good extension in the music video for "Ashes." Via Marvel Entertainment/Sony Music
Is there anything that can match the absurdity of the Deadpool 2 marketing campaign? (For the comic book/superhero unaware, Deadpool is a mouthy, fourth-wall-breaking character played by A-lister Ryan Reynolds at the movies.)

Probably not, as the music video for "Ashes" (Céline Dion's contribution to the film's soundtrack) demonstrates. In it, the elegant, dramatic singer is joined onstage by Deadpool, who proceeds to dance...actually rather well.
So the real question we're asking is, Who the heck is that dancer in a Deadpool costume and heels?!
---
Because if Ryan Reynolds' extension is really that good, he's definitely been holding out on us.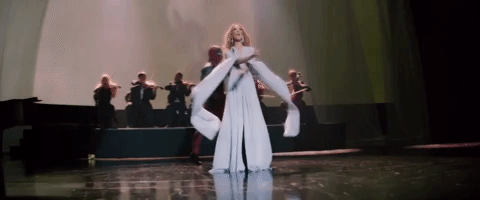 Via Marvel Entertainment/Sony Music
And how about this ease going into the floor?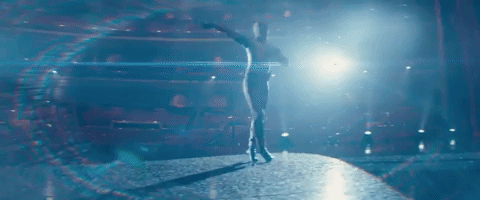 Via Marvel Entertainment/Sony Music
And these turns?!?!?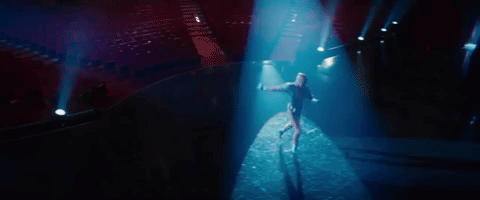 Via Marvel Entertainment/Sony Music
There isn't a choreographer or dancer credited for the video (at least that we can find), so will the real dancing Deadpool please stand up? And if that's really Ryan Reynolds under there, can we get him into a movie musical already?
UPDATE: Reynolds, being the standup gent that he is, took to Instagram to give a shoutout to our mysterious dancing Deadpool: Yanis Marshall, who is well known for his high-calibre heels work.
The only thing cuter than this post? This one:
Deadpool 2 hits theaters May 18.

Michelle Dorrance. Photo by Jayme Thornton
What do Percy Jackson, Princess Diana and Tina Turner have in common? They're all characters on Broadway this season. Throw in Michelle Dorrance's choreographic debut, Henry VIII's six diva-licious wives and the 1990s angst of Alanis Morissette, and the 2019–20 season is shaping up to be an exciting mix of past-meets-pop-culture-present.
Here's a look at the musicals hitting Broadway in the coming months. We're biding our time until opening night!

Keep reading...
Show less
UA Dance Ensemble members Candice Barth and Gregory Taylor in Jessica Lang's "Among the Stars." Photo by Ed Flores, courtesy University of Arizona
If you think becoming a trainee or apprentice is the only path to gaining experience in a dance company environment, think again.
The University of Arizona, located in the heart of Tucson, acclimates dancers to the pace and rigor of company life while offering all the academic opportunities of a globally-ranked university. If you're looking to get a head-start on your professional dance career—or to just have a college experience that balances company-level training and repertory with rigorous academics—the University of Arizona's undergraduate and graduate programs have myriad opportunites to offer:
Keep reading...
Show less
Alice Sheppard/Kinetic Light in DESCENT, which our readers chose as last year's "Most Moving Performance." Photo by Jay Newman, courtesy Kinetic Light
Yes, we realize it's only August. But we can't help but to already be musing about all the incredible dance happenings of 2019.
We're getting ready for our annual Readers' Choice feature, and we want to hear from you about the shows you can't stop thinking about, the dance videos that blew your mind and the artists you discovered this year who everyone should know about.
Keep reading...
Show less
Getty Images
Ah, stretching. It seems so simple, and is yet so complicated.
For example: You don't want to overstretch, but you're not going to see results if you don't stretch enough. You want to focus on areas where you're tight, but you also can't neglect other areas or else you'll be imbalanced. You were taught to hold static stretches growing up, but now everyone is telling you never to hold a stretch longer than a few seconds?
Considering how important stretching correctly is for dancers, it's easy to get confused or overwhelmed. So we came up with 10 common stretching scenarios, and gave you the expert low-down.
Keep reading...
Show less