It's a much-repeated part of Francesca Hayward's origin story that she discovered ballet at age 3, when her grandparents bought a video of The Nutcracker to keep her occupied and she immediately started dancing around the room. What's less well-known is that there was another video lined up next to The Nutcracker that Hayward liked to dance along to: Cats. "I really just did the White Cat bit and fast-forwarded the rest," she remembers. "I'd make my friends who came around be the other cats."
Twenty-four years later, she's not only become a Royal Ballet principal, but has been cast as Victoria the White Cat in Tom Hooper's new movie adaptation of the Andrew Lloyd Webber musical, out in theaters on December 20. "I remember the director telling me I'd got the part: 'Just to let you know you're the lead in a Hollywood film,' he said." Hayward laughs. "This is crazy!"
---
The craziness continued when she found herself on the cover of September's British Vogue, one of 15 women chosen as "Forces for Change" by guest editor Meghan, Duchess of Sussex. (British Vogue editor Edward Enninful called while Hayward was having dinner with her aunt in a noisy Indian restaurant: "I've got Her Royal Highness on the line!")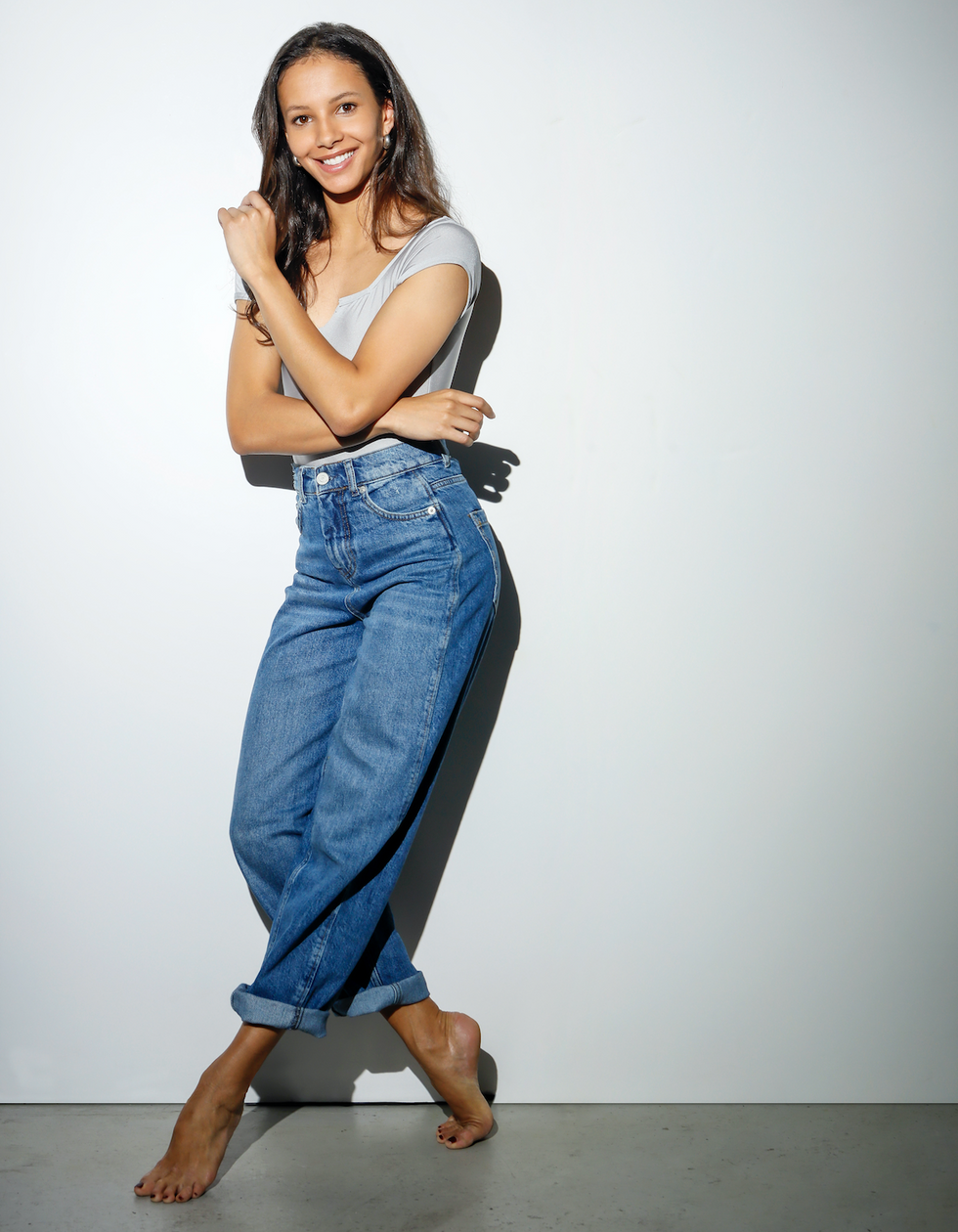 Jayme Thornton
Happily bemused by the whole situation, it's fair to say that Hayward is not the sort of dancer who was looking for fame. She's always appeared modest, self-contained and utterly committed to ballet.
Born in Nairobi to a Kenyan mother and an English father, Hayward was raised in Sussex, England, by her paternal grandparents. After studying at the Royal Ballet School, she joined the company in 2011 and was swiftly promoted to principal in 2016.
Enraptured critics rave over her complex Manon and her instinctive, expressive Juliet. Hayward is one of the most natural performers you could see. She lives her characters onstage and inhabits the music, a luminous presence.
When Hayward's agent put her forward for Cats, she thought it could be a fun experience, although singing for a casting director was more terrifying than waiting in the wings before a Rose Adagio, she says.
But she got the part, and went through some coaching to beef up her vocals—the White Cat traditionally doesn't have a solo song, but Hayward's role has been expanded for the movie, with a new song co-written by Andrew Lloyd Webber and Taylor Swift. Hayward won't be pursuing a pop career, but "I enjoy my new shower voice," she says with a laugh.
The Cats experience has propelled her into an A-list fantasy. "One-on-one scenes with Dame Judi Dench and Idris Elba!" she says, wide-eyed. "Jennifer Hudson—she's amazing! The day we met Dame Judi, she and Ian McKellen came in together and the whole room, everyone's behavior changed. You just don't know how to be normal, because they're legends."
The filming schedule was grueling, even for a dancer used to full-on days. Hayward was away from The Royal for seven months rehearsing and shooting. On set she'd do class on her own at 6:30 am, then it was into her motion-capture suit, with battery packs and microphones strapped to her, then she might be working out a ballet sequence with choreographer Andy Blankenbuehler and Robbie Fairchild, who plays Munkustrap, or exchanging lines with Hudson's Grizabella, or being suspended from wires doing somersaults. Sometimes she finished so late in the evening she'd get back in time for just a few hours sleep before being picked up again in the morning.
"Hanging on a wire was really fun," she says. "I did a few flips and they kept saying to me, 'Are you okay?' And I was like, 'Yes, someone's pulling a rope, they're doing all the work!' If this was ballet, no one asks if you're okay. You've been jumping for four hours and it's: 'Keep going!' "
Working outside the Royal Opera House has made Hayward realize just how tough ballet training makes you. "Everyone says, 'I can't believe your stamina!' But it's just ballet training. People underestimate it."
A short dance film she made with choreographer Charlotte Edmonds that was released last year involved underwater sequences. For someone who's a self-confessed "terrible swimmer" with a chlorine allergy that makes her itch and sneeze, it could have been a disaster.
"The first time I went under I said, 'I don't think I can do this.' " But after a "quick mental slap in the face" she just got on with it. She was told later that professional divers don't last as long in the water as she did. "Thank you very much, ballet training!"
When she's working in ballet, Hayward starts by learning the steps methodically before delving into the details of her characters. "I don't think I'm brilliant at letting all my emotions out in the studio," she says. During her first Manon, she could tell that approach worried her coach Lesley Collier and her partner Edward Watson in rehearsals.
As Watson says, "I just put it all out there every day, and she's the opposite—it's all going on in her head. And then you get to the show and, wow, she completely blows everybody away. She has this luminosity which is fascinating. It can be really subtle, but it draws you in to watch every little thing that she does. That's her star quality."
That spontaneity of Hayward's stage performances is something principal Alexander Campbell has enjoyed since he first partnered her in The Nutcracker. "When you watch her, it's like everything is happening for the first time. It's exciting to be playing opposite that because it's hard not to get caught up with it."
"There's nothing particularly showy about her," Campbell adds. "Her performances always seem really sincere and in service of the whole production. There's no diva stuff going on."
Hayward approaches her characters as complex studies. "It's what period you're from, what age you are, how clever you are," she says. "I find it fascinating, the historical study of women through different ages and societies. Sometimes the way you hold your hands is the crucial thing. If you see a dancer and they don't know who they're trying to be, they won't know what to do with their hands."
It can take a while for Hayward to find the key to her characters. Occasionally—when she danced Sir Kenneth MacMillan's The Invitation, for instance—it might not happen until opening night.
At least in a ballet performance you get to dance the story from start to finish, so the emotional journey makes sense. But on a film set, that never happens.
"What I found really hard," says Hayward about Cats, "was say you're doing an emotional scene, you have no build-up to get into the right headspace. The director will come over and say, 'I need you to be quite tearful' and there'd be so many people around you, talking, fiddling with your microphone, pressing your battery pack, and then suddenly: 'Rolling!' And you just have to somehow pull it out of the bag."
When the Cats trailer dropped in July, it was the first time Hayward really saw what she looked like in the final film. The ensuing online commotion over the strange hybrid of cat, human and CGI was a taste of the exposure still to come, but Hayward seems fairly unfazed. "The cats all have a WhatsApp group, and we've been sharing the really funny stuff. We're not offended."
After the brilliant craziness of the Cats experience, Hayward could not wait to get back on the Royal Opera House stage. This autumn she's danced MacMillan's Concerto, Manon, The Sleeping Beauty and Coppélia, before taking a few weeks off to do promo for Cats. Then she'll be readying herself for one of the ultimate classical challenges: her debut as Odette/Odile in Swan Lake.
She has no idea how things might change for her once the film comes out. As a dancer, Hayward has never really been recognized in public, and she'd be very happy for it to stay that way.
"It helps that I'm a cat in the film. I think I might go unnoticed on the streets of London," she says.
Opportunities beyond The Royal Ballet are bound to come her way, but Hayward knows where her heart is. She isn't saying no to more films in the future, but, "if anything," she says, "it made me realize that, as cheesy as it sounds, ballet is my calling." See her dance and you won't argue with that.