How Joshua Bergasse Won The Golden Ticket
Photo by Jayme Thornton
He's the Emmy-winning, Tony-nominated Joshua Bergasse in the playbill, but just "Josh Bergasse" (pronounced bare-GAHSS) when he affably introduces himself to the 70 people assembled at Broadway Dance Center for his advanced theater class.
They know who he is, of course, and it's the reason they're there. Reese Snow, BDC's associate executive director, calls him "one of the finest theater teachers in New York." He's also the choreographer of the Broadway shows Gigi and On the Town (for which he won the Astaire Award and that Tony nomination), the off-Broadway hits Cagney and Sweet Charity, the NBC series "Smash," and the new musical Charlie and the Chocolate Factory, opening this month at the Lunt-Fontanne Theatre.
Bergasse puts on Adele and starts a strenuous, fluid warm-up to prepare the class for the taxing but lyrical combinations they will dance to Sammy Davis Jr.'s swing-happy rendition of "The Goin's Great," from 1969. "A lot of my movement has fast directional changes, so I try to get their thighs and core really strong and warm," he says.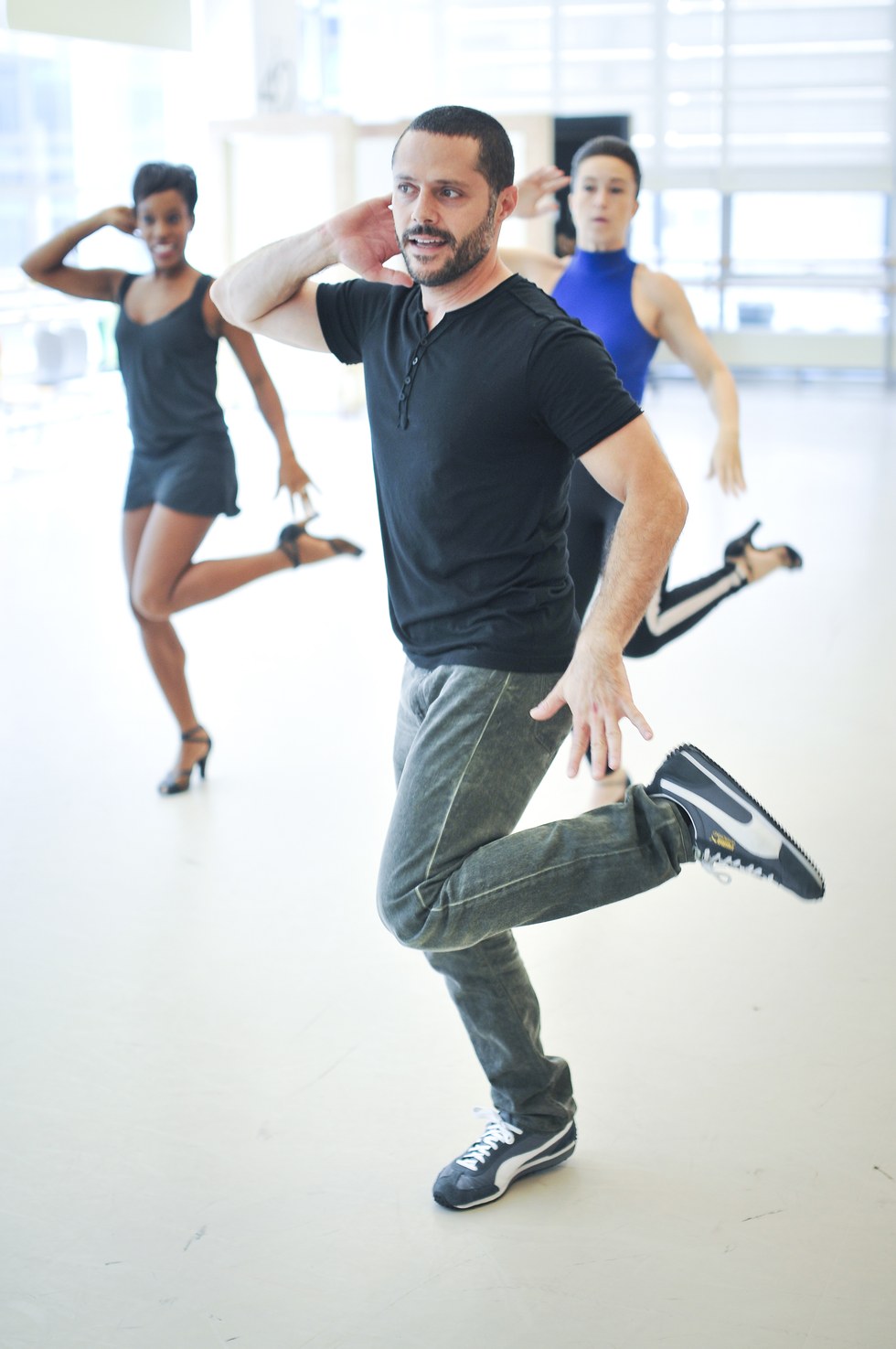 Bergasse leading rehearsal. Photo by Jenny Anderson, Courtesy On The Town
---
As Bergasse begins the routine, it's clear that he's still, at 44, a beautiful dancer with a sleek line. You see how he landed three separate productions of West Side Story—often as a 5' 5" Baby John—and other musicals, some on Broadway, some not. Even back then, when not performing he was choreographing—summer theater, regional theater, Florida, Massachusetts.

He says he likes to tell aspiring choreographers about the years spent traipsing around the country, "because I don't want them to think they've just got to get that show. Life isn't necessarily winning 'American Idol.' Sometimes you just have to put the work in."
Bergasse started putting the work in as a child, taking tap, jazz and ballet at Annette and Company School of Dance, in Farmington Hills, Michigan, outside Detroit. Annette is his mother, and by the time Bergasse was 15 or 16, he was teaching and choreographing recitals. "That's when I got the bug," he says. (Every so often, when he returns home, he teaches a class.)
His choreographic touchstones from the start were the movie musicals he watched "over and over, not realizing what I was learning—watching because I loved it. And now when I choreograph, that's all a part of me." His heroes: Michael Kidd, Hermes Pan, Gene Kelly, Fred Astaire "and, of course, Bob Fosse."
But when he choreographed the recent off-Broadway revival of Sweet Charity, he opted not to echo or redo Fosse's choreography. "Before we opened," he says, "I watched the movie, to make sure I hadn't inadvertently done his choreography, because I'd seen it so many times."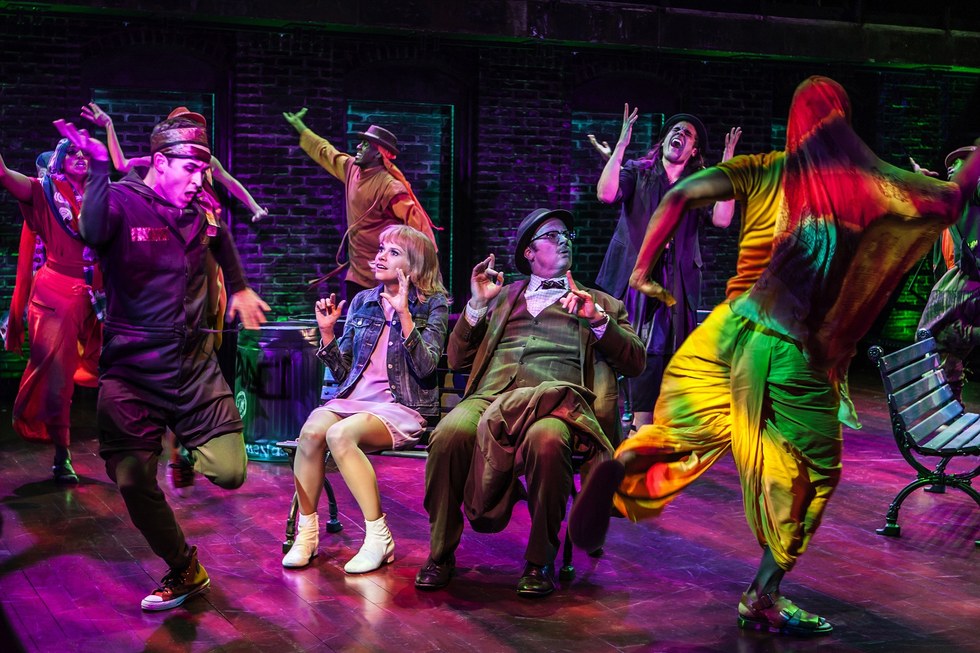 Sweet Charity. Photo by Monique Carbon, Courtesy Th Cooper Company
But when a step looked familiar, he discovered he'd "done it in a different number in a slightly different way." It made him realize, he says, "how much these influences from that time were important to my development as a choreographer." On the Town was less daunting, he says, because the Jerome Robbins choreography is not as well documented. And doing it gave him particular joy because, he says, "dance was a major part of the storytelling. It was written that way."

Another influence was being a swing in Hairspray. Learning all of the tracks helped Bergasse "to understand the bigger picture of how the staging operates, how a big show functions." That's also where he first worked with Tony-winning director Jack O'Brien. O'Brien remembers him as bright, energetic, focused. "But I had no idea what his gifts were as a choreographer."
Those became apparent, O'Brien says, when he saw On the Town. "It's great fun to watch people growing and flowering," which he did firsthand in 2014 for a Carnegie Hall benefit concert of Guys and Dolls. "Josh had no space, because the entire symphonic orchestra was onstage," O'Brien recalls. He didn't expect much from the huge "Luck Be a Lady" dance number, but it was "ravishing," he says. "It had attack, it had masculine edge, it had danger, and it was done on the head of a pin."
O'Brien is Charlie and the Chocolate Factory's director, and Bergasse surprised him again when they did a workshop in June. O'Brien expected three or four numbers, but "in three weeks he did everything. I mean capital EVERYTHING, exclamation point, close quote. It was not a sketch—it was a cornucopia of originality."
The show is based on the 1964 Roald Dahl book Charlie and the Chocolate Factory, which became a 1971 movie musical starring Gene Wilder, Willy Wonka and the Chocolate Factory, and a 2005 Tim Burton film with Johnny Depp. The stage version, with songs by Tony-winning Hairspray team Marc Shaiman and Scott Wittman, direction by Sam Mendes and choreography by Billy Elliot's Peter Darling, opened in London in 2013, to mixed reviews.
The Broadway team has completely retooled it, Bergasse says. "We decided, Let's go back to the book for this, let's go back to the film, figuring which pieces of the puzzle are best for our version." There's also some new music, and, Bergasse says, "it has a different feel to it, very American. I think we have added a little more brightness and lightness."
Bergasse says he's usually drawn to a project by the collaborators and the story, and working alongside O'Brien was a dream come true. "Jack makes people feel they're the most important person in the room. You feel safe to try things, you feel like you can do your best work."
Without knowing it, he's echoing what dancers say about him. Khori Petinaud, currently in Aladdin, did the Charlie workshop and worked on pre-production for Gigi. "He never made me feel like my input was not important," she says. "He pushes, but he's so friendly and warm. He jokes around." She's a regular at his classes, too, because, she says, "they are so extremely challenging." She cites not only the "immense amount of steps in a small amount of time," but also his musicality: "It's not basic, and when you finally hit it in the right way, it's so exciting."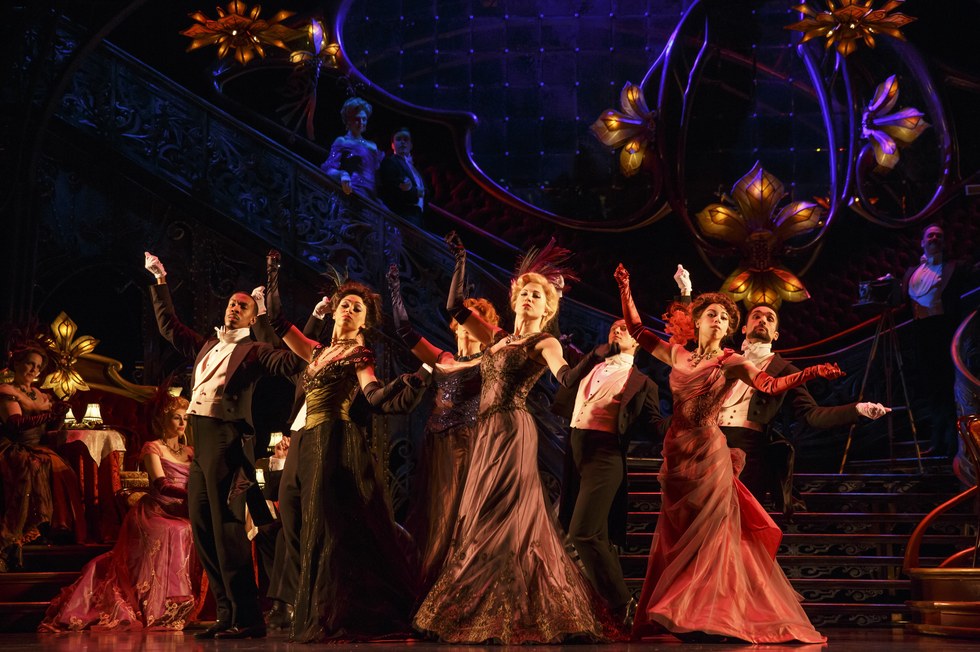 Gigi. Photo by Joan Marcus, courtesy Boneau/Bryan-Brown
"I like finding my material in the dancers," Bergasse says. "Something indigenous to them. My philosophy is, 'If it's something I can do, then I've probably already done it.' So let me find something new on you. Or let me help you create something."

Like Petinaud, he enjoyed the sense of ownership when choreographers encouraged him to contribute to the process. "Not all dancers are good with that. They want steps: 'Tell me what to do,' five-six-seven-eight." Bergasse looks for dancers "who will just do anything, just jump around inventing things."
But there's more to being a choreographer than jumping around. He devoted over a year to Charlie before rehearsals began, but only six weeks in the studio with dancers. "You never think, when you're coming up, that you're going to spend so much time in boardrooms," he says. "You'll be going from meeting to meeting to fitting. All the props and all the costumes have to be planned out before you start."
With Charlie finally up and running, Bergasse will turn to musicals he says are "circling for a landing." There's Bull Durham, based on the 1988 baseball movie that starred Susan Sarandon and Kevin Costner; Smokey Joe's Cafe, a revival of the 1995 hit created from the songs of Leiber and Stoller; and The Honeymooners, derived from Jackie Gleason's classic '50s sitcom about a Brooklyn bus driver.
Like his other credits, they're a study in contrasting themes and styles—the frilly charm of Gigi was nowhere visible in On the Town, and the exuberant tap in Cagney made no appearance in Sweet Charity. "A jack-of-all-trades and master of none," he jokes. More seriously, he adds, "I try not to get stuck doing one thing. I like to think of myself as a chameleon."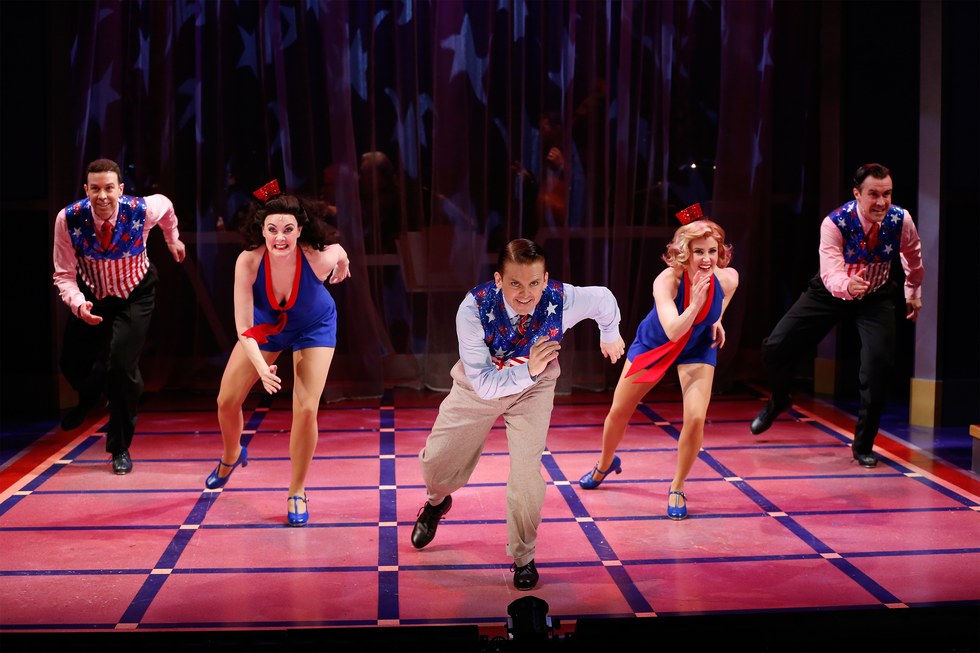 Cagney. Photo by Carol Rosegg, Courtesy Keith Sherman and Associates
He's also developing a theater project "with a lot of dance" with his fiancée, New York City Ballet star Sara Mearns. At this point he can't say much more than, "It will showcase Sara beautifully." They're hoping it will be ready in another year or so.
"She's just so wonderful and so brilliant," he says, "that sometimes it's intimidating. But I can help her with certain things—certain theater things. And she helps me with certain things. I like to say she's my choreography consultant. I'll say, 'I need you to look at this, because it's not working—tell me how to fix it.' She'll look at it, and she'll know like that." At the final word, he snaps his fingers, adding, "She just lives and breathes all things movement." Sometimes, he says, he lets her make the fix herself. When he's in rehearsal, he says, they'd barely see each other if she didn't come to the theater. "Sometimes she'll sit through tech and sew her pointe shoes."
He got to have some fun with pointe shoes in Charlie, in a satirical ballet for Veruca Salt. She's one of four obnoxious children who compete with the hero, Charlie Bucket, to win a lifetime supply of chocolate from Willy Wonka. Another contender, Augustus Gloop, is Bavarian, and for his number, Bergasse researched cuckoo clocks and gave the dancers complex hand-slapping routines based on traditional Bavarian folk dances. He had to choreograph a pas de deux with no touching for Charlie's mother and the ghost of his father—and a dance for his bed-ridden grandfather. He also collaborated with acclaimed puppeteer Basil Twist on choreography for Willy's factory workers, the Oompa-Loompas. These are strange assignments for a choreographer, but Bergasse embraced them. "My favorite thing is to tell a story," he says.
Amanda Castro taps to Robert Frost's "In White." Courtesy Monticello Park Productions Team
Many choreographers use spoken word to enhance their dance performances. But the Campfire Poetry Movement video series has found success with a reverse scenario: Monticello Park Productions creates short art films that often use dance to illustrate iconic poems.
Keep reading...
Show less
Popular
Oct. 02, 2018 12:49PM EST
It's contest time! You could win your choice of Apolla Shocks (up to 100 pairs) for your whole studio! Apolla Performance believes dancers are artists AND athletes—wearing Apolla Shocks helps you be both! Apolla Shocks are footwear for dancers infused with sports science technology while maintaining a dancer's traditions and lines. They provide support, protection and traction that doesn't exist anywhere else for dancers, helping them dance longer and stronger. Apolla wants to get your ENTIRE studio protected and supported in Apolla Shocks! How? Follow these steps:
Keep reading...
Show less
Butler is also a choreographic fellow at Hubbard Street this season. Photo by
Lindsay Linton
, courtesy of Butler.
When I was just a little peanut, my siblings and I used to find scrap paper and use them as tickets to our makeshift dance performances at family gatherings. They were more like circus shows, really, where my brother was the ringmaster, and my sisters and I were animals; we dove through imaginary flaming hoops and showcased our best tightrope acts with the suspense of plummeting into an endless pit of sorrows. This was my first introduction to the beauty of movement as a way of communicating.
Photo by Lindsay Linton
Keep reading...
Show less
Harlequin Floors' home studio kit lets dancers bring the studio home with them. Image courtesy Harlequin Floors
So you're on layoff—or, let's be real, you just don't feel like going to the studio—and you decide you're going to take class from home. Easy enough, right? All you need is an empty room and some music tracks on your iPhone, right?
Wrong. Anyone who has attempted this feat can tell you that taking class at home—or even just giving yourself class in general—is easier said than done. But with the right tools, it's totally doable—and can be totally rewarding.
Keep reading...
Show less
Clockwise from top left: Crystal Pite, photo by Michael Slobodian; Lourdes Lopez, photo by Alexander Iziliaev; Michael Trusnovec, photo via Instagram; Ronald K. Brown, photo by Julieta Cervantes
Today, we are thrilled to announce the honorees of the 2018 Dance Magazine Awards. A tradition dating back to 1954, the Dance Magazine Awards celebrate the living legends who have made a lasting impact on dance. This year's honorees include:
Keep reading...
Show less
Ronald K. Brown tells the stories of those who don't typically see themselves reflected onstage. Photo by Jeff Strout, courtesy Evidence
Choreographer Ronald K. Brown sees himself as a weaver—of movement, but more importantly, of stories. "When I started my company Evidence 33 years ago, I needed to make a space for what I thought of as evidence—work that tells stories, so that when people saw the work, they would see a reflection or evidence of themselves onstage," says Brown, now 51. "That was my mission, my purpose."
Fast-forward to today: Evidence has become a mainstay in the modern dance world and Brown is now considered a vanguard among choreographers fusing Western contemporary dance with movement from the African diaspora, including popular dance and traditions from West African cultures like Senegalese sabar.
Keep reading...
Show less
Crystal Pite, photo by Michael Slobodian, courtesy Kidd Pivot
She may not be the first choreographer to claim that movement is her first language, but when Crystal Pite says it, it's no caveat: She's as effective and nuanced a communicator as the writers who often inspire her dances.
Her globally popular Emergence, for instance, was provoked in part by science writer Steven Johnson's hypotheses; The Tempest Replica refracts and reimagines Shakespeare. Recently, her reading list includes essays by fellow Canadian Robert Bringhurst, likewise driven by a ravenous, wide-ranging curiosity.
Keep reading...
Show less
Nigel Redden, photographed by Leigh Webber. Courtesy Spoleto USA
General director of Spoleto Festival USA since 1995 and, for two decades (1998-2017), the director of the Lincoln Center Festival, Nigel Redden has an internationalist's point of view on the arts—expansive, curious, informed by the cultural wealth that the world has to offer.
He is the son of an American diplomat and grew up moving from place to place—Cyprus, Israel, Canada, Italy—until eventually setting of for Yale to study Art History. After visiting the Spoleto festival in Italy as a young man, and working there while he was still an undergraduate, he very quickly realized what he wanted to: direct festivals. And that's what he has done for most of the last quarter century.
Keep reading...
Show less
Lopez coaching Chase Swatosh and Lauren Fadeley in Balanchine's "Diamonds." Photo by Alexander Iziliaev, courtesy Miami City Ballet
No, she isn't like other artistic directors, and that's not just because she's a woman. Lourdes Lopez, who's led Miami City Ballet since 2012, doesn't want this to be taken the wrong way, but as for her vision? She doesn't really have one.
"I just want good dancers and a good company and good rep and an audience and a theater—let us do what the art form is supposed to be doing," she says. "I don't mean that in a flippant way. It's just how I've always approached it."
Keep reading...
Show less
Michael Trusnovec models what it takes to become a great Paul Taylor dancer. Photo courtesy NYC Dance Project
Paul Taylor cultivated many brilliant dancers during his 60-plus-year career, but seldom have any commanded such a place of authority and artistry as Michael Trusnovec. He models what it takes to become a great Taylor dancer: weight of movement, thorough grasp of style, deep concentration, steadfast partnering, complete dedication to the choreography and a nuanced response to the music.
Trusnovec can simultaneously make choreography sexy and enlightened, and he can do it within one phrase of movement. Refusing to be pigeonholed, he has excelled in roles as diverse as the tormented and tormenting preacher in Speaking in Tongues; the lyrical central figure—one of Taylor's own sacred roles—in Aureole; the dogged detective in Le Sacre du Printemps (The Rehearsal); and the corporate devil in Banquet of Vultures.
Keep reading...
Show less
Did The Tenant unintentionally conflate transness and mental illness? Photo by Matthew Murphy, courtesy The Joyce Theater
Last week, Arthur Pita's much-anticipated The Tenant, featuring American Ballet Theatre principal James Whiteside, had its New York City premiere at The Joyce Theater.
Based on the novel by Roland Topor and the 1976 Roman Polanski film, The Tenant follows a man who moves into an apartment that's haunted by its previous occupant (Simone, played by ABT's Cassandra Trenary) who committed suicide. Throughout the show, the man—Trelkovsky, played by Whiteside—slowly transforms into Simone, eventually committing suicide himself.
But some found the show's depiction of a trans-femme character to be troubling. Whether the issues stem from the source material or the production's treatment of it, many thought the end result reinforced transphobic stereotypes about mental illness. We gathered some of the responses from the dance community:

Keep reading...
Show less
News
Nov. 14, 2018 10:57AM EST
Raffaella Stroik. Photo via stlouisballet.org
Update: Raffaella Stroik's body was found near a boat ramp in Florida, Missouri on Wednesday morning. No information about what led to the death is currently available. Our thoughts are with her friends and family.
Raffaella Stroik, a 23-year-old dancer with the Saint Louis Ballet, went missing on Monday.

Her car was found with her phone inside in a parking lot near a boat ramp in Mark Twain Lake State Park—130 miles away from St. Louis. On Tuesday, the police began an investigation into her whereabouts.
Stroik was last seen at 10:30 am on Monday at a Whole Foods Market in Town and Country, a suburb of St. Louis. She was wearing an olive green jacket, a pink skirt, navy pants with white zippers and white tennis shoes.
Keep reading...
Show less
Dancemaking skills will serve you far beyond the studio, says Iyun Ashani Harrison. Photo by Willow Pinkerton, courtesy Harrison
Whether or not you see yourself choreographing in your future, you can gain a lot from studying dance composition. "Many companies ask you to generate your own content. Choreography is more collaborative now," says Autumn Eckman, a faculty member at the University of Arizona.
Look beyond the rehearsal studio, and you'll find even more benefits to having dancemaking skills. "Being a thinker as well as a mover is what creates a sustainable career," says Iyun Ashani Harrison, who teaches at Goucher College. "Viewing dance with a developed eye and being able to speak about what you're seeing is valuable whether you're a dancer, a choreographer, an artistic director or a curator."
Succeeding in composition class often has more to do with attitude than aptitude. Above all, you need "a willingness to play along and explore," says Kevin Predmore, who teaches at the Ailey/Fordham BFA program. "You have to let go of the desire to create something extraordinary, and instead be curious."
Keep reading...
Show less
Judith Lynne Hanna in a still from "Partying Alone." Image courtesy Fox Force
Egg Drop Soup's "Partying Alone" video turns a run-of-the-mill dance team audition on its head with a vision of female power from a mature woman. The panel is stunned when a gray-haired, red-lipsticked 80-something tosses aside her cane and lets loose, flipping her hair—and the bird.
Egg Drop Soup - Partying Alone (Official music video)
Take a second look at that head-banging grandma—she is none other than renowned dance researcher and anthropologist Judith Lynne Hanna. An affiliate research professor in anthropology at the University of Maryland, College Park, the author of numerous scholarly books and an expert witness in trials for exotic dancers, she has spent her career getting us to think about dance's relationship to society. Hanna, 82, said she hadn't performed since college when she got a call from a music video producer, who caught a video of her dancing with her 13-year-old grandson. The rockers of Egg Drop Soup loved her energy and flew her out to Los Angeles for a day-long video shoot. We spoke to Hanna about the experience.
Keep reading...
Show less
A successful career takes more than great technique. Photo by Thinkstock
Since its founding in 1999, more than 80,000 ballet dancers have participated in Youth America Grand Prix events. While more than 450 alumni are currently dancing in companies across the world, the vast majority—tens of thousands—never turn that professional corner. And these are just the statistics from one competition.
"You may have the best teacher in the world and the best work ethic and be so committed, and still not make it," says YAGP founder Larissa Saveliev. "I have seen so many extremely talented dancers end up not having enough moti­vation and mental strength, not having the right body type, not getting into the right company at the right time or getting injured at the wrong moment. You need so many factors, and some of these are out of your hands."
Keep reading...
Show less
News
Sep. 17, 2018 11:46AM EST
Ramasar and Catazaro, photos via Instagram
New York City Ballet fired principal dancers Amar Ramasar and Zachary Catazaro on Saturday. Both had initially been suspended until 2019 for engaging in "inappropriate communications," while principal Chase Finlay, who was the instigator of those communications, resigned. (Although, in a statement on Saturday, NYCB made it clear they had decided to terminate Finlay prior to his resignation.)
The New York Times reports that NYCB says the change from suspension to termination resulted from hearing the concerns of dancers, staff members and others in the NYCB community. Yet it's hard to ignore the fact that a lawsuit against NYCB had been filed in the meantime. A statement from NYCB executive director Katherine Brown and interim artistic team leader Jonathan Stafford stated:
"We have no higher obligation than to ensure that our dancers and staff have a workplace where they feel respected and valued, and we are committed to providing that environment for all employees of New York City Ballet."
Since the news was announced, both Catazaro and Ramasar have spoken out publicly about being fired.
Keep reading...
Show less
Social media validates extremes over clean, solid technique. Photo by David Hofmann/Unsplash
The entrancing power of Instagram can't be denied. I've lost hours of my life scrolling the platform looking at other people documenting theirs. What starts as a "quick" fill-the-moment check-in can easily lead to a good 10-15 minute session, especially if I enter the nebulous realm of "suggested videos."
My algorithm usually shows me professional ballet dancers in performances, rehearsals, class, backstage and on tour, which I quite enjoy. But there are the other dance feeds that I find myself simultaneously intrigued and horrified by: the hyper-elastic, hyper-extended, gumby-footed girls always at the barre doing developpés to six o'clock. There are the multiple turners, the avid stretchers and we can't forget the endless balancers.
This parade of tricksters always makes me wonder, What else can they do? Can they actually dance?
Keep reading...
Show less
Dancers often make the best chefs. Photo by Quinn Wharton
Tired of the typical turkey and stuffing? For Thanksgiving this year, try something different with these personal recipes that dancers have shared with Dance Magazine. The ingredients are packed with dancer-friendly nutrients to help you recover from rehearsals and fuel up for the holiday performances ahead.

If anyone raises an eyebrow at your unconventional choices, just remind them that dancers are allowed to take some artistic license!
Keep reading...
Show less
A performance psychologist can help dancers work through barriers to peak performance. Getty Images
A dancer once contacted me because he was devastated after walking in on his girlfriend with another man. While he was distressed about ending the relationship, he was most concerned about a major performance coming up. They had to dance a romantic pas de deux. When I met with them together, she was afraid he would drop her and he didn't want to look lovingly in her eyes. My role was to help them find ways to make magic onstage and keep their personal difficulties offstage. They ended up dancing to rave reviews.
Keep reading...
Show less
Dance Magazine's December 2018 cover girl: Adji Cissoko. Photographed by Jayme Thornton
Adji Cissoko has the alchemical blend of willowy limbs and earthy musicality you expect from a dancer in Alonzo King LINES Ballet. But she also has something more—a joy in dancing that makes every step feel immediate.
"She has this soulful quality of an ancient spirit coming through her body," says LINES chief executive officer Muriel Maffre, a former prima ballerina with San Francisco Ballet. "She's fearless, which is fun to work with," says artistic director Alonzo King. "I don't know how to put it into words— she's herself."
Keep reading...
Show less
Jan Fabre's Mount Olympus pushes dancers to their limits. Photo by Wonge Bergmann, via nyuskirball.org
When Jan Fabre's troupe Troubleyn presents his Mount Olympus: To glorify the cult of tragedy (a 24 hour performance) at NYU Skirball tomorrow it does so under a heavy cloud of controversy.
Fabre is a celebrated Belgian multidisciplinary artist who has been honored as Grand Officer in the Order of the Crown, one of the country's highest honors. His visual art has been displayed at the Louvre and at the Hermitage in St. Petersburg. According to The New York Times, his dance company, Troubleyn, receives about $1 million a year from the Belgian government.
But in an open letter posted to Belgian magazine Rekto Verso just a few months ago, 20 of his company's current and former dancers outline a horrific culture of sexual harassment, bullying and coercion. This comes on the heels of similar accusations at New York City Ballet and Paris Opèra Ballet.
Keep reading...
Show less
Tiler Peck's CFDA Fashion Fund red lip also makes for the perfect
Nutcracker
makeup. Photo via Instagram,
Rebecca de Ravenel
Earlier this week, New York City Ballet principal Tiler Peck gave us some major onstage makeup inspiration while attending an offstage event. While walking the red carpet at the CFDA/Vogue Fashion Fund gala, Peck's beauty look was still perfectly suited for the ballet with her top knot hairstyle and stage-worthy red lip. Peck's makeup artist for the night, Daniel Duran, shared his exact breakdown on the look, working exclusively with beauty brand Chantecaille. So, whether you're in need of a waterproof brow pencil, volumizing mascara or long-lasting red lip this Nutcracker season, we've got you covered.

Keep reading...
Show less
Simulations of An's "Marie . T" prosthetic design, via jaehyunan.com
There's a new tool that lets amputee ballet dancers perform on pointe. As reported in Dezeen, an architecture and design magazine, industrial designer Jae-Hyun An has created a prosthesis he calls the "Marie . T" (after Marie Taglioni, of course) that allows dancers with below-the-knee amputations to do pointe work.

A carbon fiber calf absorbs shock while a stainless steel toe and rubber platform allow a dancer to both turn and grip the floor to maintain balance. What it doesn't allow the dancer to do? Roll down to demi-pointe or flat.
Keep reading...
Show less