Meet The Ballet Dancer Teaching Hurricane Maria Survivors
Rebecca Warthen teaching at a public school in Dominica. Photo courtesy Peace Corps
Rebecca Warthen was on a year-long assignment with the Peace Corps in Dominica last fall when a storm started brewing. A former dancer with North Carolina Dance Theatre (now Charlotte Ballet) and Columbia City Ballet, she'd been sent to the Caribbean island nation to teach ballet at the Dominica Institute of the Arts and in outreach classes at public schools.
But nine and a half months into her assignment, a tropical storm grew into what would become Hurricane Maria—the worst national disaster in Dominica's history.
---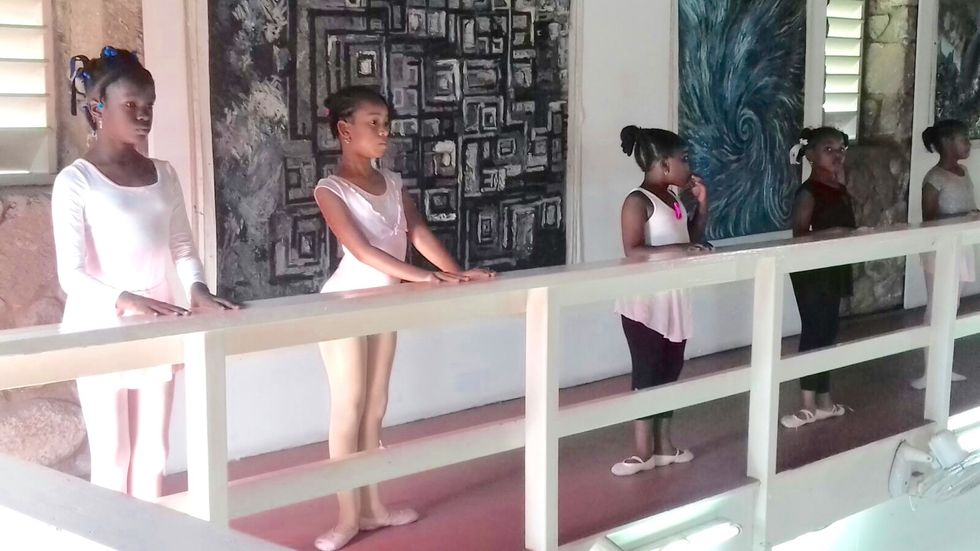 Students in Dominica taking class at a makeshift barre. Photo courtesy the Peace Corps
The Peace Corps sent her home to South Carolina for two months while they assessed the situation.
"I spent much of the next few weeks worrying what had become of my coworkers, students and community, finding out only bits and pieces through news and social media," says Warthen. "Many people evacuated to neighboring islands or the U.S. but even more stuck it out through the aftermath without roofs or enough food and water."
When the Peace Corps asked her to return in December, she instantly agreed, even if that meant living without electricity.
"Some people probably thought I was crazy for wanting to return to a place that people were still evacuating from," she says, "but I was just excited to round up my students and start teaching again." So excited, in fact, that she extended her service until January 2019.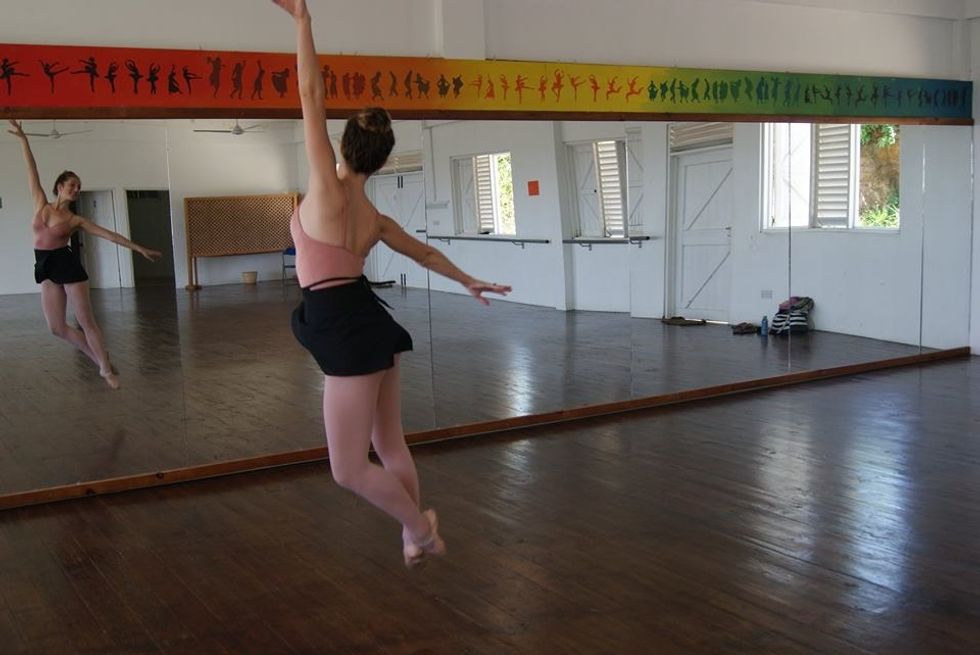 Warthen dancing at Dominica School of the Arts before the storm. Photo courtesy the Peace Corps
She shares in a blog post for the Peace Corps that during her first week back, she held a "return to dance workshop" for the kids. She asked the students to write a poem describing their experiences, then had them choreograph to their own words. She writes:
Many students had traumatic tales of what happened during the storm, yet it was the things that were missing they most wanted to talk (and dance) about. Many were staying with neighbors since their homes were unlivable. One girl never found her pet puppy. Another missed the flowers in her garden. And they all longed for the normal things: eating fruits, going to school and taking dance class.
She's found that teaching them has been transformational: "For these children whose lives have been so disrupted, ballet brings stability, a positive focus, friendship, joy, dreams, goals and something beautiful when much of the outside is still recovering from disaster."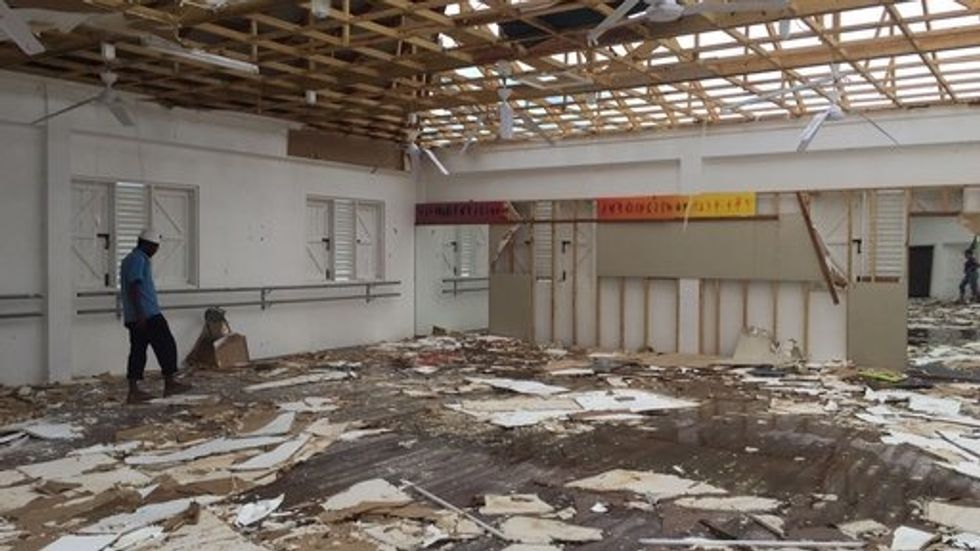 The dance studio's roof, floors and mirrors were all damaged. The total cost of repairs is estimated at $30,000. Photo courtesy the Peace Corps
Unfortunately, Dominica School of the Arts' dance studio—the only one on the island—was completely destroyed. The dancers are now taking class in an art gallery while Warthen raises money through a Peace Corps Partnership Program grant to help rebuild the studio. Fortunately, she just found out that her $8000 fundraiser to repair the floor and mirrors is now fully funded.

"The people living in Dominica have adapted to a 'new normal,'" says Warthen. "Most schools have yet to be repaired, so students are sharing space on shift schedules. Many businesses have closed and with them many jobs have been lost. Agriculture systems were quite literally uprooted. Maria did a lot of damage, but she also managed to instill a sense of resiliency in everyone that survived her."
Meanwhile, Warthen's found that her work in Dominica has not only been a way to empower her students and help them process this traumatic experience, bot it's also reignited her own love of dance.
"I get to witness the total joy they emit when they dance," she says. Teaching them has allowed her to feel the wonder of being a beginner again: "It's the joy of jumping really high and relishing a slow port de bras. It's synergy and dancing with other people that share your passion. This experience has reminded me how lucky I am that this is my life."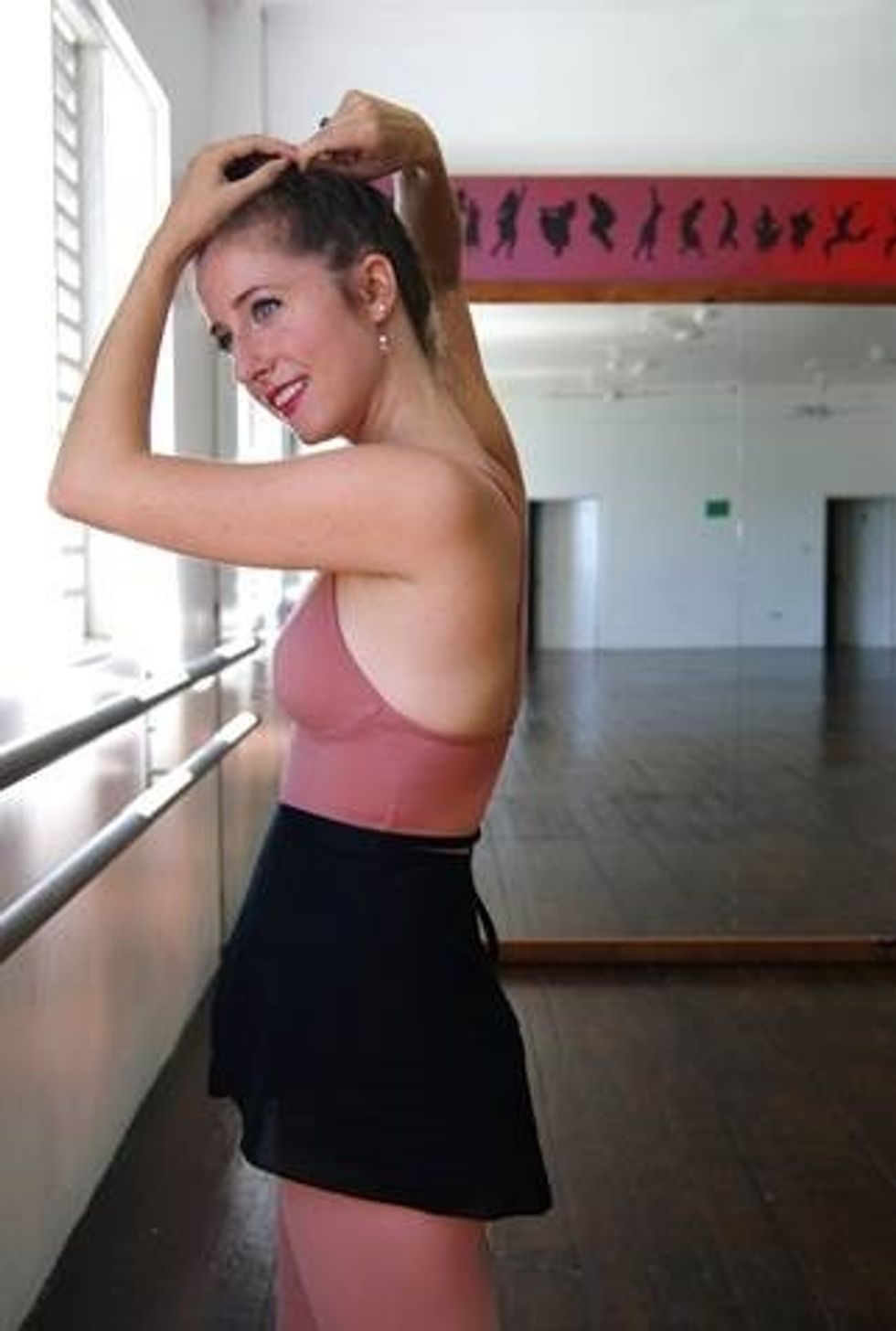 Warthen is known in the community as "ballet teacher." Photo courtesy the Peace Corps
From Your Site Articles
Related Articles Around the Web
Rachel Papo
In the middle of one of New York City Center's cavernous studios, Misty Copeland takes a measured step backwards. The suggestion of a swan arm ripples before she turns downstage, chest and shoulders unfurling as her legs stretch into an open lunge. She piqués onto pointe, arms echoing the sinuous curve of her back attitude, then walks out of it, pausing to warily look over her shoulder. As the droning of Ryuichi Sakamoto and Alva Noto's mysterious "Attack/Transition" grows more insistent, her feet start to fly with a rapidity that seems to almost startle her.
And then she stops mid-phrase. Copeland's hands fall to her hips as she apologizes. Choreographer Kyle Abraham slides to the sound system to pause the music, giving Copeland a moment to remind herself of a recent change to the sequence.
"It's different when the sound's on!" he reassures her. "And it's a lot of changes."
The day before was the first time Abraham had seen Copeland dance the solo in its entirety, and the first moment they were in the studio together in a month. This is their last rehearsal, save for tech, before the premiere of Ash exactly one week later, as part of the opening night of City Center's Fall for Dance festival.
Keep reading...
Show less
Ailey II artistic director Troy Powell teaching an Ailey Workshop at NYCDA. Courtesy NYCDA
Back in 2011 when Joe Lanteri first approached Katie Langan, chair of Marymount Manhattan College's dance department, about getting involved with New York City Dance Alliance, she was skeptical about the convention/competition world.
"But I was pleasantly surprised by the enormity of talent that was there," she says. "His goal was to start scholarship opportunities, and I said okay, I'm in."
Today, it's fair to say that Lanteri has far surpassed his goal of creating scholarship opportunities. But NYCDA has done so much more, bridging the gap between the convention world and the professional world by forging a wealth of partnerships with dance institutions from Marymount to The Ailey School to Complexions Contemporary Ballet and many more. There's a reason these companies and schools—some of whom otherwise may not see themselves as aligned with the convention/competition world—keep deepening their relationships with NYCDA.
Now, college scholarships are just one of many ways NYCDA has gone beyond the typical weekend-long convention experience and created life-changing opportunities for students. We rounded up some of the most notable ones:
Keep reading...
Show less
Getty Images
Dancers are understandably obsessed with food. In both an aesthetic and athletic profession, you know you're judged on your body shape, but you need proper fuel to perform your best. Meanwhile, you're inundated with questionable diet advice.
"My 'favorite' was the ABC diet," says registered dietitian nutritionist Kristin Koskinen, who trained in dance seriously but was convinced her body type wouldn't allow her to pursue it professionally. "On the first day you eat only foods starting with the letter A, on the second day only B, and so on."
Keep reading...
Show less
Left: Hurricane Harvey damage in Houston Ballet's Dance Lab; Courtesy Harlequin. Right: The Dance Lab pre-Harvey; Nic Lehoux, Courtesy Houston Ballet.
"The show must go on" may be a platitude we use to get through everything from costume malfunctions to stormy moods. But when it came to overcoming a literal hurricane, Houston Ballet was buoyed by this mantra to go from devastated to dancing in a matter of weeks—with the help of Harlequin Floors, Houston Ballet's longstanding partner who sprang into action to build new floors in record time.
Keep reading...
Show less