Meet The Ballet Dancer Teaching Hurricane Maria Survivors
Rebecca Warthen teaching at a public school in Dominica. Photo courtesy Peace Corps
Rebecca Warthen was on a year-long assignment with the Peace Corps in Dominica last fall when a storm started brewing. A former dancer with North Carolina Dance Theatre (now Charlotte Ballet) and Columbia City Ballet, she'd been sent to the Caribbean island nation to teach ballet at the Dominica Institute of the Arts and in outreach classes at public schools.
But nine and a half months into her assignment, a tropical storm grew into what would become Hurricane Maria—the worst national disaster in Dominica's history.
---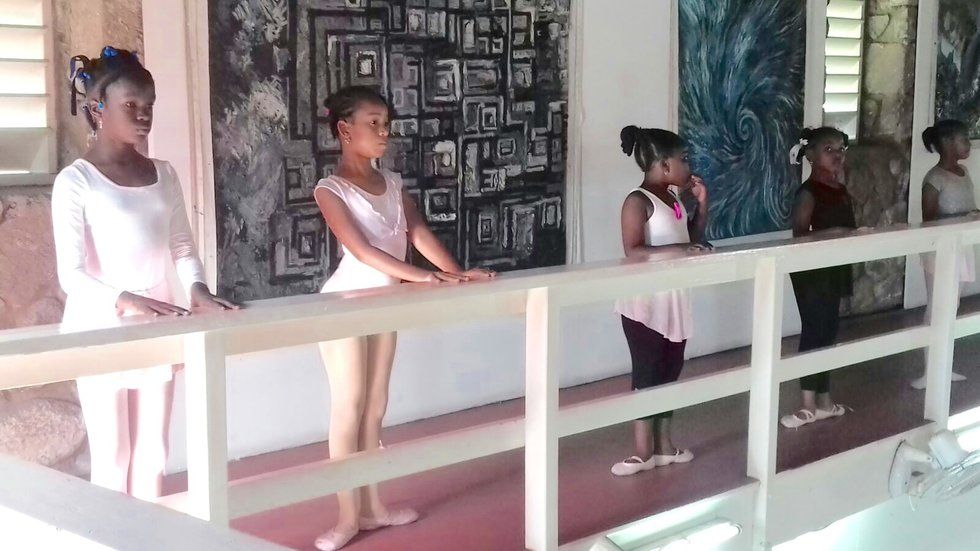 Students in Dominica taking class at a makeshift barre. Photo courtesy the Peace Corps
The Peace Corps sent her home to South Carolina for two months while they assessed the situation.
"I spent much of the next few weeks worrying what had become of my coworkers, students and community, finding out only bits and pieces through news and social media," says Warthen. "Many people evacuated to neighboring islands or the U.S. but even more stuck it out through the aftermath without roofs or enough food and water."
When the Peace Corps asked her to return in December, she instantly agreed, even if that meant living without electricity.
"Some people probably thought I was crazy for wanting to return to a place that people were still evacuating from," she says, "but I was just excited to round up my students and start teaching again." So excited, in fact, that she extended her service until January 2019.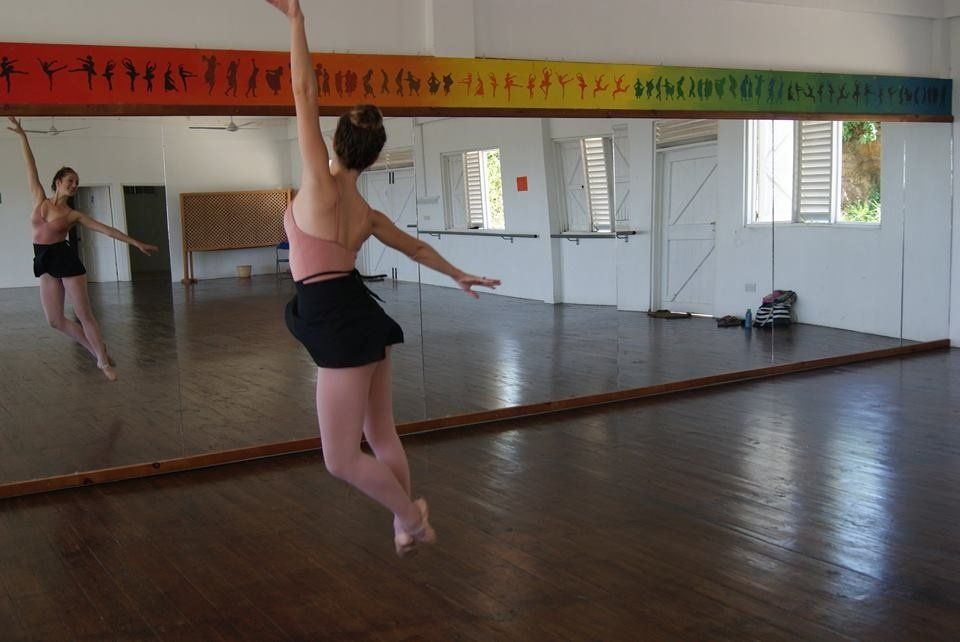 Warthen dancing at Dominica School of the Arts before the storm. Photo courtesy the Peace Corps
She shares in a blog post for the Peace Corps that during her first week back, she held a "return to dance workshop" for the kids. She asked the students to write a poem describing their experiences, then had them choreograph to their own words. She writes:
Many students had traumatic tales of what happened during the storm, yet it was the things that were missing they most wanted to talk (and dance) about. Many were staying with neighbors since their homes were unlivable. One girl never found her pet puppy. Another missed the flowers in her garden. And they all longed for the normal things: eating fruits, going to school and taking dance class.
She's found that teaching them has been transformational: "For these children whose lives have been so disrupted, ballet brings stability, a positive focus, friendship, joy, dreams, goals and something beautiful when much of the outside is still recovering from disaster."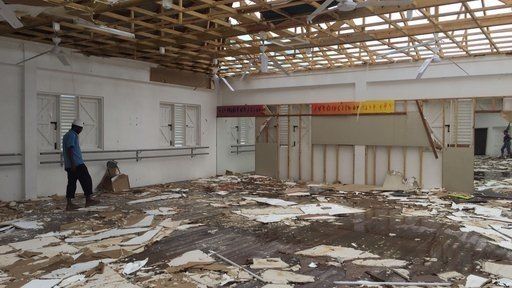 The dance studio's roof, floors and mirrors were all damaged. The total cost of repairs is estimated at $30,000. Photo courtesy the Peace Corps
Unfortunately, Dominica School of the Arts' dance studio—the only one on the island—was completely destroyed. The dancers are now taking class in an art gallery while Warthen raises money through a Peace Corps Partnership Program grant to help rebuild the studio. Fortunately, she just found out that her $8000 fundraiser to repair the floor and mirrors is now fully funded.

"The people living in Dominica have adapted to a 'new normal,'" says Warthen. "Most schools have yet to be repaired, so students are sharing space on shift schedules. Many businesses have closed and with them many jobs have been lost. Agriculture systems were quite literally uprooted. Maria did a lot of damage, but she also managed to instill a sense of resiliency in everyone that survived her."
Meanwhile, Warthen's found that her work in Dominica has not only been a way to empower her students and help them process this traumatic experience, bot it's also reignited her own love of dance.
"I get to witness the total joy they emit when they dance," she says. Teaching them has allowed her to feel the wonder of being a beginner again: "It's the joy of jumping really high and relishing a slow port de bras. It's synergy and dancing with other people that share your passion. This experience has reminded me how lucky I am that this is my life."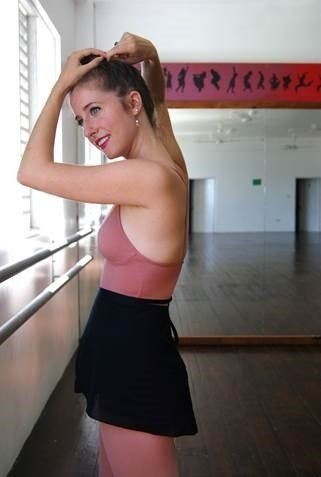 Warthen is known in the community as "ballet teacher." Photo courtesy the Peace Corps
From Your Site Articles
Related Articles Around the Web
Courtesy Boneau/Bryan-Brown
If "Fosse/Verdon" whet your appetite for the impeccable Gwen Verdon, then Merely Marvelous: The Dancing Genius of Gwen Verdon is the three-course meal you've been craving. The new documentary—available now on Amazon for rental or purchase—dives into the life of the Tony-winning performer and silver-screen star lauded for her charismatic dancing.

Though she's perhaps most well-known today as Bob Fosse's wife and muse, that's not even half of her story. For starters, she'd already won four Tonys before they wed, making her far more famous in the public eye than he was at that point in his career. That's just one of many surprising details we learned during last night's U.S. premiere of Merely Marvelous. Believe us: You're gonna love her even more once you get to know her. Here are eight lesser-known tidbits to get you started.
Keep reading...
Show less
Lindsay Thomas
Every dancer knows that how you fuel your body affects how you feel in the studio. Of course, while breakfast is no more magical than any other meal (despite the enduring myth that it's the most important one of the day), showing up to class hangry is a recipe for unproductive studio time.
So what do your favorite dancers eat in the morning to set themselves up for a busy rehearsal or performance day?
Keep reading...
Show less
News
Sep. 20, 2019 09:17AM EST
Simon Soong, Courtesy DDT
When it comes to dance in the U.S., companies in the South often find themselves overlooked—sometimes even by the presenters in their own backyard. That's where South Arts comes in. This year, the regional nonprofit launched Momentum, an initiative that will provide professional development, mentorship, touring grants and residencies to five Southern dance companies.
Keep reading...
Show less
News
Sep. 19, 2019 12:46PM EST
Alice Pennefather, Courtesy ROH
You ever just wish that Kenneth MacMillan's iconic production of Romeo and Juliet could have a beautiful love child with the 1968 film starring Olivia Hussey? (No, not Baz Luhrmann's version. We are purists here.)
Wish granted: Today, the trailer for a new film called Romeo and Juliet: Beyond Words was released, featuring MacMillan's choreography and with what looks like all the cinematic glamour we could ever dream of:
Keep reading...
Show less