Six Ways To Improve Your Extensions
Sylvie Guillem, via 1843magazine.com
Ever find yourself lusting after that six o'clock penché, or a développé that will reach your nose? You're not alone. The eye is naturally drawn to the end points of a movement, and, in dance, that often translates to the highest extension.
But what if you're born without extreme, Instagram-worthy lines? It's a matter of developing a laser focus on alignment as well as strengthening and stretching with better body mechanics in mind.
---
Rule #1: Don't Grip
Get to know at least the CliffsNotes version of your anatomy: The main muscles responsible for lifting your leg front and side are your psoas, quadriceps and tensor fasciae latae (TFL). Going into arabesque uses the glutes, hamstrings and low back muscles.
These "mover" muscles work best when the deep rotators, inner thigh muscles and deep abdominal muscles stabilize the hip. If you let the movers multitask as stabilizers, it leads to gripping, which means those muscles can't move freely.
"When I see dancers who are struggling to get their leg up, the problem is usually coming from gripping the quads, TFL or glutes," says physical therapist Emma Faulkner, who works with Atlanta Ballet. The key is to strengthen those small stabilizing muscles so they do their job and you're not tempted to grip.
Try This Stabilizer Strengthener: Stability Ball Bridges
Lie on your back with heels on top of a large stability ball, legs straight and together, in parallel.
Bridge your hips into the air, drawing your navel towards your spine to activate your abdominals without gripping the glutes.
Rotate your legs to first position, activating your deep rotators.
Return to parallel and lower your hips.
Repeat 5 to 10 times.

Modeled by Mikayla Sciafe of The Ailey School's Professional Division. Photo by Nathan Sayers
Try This Rotator Strengthener: Rotational Disc Progressions
With each foot on a rotational disc, rotate to first position, then demi-plie.
Transfer weight to one leg, bringing the other to coupé.
If you can maintain your turnout and the stability of the disc, lift to passé. Don't grip the top of the glutes. You should feel the activation lower, near your sits bone, at the gluteal crease.
Progress to attitude (front, side or back), and eventually développé as long as you are able to maintain the turnout and stability of your standing leg without gripping. Take a few breaths in each position. Try with both a stretched standing leg and a demi-plié. Stop or go back a step if gripping occurs.
Repeat with your other leg.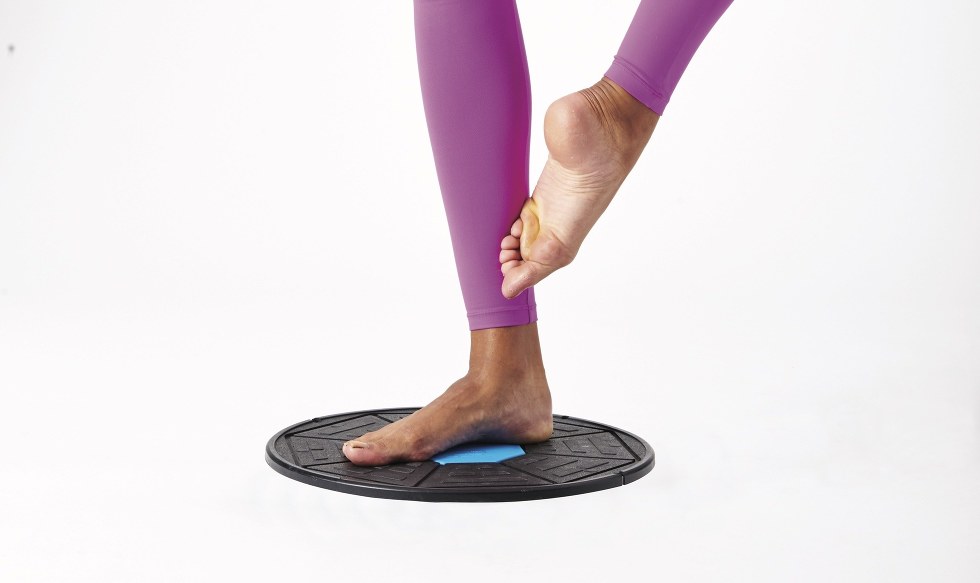 Modeled by Mikayla Sciafe of The Ailey School's Professional Division. Photo by Nathan Sayers
Rule #2: Find Your Alignment
Focus on the correctness of the position, suggests Jenifer Ringer, dean of the Trudl Zipper Dance Institute at the Colburn School in Los Angeles. "If placement in your turnout is proper, your strength will grow incrementally and your legs will eventually go up."
Make sure your weight is in the ball of the foot. "Weight can't be in the heel in à la seconde—it makes your working leg too heavy," explains Ringer.
Likewise, avoid hyperextended knees. "Hyperextension turns off muscles you need to stand on your leg and then the pelvis tilts forward, which encourages gripping," says Faulkner. "While hyperextension is beautiful, you should only use it in the leg that is off the ground."
Lastly, your hips should be square—not tilted forward or under—and even right to left.


Rule #3: Engage the Psoas
For lifting the leg above 90 degrees, the psoas is the best hip flexor to use, says Faulkner . But dancers often have weak and tight psoas muscles. "When the muscles become stuck in an over-contracted state," she says, "they quit and become weak and tight, and are unable to lengthen properly." A common mistake is to compensate for a weak, tight psoas by overusing the quads and TFL.
Try This Psoas Strengthener: Leg Lifts on a Stability Ball
Lie on your back, hips on the ground in a neutral position, with heels on top of a stability ball, legs extended.
Find your right psoas by palpating with your fingers between your belly button and hip bone. (For a tight psoas this can be painful, so tread lightly; for others, you may not feel the muscle until you activate it.) Place the left hand on your quad.
As you exhale, lift your right leg off the ball using your psoas, without gripping your legs or glutes. "Keep a neutral spine, don't squeeze your butt, don't squeeze anything," says Faulkner. "Use your exhale to engage your pelvic floor and deep abdominals on your way to finding your psoas."
Repeat 10 times on each side.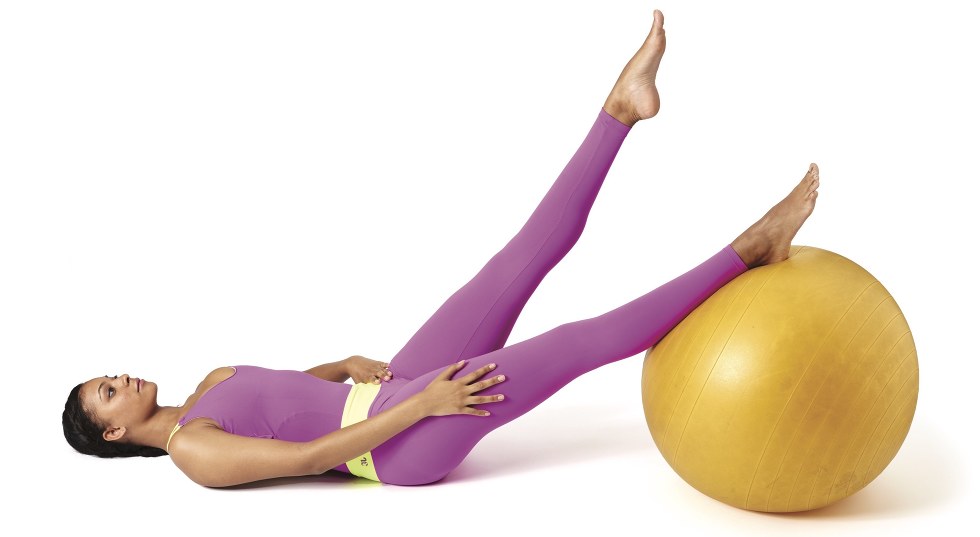 Modeled by Mikayla Sciafe of The Ailey School's Professional Division. Photo by Nathan Sayers
Rule #4: Use Your Glutes First
"Issues with arabesque can come from a shortened psoas or an incorrect pattern of muscle activation," says Faulkner. "Some dancers try to lift their leg from their back first. The correct sequence is to activate the glutes, then the hamstrings and then the lumbar muscles."
Try This Arabesque Activator: Prone Knee Float
Lie on your stomach, legs parallel, knees relaxed and toes tucked under as if in preparation for plank.
The right hand can be under your forehead and the left can rest on your left glutes.
Float the left knee off the ground, activating only your glutes.
Once you are able to do that, point through your foot as you float the leg a little higher, feeling the hamstrings engage.
Finally, to lift the leg higher, let the muscles of your lumbar spine engage.
Repeat until the pattern of activation happens naturally, then do the other side.

Modeled by Mikayla Sciafe of The Ailey School's Professional Division. Photo by Nathan Sayers
Rule #5: Stretch Strategically
As dancers know, flexibility is only one half of the extension equation. "Our physical therapist keeps telling my students not to overstretch, because you are sacrificing strength," says Ringer. To help students gain flexibility gradually while becoming strong enough to maintain it, at Colburn, stretches are held gently and never for more than 30 seconds at a time.
Troy Powell, artistic director of Ailey II, credits the Horton technique with building the beautiful lines that Ailey dancers are known for, because it balances strength training alongside smart stretching. His class includes a variety of stretches, but only after a long warm-up that builds strength. "Students should cool down right after class," says Powell. "While your body is still warm, work on any additional stretches you might need to open the hips or lengthen the back and hamstring muscles."
Try This Psoas Stretch for Arabesque: Modified Runner's Lunge
Kneel on one knee with the other foot planted in front of you, hips square.
Find an exaggerated tuck of your hips under, then shift your weight forward into a small lunge.
Reach up with the same arm as your standing knee, close to your head. Continue to keep the tuck and lunge as you side bend away from your standing knee. Hold for a couple deep breaths.
Repeat on the other side.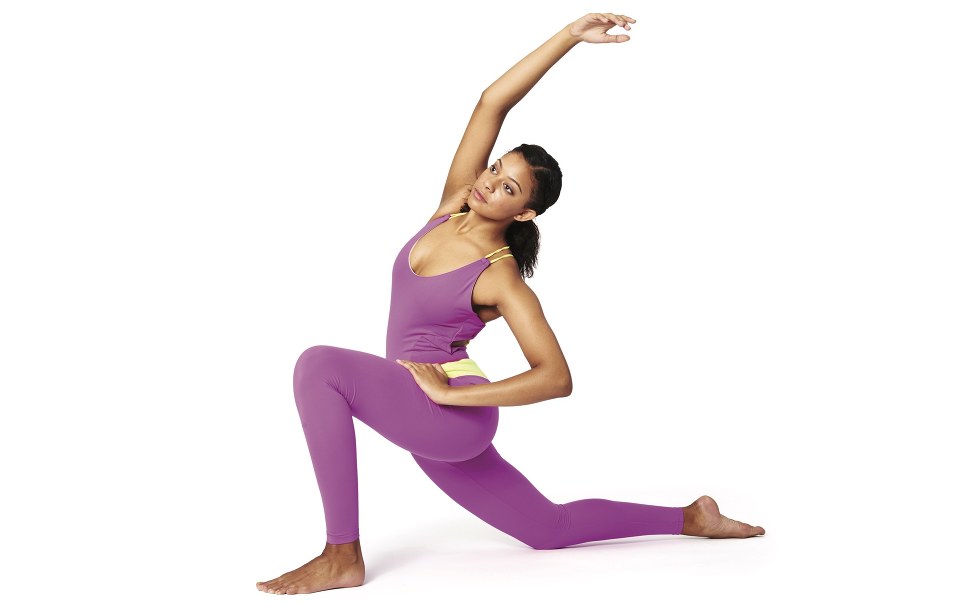 Modeled by Mikayla Sciafe of The Ailey School's Professional Division. Photo by Nathan Sayers
Rule #6: Release Tight Muscles
A lot of times when muscles are tight, they've developed trigger points, says Faulkner. "If you have a muscle full of trigger points, it cannot be stretched nor contracted properly until it is released." If you're stuck with a stubbornly gripped muscle that's limiting your extension, see a physical therapist for manual release or advice on the best ways to use a foam roller or ball.
Related Articles Around the Web
Alexander Ekman's Midsummer Night's Dream was created for Royal Swedish Ballet. Photo by Hans Nilsson, Courtesy The Joffrey Ballet
Bales of hay, black umbrellas, bicycles—this Midsummer Night's Dream would be unrecognizable to the Bard. Alexander Ekman's full-length, inspired by Scandinavian solstice traditions and set to music by Mikael Karlsson, is a madcap celebration of the longest day of the year, when the veil between our world and that of the supernatural is said to be at its thinnest. The Joffrey Ballet's performances mark the seductively surreal work's North American premiere. April 25–May 6. joffrey.org.
Indumba investigates an African cleansing ritual. Photo by Ken Carl, via
bam.org
When Kevin "Iega" Jeff saw Fana Tshabalala's Indumba at the annual JOMBA! Contemporary Dance Experience in South Africa, he immediately knew he would ask Tshabalala to set the work on his company.

"There's an ancient energy in Fana's movement, a deep and trusted knowing," says Jeff, director of the Chicago-based Deeply Rooted Dance Theater. "Because I witnessed the raw humanity of his dancer's souls, I wanted my dancers to have that experience."
Keep reading...
Show less
StockSnap
When I wrote about my struggle with depression, and eventual departure from dance because of it, I expected criticism. I was prepared to be challenged. But much to my relief, and horror, dancers from all over the world responded with support and stories of solidarity. The most critical response I saw was this one:
"Dance isn't for everyone."
This may as well be a mantra in the dance world. We have become entrenched in the Darwinian notion that the emotionally weak will be weeded out. There is no room for them anyway.
Keep reading...
Show less
Cover Story
Apr. 16, 2018 04:00PM EST
Robert Fairchild is jumping into the next phase of his career feet-first. Photo by Jayme Thornton
In his final bow at New York City Ballet, during what should have been a heroic conclusion to a celebrated ballet career, Robert Fairchild slipped and fell. His reaction? To lie down flat on his back like he meant to do it. Then start cracking up at himself.
"He's such a ham," says his sister Megan Fairchild, with a laugh. "He's really good at selling whatever his body is doing that day. He'll turn a moment that I would totally go home and cry about into something where the audience is like, 'That's the most amazing thing ever!' "

Keep reading...
Show less
Name calling, physical intimidation and cyberbullying are all-too-common experiences among male dancers. Photo by Goh Rhy Yan/Unsplash
Growing up in a family-owned dance studio in Missouri had its perks for tap dancer Anthony Russo. But it also earned him constant taunting, especially in high school.
"There was a junior in my sophomore year health class who was absolutely relentless," he says. "I'd get tripped on my way to the front of the classroom and he'd say, 'Watch out, twinkle toes.' If I raised my hand and answered a question incorrectly, I'd hear a patronizing 'Nice one, Bojangles.' "
Keep reading...
Show less
Dance on Broadway
Apr. 21, 2018 09:30AM EST
PC Kevin Berne, courtesy Boneau/Bryan-Brown
Choreographer Sergio Trujillo asked the women auditioning for ensemble roles in his newest musical to arrive in guys' clothing—"men's suits, or blazers and ties," he says. He wasn't being kinky or whimsical. The entire ensemble of Summer: The Donna Summer Musical is female, playing men and women interchangeably as they unfold the history of the chart-busting, Grammy-winning, indisputable Queen of Disco.
courtesy www.today.com
Keep reading...
Show less


Get Dance Magazine in your inbox