What to Expect From Juilliard's New Dream Team: Damian Woetzel and Alicia Graf Mack
Jayme Thornton
Sometimes, change happens all at once. Last year, The Juilliard School, one of the country's top conservatories for music, dance and drama, got not one new leader but three.
Damian Woetzel, a former star at New York City Ballet, took the reins as Juilliard's new president, the first in the institution's history to come from the field of dance. (The previous six have been musicians.) Evan Yionoulis was named director of drama. And Alicia Graf Mack, an exemplary dancer at both the Dance Theatre of Harlem and Alvin Ailey American Dance Theater, became Juilliard's incoming director of dance—the first African American, and, at 39, the youngest person to ever take up the position.
---
As Ara Guzelimian, Juilliard's provost and dean recently told me, "it's a generational shift." So, what does this shift mean to the institution?
The Role Model: Alicia Graf Mack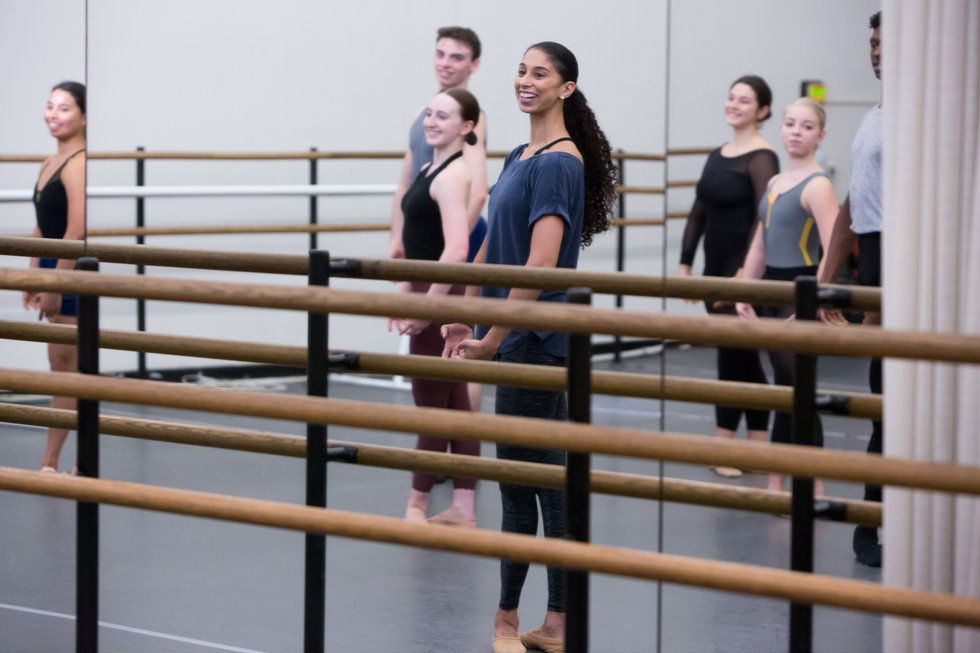 Claudio Papapietro, Courtesy Juilliard
As I watch Alicia Graf Mack teach a third-year ballet class at Juilliard, it is obvious what a model she is to the students. This is true both when she demonstrates steps—she is truly a paragon of form—and when she talks about the underlying principles behind them.
"It's exciting to have that kind of presence inside the school, someone who only left the performing part of her career very recently," Javon Jones, one of these third-year students, says. "And, as a student of color, seeing representation at the front of the room is very empowering."

As a former leading dancer for both DTH—under the exacting eye of Arthur Mitchell—and Ailey, she effortlessly embodies Juilliard's ethos: an equal focus on ballet and modern dance. She also holds a degree in history from Columbia University and an MA in nonprofit management from Washington University in St. Louis. She is an overachiever in every sense.
In class, instead of giving corrections, she tends to engage the students in conversations about ideas.
"How do you isolate the action of that dégagé?" she asks at one point. Two dancers give different answers. "I heard two ideas," Graf Mack says. "Both were really good." She suggests combining both approaches.
Later, in her office—empty minus a photo of her two kids and another, of Arthur Mitchell—I ask about her teaching philosophy.
"I like to talk about building the foundational technique in the body and also about having the information to deconstruct it. Which creates a very smart and exciting dancer," she says.
Juilliard, in her eyes, should also be an incubator for the consideration of larger questions facing the arts.
"Who defines what excellence is? What defines excellence?" she asks. "I've been trying to look at things through multiple lenses in order to find a way to maintain the sense of rigor Juilliard is known for while at the same time giving the dancers the ability to push the boundaries of what is happening today."
To that end, she has been exploring ways to increase the students' exposure to a wider array of contemporary dance forms, including contact improvisation, Gaga, William Forsythe's improvisational techniques and hip hop. She envisions making space in the schedule for classes with a focus on technology, like dance on film and choreography utilizing new media.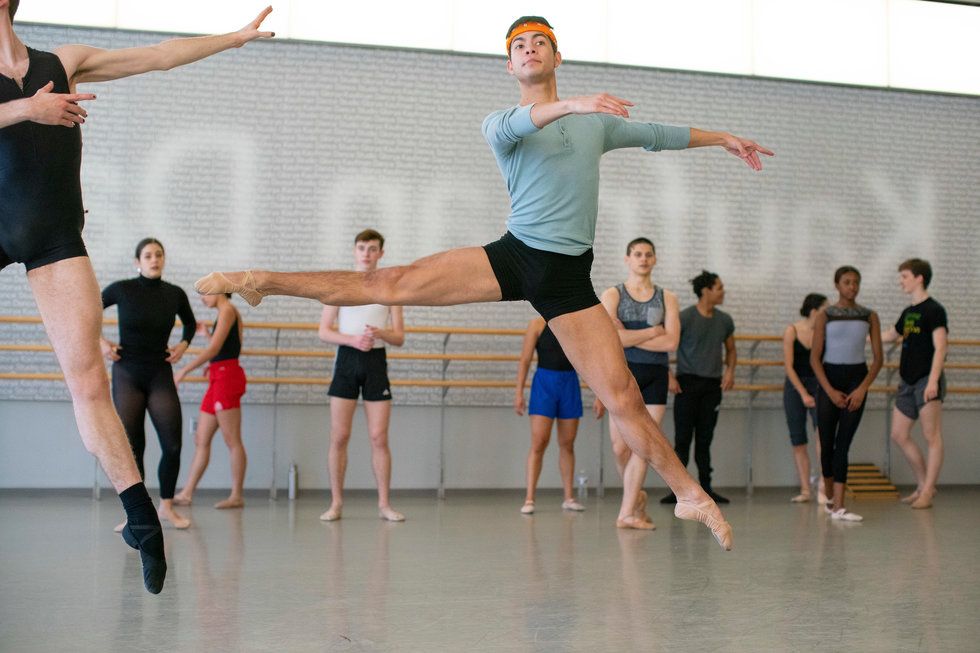 Todd Rosenberg Photography, Courtesy Juilliard
She's also intent on making Juilliard more representative of the city and country around it. Hers is a thoughtful approach, based on relationships and an understanding of the barriers that aspiring dancers face. "Diversity is not about looking into a studio and saying, 'You have or you haven't made the mark,' " she says.
Over the next few years, she's planning to visit performing arts high schools, which have traditionally trained a wider swath of the population (not just kids from families who can afford to send them to private dance classes). Repertory is another part of the puzzle—Graf Mack's plans include opening up the pool of choreographers to include more people of color.
With openness and curiosity, Graf Mack is building a new vision for the program. As she puts it: "I would love to have part of my legacy here be to say that wherever a dancer dreams of going, whatever direction, that we have supported that with our curriculum."
The Master of Ceremonies: Damian Woetzel
"I started studying dance and music at the same time," Damian Woetzel tells me in his expansive new office at The Juilliard School, which, incidentally, looks out over his old stomping grounds at New York City Ballet. He didn't grow up in a cloistered dance bubble; as a kid, in Boston, he took flute and guitar lessons along with dance classes.
The sense of the interconnection between the arts has stuck. "My work always overlapped with music and a sense of theater."

Woetzel, a youthful 51, was a star at NYCB for much of his 20-year career there. Since his retirement, he hasn't stopped moving. He has produced shows for the Kennedy Center (the interdisciplinary DEMO series) and sat on President Obama's Committee on the Arts and Humanities. He directed the Aspen Institute Arts Program from 2011 until last year, and still runs the Vail Dance Festival. Along the way he got a master's in public administration from Harvard's John F. Kennedy School of Government.
He brings this entrepreneurial spirit to his new position as president of Juilliard, a role that requires constant shifts of focus.
"Today I met with alumni," he says, "and then held interviews with people who might be joining our staff. Then faculty meetings and a short conversation with one of our creative associates. And it's only 2:45."
In addition to his other responsibilities, he's teaching a class on "The Arts in Society," open to students in every discipline. And he spends part of every day walking around the building, looking in on classes and striking up conversations with teachers and students.
In his first year at Juilliard, he has introduced a series of initiatives, built around the idea of bringing together artists from different disciplines, fomenting creativity and fostering a sense of community. He calls them "flags in the ground" on the way to a "gauzy and golden-hued age of creativity."
Perhaps the one he is the most proud of is Creative Associates, a program through which Juilliard invites genre-bending artists to engage the Juilliard students at different points throughout the year. They might involve the students in their own creative projects, or act as advisors and coaches, or lead workshops.
The job definition is kept intentionally open. The tap innovator Michelle Dorrance, for example, created a piece with the incoming first-year dance students for Juilliard's opening convocation ceremony. Then she came back during the early weeks of the semester to develop ideas for a premiere she was working on for American Ballet Theatre, and she also worked with musicians in the jazz program. Her interactions with the school were meant to stimulate creativity, both in the students and in her own practice.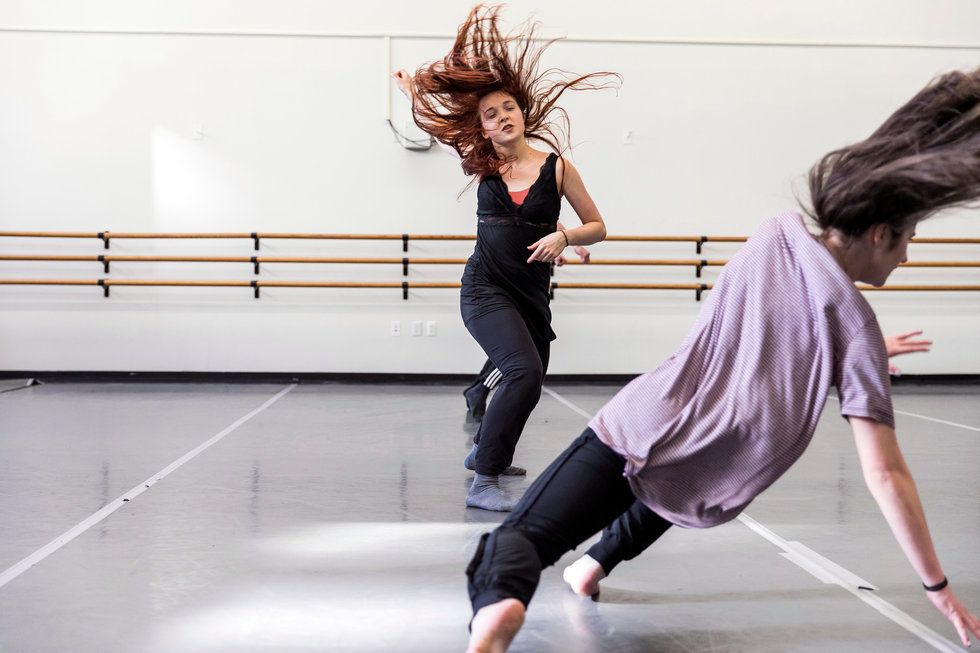 Juilliard dance alumna and director of Gallim Dance Andrea Miller gives a master class to fourth year dancers
Rachel Papo, Courtesy Juilliard
The resident artists, and other guests, often stay on to take part in Juilliard's public programs. In October, Mitch Landrieu, the former mayor of New Orleans, came to speak to Woetzel's class and then took part in a public conversation with Wynton Marsalis (head of Juilliard's jazz program) about the musical culture of New Orleans.
Woetzel—a performer who loves talking about ideas—is a natural fit for such semi-improvised evenings, in which he often acts as master of ceremonies. "There's definitely an Iron Chef element to it," he says with a laugh, "with so many ingredients, mixed with questioning and curiosity."
Or as dean Ara Guzelimian puts it, "inside Damian beats the heart of a performing artist…and there's no question he's the producer in chief, as well."
To advance the cause of diversity Woetzel has introduced a partnership with Sphinx Performance Academy, which actively recruits and engages students from cultural backgrounds underrepresented in classical music. This coming summer, the two institutions will be partners in a summer intensive for string players, held at Juilliard, with hopes to expand into other disciplines in the future.
The ideas are big, the schedule packed, the ambitions overarching: "To my mind," Woetzel says, "Juilliard can be a vibrant, dynamic, creative, educational nirvana."
From Your Site Articles
Related Articles Around the Web
News
Oct. 22, 2019 05:27PM EST
Amber Star Merkens, Courtesy Mark Morris Dance Group
There's always been something larger than life about choreographer Mark Morris. Of course, there are the more than 150 works he's made and that incisive musicality that makes dance critics drool. But there's also his idiosyncratic, no-apologies-offered personality, and his biting, no-holds-barred wit. And, well, his plan to keep debuting new dances even after he's dead.
So it should come as little surprise that his latest distinction is also a bit larger than life: The New York Landmarks Conservancy is adding Morris to its list of "Living Landmarks."
Keep reading...
Show less
Left: Hurricane Harvey damage in Houston Ballet's Dance Lab; Courtesy Harlequin. Right: The Dance Lab pre-Harvey; Nic Lehoux, Courtesy Houston Ballet.
"The show must go on" may be a platitude we use to get through everything from costume malfunctions to stormy moods. But when it came to overcoming a literal hurricane, Houston Ballet was buoyed by this mantra to go from devastated to dancing in a matter of weeks—with the help of Harlequin Floors, Houston Ballet's longstanding partner who sprang into action to build new floors in record time.
Keep reading...
Show less
Martha Graham in Spectre-1914 from Martha Graham's Chronicle. Courtesy of Martha Graham Resources.
Paul Taylor's Post Meridian was last performed 30 years ago, which is well before any of the company's current dancers joined Paul Taylor Dance Company. In fact, it's before some of the dancers were even born. Every step and extreme angle of the body in the dream-like world of the 1965 work will be fine-tuned in the studio for PTDC's upcoming Lincoln Center season. However, the Taylor archive is where Post Meridian began for Eran Bugge.
Keep reading...
Show less
News
Oct. 22, 2019 10:55AM EST
Dinita Clark. Photo courtesy Cultural Counsel
Philadelphia's Pew Center for Arts & Heritage announced its 2019 grantees Monday evening, and the list included a couple of familiar names: Dinita Clark and David Gordon.

Keep reading...
Show less