It's Time to Stop Encouraging Dancers to Always Push Beyond Their Limits
Hamid Hamido/Unsplash
As a young dancer, I was taught that falling out of a relevé, even during class, was not an option. I was told to never, ever give up on it. "Die for it," my ballet master used to say.
I used to love, even dream, of being immersed in dance every day. But after 10 years of pushing myself beyond my limits as a full-time dancer, something started happening to me internally. My vision would get blurry, my body felt like I was spinning, and my ears would ring.
I did what I always did—I ignored the warning signs and pushed through it. I never wanted to look weak or incapable as a dancer, even if I was in a lot of pain. Even if I felt like I was going to pass out.
I began feeling this way every day. From what I can remember, that was when I started blacking out while I was dancing.
---
Is "die for it" really a smart message to send students?
Like so many dancers, I had grown up on stories of extreme perseverance, like the one about Anna Pavlova who had pneumonia and was told that she'd never be able to dance again if she had the surgery to fix it. My ballet master told me that Pavlova chose dance, saying, "If I can't dance, I'd rather be dead."
I understand the importance of commitment, and the usefulness of this story to illustrate that. But, "die for it," really?
I don't think commitment is what dancers are lacking. Every dancer I know is intensely devoted to their craft—commitment is not their issue. Their issue is how they treat themselves.
Pavlova's story is from the 1930s and almost 100 years later, we have a much deeper understanding of physical and mental health as it relates to dance. Does this anecdote still need to be part of our lore? What are the effects of telling this to 10-year-olds?
Instead, can we tell new stories to dancers that show them how to have a healthy relationship with themselves?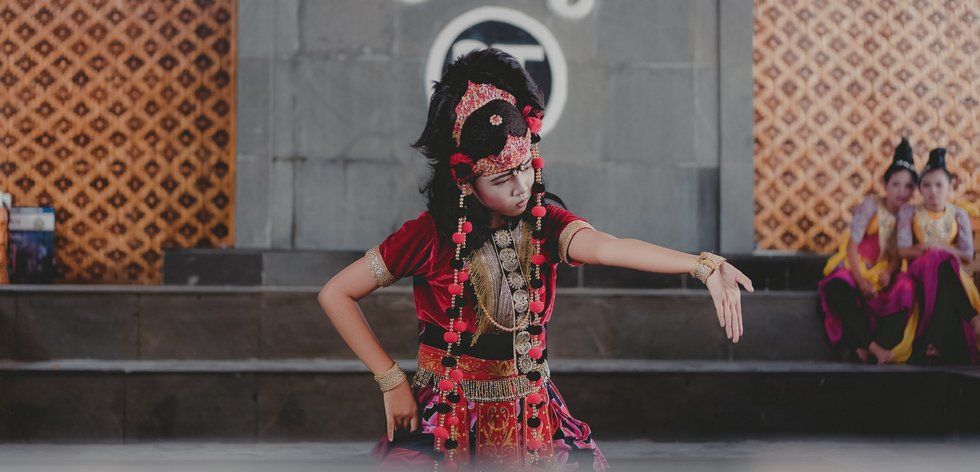 Ali Yahya/Unsplash
Dancers need to be taught to listen to themselves
Honestly, my relationship to my own needs as a dancer was either to put them away or to transcend them. I often ignored my pain in an effort to find this transcendence. I cared more about dance than I did about my own well-being. I actually had stopped listening to myself completely—instead, I drowned my body in pain killers, committed to an intense training regimen, and kept as busy as possible. It was as though I was avoiding myself.
It wasn't until I started blacking out that I realized something needed to change.
So I picked up a copy of Mindfulness for Dancers by Corinne Haas. The book teaches dancers how to create a positive relationship with themselves, by listening to themselves while dancing, and also before and after.
"Why is no one talking to dancers about this?" I wondered. I thought that, as a dancer, mindfulness was all about technique and artistry. The book showed me a new layer of mindfulness that is not covered in dance class: mindfulness with yourself.
I started to heal my relationship to myself through meditation, spirituality and learning how to rest.
Like so many dancers, the emphasis of my training was always external—executing a certain step, learning the choreography quickly, being able to match the other dancers so we were a cohesive group on stage. I had an "aha" moment during a Gaga improv intensive. The teacher kept asking us if we were listening to ourselves. She kept asking if we could listen first and move from that place.
I remember feeling stumped, but saying to myself, "It's okay to try this. Nobody is going to care or notice if I don't move perfectly. I took this training to learn something new. Why not try to listen first?"
I spent that entire week teaching myself how to turn off the inner critic and turn up the volume on my inner voice. This shift made me move in a completely different way—I stopped pushing and stopped trying to impress others. As I listened, dancing felt like a meditation. I was actually more connected and more capable as a dancer. My anxiety started to go away and dance became a sustainable, spiritual practice.
It's time that dance as a field begins to shift its focus to creating healthy dance artists. Developing a positive relationship and being in constant dialogue with yourself as you train are key components to evolving into a healthy, mature dancer.
Looking back, I didn't have to push through the overstimulation or the pain to be an exceptional dancer. I didn't have to die for it. I only had to love dance and love myself at the same time.
From Your Site Articles
Related Articles Around the Web
Chantelle Pianetta competing at a West Coast swing event. Courtesy Pianetta.
Just hearing the word "improvisation" is enough to make some ballet dancers shake in their pointe shoes. But for Chantelle Pianetta, it's a practice she relishes. Depending on the weekend, you might find her gracing Bay Area stages as a principal with Menlowe Ballet or sweeping in awards at West Coast swing competitions.

She specializes in Jack and Jill events, which involve improvised swing dancing with an unexpected partner in front of a panel of judges. (Check her out in action below.) While sustaining her ballet career, over the past four years Pianetta has quickly risen from novice to champion level on the WCS international competition circuit.
Keep reading...
Show less
Jayme Thornton
Sean Dorsey was always going to be an activist. Growing up in a politically engaged, progressive family in Vancouver, British Columbia, "it was my heart's desire to create change in the world," he says. Far less certain was his future as a dancer.
Like many dancers, Dorsey fell in love with movement as a toddler. However, he didn't identify strongly with any particular gender growing up. Dorsey, who now identifies as trans, says, "I didn't see a single person like me anywhere in the modern dance world." The lack of trans role models and teachers, let alone all-gender studio facilities where he could feel safe and welcome, "meant that even in my wildest dreams, there was no room for that possibility."
Keep reading...
Show less
Getty Images
It's hour three of an intense rehearsal, you're feeling mentally foggy and exhausted, and your stomach hurts. Did you know the culprit could be something as simple as dehydration?
Proper hydration helps maintain physical and mental function while you're dancing, and keeps your energy levels high. But with so many products on the market promising to help you rehydrate more effectively, how do you know when it's time to reach for more than water?
Keep reading...
Show less
James Beaudreau, Courtesy Roberto Lara
Inside a bustling television studio in Los Angeles, Lindsay Arnold Cusick hears the words "Five minutes to showtime." While dancers and celebrities covered head to toe in sequins whirl around preparing for their live performances on "Dancing with the Stars," Cusick pauses to say a prayer to God and express her gratitude.
"I know that it's not a given, and I'm grateful for the opportunity to do what I love for a living," says Cusick, a member of The Church of Jesus Christ of Latter-day Saints. For her, prayer is a ritualized expression of her faith that she has maintained since she was a girl in Provo, Utah. Even with her seven-plus years of industry experience, she always takes a moment to steady herself and close her prayer in Christ's name before rushing onto the stage.
Keep reading...
Show less