Sonya Tayeh Is Done Proving Herself, But Never Done Growing
Jayme Thornton
When Sonya Tayeh saw Moulin Rouge! for the first time, on opening night at a movie theater in Detroit, she remembers not only being inspired by the story, but noticing the way it was filmed.
"What struck me the most was the pace, and the erratic feeling it had," she says. The camera's quick shifts and angles reminded her of bodies in motion. "I was like, 'What is this movie? This is so insane and marvelous and excessive,' " she says. "And excessive is I think how I approach dance. I enjoy the challenge of swiftness, and the pushing of the body. I love piling on a lot of vocabulary and seeing what comes out."
---
Flash forward to a couple years ago, when director Alex Timbers hired her to choreograph Moulin Rouge! The Musical, drawn to exactly that sensibility. "What's unique about Moulin Rouge! is that it's a genre hybrid," he says. "The show wants someone who can bring the worlds of Broadway, pop spectacle and really inventive storytelling all together, and she can mold all of those."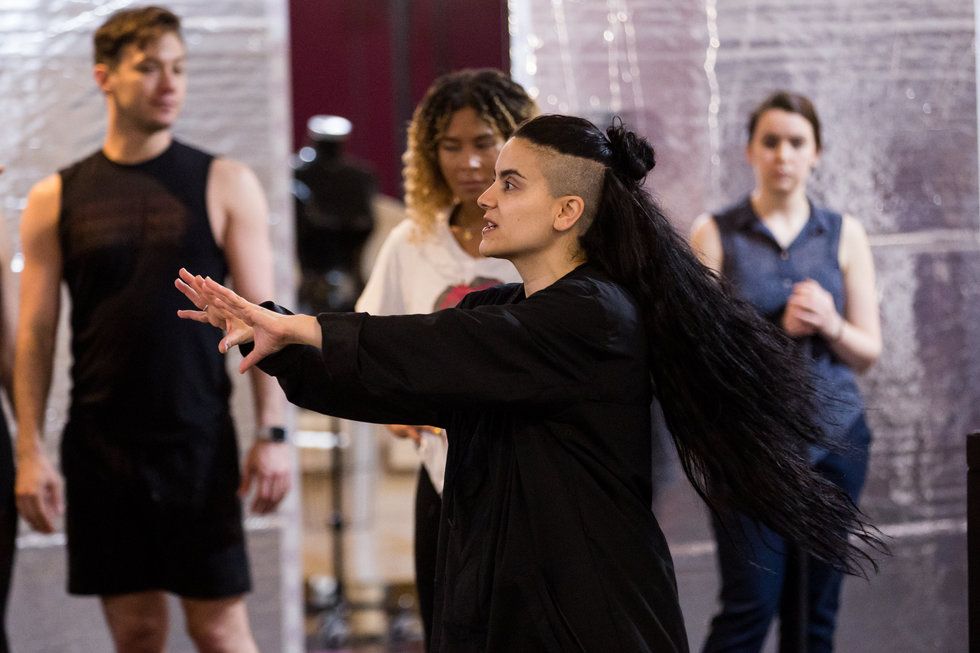 Leading rehearsal for Moulin Rouge! The Musical
Matthew Murphy, courtesy Moulin Rouge!
Tayeh's ability to travel seamlessly through so many movement worlds is part of what's made her so successful in a wide range of projects. Since her work on "So You Think You Can Dance" put her on the map, garnering her two Emmy nominations, Tayeh has been commissioned for concert dance troupes like Malpaso Dance Company and Martha Graham Dance Company; choreographed for pop stars like Miley Cyrus and Florence + the Machine; presented her own full-length work at Jacob's Pillow; and created movement for off-Broadway plays and musicals. And now with Moulin Rouge!, she makes her Broadway debut.
Tayeh has a presence that radiates warmth. Timbers calls her "one of the most collaborative people I've ever worked with, and ultimately the kindest." When she talks about her work, it's hard not to get as excited about it as she is, or to resist sharing the curiosity and wonder with which she seems to approach the world. New York City is "this beautiful globe of ideas, just simmering, waiting to be cracked open." Dance is "a crazy, beautiful obsession. It's so amazing to be able to walk into a room with loose clothing on, feel your bare feet on the floor, press play or not, and move your body around."
Tayeh often operates by instinct, feeling out when an opportunity is right. "There's a whisper in my mind that says 'This isn't the one,' or 'Not yet,' " she says. Though Broadway had been a dream for a while, it was Moulin Rouge! that finally felt like the right match.
Just as she's reluctant to define herself by one style, Tayeh hesitates to break down the show's choreography into exact vocabularies, though she hints at certain dances that make sense for the period, like cancan and tango.
Her trademark excess is there too: "Excess, athleticism, high physicality, high octane—driving, driving, driving," she says.
As in life, she takes an instinctual approach in the studio, encouraging her dancers to stay present and talking frequently with them about the emotional intent behind the movement. "Sonya has a way of pushing you beyond what you think you are capable of, not only individually but as a whole ensemble," says Brandt Martinez, an ensemble member in Moulin Rouge! "She's a risk-taker, always tries the impossible first and most of the time achieves it."
Janet Eilber, who commissioned Tayeh for the Graham company's Lamentation Variations project, remembers being struck by her process. "It was recognizing in her what I have seen in some of the greatest artists I've worked with, including Martha Graham, Bob Fosse, Agnes de Mille and Lucinda Childs," she says. "It's about specificity and detail. It was her eye to know what she wanted and to draw it out of my dancers."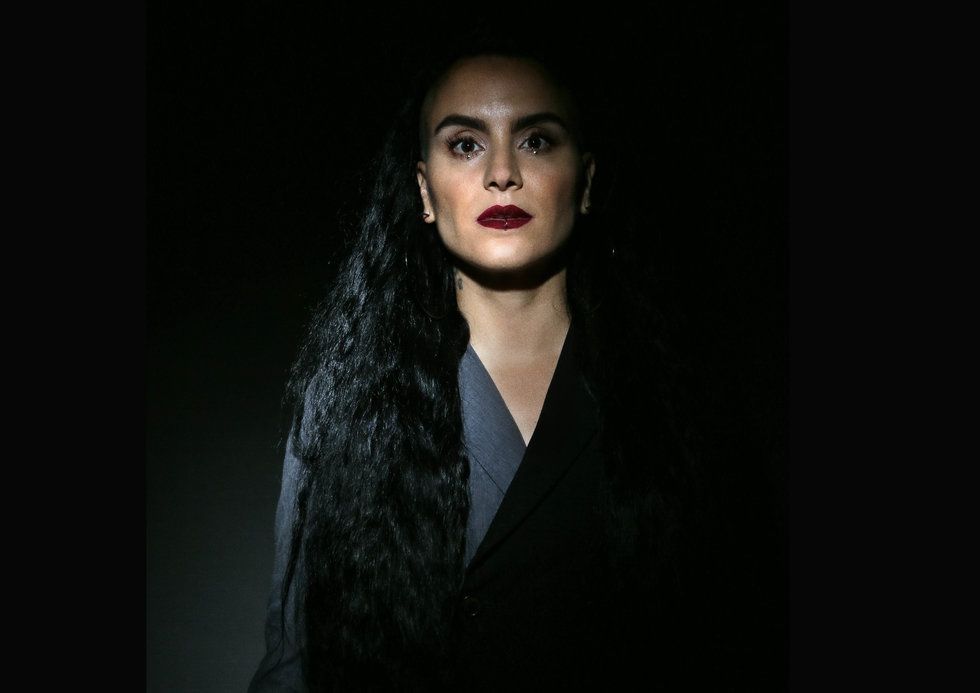 Jayme Thornton
Born in Brooklyn and raised in Detroit, Tayeh got her start in the city's underground dance scene, honing her natural movement style to the beat of techno and house music in clubs. Those experiences informed the way she still approaches dancemaking—process-oriented, improvisational, experimental—regardless of the project. "Those big speakers, those dark rooms and sweaty bodies are a constant inspiration in my work," she says.
From the beginning, she knew she wanted to be the one making the dances. At Wayne State University, where she got her BFA, she met professors who were creating choreographic styles of their own, and who encouraged her to do the same. Tayeh was 31 when she got hired by "So You Think You Can Dance," and she credits the show with shifting her life. "That was an incredible experience, and it taught me to trust my instincts because that process is so fast," she says.
But as "So You Think" started to lead to other opportunities, Tayeh also found herself up against assumptions about her ability to produce longer works.
"People want to put you in a box and say 'You're this' or 'You're that,' " she says. "To deny me growth is just offensive. I have more to say, so let me say it." Despite any doubts, she was getting theater and concert dance opportunities and choreographing full-length works.
In moments of difficulty, she turned to mentors like Eilber, theater director Anne Kauffman and Jacob's Pillow director Pamela Tatge. She also looked to heroes like Martha Graham, Twyla Tharp, Jerome Robbins and Björk. What inspires her about them is not only the work they've made, but the way they've made it: through expressing their individuality and having the drive to keep getting up and doing the work.
"I can't control anyone's thoughts or feelings, especially strangers'," Tayeh says. "What I can control are my dreams and how I want my life written. And so I just do. If I'm worrying about a critique or response, I'm done. I'm dead. I'm doing it to appease, and you can smell it."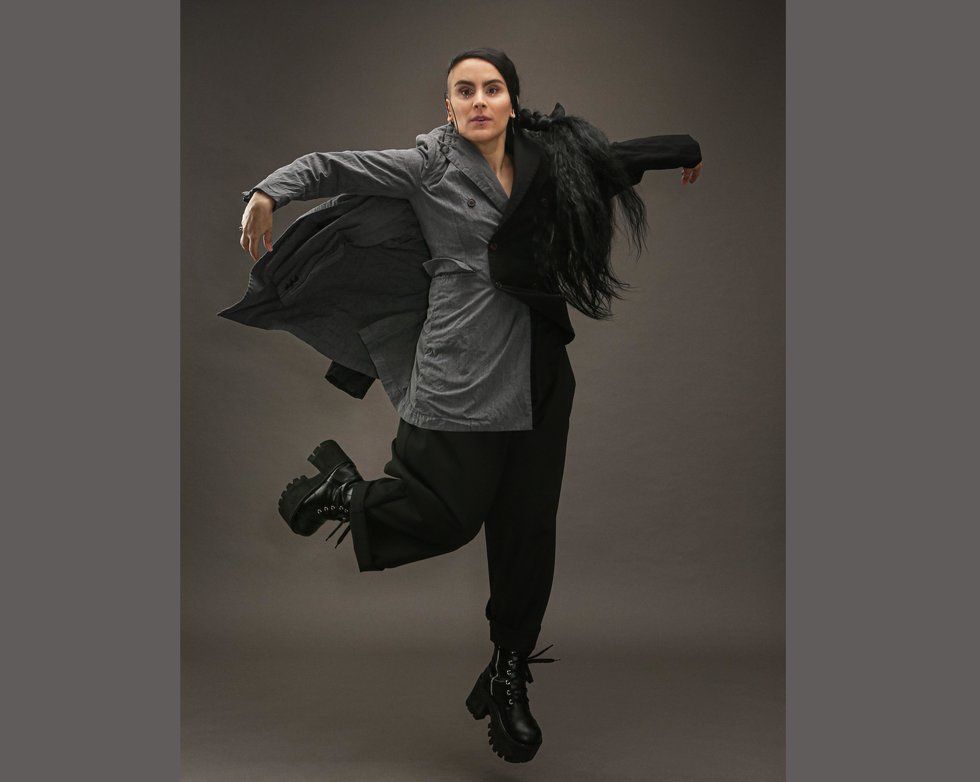 Jayme Thornton
Moving to New York was never about trying to leave "So You Think" behind, but if each piece on the show was like the beginning of an idea, Tayeh longed to spend more time letting those seeds germinate. Until deciding to move six years ago, she had mostly worked within shorter timelines, choreographing for concerts or awards shows.
"I was craving more of a collaboration, more people in the room with me—writers, directors, designers," she says. "I felt like my body and my artistic mind deserved more time in a process."
With more new projects on the horizon, Tayeh is continuing to explore, to learn and stretch and grow. "I don't have one set dream," she says. "I hope that I'm asked for the rest of my life to do projects with people that have ambition and discipline and a really big imagination."
On a recent trip to Barcelona, she immersed herself in the city's art, and saw work by the likes of Picasso, Dalí and Gaudí. "I came out of every single museum weeping," she says, "solely because I saw their work from when they were a child to when they passed, and it was an array of ideas. They weren't the same when they were 8. I was like, 'Thank you. I thought I knew this, but now, walking through this beautifully curated path of your life, I get it. Noted.' "
She laughs, ready to apply that lesson to her own creative life. "Get out of my way!"
From Your Site Articles
Related Articles Around the Web
News
Sep. 19, 2019 12:46PM EST
Alice Pennefather, Courtesy ROH
You ever just wish that Kenneth MacMillan's iconic production of Romeo and Juliet could have a beautiful love child with the 1968 film starring Olivia Hussey? (No, not Baz Luhrmann's version. We are purists here.)
Wish granted: Today, the trailer for a new film called Romeo and Juliet: Beyond Words was released, featuring MacMillan's choreography and with what looks like all the cinematic glamour we could ever dream of:
Keep reading...
Show less
News
Sep. 19, 2019 11:54AM EST
Touch tour for English National Ballet's Giselle by Akram Khan at the Aotea Centre in Auckland, New Zealand. Photo by Studio Pono, Courtesy ENB
While you might think of dance as a primarily visual art form, performances engage us on multiple levels. Our ears take in the score, the artists' breathing patterns, fellow audience members' reactions, and the physical percussion made by the dancers' footfalls and partnering. All of this information is available to audience members with limited to no vision, and when it comes to providing them with the rest, there are multiple approaches being refined by experts in the field generally referred to as "audience accessibility."
Keep reading...
Show less
The USC Kaufman graduating class with Mikhail Baryshnikov. Gus Ruelas/USC
Just four years ago, the University of Southern California's Glorya Kaufman School of Dance welcomed its first class of BFA students. The program—which boasts world-class faculty and a revolutionary approach to training focused on collaboration and hybridity—immediately established itself as one of the country's most prestigious and most innovative.
Now, the first graduating class is entering the dance field. Here, six of the 33 graduates share what they're doing post-grad, what made their experience at USC Kaufman so meaningful and how it prepared them for their next steps:
Keep reading...
Show less
Audrey Rachelle recommends not drawing on personal experience when performing difficult roles. Aeric Meredith-Goujon, Courtesy Rachelle
Even though it's been a year since he took his last bow in the piece, Kidd Pivot dancer Jermaine Maurice Spivey still feels the aftermath of touring in Crystal Pite and Jonathon Young's Betroffenheit. The harrowing piece chronicles Young's own journey through tragedy, with dancers embodying his grief, trauma, guilt, addiction, euphoria and glee. "We endured an emotional negotiation each night because of how much the show cost. It was a weird kind of dread, because you wanted to pay the full cost. Otherwise you couldn't do the show justice."
Dance psychologist JoAnne La Fleche says there's little research on the emotional fallout from challenging performances like Betroffenheit, but dancers with poor self-care may be at risk of developing secondhand trauma or PTSD-like symptoms. These can range from fatigue, anxiety and depression to flashbacks and panic episodes.
Keep reading...
Show less