How This San Francisco Ballet Dancer Became An Instagram Foodie Star
Natasha Sheehan is a perfectionist when it comes to her technique or getting the ideal shot of her food. Photo by Quinn Wharton
"Whatever I'm into, whether it's ballet or healthy food," says Natasha Sheehan, "I'll research anything and everything about it."
That curiosity has led the San Francisco Ballet corps member, 19, to develop a sideline as an Instagram foodie star and food blogger. Sheehan shares recipes and photos of her beautifully styled meals, along with behind-the-scenes ballet insights, with her more than 44,000 followers.
---
"For food photography, natural light is best," says Sheehan. Styling a dish and setting up the shot can sometimes take a very long time, she admits. "As a ballet dancer, being a perfectionist, I try to make the food look as perfect as possible."
A devotee of Dr. Mark Hyman's pegan diet, which combines elements of paleo and vegan plans, she focuses on whole, unprocessed ingredients like organic fruits and vegetables, healthy fats, and high-quality proteins like chicken and fish. "I've found that eating food in its natural state makes me feel my best, so I've stuck with that," says Sheehan, who hopes to become a nutritionist after her dance career.
She shared one of her favorite recipes with Dance Magazine:
Vegan Spinach Walnut Pesto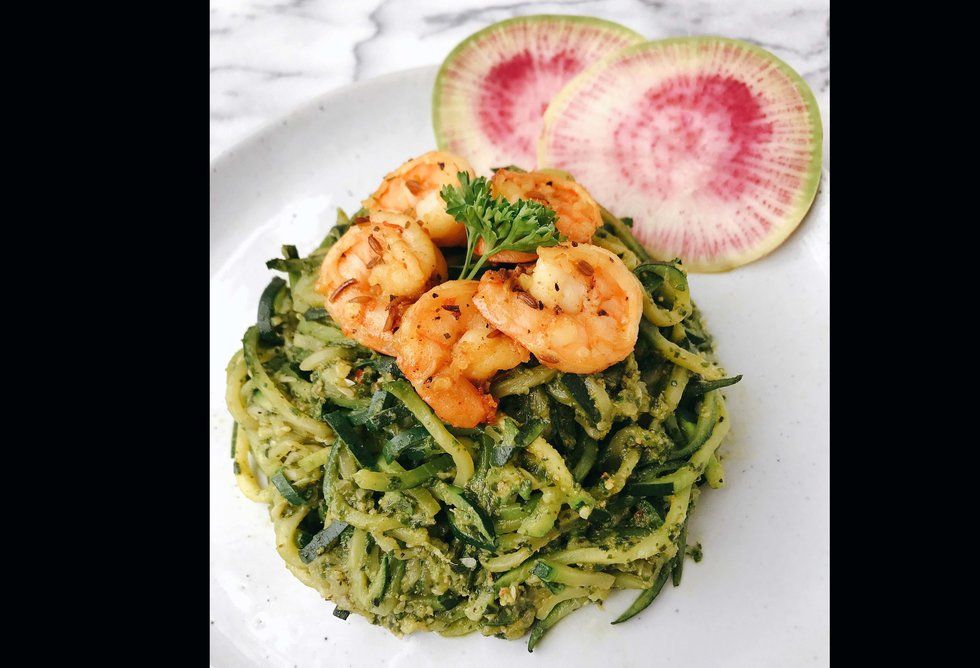 Sheehan loves making this pesto to put on zoodles (zucchini "noodles"), salads or roasted vegetables, or to dip raw vegetables in to snack on.
Ingredients:
1/2 cup walnuts
4 cups fresh basil
2 cups spinach
1/3 cup apple cider vinaigrette (olive oil, lemon juice, apple cider vinegar, garlic, Himalayan pink salt)
zest from 1/2 lemon
salt and black pepper to taste
Instructions:
Add all ingredients to a food processor and process until smooth.
Add lemon juice, salt and pepper to taste. If you prefer your pesto to be more thinned out, add either extra olive oil, lemon juice or water.
For more on Sheehan's daily diet, how she solved her recurring digestive issues and her homemade energy ball recipe, pick up a copy of Dance Magazine's August issue.
From Your Site Articles
Related Articles Around the Web
Michelle Dorrance. Photo by Jayme Thornton
What do Percy Jackson, Princess Diana and Tina Turner have in common? They're all characters on Broadway this season. Throw in Michelle Dorrance's choreographic debut, Henry VIII's six diva-licious wives and the 1990s angst of Alanis Morissette, and the 2019–20 season is shaping up to be an exciting mix of past-meets-pop-culture-present.
Here's a look at the musicals hitting Broadway in the coming months. We're biding our time until opening night!

Keep reading...
Show less
UA Dance Ensemble members Candice Barth and Gregory Taylor in Jessica Lang's "Among the Stars." Photo by Ed Flores, courtesy University of Arizona
If you think becoming a trainee or apprentice is the only path to gaining experience in a dance company environment, think again.
The University of Arizona, located in the heart of Tucson, acclimates dancers to the pace and rigor of company life while offering all the academic opportunities of a globally-ranked university. If you're looking to get a head-start on your professional dance career—or to just have a college experience that balances company-level training and repertory with rigorous academics—the University of Arizona's undergraduate and graduate programs have myriad opportunites to offer:
Keep reading...
Show less
Alice Sheppard/Kinetic Light in DESCENT, which our readers chose as last year's "Most Moving Performance." Photo by Jay Newman, courtesy Kinetic Light
Yes, we realize it's only August. But we can't help but to already be musing about all the incredible dance happenings of 2019.
We're getting ready for our annual Readers' Choice feature, and we want to hear from you about the shows you can't stop thinking about, the dance videos that blew your mind and the artists you discovered this year who everyone should know about.
Keep reading...
Show less
Getty Images
Ah, stretching. It seems so simple, and is yet so complicated.
For example: You don't want to overstretch, but you're not going to see results if you don't stretch enough. You want to focus on areas where you're tight, but you also can't neglect other areas or else you'll be imbalanced. You were taught to hold static stretches growing up, but now everyone is telling you never to hold a stretch longer than a few seconds?
Considering how important stretching correctly is for dancers, it's easy to get confused or overwhelmed. So we came up with 10 common stretching scenarios, and gave you the expert low-down.
Keep reading...
Show less