What It Takes To Make Dances On Sanitation Workers, Power Lineman & Food Service Employees
Orr at a rehearsal of Power Up. Photo by Nancy Mims, courtesy Forklift Danceworks
Austin renegade Allison Orr doesn't use traditional performers. With her Forklift Danceworks, she has created dances featuring everyone from sanitation workers (The Trash Project) to power linemen (PowerUP), urban forestry department members (The Trees of Govalle) and food service employees (Served).
Orr has a BA in anthropology and calls her process "ethnographic choreography." Using the movements of everyday workers, she crafts large-scale extravaganzas that have included more than 75 performers (and sometimes trucks), audiences of 2,000, and a deep research process that may involve her learning how to scale a power-line distribution pole or riding with a sanitation worker at 4 am.
---
She recently spoke to Dance Magazine about her unique creative process.
Her Research Process Includes 50-100 Interviews
"When I start a new piece, I listen for the story the workers want told. What do they want people to know about what they do? I usually do about 50 to 100 interviews. Then I watch people doing their expert movement, looking for that seed of a kernel."
"For a first meeting on site, I might bring breakfast tacos. Usually there's an all-staff meeting where I am introduced. Then I start job shadowing, working alongside them when I can. The things I can do I will do, like in Served, I worked the cafeteria line."
How She Gets Non-Dancers To Agree To Perform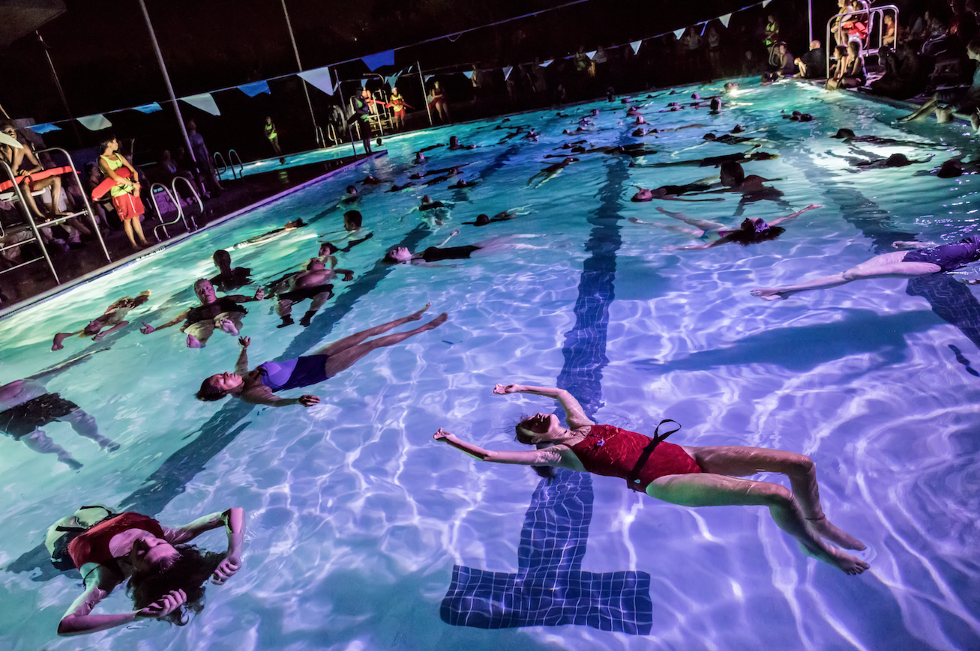 Bartholomew Swims is part of a three-year residency with City of Austin Parks & Recreation Department Aquatics Division. Photo by Jonica Moore Studio, courtesy Forklift.
"We don't actually get people to agree to perform until very late in the process. I usually don't ask for what we want until that person is likely to say yes. We put out a question, like 'How do you cook an omelet in three minutes or less?' and they start choreographing it. Then they want to be in it, because they are the ones who can do it."
Her Phrases Grow Out Of The Workers' Expert Movements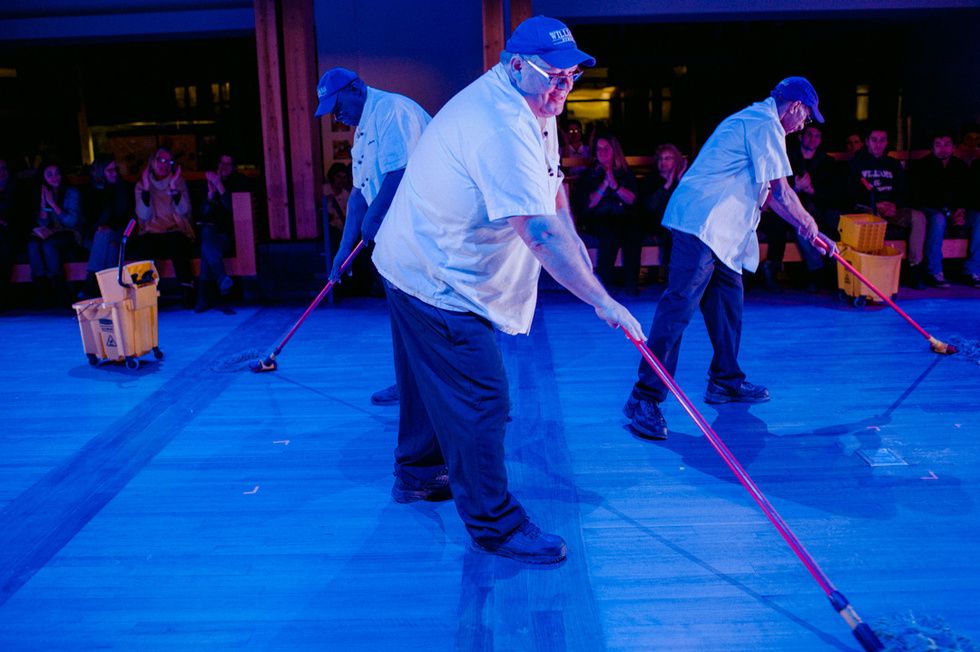 The cast of Served performing a phrase based on five movements of mopping. Photo by Amitava Sarkar, courtesy Forklift
"For the actual piece we organize sequences based on their movements, expanding it in space and time. For Served I watched one gentleman mop the floor and observed five different movements he does, including this beautiful turn. We got together and created a canon."
The Projects Offer Unexpected Benefits For The Performers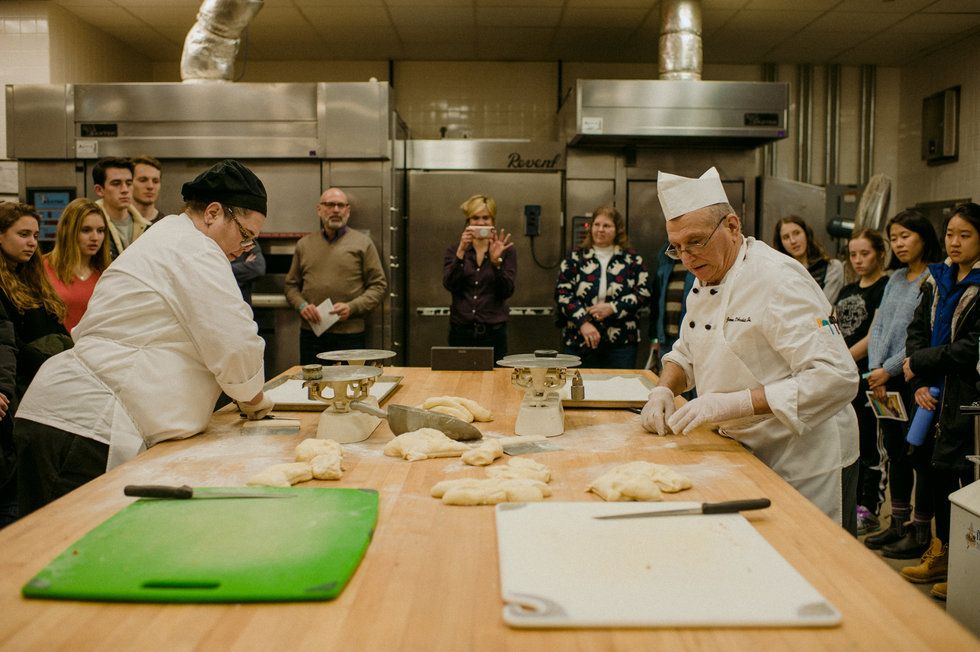 Bakers/performers in Served. Photo by Leon Alesi, courtesy Forklift Danceworks.
"Because participants are asked to collaborate across different work groups to make the dance together, they build trust with people they might have worked with for years but never had the chance to really get to know."
"The act of performing changes how collaborators see themselves. Being witnessed in one's everyday work, particularly doing what might be thought of as mundane or ordinary, is transformational."
The Work Can Change How a Community Understands These Workers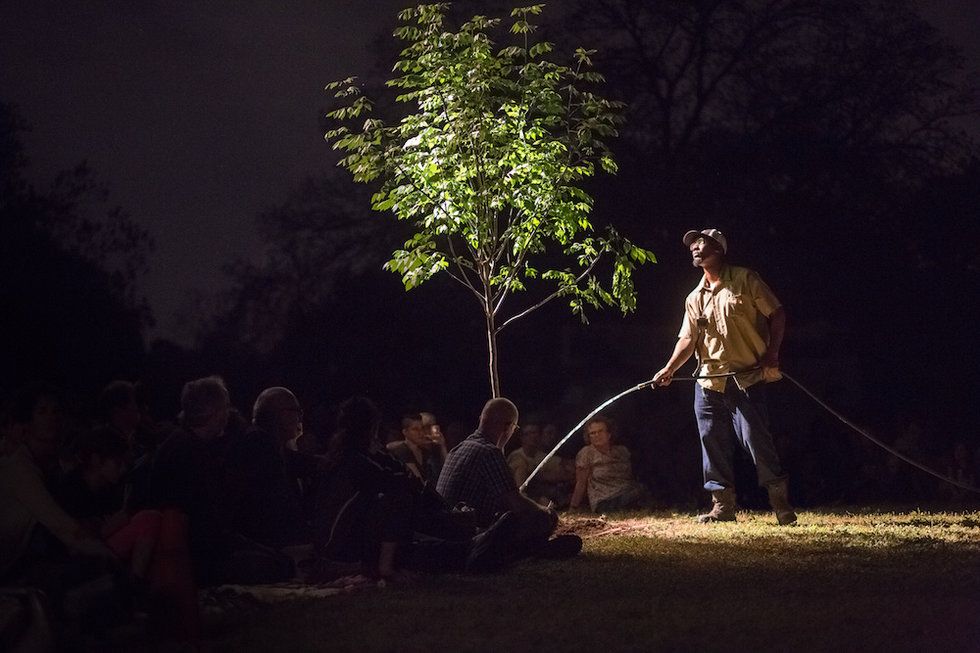 A worker from Austin's Urban Forestry Division in The Trees of Govanelle. Photo by Jonica Moore, courtesy Forklift Danceworks.
"Audiences come away with an entirely new understanding of the work. After our shows, audiences will linger for a long time collecting autographs from performers and just sharing their appreciations."
"I've had performers' wives say to me, 'I finally understand what my husband does every day.' "
"People want to know the people and stories behind the work that keeps our cities functioning. We really are desperate for connection. The process of collaborative dancemaking offers this in such magical ways."
Alicia Alonso with Igor Youskevitch. Sedge Leblang, Courtesy Dance Magazine Archives.
Her Dying Swan was as fragile as her Juliet was rebellious; her Odile, scheming, her Swanilda, insouciant. Her Belle was joyous, and her Carmen, both brooding and full-blooded. But there was one role in particular that prompted dance critic Arnold Haskell to ask, "How do you interpret Giselle when you are Giselle?"
At eight, Alicia Alonso took her first ballet class on a stage in her native Cuba, wearing street clothes. Fifteen years later, put in for an ailing Alicia Markova in a performance of Giselle with Ballet Theatre, she staked her claim to that title role.
Alonso received recognition throughout the world for her flawless technique and her ability to become one with the characters she danced, even after she became nearly blind. After a career in New York, she and her then husband Fernando Alonso established the Cuban National Ballet and the Cuban National Ballet School, both of which grew into major international dance powerhouses and beloved institutions in their home country. On October 17, the company announced that, after leading the company for a remarkable 71 years, Alonso died from cardiovascular disease at the age of 98.
Keep reading...
Show less
News
Oct. 17, 2019 02:02PM EST
Rauf "RubberlLegz" Yasit and Parvaneh Scharafali. Photo by Mohamed Sadek, courtesy The Shed
William Forsythe is bringing his multi-faceted genius to New York City in stripped down form. His "Quiet Evening of Dance," a mix of new and recycled work now at The Shed until October 25, is co-commissioned with Sadler's Wells in London (and a slew of European presenters).
As always, Forsythe's choreography is a layered experience, both kinetic and intellectual. This North American premiere prompted many thoughts, which I whittled down to seven.
Keep reading...
Show less
News
Oct. 17, 2019 01:39PM EST
Courtesy NBC
"Law & Order: SVU" has dominated the crime show genre for 21 seasons with its famous "ripped from the headlines" strategy of taking plot inspiration from real-life crimes.
So viewers would be forgiven for assuming that the new storyline following the son of Mariska Hargitay's character into dance class originated in the news cycle. After all, the mainstream media widely covered the reaction to Lara Spencer's faux pas on "Good Morning America" in August, when she made fun of Prince George for taking ballet class.
But it turns out, the storyline was actually the idea of the 9-year-old actor, Ryan Buggle, who plays Hargitay's son. And he came up with it before Spencer ever giggled at the word ballet.
Keep reading...
Show less