Popular
Sep. 12, 2017 08:05AM EST
Why Pina Was an Inspiration Like No Other
Peggy Jarell Kaplan, Courtesy BAM
In 1984, New York was introduced to a choreographer who would influence generations of dance artists: Pina Bausch. Tanztheater Wuppertal stunned audiences at Brooklyn Academy of Music in performances of Bausch's now-iconic Café Müller and The Rite of Spring.
Since that groundbreaking premiere, Bausch has been revered as a genius, a trailblazer, a game changer in the dance world. And starting this Thursday, Bausch devotees will make a pilgrimage back to Brooklyn Academy of Music where Tanztheater Wuppertal reprises its historic debut program. To celebrate the occasion, BAM shared some archival photos of the choreographer and her work with Dance Magazine, and we reached out to several of today's choreographers and dancers about how Bausch inspired their own life's work.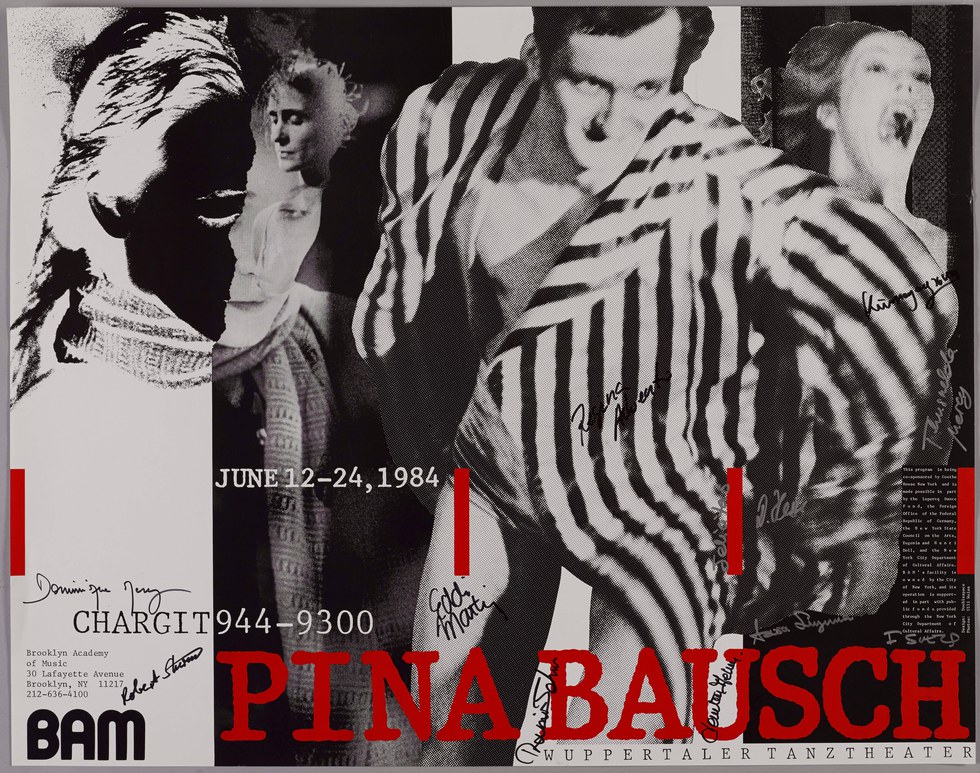 Poster signed by the company for the Tanztheater Wuppertal Pina Bausch self-titled production during BAM Spring Series, 1984
---
"As a young choreographer in 1984, I saw Café Müller on my first visit to BAM. I was intoxicated by Bausch's use of dance in relation to costume, sexuality, relationship, scenario and character. This work was a revelation—a decidedly European perspective on dance, from an entirely different family tree than the downtown dance scene of the time." —Annie-B Parsons, co-director of Big Dance Theater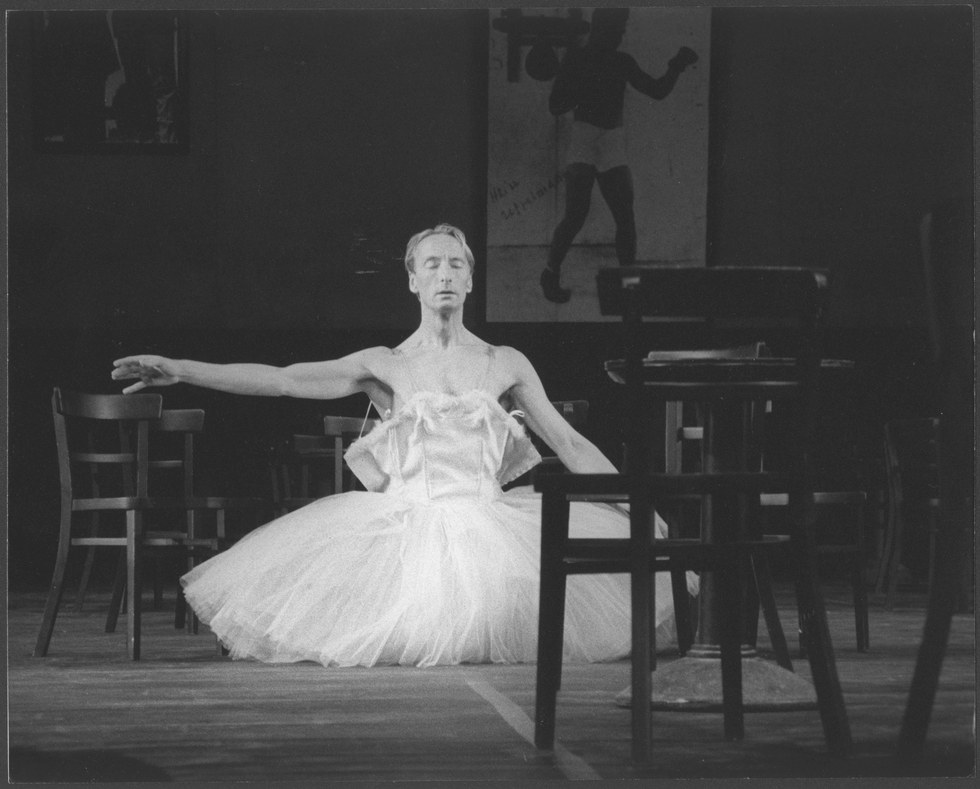 Dominique Mercy in Palermo Palermo at BAM. Photo by Martha Swope, courtesy BAM.
"When I began choreographing, Café Müller and Rite of Spring acted as encyclopedias while I researched my own movement. She encouraged me to not shy away from repetition. And I love that she used formal wear in her works! That she would put a dancer in an evening gown, then mess it all up by having the dancer move through water or a dirt floor, is just jaw dropping." —Maya Taylor, New Orleans based choreographer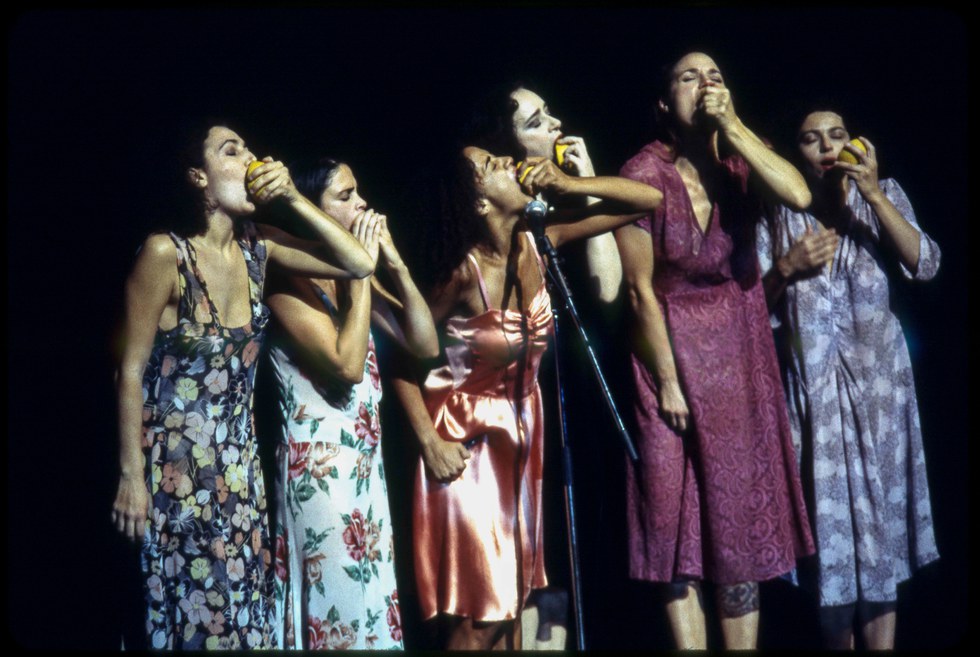 Scene from Tanztheater Wuppertal Pina Bausch in Danzón at BAM Next Wave Festival, 1999. Photo by Dan Rest, Courtesy BAM.
"Pina's commitment inspires me. Her courage to be and do 'Pina', to create and share a kind of work that had not been done before, has forever inspired me to listen to my own intuition. I had the pleasure of meeting her twice, sharing my work with her in studio. These moments were, to say the least, very moving." —Aszure Barton, artistic director of Aszure Barton & Artists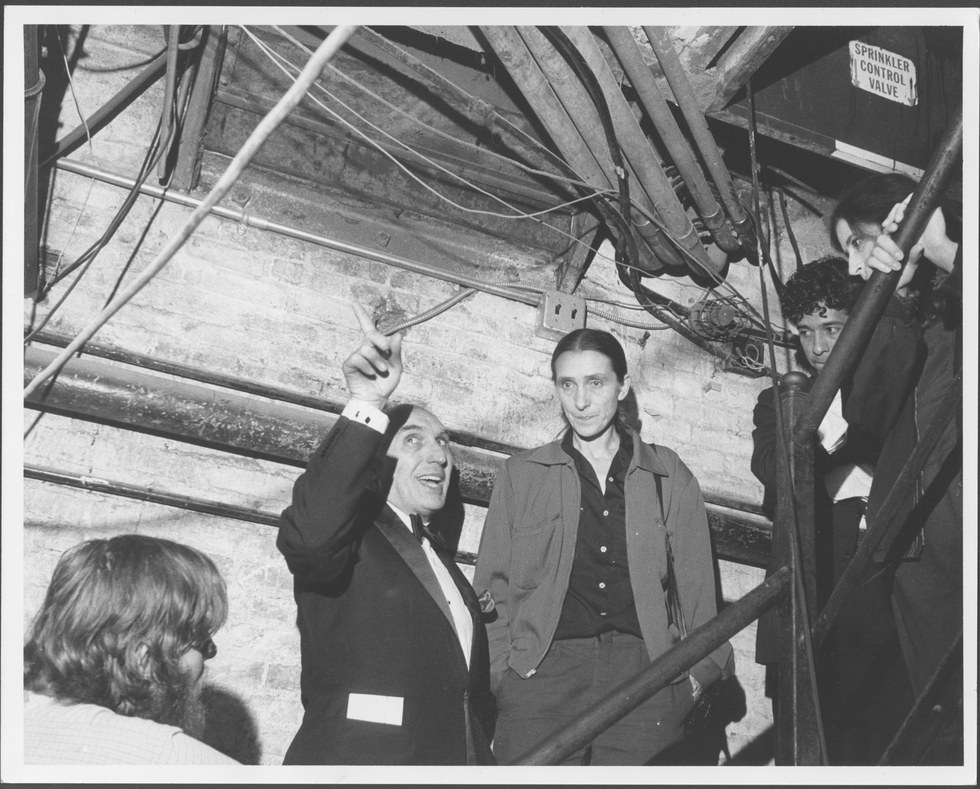 Former BAM president and executive producer Harvey Lichtenstein and Pina Bausch, 1985. Photo by Johan Elbers, courtesy BAM
"I was stunned by Cafe Müller when it first came to BAM—it has lived in my mind ever since as mental furniture and recurring inspiration. Dance has never stopped feeling its impact." —Susan Marshall, artistic director of Susan Marshall & Company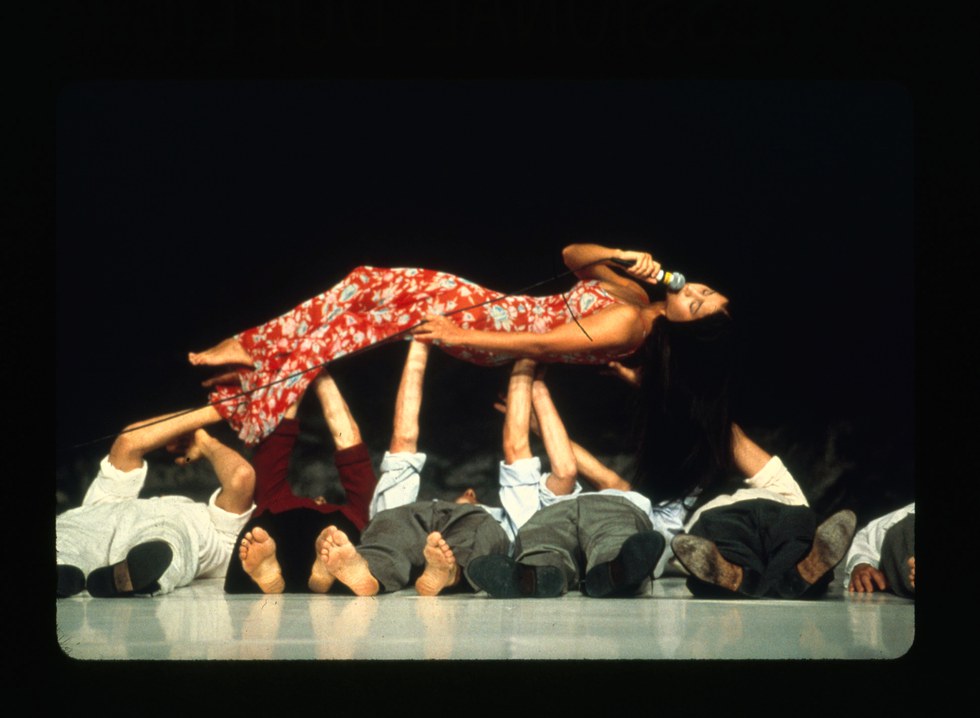 Ruth Amarante in Basuch's Masurca Fogo during BAM Next Wave Festival, 2001. Photo by Michael Rayner, courtesy BAM
"Pina could relay experience without being heavy handed, there is a universalism in her work that I strive for. I'm inspired by her ability to tie humor so closely to sadness and darkness. I've only seen it on film, but Rite of Spring just totally blew my mind! It still lives in me as a choreographer. I also value how long her dancers worked with her, my dream is to provide that kind of career for artists I work with; I love seeing the diversity of age. And being a woman choreographer, seeing Pina's career makes me feel like, 'Yeah, I can do this!' " —Andrea Miller, artistic director of Gallim Dance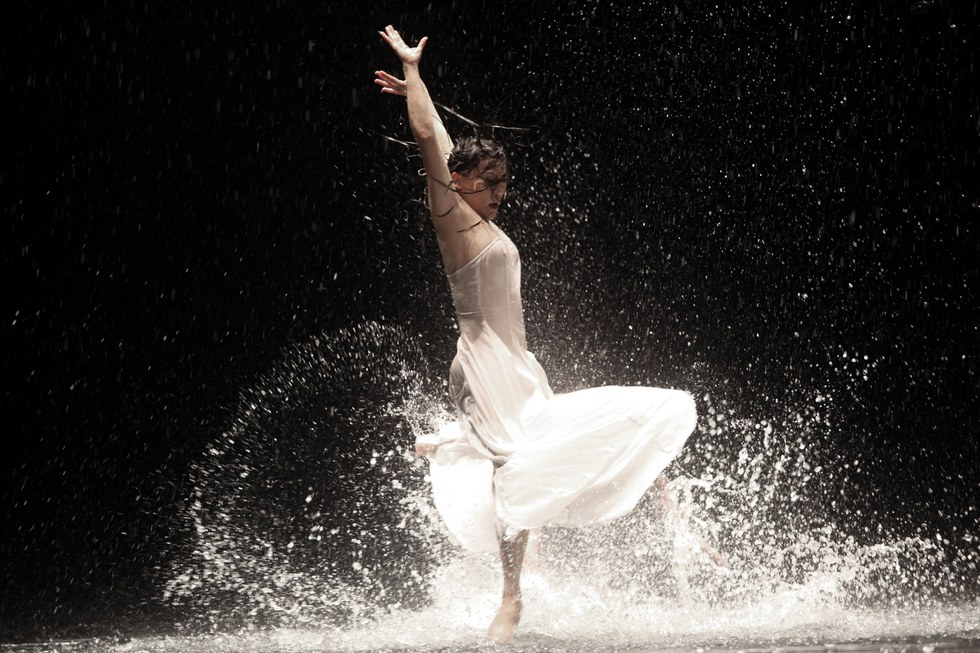 Azusa Seyama in Bausch's Vollmond at BAM Next Wave Festival, 2010. Photo by Julieta Cervantes, courtesy BAM
"Pina stripped away anything that causes a pattern—gender, race, sexuality, age—leaving it at its most raw essential. Within my work with the Graham Company, I relate to the naturalistic vibe that both Martha and Pina create, putting water, dirt, rocks on stage. In my own work, I seem to always have women in dresses—maybe an unconscious connection to Pina!" —Natasha Diamond-Walker, soloist with Martha Graham Company and freelance actor/model/choreographer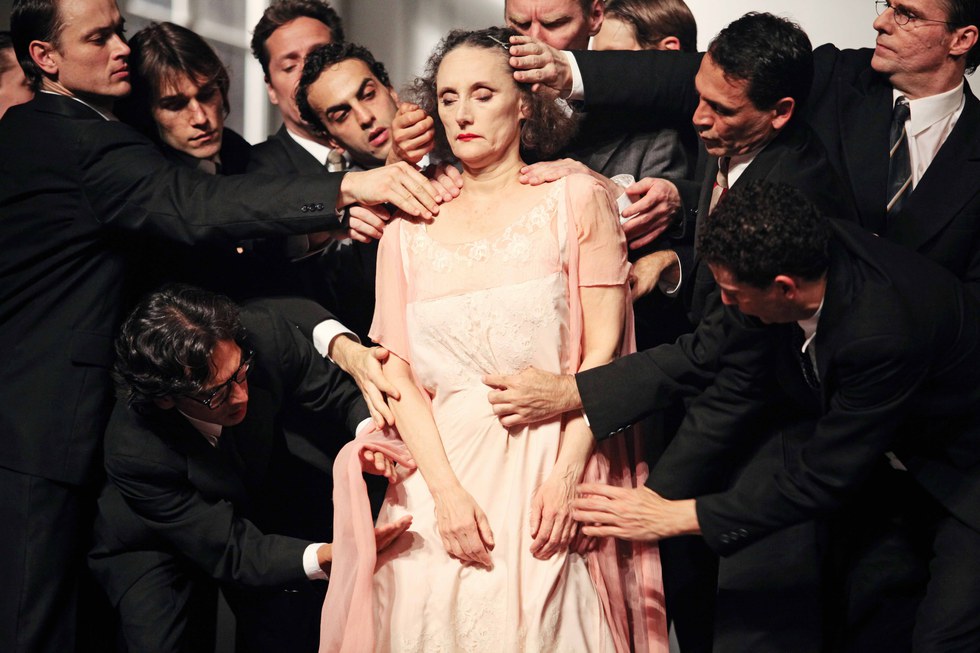 Nazareth Panadero (center) in Bausch's Kontakthof during BAM Next Wave Festival, 2014. Photo by Julieta Cervantes, courtesy BAM.
"I got to see Pina's work live while living in Germany. 1980 was always one of my favorites—it was life! Beauty, humor, profanity residing in the same moment, as it does. She inspired me to make works grounded in humanity, not needing to focus only on harmony. To look for new ideas. To not find a formula. To remember how funny life is, and how the foibles in all of us make us beautiful beings." —Helen Pickett, choreographer
Dance in Pop Culture
May. 25, 2018 01:48PM EST
Ne-Yo, Jennifer Lopez and Derek Hough return to "World of Dance" on May 29
Season 2 of World of Dance is almost here! The new season officially kicks off on Tuesday on NBC, and it's bringing a whole new crew of talented dancers with it (plus, some old favorites). Dance pro judges Jennifer Lopez, Derek Hough and Ne-Yo are back, too, with Jenna Dewan serving as the show's host.
Obviously we'll be watching, but just in case you're not completely sold, here's why you're not going to want to miss out:
JLo Might Be Performing
Earlier this week, JLo (who serves as the show's executive producer) posted this insane promo clip to her Instagram. Dancing to a mashup of Cardi B's "Bodak Yellow" and her new single "Dinero," JLo reminded us all of her dance skills while also leading us to believe she might just hit the stage herself for a performance.

Keep reading...
Show less
May. 25, 2018 12:14PM EST
Travis Wall draws inspiration from dancers Tate McCrae, Timmy Blankenship and more.
One often-overlooked relationship that exists in dance is the relationship between choreographer and muse. Recently two-time Emmy Award Winner Travis Wall opened up about his experience working with dancers he considers to be his muses.
"My muses in choreography have evolved over the years," says Wall. "When I'm creating on Shaping Sound, our company members, my friends, are my muses. But at this current stage of my career, I'm definitely inspired by new, fresh talent."
Wall adds, "I'm so inspired by this new generation of dancers. Their teachers have done such incredible jobs, and I've seen these kids grown up. For many of them, I've had a hand in their exposure to choreography."

Keep reading...
Show less
Rant & Rave
May. 23, 2018 04:25PM EST
Jessica Lang's Her Notes, one of ABT's few recent commissions from women. Photo by Rosalie O'Connor
A few weeks ago, American Ballet Theatre announced the A.B.T. Women's Movement, a new program that will support three women choreographers per season, one of whom will make work on the main company.
"The ABT Women's Movement takes inspiration from the groundbreaking female choreographers who have left a lasting impact on ABT's legacy, including Agnes de Mille and Twyla Tharp," said artistic director Kevin McKenzie in a press release.
Hypothetically, this is a great idea. We're all for more ballet commissions for women. But the way ABT has promoted the initiative is problematic.
Keep reading...
Show less
News
May. 18, 2018 12:05PM EST
The inimitable Alicia Alonso, now 97, remains at the helm of Ballet Nacional de Cuba. Photo by Leysis Quesada, Courtesy BNC
On the occasion of its 70th anniversary, the Ballet Nacional de Cuba tours the U.S. this spring with the resolute Cuban prima ballerina assoluta Alicia Alonso a the helm. Named a National Hero of Labor in Cuba, Alonso, 97, has weathered strained international relations and devastating fiscal challenges to have BNC emerge as a world-class dance company. Her dancers are some of ballet's best. On offer this time are Alonso's Giselle and Don Quixote. The profoundly Cuban company performs in Chicago May 18–20, Tampa May 23, Washington, D.C., May 29–June 3 and Saratoga, New York June 6–8.
Courtesy Soffe, Dicsount Dance Supply, Danskin. LeaMarie leotard photographed by Jayme Thornton
Considering we practically live in our dance clothes, there's really no such thing as having too many leotards, tights or leggings (no matter what our mom or friends say!). That's why we treat every sale as an opportunity to stock up. And thanks to the holiday weekend, you can shop all of your dancewear go-tos or try something totally new for as much as 50% less than the usual price.
Here are the eight sales we're most excited about—from online options to in-store retailers that will help you find the perfect fit. Happy Memorial Day (and shopping)!
Now through Monday, Danskin's site will automatically take 25% off your entire purchase at checkout. Even new items like their Pintuck Detail Floral Print Sports Bra and Pintuck Detail Legging (pictured here) are fair game.
Keep reading...
Show less
News
May. 25, 2018 12:38PM EST
Ailey dancers and stagehands rallied together yesterday. Photo by Jen Peters
"The sun may be shining brightly, but we are not in a very sunny mood today!" said New York State assemblywoman Linda Rosenthal during yesterday's rally for the Artists of Ailey.
The dancers and stage crew are demanding increased wages and more comprehensive benefits, what they have termed "reaching for the standard" and "fair wages."
Keep reading...
Show less


Get Dance Magazine in your inbox