Why Pina Was an Inspiration Like No Other
Peggy Jarell Kaplan, Courtesy BAM
In 1984, New York was introduced to a choreographer who would influence generations of dance artists: Pina Bausch. Tanztheater Wuppertal stunned audiences at Brooklyn Academy of Music in performances of Bausch's now-iconic Café Müller and The Rite of Spring.
Since that groundbreaking premiere, Bausch has been revered as a genius, a trailblazer, a game changer in the dance world. And starting this Thursday, Bausch devotees will make a pilgrimage back to Brooklyn Academy of Music where Tanztheater Wuppertal reprises its historic debut program. To celebrate the occasion, BAM shared some archival photos of the choreographer and her work with Dance Magazine, and we reached out to several of today's choreographers and dancers about how Bausch inspired their own life's work.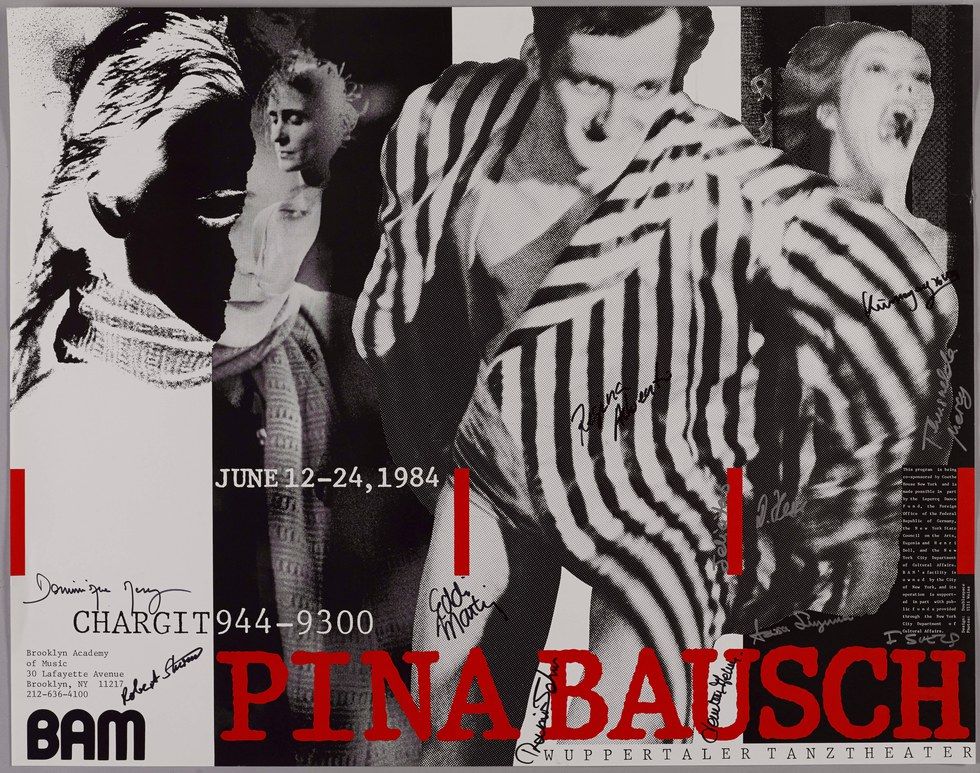 Poster signed by the company for the Tanztheater Wuppertal Pina Bausch self-titled production during BAM Spring Series, 1984
---
"As a young choreographer in 1984, I saw Café Müller on my first visit to BAM. I was intoxicated by Bausch's use of dance in relation to costume, sexuality, relationship, scenario and character. This work was a revelation—a decidedly European perspective on dance, from an entirely different family tree than the downtown dance scene of the time." —Annie-B Parsons, co-director of Big Dance Theater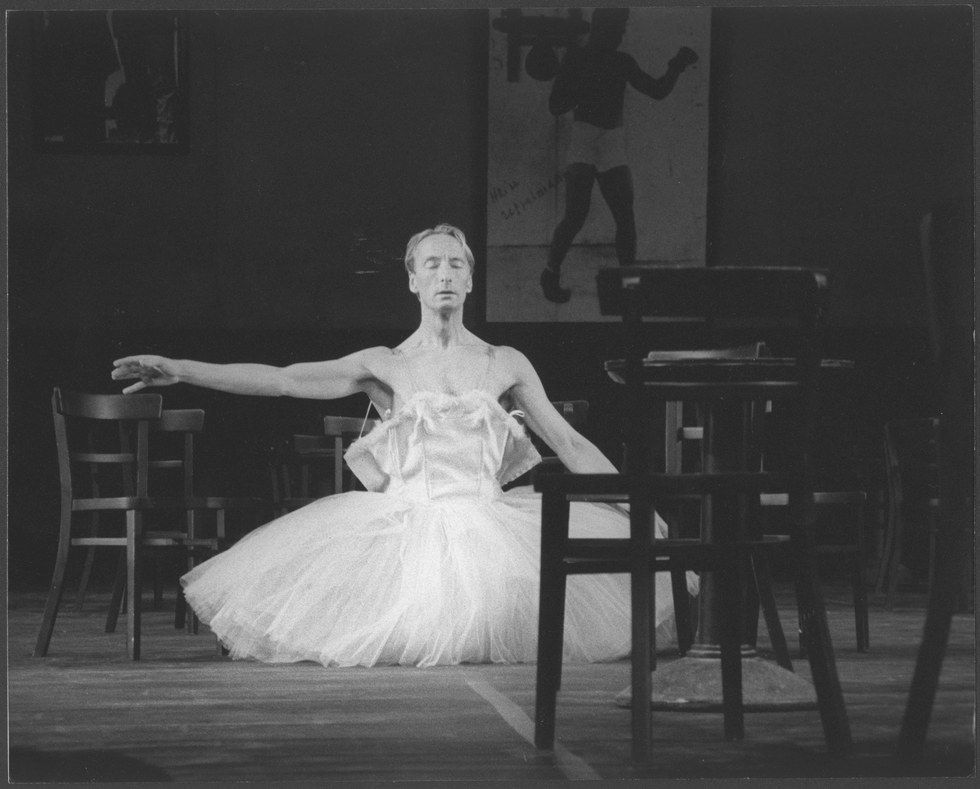 Dominique Mercy in Palermo Palermo at BAM. Photo by Martha Swope, courtesy BAM.
"When I began choreographing, Café Müller and Rite of Spring acted as encyclopedias while I researched my own movement. She encouraged me to not shy away from repetition. And I love that she used formal wear in her works! That she would put a dancer in an evening gown, then mess it all up by having the dancer move through water or a dirt floor, is just jaw dropping." —Maya Taylor, New Orleans based choreographer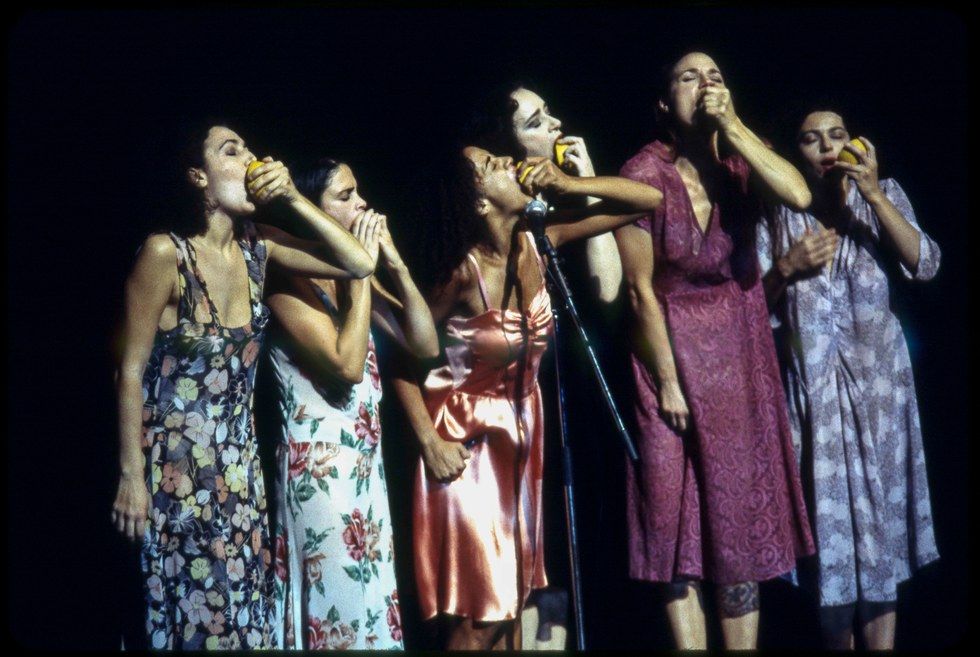 Scene from Tanztheater Wuppertal Pina Bausch in Danzón at BAM Next Wave Festival, 1999. Photo by Dan Rest, Courtesy BAM.
"Pina's commitment inspires me. Her courage to be and do 'Pina', to create and share a kind of work that had not been done before, has forever inspired me to listen to my own intuition. I had the pleasure of meeting her twice, sharing my work with her in studio. These moments were, to say the least, very moving." —Aszure Barton, artistic director of Aszure Barton & Artists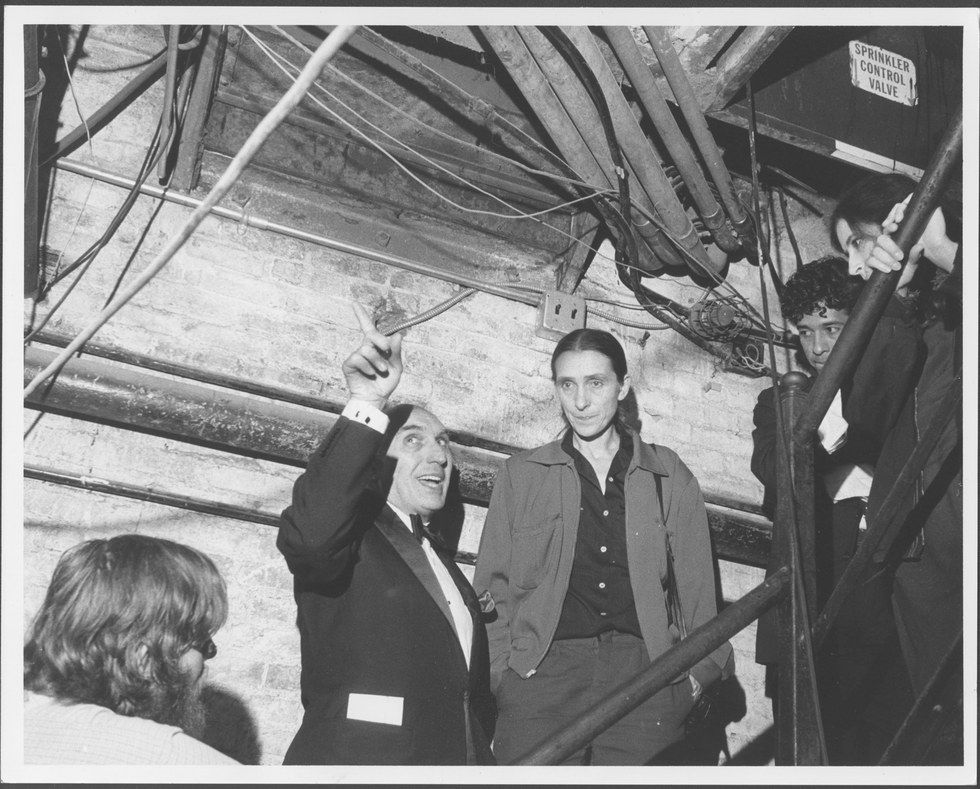 Former BAM president and executive producer Harvey Lichtenstein and Pina Bausch, 1985. Photo by Johan Elbers, courtesy BAM
"I was stunned by Cafe Müller when it first came to BAM—it has lived in my mind ever since as mental furniture and recurring inspiration. Dance has never stopped feeling its impact." —Susan Marshall, artistic director of Susan Marshall & Company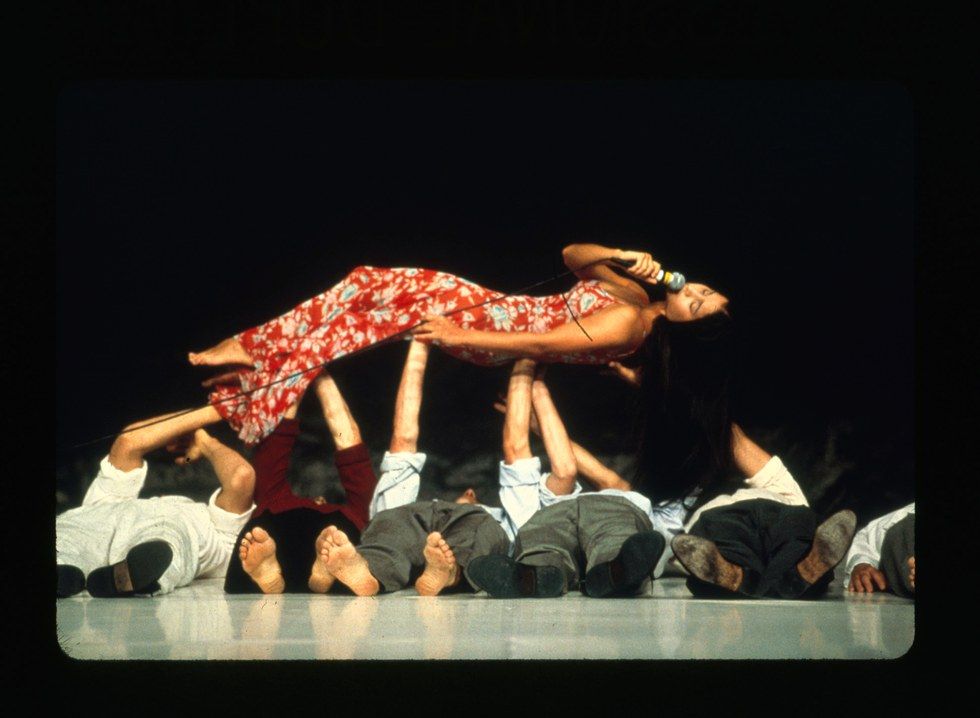 Ruth Amarante in Basuch's Masurca Fogo during BAM Next Wave Festival, 2001. Photo by Michael Rayner, courtesy BAM
"Pina could relay experience without being heavy handed, there is a universalism in her work that I strive for. I'm inspired by her ability to tie humor so closely to sadness and darkness. I've only seen it on film, but Rite of Spring just totally blew my mind! It still lives in me as a choreographer. I also value how long her dancers worked with her, my dream is to provide that kind of career for artists I work with; I love seeing the diversity of age. And being a woman choreographer, seeing Pina's career makes me feel like, 'Yeah, I can do this!' " —Andrea Miller, artistic director of Gallim Dance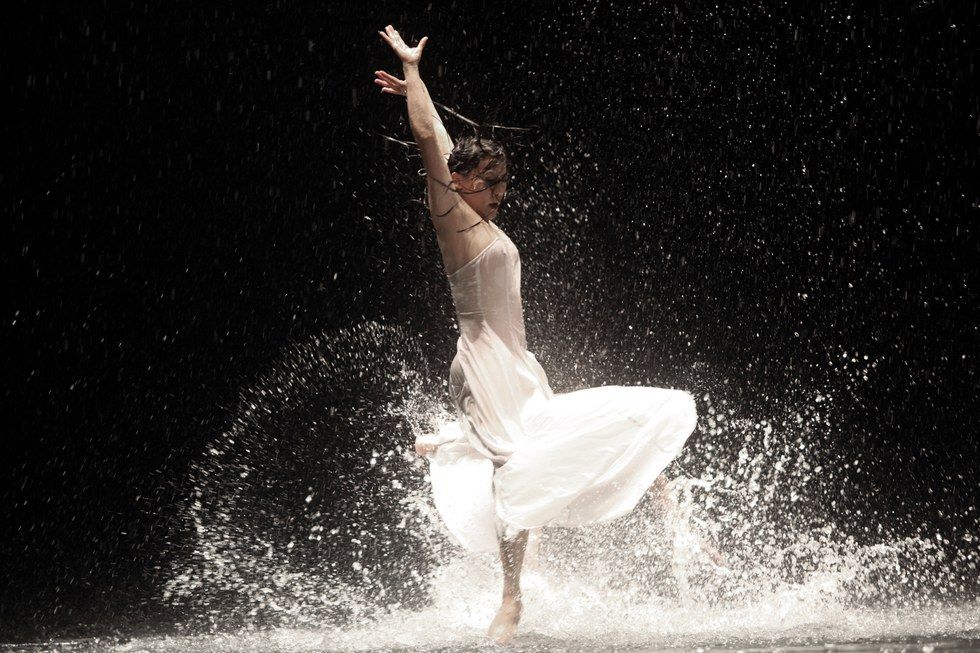 Azusa Seyama in Bausch's Vollmond at BAM Next Wave Festival, 2010. Photo by Julieta Cervantes, courtesy BAM
"Pina stripped away anything that causes a pattern—gender, race, sexuality, age—leaving it at its most raw essential. Within my work with the Graham Company, I relate to the naturalistic vibe that both Martha and Pina create, putting water, dirt, rocks on stage. In my own work, I seem to always have women in dresses—maybe an unconscious connection to Pina!" —Natasha Diamond-Walker, soloist with Martha Graham Company and freelance actor/model/choreographer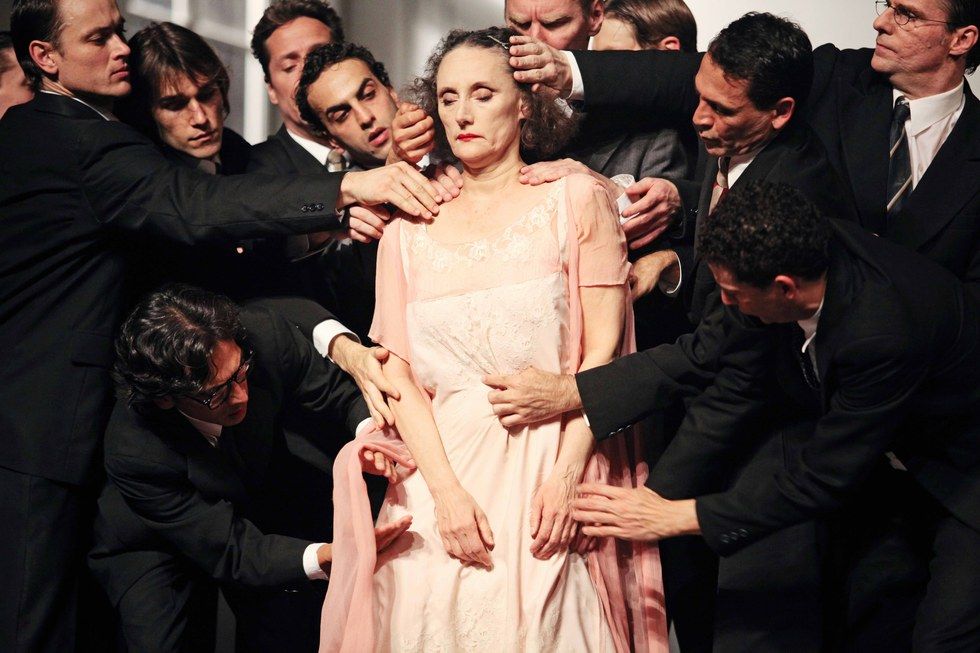 Nazareth Panadero (center) in Bausch's Kontakthof during BAM Next Wave Festival, 2014. Photo by Julieta Cervantes, courtesy BAM.
"I got to see Pina's work live while living in Germany. 1980 was always one of my favorites—it was life! Beauty, humor, profanity residing in the same moment, as it does. She inspired me to make works grounded in humanity, not needing to focus only on harmony. To look for new ideas. To not find a formula. To remember how funny life is, and how the foibles in all of us make us beautiful beings." —Helen Pickett, choreographer
Chantelle Pianetta competing at a West Coast swing event. Courtesy Pianetta.
Just hearing the word "improvisation" is enough to make some ballet dancers shake in their pointe shoes. But for Chantelle Pianetta, it's a practice she relishes. Depending on the weekend, you might find her gracing Bay Area stages as a principal with Menlowe Ballet or sweeping in awards at West Coast swing competitions.

She specializes in Jack and Jill events, which involve improvised swing dancing with an unexpected partner in front of a panel of judges. (Check her out in action below.) While sustaining her ballet career, over the past four years Pianetta has quickly risen from novice to champion level on the WCS international competition circuit.
Keep reading...
Show less
Jayme Thornton
Sean Dorsey was always going to be an activist. Growing up in a politically engaged, progressive family in Vancouver, British Columbia, "it was my heart's desire to create change in the world," he says. Far less certain was his future as a dancer.
Like many dancers, Dorsey fell in love with movement as a toddler. However, he didn't identify strongly with any particular gender growing up. Dorsey, who now identifies as trans, says, "I didn't see a single person like me anywhere in the modern dance world." The lack of trans role models and teachers, let alone all-gender studio facilities where he could feel safe and welcome, "meant that even in my wildest dreams, there was no room for that possibility."
Keep reading...
Show less
Getty Images
It's hour three of an intense rehearsal, you're feeling mentally foggy and exhausted, and your stomach hurts. Did you know the culprit could be something as simple as dehydration?
Proper hydration helps maintain physical and mental function while you're dancing, and keeps your energy levels high. But with so many products on the market promising to help you rehydrate more effectively, how do you know when it's time to reach for more than water?
Keep reading...
Show less