Pointe Shoes Prep Tips from the Pros
PNB principal Elizabeth Murphy prepping her shoes. Photo by Lindsay Thomas, courtesy PNB
Preparing pointe shoes is a highly personal process. Each pair requires seemingly contradictory qualities—that they be supportive yet soft, that they be strong yet quiet, that they show off the foot while providing enough structure for balances. So it's no surprise that the quest to get it right is an ongoing experiment.
Three professional ballet dancers shared the secrets of their own prep routines, mistakes and challenges with Dance Magazine.
---
Elizabeth Murphy, Pacific Northwest Ballet principal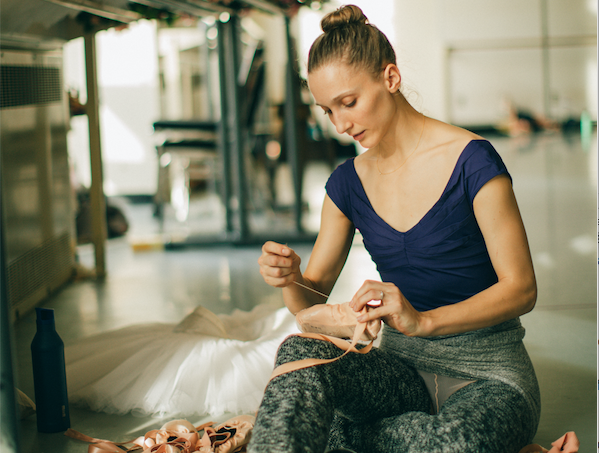 Lindsay Thomas, courtesy PNB
Shoe specs: Special order Freed of London, V maker. She adds extra length to the vamp, has the sides cut down, and asks for the shank of the Freed Classic Pros in addition to a flexible 3/4-shank support.
Pairs per week: Last season, Murphy used 54 pairs—the least of anyone in the company. She alternates between three to four pairs throughout a week, allowing them to dry out in between wears.
Personal challenge: Before Murphy realized she needed a higher vamp, her foot didn't always stay inside her shoe. "I would go up on pointe and sometimes my toes would flop out," says Murphy, laughing. "I have really long toes and stock shoes never had a vamp long enough." She ended up sewing a piece of elastic (close to the drawstring but without going through it) at the top of the vamp for more support. Even though she now special-orders higher vamps, she still adds the elastic when she's doing a full-length ballet.
Break-in process: Murphy starts by looking at each shoe to see if the pair looks nice together and re-pairs them as needed. "I take an eye at the platform and make sure it is angled in a way to put weight over my second toe." After sewing elastics and ribbons, she pops out the nail in the heel and steps on the box. "I make sure they are on the foot that feels best before I tie the elastic drawstring, and then I do some relevés before I glue."
How she uses glue: Murphy squeezes Hot Stuff glue onto where her arch bends, angling the shoe to drip it down the sides of the shank into the back of the box. "I think controlling the amount of glue that pools at the back corner keeps it quieter and less slippery." She also glues the top of the front of the box, about two inches up, so the shoe lasts longer and has more support.
Ashley Murphy-Wilson, The Washington Ballet company dancer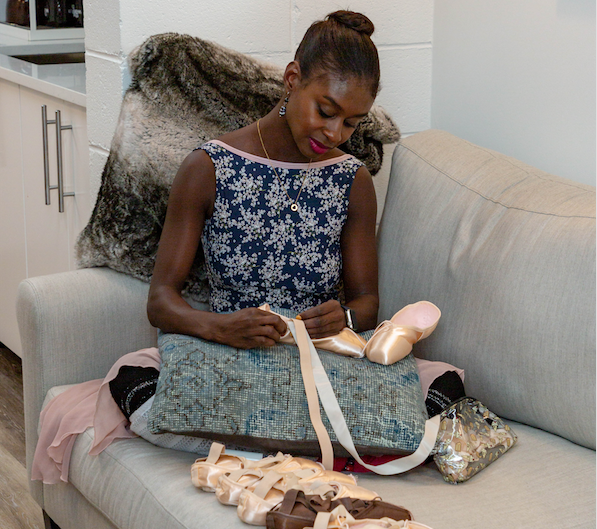 xmbphotography, by Mena Brunette, courtesy The Washington Ballet
Shoe specs: Chacott Veronese, special order with lower sides, a half shank and a lower vamp.
Pairs per week: Murphy-Wilson usually rotates between five to six pairs at a time, but depending on the roles she's dancing, she may end up sewing a new pair every day.
Break-in process: She holds on to about 10 sets of ribbons and crisscross elastics that she recycles. "It makes sewing new pairs easier because the ribbons and elastic are already at the correct length." She also darns the tips of her shoes to make the box flatter and more consistent, which can make it easier to balance and turn.
Secret ritual: When dancing with Dance Theatre of Harlem, Murphy-Wilson and a friend got into the habit of naming each pair of shoes. "It helped to keep the pairs together, but there was also some humor," she says. (One example: "Pointe Ur Biscuits.") It's a tradition that she continues to this day.
WanTing Zhao, San Francisco Ballet soloist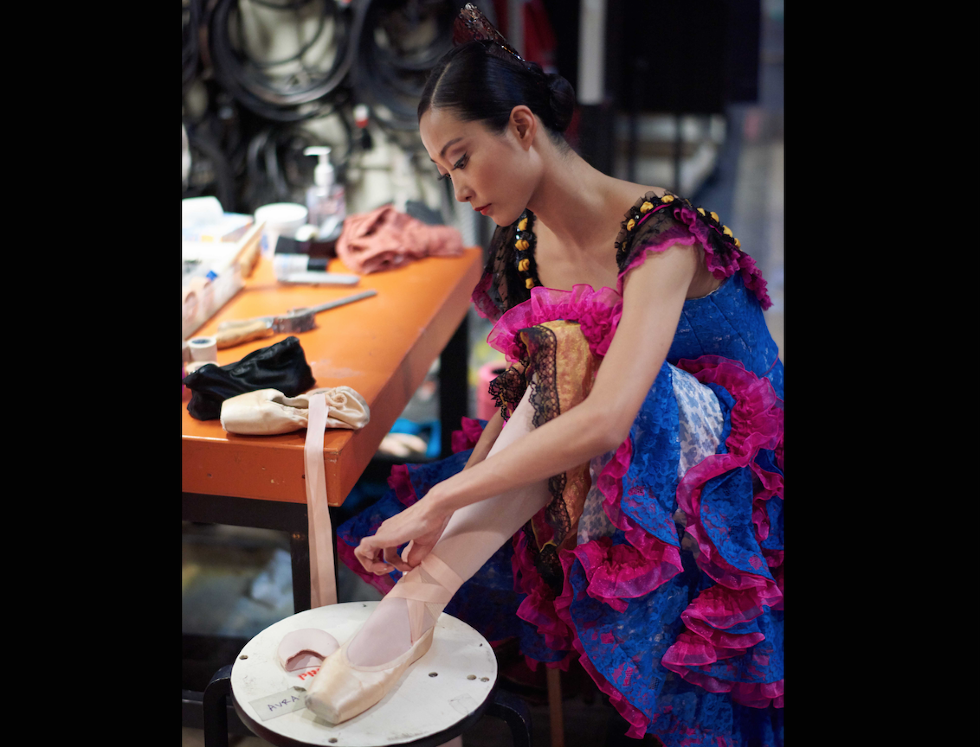 Erik Tomasson
Shoe specs: Russian Pointe, Rubin model.
Pairs per week: Zhao goes through two to three pairs per week, and roughly 150 per season. She sews two pairs at a time and only breaks in new shoes during class, keeping a "good" pair ready to go for rehearsals and leaving her softer shoes for contemporary repertoire.
Break-in process: "My philosophy is that if you have to perform surgery, then they're not the right shoe for you. I need my shoes to support me, and to destroy them before I put them on seems like it defeats the purpose." After sewing on ribbons and mesh elastic, she steps on the box, dabs the sides with alcohol to soften them, then scrapes the bottom of the shoe so she doesn't slip. The whole process takes about 20 minutes.
Pancaking: For performances, Zhao pancakes her shoes with tan powder so that they match her tights (either Bloch Inc. or Body Wrappers/Angelo Luzio). "I use powder instead of a liquid foundation because it keeps the shoes shiny."
Rookie mistake: "When I was 10, I went to a dance store in Beijing to get a pair of pointe shoes myself. But since I knew my feet were going to grow, I got them two sizes too big!"
Related Articles Around the Web
From Your Site Articles
News
Jul. 15, 2019 12:30PM EST
Courtesy Ritzel
Capezio, Bloch, So Dança, Gaynor Minden.
At the top of the line, dancers have plenty of quality footwear options to choose from, and in most metropolitan areas, stores to go try them on. But for many of North America's most economically disadvantaged dance students, there has often been just one option for purchasing footwear in person: Payless ShoeSource.
Keep reading...
Show less
Jayme Thornton
When Sonya Tayeh saw Moulin Rouge! for the first time, on opening night at a movie theater in Detroit, she remembers not only being inspired by the story, but noticing the way it was filmed.
"What struck me the most was the pace, and the erratic feeling it had," she says. The camera's quick shifts and angles reminded her of bodies in motion. "I was like, 'What is this movie? This is so insane and marvelous and excessive,' " she says. "And excessive is I think how I approach dance. I enjoy the challenge of swiftness, and the pushing of the body. I love piling on a lot of vocabulary and seeing what comes out."
Keep reading...
Show less
Robbie Fairchild in a still from In This Life, directed by Bat-Sheva Guez. Photo courtesy Michelle Tabnick PR
Back when Robbie Fairchild graced the cover of the May 2018 issue of Dance Magazine, he mentioned an idea for a short dance film he was toying around with. That idea has now come to fruition: In This Life, starring Fairchild and directed by dance filmmaker Bat-Sheva Guez, is being screened at this year's Dance on Camera Festival.
While the film itself covers heavy material—specifically, how we deal with grief and loss—the making of it was anything but: "It was really weird to have so much fun filming a piece about grief!" Fairchild laughs. We caught up with him, Guez and Christopher Wheeldon (one of In This Life's five choreographers) to find out what went into creating the 11-minute short film.
Keep reading...
Show less
Terry Notary in a movement capture suit during the filming of Rise of the Planet of the Apes. Photo by Sigtor Kildal, Courtesy Notary
When Hollywood needs to build a fantasy world populated with extraordinary creatures, they call Terry Notary.
The former gymnast and circus performer got his start in film in 2000 when Ron Howard asked him to teach the actors how to move like Whos for How the Grinch Stole Christmas. Notary has since served as a movement choreographer, stunt coordinator and performer via motion capture technology for everything from the Planet of the Apes series to The Hobbit trilogy, Avatar, Avengers: Endgame and this summer's The Lion King.
Since opening the Industry Dance Academy with his wife, Rhonda, and partners Maia and Richard Suckle, Notary also offers movement workshops for actors in Los Angeles.
Keep reading...
Show less