Race Across America: An Audition Tour Showed Me What Ballet Could Learn from the Art World
Peter Boal in William Forsythe's installation, Choreographic Objects. Photo by Jennifer C. Boal.
My January is always busy. Weekdays are filled with rehearsals in Seattle and weekends are spent traversing the country auditioning students for our summer intensive. I direct Pacific Northwest Ballet School and I see these auditions as essential investments in future talent for both our school and company. I do them myself to let students know their presence means a great deal to me.
January travels also offer the opportunity to visit the country's museums. Museums have been my go-to places since I was a boy. I love the opportunity for quiet reflection.
This year, in ballet studios and art-filled galleries across America, race was on my mind. I'll venture to say ballet would benefit from paying attention to what's happening in the art world today.
---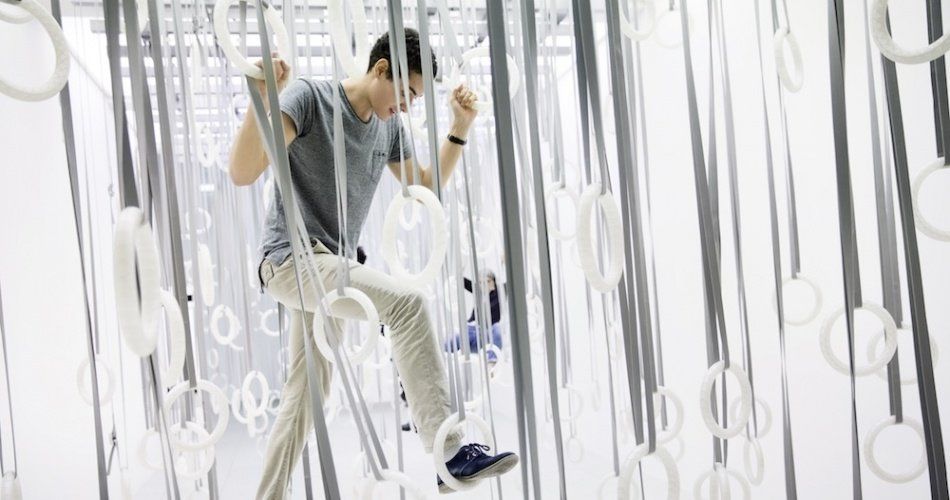 William Forsythe's installation The Fact of Matter, 2009
Dominik Mentzos. © William Forsythe
First stop on my tour: Boston, home to my sister who's also an avid museum-goer. We headed for the Institute of Contemporary Art to see "Choreographic Objects" by William Forsythe. Bill's instillation was a perfect intersection of brilliance and bliss. Cleverly placed objects and obstacles challenged visitors to move in new, unexpected and sometimes humiliating ways. Agile children racing throughout the exhibit put adults to shame, but we all felt the common denominators of mind and muscle. The effect was wondrous and visitors were wonderfully diverse.
ICA has a clear mission to represent not only artists of color (which Bill is not), but also issues of equity and artists from non-traditional backgrounds (that's Bill!). Programs that speak to and represent diverse populations create a beautiful multi-colored welcome mat.

ICA is currently showing "Wee Wear the Crowns! Celebrating Black Identity & Creativity." The free exhibit does more than hang works on walls. Children hear stories about artists Jean-Michel Basquiat and Nina Chanel Abney, whose work "champions Black lives, celebrates resistance and radicalizes mainstream art spaces." The show is part of Boston's Wee the People project which engages kids through visual and performing arts. It's not just, sit still and watch; dialogue and discourse are encouraged. Part of WTP includes sign-making and street marches—in short, art, ideas and action. Imagine when these wee people are decision-makers and challengers to the status quo. What effect will programs like this create? Where is comparable programming in ballet?

Later that day, in a sprawling studio on the top floor of Boston Ballet some 130 hopefuls showed up for PNB's audition. Six were black. All in, we saw about a dozen kids of color; less than 10 percent. Ideally, we would hope to see auditioners resemble the demographics of the city we are in. Boston's population is 44 percent white, 23 percent black, 20 percent Latino and 10 percent Asian.

There's nothing revelatory in what I write. Ballet continues to be an art form that fails to draw from the broader population. In an attempt to understand and address the whiteness of ballet, we must ask the right questions and seek answers and solutions. Which barriers exist for people of color? Boston Ballet strikes me a welcoming place, but as a white male, almost all ballet environments feel welcome. How does the environment feel to kids of color, or their families? Whose parents resist the idea of ballet lessons for their sons or daughters and why? Who doesn't see themselves onstage or at the front of the classroom?
We all have work to do. As a decision-maker, influencer and leader in the ballet world, I have work to do. Putting a black dancer on a poster and creating a racial equity statement is not enough. Recognizing I can affect change is an essential first step. Listening to others is the second.
At PNB, we've abandoned audition locations we suspect are less welcoming to people of color and relocated to ones that are more so. We've added free master classes so students can get to know us better. Audition fees are waived when needed. Hijabs, dreadlocks, afros and brown tights are all okay. We used to send only white people like me to run auditions. Now we send a racially diverse group. In places where we have taken these steps, we see change. Our hope is that all students feel welcomed, valued and empowered.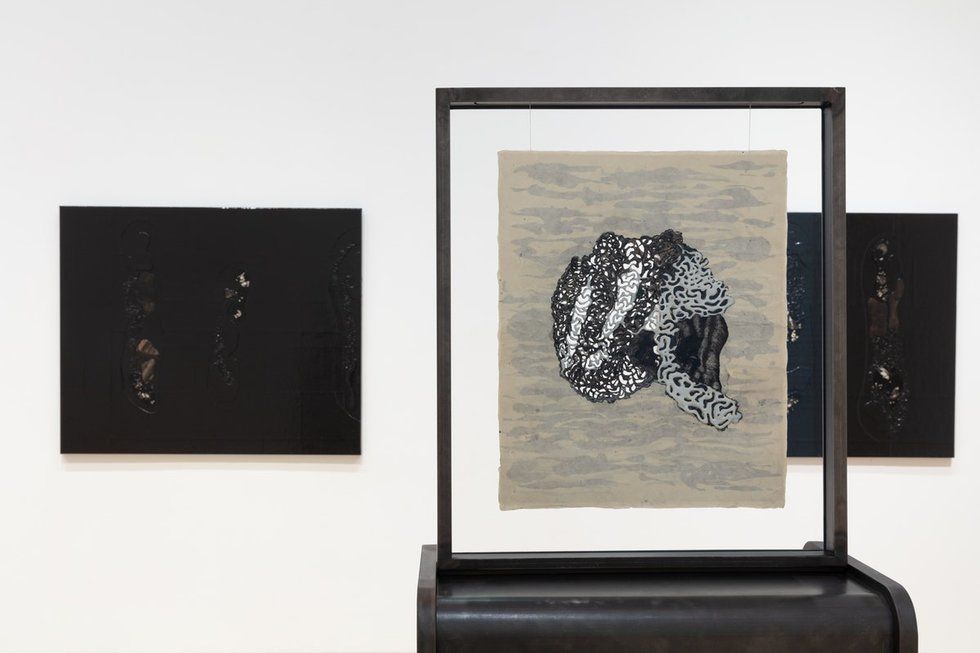 Ellen Gallagher's Negroes Battling in a Cave (2016) and a work from her Morphia series (2008–12).
Via artic.edu
In Chicago, I headed for the contemporary wing of the Art Institute. The artists represented were racially diverse; Mickalene Thomas, Kerry James Marshall and Kehinde Wiley. There were artists I had never heard of like Ellen Gallagher, whose haunting black paintings hung alongside established artists like Warhol and Noguchi.
What percentage of choreographers in classical ballet are people of color? I have a rule of thumb: When you start counting on your fingers, you haven't yet addressed the imbalance. At PNB, I'm still counting fingers and very few at that.

In one room, empty except for the guard, the walls were filled with rumpled newspaper pages painted in a deathly shade of ash. Each was from the Birmingham News in the 1960s. The Alabama paper chronicled hate crimes, lynchings and senseless violence against blacks. Print was barely discernible in dark gray as if rubbed from memory.
Newspapers were such a big part of my upbringing. My parents recited the news of the day to my sister and me before we could read; Nixon, Vietnam, the civil rights movement. Peering into the grayed ink, reading the brutal details of hate and murder was chilling. The year was 1965, the same year I was born far to the north and a world away in a wealthy white suburb of New York City. I wanted to turn the page. I wanted distance between the crimes, the hatred and me. A white woman entered the room, observed the exhibit with rapt attention, approached the black guard and asked for her impression. A conversation followed; two people connecting about race because of art.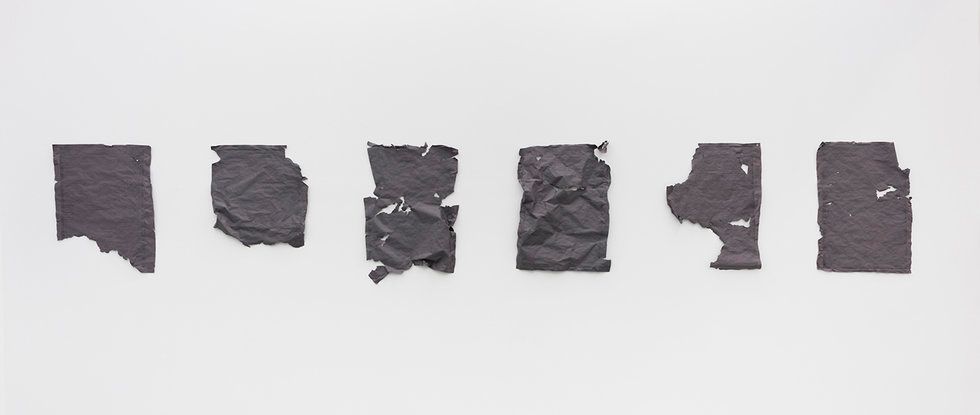 Bethany Collins, The Birmingham News, 1963, 2017
Image from Material Fact, PATRON Gallery, Chicago
After similar observations in ballet schools and museums in Austin, Kansas City, New York and Los Angeles, my travels took me to the African American Museum in Philadelphia. Actors on interactive screens told tales of early influencers who shaped their city and nation. Art brought untold stories to vivid life. I was reminded of Seattle's Wing Luke Museum where art and stories of Asian Americans offer reminders of the injustice done to thousands through forced relocation and incarceration in internment camps on the west coast during World War II.
My last stop was Dayton, Ohio, for the International Association of Blacks in Dance and a two-day conference as part of the Equity Project: Increasing the Presence of Blacks in Ballet. The conference prompts dialogue and awareness that is both daunting and motivating. We spoke about what ballet has always been, and what a well-curated future might create.
Like the Birmingham News reports, it's too easy to rationalize that I wasn't responsible for the imbalance that exists today. Another generation skewed the system and, though unfortunate, it wasn't my doing. It's not my fault. But what our generation of dance leaders must realize is we hold the cards for change. It doesn't matter whose fault it was, systemic racism exists and those in power can start to correct unfair and inequitable practices and patterns.
There was a growing realization in the conference room that our companies, representing many more, held the power to lead by example, offering opportunities to people of color, presenting diverse programming and ushering in a new era. The cohort identified the overwhelming whiteness of artistic directors, executive directors, staff, audiences, students, choreographers, composers and board members. There was a lot of counting fingers. We dug in to difficult subjects like implicit bias and colorism. We discussed barriers, programs and pink tights. The conference laid bare the massive work and responsibilities ahead. We took strength from each other and guidance from our facilitators.
Organizers had requested headshots of each company's dancers to mount on the walls, resulting in a handsome portrait gallery. Our wallpaper was pale, but there were shades of change. Every company was changing, but ever so slightly. PNB is 28 percent dancers of color, but we have only one black dancer out of 50. One.
For two days, we sat among hundreds of images of dancers—a generation younger than those of us in the room. They looked a bit more like the populations of our cities and our country than we did, but nowhere near the artists represented in America's museums. The art world, through careful and deliberate curation of nontraditional and under-represented artists is opening doors to a whole swath of the population.
To see the lines of black girls and brown girls and their families hoping to purchase a ticket to see Misty Copeland in Swan Lake at the Met is to see what ballet can be. Let's not let this be an isolated incident. Ballet is for everyone.
By the close of the conference, we realized change was in the room. The answer was in the room: it always is, one just has to define "room" and embrace the challenging and rewarding work that must be done. It's on me—it's on us.
A still from the documentary American Tap
Thirty years ago, U.S. Joint Resolution 131, introduced by congressman John Conyers (D-MI) and Senator Alphonse D'Amato (R-NY), and signed into law by President G. W. Bush declared:
"Whereas the multifaceted art form of tap dancing is a manifestation of the cultural heritage of our Nation...
Whereas tap dancing is a joyful and powerful aesthetic force providing a source of enjoyment and an outlet for creativity and self-expression...
Whereas it is in the best interest of the people of our Nation to preserve, promote, and celebrate this uniquely American art form...
Whereas May 25, as the anniversary of the birth of Bill "Bojangles" Robinson is an appropriate day on which to refocus the attention of the Nation on American tap dancing: Now therefore, be it resolved by the Senate and House of Representatives of the United States of America in Congress that May 25, 1989, be designated "National Tap Dance Day."
Happy National Tap Dance Day!
Keep reading...
Show less
Hive by Boston Conservatory student Alyssa Markowitz. Photo by Jim Coleman
The way we create and consume dance is changing every day. Now more than ever, the field demands that dancers not only be able to perform at the highest level, but also collaborate with choreographers to bring their artistic visions to life. Dancers who miss out on choreographic training may very well find themselves at a disadvantage as they try to launch their careers.

Keep reading...
Show less
James Fosberg, courtesy Mason
Over the past 15 years, Gesel Mason has asked 11 choreographers—including legends like Donald McKayle, David Roussève, Bebe Miller, Jawole Willa Jo Zollar, Rennie Harris and Kyle Abraham—to teach her a solo. She's performed up to seven of them in one evening for her project No Boundaries: Dancing the Visions of Contemporary Black Choreographers.
Now, Mason is repackaging the essence of this work into a digital archive. This online offering shares the knowledge of a few with many, and considers how dance can live on as those who create it get older.
Keep reading...
Show less
News
May. 22, 2019 05:57PM EST
Fox produced a live broadcast of Rent in January—but could an original musical be next? Photo by Kevin Estrada, Courtesy Fox
When a musical prepares to make the transfer from a smaller, lesser-known venue to Broadway (where theaters hold 500-plus seats), often there's a collective intake of breath from all involved. After all, a bigger house means more tickets to sell in order to stay in the black, and sometimes shows with even the most tenacious fan bases can't quite navigate such a jump. But what about the transfer from stage…to screen? Is Broadway ready to be consumed from the comfort of your couch?
Keep reading...
Show less
Last year's winner: Manuel Vignoulle's EARTH. Jack Hartin Photography, Courtesy McCallum Theatre
It's not often that a promising choreographer gets to stage work in a world-class theater, on a skillfully-curated program with professional dancers, and with the possibility of winning a substantial cash prize. But at the McCallum Theatre's Palm Desert Choreography Festival, that's been the status quo for over twenty years.
Since Shea New, the festival's artistic director, founded the festival in 1998, she's worked tirelessly with McCallum's director of education and festival producer, Kajsa Thuresson-Frary, and stage manager and festival production manager Joanna Fookes to build a festival that nurtures choreographers, highlights high quality work, powerfully engages the local community and cultivates an audience base for dance in the Coachella Valley. The trio is backed by a strong team of professionals at McCallum and the brilliant volunteers from the local and national level who serve as adjudicators.
Keep reading...
Show less
Get Dance Magazine in your inbox
Courtesy Lee
Daphne Lee was dancing with Collage Dance Collective in Memphis, Tennessee, when she received two difficult pieces of news: Her mother had been diagnosed with multiple myeloma cancer, and her father had Parkinson's disease, affecting his mobility and mental faculties.
The New Jersey native's reaction: "I really need to move home."
Keep reading...
Show less
Bruce Mars via Unsplash
Summer is almost upon us, and whether you're a student about to go on break or a pro counting the days till layoff, don't forget that with warm weather comes a very serious responsibility: To maintain your cross-training routine on your own.
Those of us who've tried to craft our own cross-training routine know it's easier said than done. So we consulted the stars, and rounded up the best options for every zodiac sign. (TBH, you should probably consult an expert, too—we'd recommend a physical therapist, a personal trainer or your teacher.)
Keep reading...
Show less
It's become second nature in dance studios: The instant anyone gets hurt, our immediate reaction is to run to the freezer to grab some ice (or, more realistically, a package of frozen peas).
But as routine as icing our injuries might be, the benefits are not actually backed up by scientific studies. And some experts now believe icing could even disrupt the healing process.
Keep reading...
Show less
Getty Images
I'm a contemporary dancer, and I'm nervous about trying to get pregnant since I can't predict if it might happen during the middle of the season. We have a union contract that is supposed to protect us. But I'm scared because several of my colleagues' contracts weren't renewed for no particular reason. Having a big belly could be a big reason to get rid of me!
—Andrea, New York, NY
Keep reading...
Show less
From Dance of Urgency. © Ekvidi
When the going gets tough, the tough start dancing: That's the premise behind "Dance of Urgency," a recently opened exhibit at MuseumsQuartier Vienna that features photos, video and other documentary material relating to the use of dance as political protest or social uprising.
The groups featured in the show, largely based around clubs and electronic dance music scenes, span the globe and respond to a variety of issues—from inequality and social stratification to racial divides to crackdowns on club culture itself.
Keep reading...
Show less
News
May. 20, 2019 04:24PM EST
Last night, longtime theater legends (including Chita Rivera herself!) as well as rising stars gathered to celebrate one of Broadway's danciest events: the third annual Chita Rivera Awards.
The evening paid tribute to this season's dancer standouts, fabulous ensembles, and jaw-dropping choreography—on- and off-Broadway and on film.
As usual, several of our faves made it into the mix. (With such a fabulous talent pool of nominees to choose from, we're glad that ties were allowed.) Here are the highlights from the winner's list:
Keep reading...
Show less
Lorenzo Di Cristina/Unsplash
When you're a foreign dancer, gaining legal rights to work in the U.S. is a challenging process. It's especially difficult if you're petitioning to work as a freelance dancer without an agent or company sponsorship.
The process requires professional muscle along with plenty of resources and heart. "There's a real misnomer that it's super easy," says Neena Dutta, immigration attorney and president of Dutta Law Firm. "People need to educate themselves and talk to a professional."
Here are four things every foreign dancer who wants to work in the U.S. needs to know to build a freelance dance career here.
Keep reading...
Show less
Quinn Wharton
What does it take to "make it" in dance? It's no secret that turning this passion into a profession can be a struggle. In such a competitive field, talent alone isn't enough to get you where you want to be.
So what kinds of steps can you take to become successful? Dance Magazine spoke to 33 people from all corners of the industry to get their advice on the lessons that could help us all, no matter where we are in our careers.
Keep reading...
Show less