Race Across America: An Audition Tour Showed Me What Ballet Could Learn from the Art World
Peter Boal in William Forsythe's installation, Choreographic Objects. Photo by Jennifer C. Boal.
My January is always busy. Weekdays are filled with rehearsals in Seattle and weekends are spent traversing the country auditioning students for our summer intensive. I direct Pacific Northwest Ballet School and I see these auditions as essential investments in future talent for both our school and company. I do them myself to let students know their presence means a great deal to me.
January travels also offer the opportunity to visit the country's museums. Museums have been my go-to places since I was a boy. I love the opportunity for quiet reflection.
This year, in ballet studios and art-filled galleries across America, race was on my mind. I'll venture to say ballet would benefit from paying attention to what's happening in the art world today.
---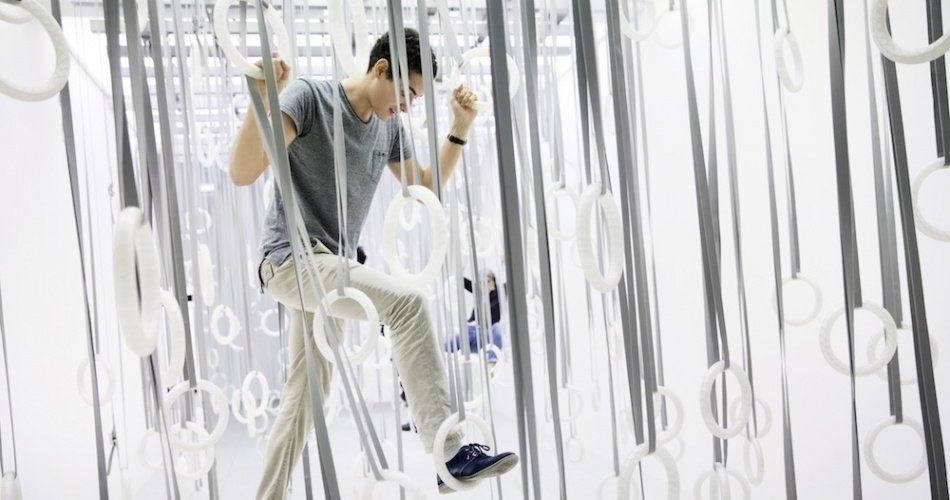 William Forsythe's installation The Fact of Matter, 2009
Dominik Mentzos. © William Forsythe
First stop on my tour: Boston, home to my sister who's also an avid museum-goer. We headed for the Institute of Contemporary Art to see "Choreographic Objects" by William Forsythe. Bill's instillation was a perfect intersection of brilliance and bliss. Cleverly placed objects and obstacles challenged visitors to move in new, unexpected and sometimes humiliating ways. Agile children racing throughout the exhibit put adults to shame, but we all felt the common denominators of mind and muscle. The effect was wondrous and visitors were wonderfully diverse.
ICA has a clear mission to represent not only artists of color (which Bill is not), but also issues of equity and artists from non-traditional backgrounds (that's Bill!). Programs that speak to and represent diverse populations create a beautiful multi-colored welcome mat.

ICA is currently showing "Wee Wear the Crowns! Celebrating Black Identity & Creativity." The free exhibit does more than hang works on walls. Children hear stories about artists Jean-Michel Basquiat and Nina Chanel Abney, whose work "champions Black lives, celebrates resistance and radicalizes mainstream art spaces." The show is part of Boston's Wee the People project which engages kids through visual and performing arts. It's not just, sit still and watch; dialogue and discourse are encouraged. Part of WTP includes sign-making and street marches—in short, art, ideas and action. Imagine when these wee people are decision-makers and challengers to the status quo. What effect will programs like this create? Where is comparable programming in ballet?

Later that day, in a sprawling studio on the top floor of Boston Ballet some 130 hopefuls showed up for PNB's audition. Six were black. All in, we saw about a dozen kids of color; less than 10 percent. Ideally, we would hope to see auditioners resemble the demographics of the city we are in. Boston's population is 44 percent white, 23 percent black, 20 percent Latino and 10 percent Asian.

There's nothing revelatory in what I write. Ballet continues to be an art form that fails to draw from the broader population. In an attempt to understand and address the whiteness of ballet, we must ask the right questions and seek answers and solutions. Which barriers exist for people of color? Boston Ballet strikes me a welcoming place, but as a white male, almost all ballet environments feel welcome. How does the environment feel to kids of color, or their families? Whose parents resist the idea of ballet lessons for their sons or daughters and why? Who doesn't see themselves onstage or at the front of the classroom?
We all have work to do. As a decision-maker, influencer and leader in the ballet world, I have work to do. Putting a black dancer on a poster and creating a racial equity statement is not enough. Recognizing I can affect change is an essential first step. Listening to others is the second.
At PNB, we've abandoned audition locations we suspect are less welcoming to people of color and relocated to ones that are more so. We've added free master classes so students can get to know us better. Audition fees are waived when needed. Hijabs, dreadlocks, afros and brown tights are all okay. We used to send only white people like me to run auditions. Now we send a racially diverse group. In places where we have taken these steps, we see change. Our hope is that all students feel welcomed, valued and empowered.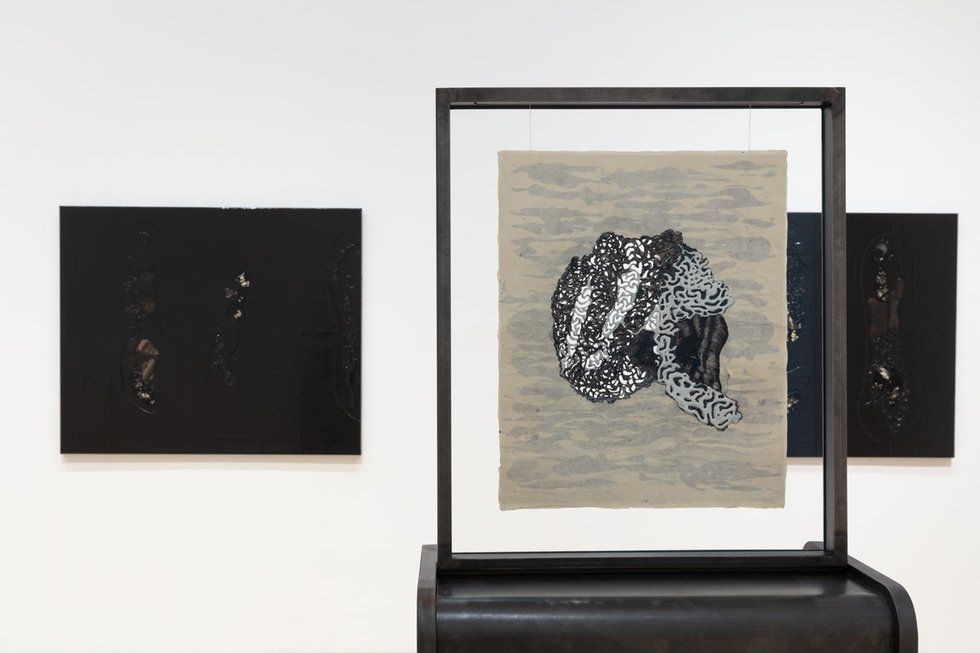 Ellen Gallagher's Negroes Battling in a Cave (2016) and a work from her Morphia series (2008–12).
Via artic.edu
In Chicago, I headed for the contemporary wing of the Art Institute. The artists represented were racially diverse; Mickalene Thomas, Kerry James Marshall and Kehinde Wiley. There were artists I had never heard of like Ellen Gallagher, whose haunting black paintings hung alongside established artists like Warhol and Noguchi.
What percentage of choreographers in classical ballet are people of color? I have a rule of thumb: When you start counting on your fingers, you haven't yet addressed the imbalance. At PNB, I'm still counting fingers and very few at that.

In one room, empty except for the guard, the walls were filled with rumpled newspaper pages painted in a deathly shade of ash. Each was from the Birmingham News in the 1960s. The Alabama paper chronicled hate crimes, lynchings and senseless violence against blacks. Print was barely discernible in dark gray as if rubbed from memory.
Newspapers were such a big part of my upbringing. My parents recited the news of the day to my sister and me before we could read; Nixon, Vietnam, the civil rights movement. Peering into the grayed ink, reading the brutal details of hate and murder was chilling. The year was 1965, the same year I was born far to the north and a world away in a wealthy white suburb of New York City. I wanted to turn the page. I wanted distance between the crimes, the hatred and me. A white woman entered the room, observed the exhibit with rapt attention, approached the black guard and asked for her impression. A conversation followed; two people connecting about race because of art.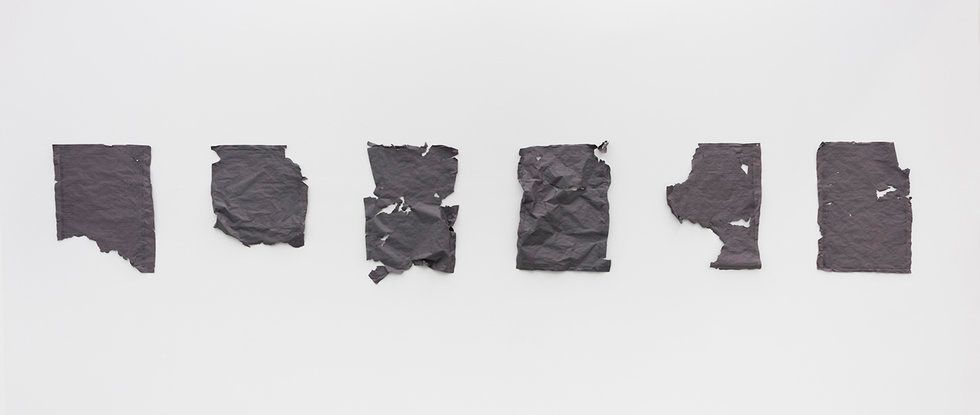 Bethany Collins, The Birmingham News, 1963, 2017
Image from Material Fact, PATRON Gallery, Chicago
After similar observations in ballet schools and museums in Austin, Kansas City, New York and Los Angeles, my travels took me to the African American Museum in Philadelphia. Actors on interactive screens told tales of early influencers who shaped their city and nation. Art brought untold stories to vivid life. I was reminded of Seattle's Wing Luke Museum where art and stories of Asian Americans offer reminders of the injustice done to thousands through forced relocation and incarceration in internment camps on the west coast during World War II.
My last stop was Dayton, Ohio, for the International Association of Blacks in Dance and a two-day conference as part of the Equity Project: Increasing the Presence of Blacks in Ballet. The conference prompts dialogue and awareness that is both daunting and motivating. We spoke about what ballet has always been, and what a well-curated future might create.
Like the Birmingham News reports, it's too easy to rationalize that I wasn't responsible for the imbalance that exists today. Another generation skewed the system and, though unfortunate, it wasn't my doing. It's not my fault. But what our generation of dance leaders must realize is we hold the cards for change. It doesn't matter whose fault it was, systemic racism exists and those in power can start to correct unfair and inequitable practices and patterns.
There was a growing realization in the conference room that our companies, representing many more, held the power to lead by example, offering opportunities to people of color, presenting diverse programming and ushering in a new era. The cohort identified the overwhelming whiteness of artistic directors, executive directors, staff, audiences, students, choreographers, composers and board members. There was a lot of counting fingers. We dug in to difficult subjects like implicit bias and colorism. We discussed barriers, programs and pink tights. The conference laid bare the massive work and responsibilities ahead. We took strength from each other and guidance from our facilitators.
Organizers had requested headshots of each company's dancers to mount on the walls, resulting in a handsome portrait gallery. Our wallpaper was pale, but there were shades of change. Every company was changing, but ever so slightly. PNB is 28 percent dancers of color, but we have only one black dancer out of 50. One.
For two days, we sat among hundreds of images of dancers—a generation younger than those of us in the room. They looked a bit more like the populations of our cities and our country than we did, but nowhere near the artists represented in America's museums. The art world, through careful and deliberate curation of nontraditional and under-represented artists is opening doors to a whole swath of the population.
To see the lines of black girls and brown girls and their families hoping to purchase a ticket to see Misty Copeland in Swan Lake at the Met is to see what ballet can be. Let's not let this be an isolated incident. Ballet is for everyone.
By the close of the conference, we realized change was in the room. The answer was in the room: it always is, one just has to define "room" and embrace the challenging and rewarding work that must be done. It's on me—it's on us.
Most people may know Derek Dunn for his impeccable turns and alluring onstage charisma. But the Boston Ballet principal dancer is just as charming offstage, whether he's playing with his 3-year-old miniature labradoodle or working in the studio. Dance Magazine recently spent the day with Dunn as he prepared for his debut as Albrecht in the company's upcoming run of Giselle.
Rosalie O'Connor, Courtesy Mark Morris Dance Group
You know compelling musicality when you see it. But how do you cultivate it? It's not as elusive as it might seem. Musicality, like any facet of dance, can be developed and honed over time—with dedicated, detailed practice. At its most fundamental, it's "respect for the music, that this is your partner," says Kate Linsley, academy principal of the School of Nashville Ballet.
Keep reading...
Show less
The USC Kaufman graduating class with Mikhail Baryshnikov. Gus Ruelas/USC
Just four years ago, the University of Southern California's Glorya Kaufman School of Dance welcomed its first class of BFA students. The program—which boasts world-class faculty and a revolutionary approach to training focused on collaboration and hybridity—immediately established itself as one of the country's most prestigious and most innovative.
Now, the first graduating class is entering the dance field. Here, six of the 33 graduates share what they're doing post-grad, what made their experience at USC Kaufman so meaningful and how it prepared them for their next steps:
Keep reading...
Show less
Ross Parkes, right, teaching in Shanghai in 1983. Lan-Lan Wang is at left. Courtesy Lan-Lan Wang.
Notable dancer and beloved teacher, Ross Parkes, 79, passed away on August 5, 2019 in New York City. He was a founding faculty member at Taipei National University of the Arts in Taiwan, where he taught from 1984 to 2006. Lin Hwai-min, artistic director of Cloud Gate Dance Theater, said: "He nurtured two generations of dancers in Taiwan, and his legacy will continue."
About his dancing, Tonia Shimin, professor emerita at UC Santa Barbara and producer of Mary Anthony: A Life in Modern Dance, said this: "He was an exquisite, eloquent dancer who inhabited his roles completely."
Keep reading...
Show less