How Do You Get Hired as a Rockette? We Got the Inside Scoop
Courtesy Madison Square Garden
The Rockettes are officially looking for some fresh faces. For the first time in almost a decade, the Christmas Spectacular at Radio City Music Hall is expanding its yearly open call in New York City to add audition locations in Chicago and Atlanta. The creative team wants to widen the pool and reach even more dancers.
So how can you get chosen out of hundreds of hopefuls?
---
1. Be versatile.
Despite what your relatives might think, the Rockettes are asked to do far more than high kicks. Creative director Karen Keeler says she's looking for athletic dancers with a strong ballet background who can perform jazz and tap.
With that in mind, the audition starts with a basic Rockette combination, then a jazz combination, a tap combination and another more stylized jazz number. "I want to get a sense of how dancers take on movement," says Keeler.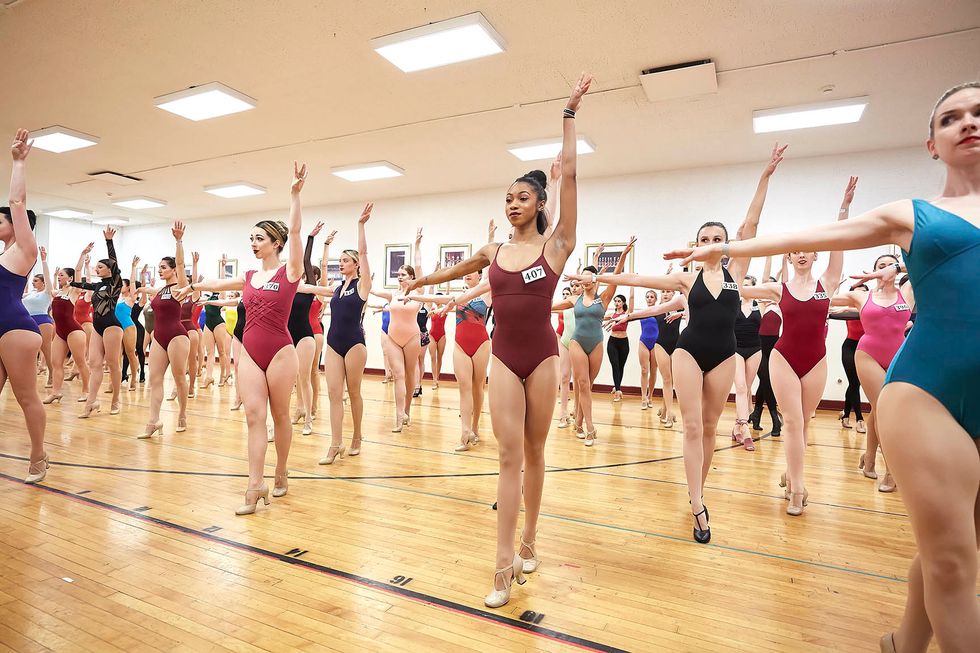 Courtesy MSG
2. Listen to details. 
Since the Rockette brand is all about precision, every detail matters. "The biggest mistake I see dancers make at the audition is not really listening to the specifics," says Keeler. Whether an arm is supposed to be shoulder height or you're supposed to face croisé, mimic what's taught exactly as it's shown.
Danelle Morgan, who's been a Rockette for 13 seasons, didn't get hired until she fully grasped that concept in her third audition. "Coming from a concert dance background, I wanted to put my own spin on the choreography," she says. "It took me three auditions to realize that it's about being part of this big picture, not about me. Be in tune with every person around you."
3. Dress confidently. 
The traditional style of the Rockettes might have evolved a bit over the years, but you're still probably safest showing up for the audition in a leotard, tan tights and character shoes—with classic red lipstick. Black tights are acceptable, too, if you feel more comfortable in them. "Wear something you feel great in, that shows off your body," says Keeler. But, warns Morgan, "Don't wear bare legs."
4. Build your stamina.
This job is not for the faint of heart. During the Christmas season, dancers are asked to perform in multiple shows a day for weeks on end. "You need to be conditioned as an athlete," says Keeler. Before the audition, work on your endurance so you can keep up your energy in every combination.
5. Bring yourself to the steps. 
Sure, precision is the name of the game. But the creative team isn't looking for robots. "Ultimately, we're in a line of 36 women," says Keeler, "but we like to see individual women in that line. I pick up on a dancer's passion—do they have a great personality and spirit when they perform?"
6. Pack a snack.
If you make it past the cuts, you're in for a long day. "Bring a protein bar, stay hydrated," suggests Morgan. "They ask for more details than any other job I've worked on. You need to keep your brain functioning."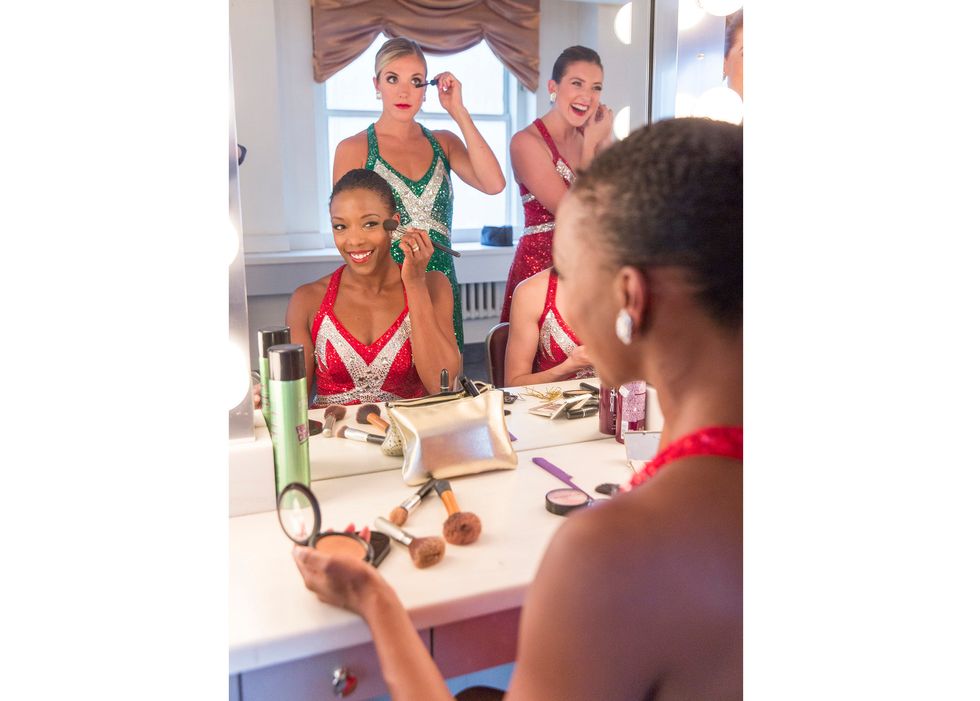 Morgan (seated) has been a Rockette for 13 seasons.
Courtesy MSG
7. Stay focused.
When an open call draws up to 500 women, the intimidation factor can be distracting. "At my first audition, I didn't realize there would be a line out the door," says Morgan. "I was thinking, Why would they want me? I was almost discouraging myself." She found the best way to calm her nerves was to focus on the details of the movement, and connect with the choreographers at the front of the room.
8. Don't fake it. 
The right personality is more than a plastered-on smile. Let your excitement shine through from a sincere place. "If you love what you're doing, that's going to naturally inform how you dance," says Keeler. "We're performing in the Christmas season, and that celebration is very real."
9. Don't let a rejection discourage you.
It's not uncommon for Rockettes to audition multiple times before getting an offer. Maybe there's no room in the line for someone of your height this year, or maybe you need to strengthen your tap technique. If you want it, don't give up.
Morgan felt the audition team truly remembered her from year to year, and saw her growth. "I felt more confident and capable each time," she says.

10. Just take a chance. 
Not every Rockette grew up dreaming of joining the line. The dancers come from a variety of backgrounds—some have MFAs, others still take on modern dance or musical theater projects during the off-season. The only requirement is that you're between 5' 6" and 5' 10 1/2". Keeler is hoping that a wide range of dancers use the audition as an opportunity to get to know the Rockettes better and see if the job could be a fit for them.
Ready to try your luck? Auditions take place in New York City from April 15 through April 24, in Chicago on May 7 and 8, and in Atlanta on May 9 and 10.
From Your Site Articles
Related Articles Around the Web
Getty Images
Dancers are understandably obsessed with food. In both an aesthetic and athletic profession, you know you're judged on your body shape, but you need proper fuel to perform your best. Meanwhile, you're inundated with questionable diet advice.
"My 'favorite' was the ABC diet," says registered dietitian nutritionist Kristin Koskinen, who trained in dance seriously but was convinced her body type wouldn't allow her to pursue it professionally. "On the first day you eat only foods starting with the letter A, on the second day only B, and so on."
Keep reading...
Show less
Ailey II artistic director Troy Powell teaching an Ailey Workshop at NYCDA. Courtesy NYCDA
Back in 2011 when Joe Lanteri first approached Katie Langan, chair of Marymount Manhattan College's dance department, about getting involved with New York City Dance Alliance, she was skeptical about the convention/competition world.
"But I was pleasantly surprised by the enormity of talent that was there," she says. "His goal was to start scholarship opportunities, and I said okay, I'm in."
Today, it's fair to say that Lanteri has far surpassed his goal of creating scholarship opportunities. But NYCDA has done so much more, bridging the gap between the convention world and the professional world by forging a wealth of partnerships with dance institutions from Marymount to The Ailey School to Complexions Contemporary Ballet and many more. There's a reason these companies and schools—some of whom otherwise may not see themselves as aligned with the convention/competition world—keep deepening their relationships with NYCDA.
Now, college scholarships are just one of many ways NYCDA has gone beyond the typical weekend-long convention experience and created life-changing opportunities for students. We rounded up some of the most notable ones:
Keep reading...
Show less
Rehearsal of Yvonne Rainer's Parts of Some Sextets. Photo by Paula Court, Courtesy Performa.
Yvonne Rainer's Parts of Some Sextets (AKA "the mattress dance") hasn't been revived since it premiered in 1965. Nor has Rainer had any wish to do it again, to ask performers to heave 10 mattresses around while carrying out 31 tasks that changed every 30 seconds. It was an unwieldy, difficult dance. (Even the title is unwieldy.) But Emily Coates, who has danced in Rainer's work for 20 years, became curious about this piece and was determined to see it again—and to dance in it. She will get her wish November 15–17, when the mattress dance will be performed as part of the Performa 19 Biennial.
Keep reading...
Show less
Left: Hurricane Harvey damage in Houston Ballet's Dance Lab; Courtesy Harlequin. Right: The Dance Lab pre-Harvey; Nic Lehoux, Courtesy Houston Ballet.
"The show must go on" may be a platitude we use to get through everything from costume malfunctions to stormy moods. But when it came to overcoming a literal hurricane, Houston Ballet was buoyed by this mantra to go from devastated to dancing in a matter of weeks—with the help of Harlequin Floors, Houston Ballet's longstanding partner who sprang into action to build new floors in record time.
Keep reading...
Show less