Why Broadway Dancer Ryan Steele Eats Whatever His Body Craves—Including Domino's
Steele relies on carbs for Broadway-worthy energy. Photo by Lee Gumbs, courtesy Steele
Ryan Steele has a simple rule for demanding days on Broadway: "I listen to my body," he says. "I have whatever I'm craving: If I need more protein, I go straight for that. If I'm tired, I know I need carbs."
This wasn't always Steele's approach. Growing up, shuttling between the studio and school meant relying on McDonald's and Burger King.
---
Now, he focuses on staying in touch with whatever his body is asking for, though eating between shows still challenges him. "You need enough calories, but you can't eat too much: A stomach full of lasagna won't do well," he says, with a laugh. "Often I'll go to Chirping Chicken for the chicken shawarma sandwich or wings—but nothing too much."
How He Figured Out His Ideal Meal Plan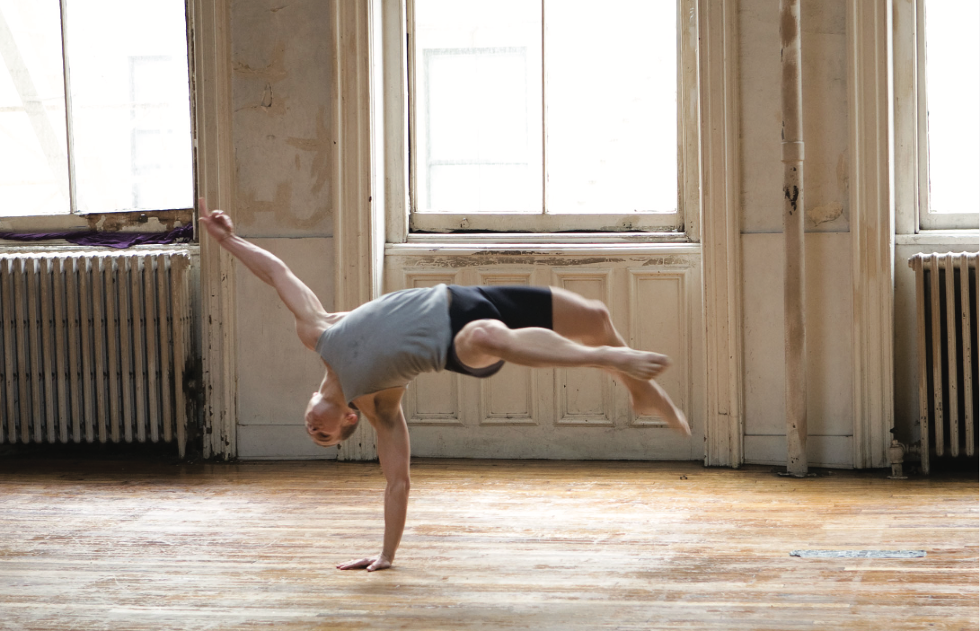 Steele in the 2013 film Five Dances
Two years ago, Steele worked with a nutritionist for a month and a half to figure out what worked best for him. "It was always hard for me to eat as much protein as she suggested, so I turned to protein shakes," he says. The extra protein boost helped him pull double duty this summer when he was performing in Broadway's Carousel and rehearsing for a production lab at the same time.
For Steele, focusing on his own needs—not the trends or tips that work for others—is key. "Some people are intense around cutting carbohydrates, but I enjoy carbs and they help me with energy and blood sugar," he says. "Take three days and test different things, taking things out, or adding them back in. Everyone is different. It's all about the situation and your unique body."
His Kitchen Must-Haves
eggs
granola
Suja Green Juice
frozen dinners from Trader Joe's, like Superfood Pilaf and Chicken Chow Mein
His Favorite Nostalgic Treat
Even though New York City is home to some of the world's best pizza, Steele loves Domino's. "People give me a lot of sass about it, but I love the thin crust, which feels healthier. And the Pizza Tracker makes it feel so personal. Plus, I have tons of reward points!"
Why He Has to Take Singing Into Account
Because musical theater requires vocal health, too, Steele has to be careful of how late he eats and foods that lead to acid reflux. "I stay away from really creamy things," he says. "If I eat a lot of ice cream at once, the next morning I wake up achy. I sub in things like coconut milk ice cream instead."
From Your Site Articles
Related Articles Around the Web
Sergei Diaghilev, who was terrified of the sea, posing with a life preserver aboard a ship. Photo courtesy DM Archives
On August 19, 1929, shockwaves were felt throughout the dance world as news spread that impresario Sergei Diaghilev had died. The founder of the Ballets Russes rewrote the course of ballet history as the company toured Europe and the U.S., championing collaborations with modernist composers, artists and designers such as Igor Stravinsky, Pablo Picasso and Coco Chanel. The company launched the careers of its five principal choreographers: Michel Fokine, Vaslav Nijinsky, Léonide Massine, Bronislava Nijinska and George Balanchine.
Keep reading...
Show less
The USC Kaufman graduating class with Mikhail Baryshnikov. Gus Ruelas/USC
Just four years ago, the University of Southern California's Glorya Kaufman School of Dance welcomed its first class of BFA students. The program—which boasts world-class faculty and a revolutionary approach to training focused on collaboration and hybridity—immediately established itself as one of the country's most prestigious and most innovative.
Now, the first graduating class is entering the dance field. Here, six of the 33 graduates share what they're doing post-grad, what made their experience at USC Kaufman so meaningful and how it prepared them for their next steps:
Keep reading...
Show less
Alice Sheppard/Kinetic Light in DESCENT, which our readers chose as last year's "Most Moving Performance." Photo by Jay Newman, courtesy Kinetic Light
Yes, we realize it's only August. But we can't help but to already be musing about all the incredible dance happenings of 2019.
We're getting ready for our annual Readers' Choice feature, and we want to hear from you about the shows you can't stop thinking about, the dance videos that blew your mind and the artists you discovered this year who everyone should know about.
Keep reading...
Show less
Courtesy Chiara Valle
Chiara Valle is just one of many dancers heading back to the studio this fall as companies ramp up for the season. But her journey back has been far more difficult than most.
Valle has been a trainee at The Washington Ballet since 2016, starting at the same time as artistic director Julie Kent. But only a few months into her first season there, she started experiencing excruciating pain high up in her femur. "It felt like someone was stabbing me 24/7," she says. Sometimes at night, the pain got so bad that her roommates would bring her dinner to the bathtub.
Keep reading...
Show less