Why Broadway Dancer Ryan Steele Eats Whatever His Body Craves—Including Domino's
Steele relies on carbs for Broadway-worthy energy. Photo by Lee Gumbs, courtesy Steele
Ryan Steele has a simple rule for demanding days on Broadway: "I listen to my body," he says. "I have whatever I'm craving: If I need more protein, I go straight for that. If I'm tired, I know I need carbs."
This wasn't always Steele's approach. Growing up, shuttling between the studio and school meant relying on McDonald's and Burger King.
---
Now, he focuses on staying in touch with whatever his body is asking for, though eating between shows still challenges him. "You need enough calories, but you can't eat too much: A stomach full of lasagna won't do well," he says, with a laugh. "Often I'll go to Chirping Chicken for the chicken shawarma sandwich or wings—but nothing too much."
How He Figured Out His Ideal Meal Plan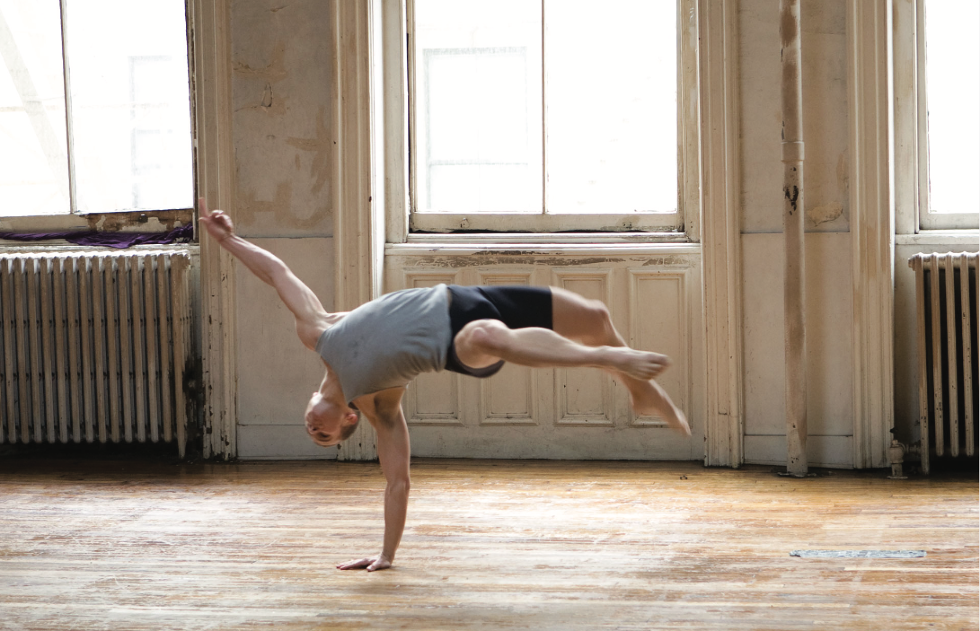 Steele in the 2013 film Five Dances
Two years ago, Steele worked with a nutritionist for a month and a half to figure out what worked best for him. "It was always hard for me to eat as much protein as she suggested, so I turned to protein shakes," he says. The extra protein boost helped him pull double duty this summer when he was performing in Broadway's Carousel and rehearsing for a production lab at the same time.
For Steele, focusing on his own needs—not the trends or tips that work for others—is key. "Some people are intense around cutting carbohydrates, but I enjoy carbs and they help me with energy and blood sugar," he says. "Take three days and test different things, taking things out, or adding them back in. Everyone is different. It's all about the situation and your unique body."
His Kitchen Must-Haves
eggs
granola
Suja Green Juice
frozen dinners from Trader Joe's, like Superfood Pilaf and Chicken Chow Mein
His Favorite Nostalgic Treat
Even though New York City is home to some of the world's best pizza, Steele loves Domino's. "People give me a lot of sass about it, but I love the thin crust, which feels healthier. And the Pizza Tracker makes it feel so personal. Plus, I have tons of reward points!"
Why He Has to Take Singing Into Account
Because musical theater requires vocal health, too, Steele has to be careful of how late he eats and foods that lead to acid reflux. "I stay away from really creamy things," he says. "If I eat a lot of ice cream at once, the next morning I wake up achy. I sub in things like coconut milk ice cream instead."
From Your Site Articles
Related Articles Around the Web
The "Merde" bag. Courtesy Scenery
Jennifer Kahn knew the theater industry could do better. As a professional stage manager for 17 years she worked on regional, off-Broadway and Broadway shows. Nearly each time a show closed, something unsettling happened: "I would watch them throw away our shows. All of the beautiful artwork by my friends in the paint shop would go in the trash." The elaborate backdrops? Gone.

But she had an idea: What if the material used in the backdrops and legs could be upcycled into something new? And what if theater lovers could literally keep a piece of a beloved show?
Keep reading...
Show less
Left: Hurricane Harvey damage in Houston Ballet's Dance Lab; Courtesy Harlequin. Right: The Dance Lab pre-Harvey; Nic Lehoux, Courtesy Houston Ballet.
"The show must go on" may be a platitude we use to get through everything from costume malfunctions to stormy moods. But when it came to overcoming a literal hurricane, Houston Ballet was buoyed by this mantra to go from devastated to dancing in a matter of weeks—with the help of Harlequin Floors, Houston Ballet's longstanding partner who sprang into action to build new floors in record time.
Keep reading...
Show less
News
Oct. 18, 2019 11:54AM EST
Photo by Gabriel Davalos, Courtesy Valdés
For decades the name Alicia Alonso has been virtually synonymous with Ballet Nacional de Cuba, the company she co-founded in Havana in 1948. Alonso died on October 17, just shy of what would have been her 99th birthday. In recent years, she had stepped back from day-to-day decision-making in the company. As if preparing for the future, in January, the company's leading ballerina, 42-year-old Viengsay Valdés, was named deputy director, a job that seems to encompass most of the responsibilities of a traditional director. Now, presumably, she will step into her new role as director of the company. Her debut as curator of the repertory comes in November, when the troupe will perform three mixed bills selected by her at the Gran Teatro de la Habana Alicia Alonso. The following has been translated from a conversation conducted in Spanish, Valdés' native tongue.
Keep reading...
Show less
Sara Mearns in the gym. Photo by Kyle Froman.
New York City Ballet principal Sara Mearns wasn't sure she was strong enough. A ballerina who has danced many demanding full-length and contemporary roles, she was about to push herself physically more than she thought was possible.
"I said, 'I can't. My body won't,' " she says. "He told me, 'Yes, it will.' "
She wasn't working with a ballet coach, but with personal trainer Joel Prouty, who was asking her to do squats with a heavier barbell than she'd ever used.
Keep reading...
Show less