Why Broadway Dancer Ryan Steele Eats Whatever His Body Craves—Including Domino's
Steele relies on carbs for Broadway-worthy energy. Photo by Lee Gumbs, courtesy Steele
Ryan Steele has a simple rule for demanding days on Broadway: "I listen to my body," he says. "I have whatever I'm craving: If I need more protein, I go straight for that. If I'm tired, I know I need carbs."
This wasn't always Steele's approach. Growing up, shuttling between the studio and school meant relying on McDonald's and Burger King.
---
Now, he focuses on staying in touch with whatever his body is asking for, though eating between shows still challenges him. "You need enough calories, but you can't eat too much: A stomach full of lasagna won't do well," he says, with a laugh. "Often I'll go to Chirping Chicken for the chicken shawarma sandwich or wings—but nothing too much."
How He Figured Out His Ideal Meal Plan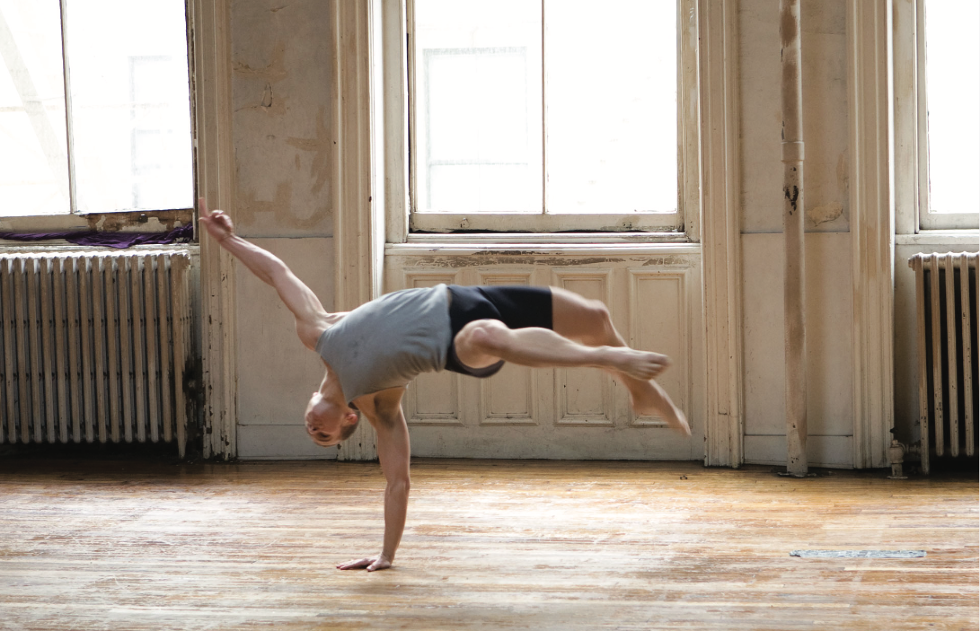 Steele in the 2013 film Five Dances
Two years ago, Steele worked with a nutritionist for a month and a half to figure out what worked best for him. "It was always hard for me to eat as much protein as she suggested, so I turned to protein shakes," he says. The extra protein boost helped him pull double duty this summer when he was performing in Broadway's Carousel and rehearsing for a production lab at the same time.
For Steele, focusing on his own needs—not the trends or tips that work for others—is key. "Some people are intense around cutting carbohydrates, but I enjoy carbs and they help me with energy and blood sugar," he says. "Take three days and test different things, taking things out, or adding them back in. Everyone is different. It's all about the situation and your unique body."
His Kitchen Must-Haves
eggs
granola
Suja Green Juice
frozen dinners from Trader Joe's, like Superfood Pilaf and Chicken Chow Mein
His Favorite Nostalgic Treat
Even though New York City is home to some of the world's best pizza, Steele loves Domino's. "People give me a lot of sass about it, but I love the thin crust, which feels healthier. And the Pizza Tracker makes it feel so personal. Plus, I have tons of reward points!"
Why He Has to Take Singing Into Account
Because musical theater requires vocal health, too, Steele has to be careful of how late he eats and foods that lead to acid reflux. "I stay away from really creamy things," he says. "If I eat a lot of ice cream at once, the next morning I wake up achy. I sub in things like coconut milk ice cream instead."
From Your Site Articles
Related Articles Around the Web
Michelle Dorrance. Photo by Jayme Thornton
What do Percy Jackson, Princess Diana and Tina Turner have in common? They're all characters on Broadway this season. Throw in Michelle Dorrance's choreographic debut, Henry VIII's six diva-licious wives and the 1990s angst of Alanis Morissette, and the 2019–20 season is shaping up to be an exciting mix of past-meets-pop-culture-present.
Here's a look at the musicals hitting Broadway in the coming months. We're biding our time until opening night!

Keep reading...
Show less
UA Dance Ensemble members Candice Barth and Gregory Taylor in Jessica Lang's "Among the Stars." Photo by Ed Flores, courtesy University of Arizona
If you think becoming a trainee or apprentice is the only path to gaining experience in a dance company environment, think again.
The University of Arizona, located in the heart of Tucson, acclimates dancers to the pace and rigor of company life while offering all the academic opportunities of a globally-ranked university. If you're looking to get a head-start on your professional dance career—or to just have a college experience that balances company-level training and repertory with rigorous academics—the University of Arizona's undergraduate and graduate programs have myriad opportunites to offer:
Keep reading...
Show less
Alice Sheppard/Kinetic Light in DESCENT, which our readers chose as last year's "Most Moving Performance." Photo by Jay Newman, courtesy Kinetic Light
Yes, we realize it's only August. But we can't help but to already be musing about all the incredible dance happenings of 2019.
We're getting ready for our annual Readers' Choice feature, and we want to hear from you about the shows you can't stop thinking about, the dance videos that blew your mind and the artists you discovered this year who everyone should know about.
Keep reading...
Show less
Getty Images
Ah, stretching. It seems so simple, and is yet so complicated.
For example: You don't want to overstretch, but you're not going to see results if you don't stretch enough. You want to focus on areas where you're tight, but you also can't neglect other areas or else you'll be imbalanced. You were taught to hold static stretches growing up, but now everyone is telling you never to hold a stretch longer than a few seconds?
Considering how important stretching correctly is for dancers, it's easy to get confused or overwhelmed. So we came up with 10 common stretching scenarios, and gave you the expert low-down.
Keep reading...
Show less