The Story Behind Steven McRae's Crazy Workouts
When you spend as much time on the road as The Royal Ballet's Steven McRae, getting access to a proper gym can be a hassle. To stay fit, the Australian-born principal turns to calisthenics—the old-school art of developing aerobic ability and strength with little to no equipment.
"It's basically just using your own body weight," McRae explains. "In terms of partnering, I'm not going to dance with a ballerina who is bigger than me, so if I can sustain my own body weight, then in my head I should be fine."
---
Today, McRae shares videos of his workouts on social media (where he has approximately 150,000 Instagram followers). They are often shot in his dressing room, with a chair as the only prop while he does développés from an arched handstand, for instance—a feat of upper-body strength and flexibility.
"I think people are genuinely intrigued and interested in what we do: I get lovely comments offering suggestions to alter the exercise."
He tailors exercises like planks and handstands to his needs, mixing calisthenics with Pilates and stretching. His regimen developed from a mix of cross-training with The Royal Ballet's team of sports scientists and outside inspiration.
"Growing up I used to just stretch before class, and I found that I wasn't particularly warm," he says. "Now I do much more of a mini workout as a warm-up."
McRae first learned about calisthenics on Insta­gram, and started incorporating bits and pieces into his routine. "I look at what other athletes are doing. My father did drag racing, and I think you can learn something from everyone."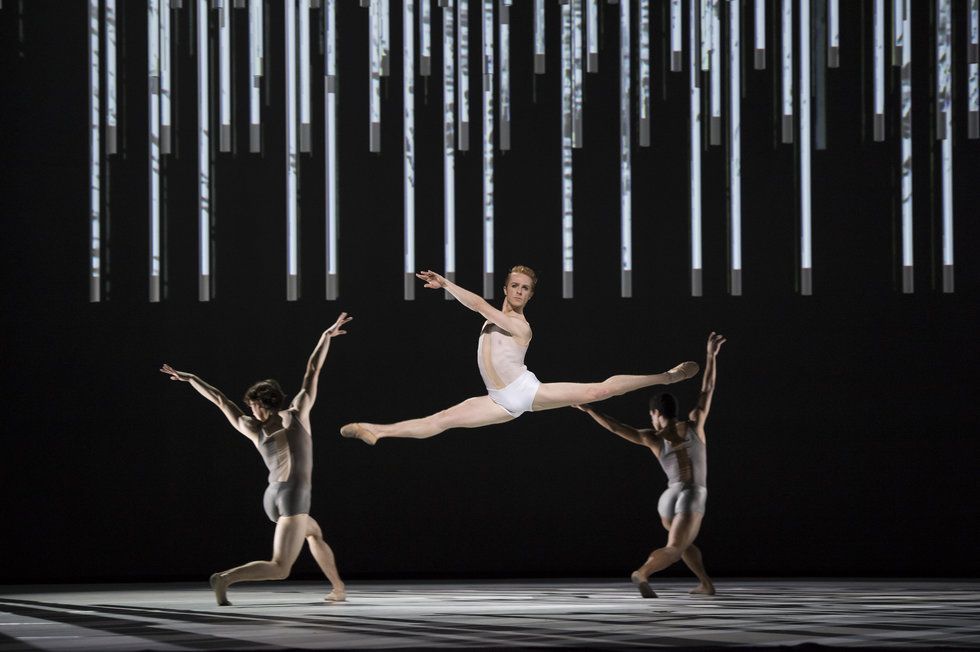 McRae performing Connectome, photo by Bill Cooper, courtesy Royal Opera House
This training philosophy allows McRae to travel light, with a Thera-Band and a roller as his only must-have items. Proper fuel is essential, however, especially when sleep is scarce: He has two young children with his wife, Royal Ballet soloist Elizabeth Harrod.
"Somehow your days expand and you manage to fit everything in. My daughter Audrey is forever asking me to throw her around in the air, so I can do a quick 10-minute workout simply by doing that!"
Try It: Upward Dog Pike
McRae loves this quick calisthenics exercise because it requires no equipment, and opens up the spine while strengthening the upper body and the glutes.
Start in yoga's upward dog position, with your pelvis just off the floor, in line with your hands. Hold your body weight off the ground, toes pointed.
Press your hips up into a piked position to form a triangle shape, with your head down, shoulders over your wrists, toes pointed and your hips at the highest point.
Leading with the head, ripple down through a push-up to return to upward dog.
Perform two sets of eight reps, with a rest in between.
When the news broke that Prince George, currently third in line for the British throne, would be continuing ballet classes as part of his school curriculum this year, we were as excited as anyone. (Okay, maybe more excited.)
This was not, it seems, a sentiment shared by "Good Morning America" host Lara Spencer.
Keep reading...
Show less
UA Dance Ensemble members Candice Barth and Gregory Taylor in Jessica Lang's "Among the Stars." Photo by Ed Flores, courtesy University of Arizona
If you think becoming a trainee or apprentice is the only path to gaining experience in a dance company environment, think again.
The University of Arizona, located in the heart of Tucson, acclimates dancers to the pace and rigor of company life while offering all the academic opportunities of a globally-ranked university. If you're looking to get a head-start on your professional dance career—or to just have a college experience that balances company-level training and repertory with rigorous academics—the University of Arizona's undergraduate and graduate programs have myriad opportunites to offer:
Keep reading...
Show less
Alice Sheppard/Kinetic Light in DESCENT, which our readers chose as last year's "Most Moving Performance." Photo by Jay Newman, courtesy Kinetic Light
Yes, we realize it's only August. But we can't help but to already be musing about all the incredible dance happenings of 2019.
We're getting ready for our annual Readers' Choice feature, and we want to hear from you about the shows you can't stop thinking about, the dance videos that blew your mind and the artists you discovered this year who everyone should know about.
Keep reading...
Show less
News
Aug. 23, 2019 10:30AM EST
A still from Dancing Dreams. Courtesy OVID
If you're seeking an extra dash of inspiration to start the new season on the right—dare we say—foot, look no further than dance documentaries.
Starting August 23, OVID, a streaming service dedicated to docs and art-house films, is adding eight notable dance documentaries to its library. The best part? There's a free seven-day trail. (After that, subscriptions are $6.99 per month or $69.99 annually.)
From the glamour of Russian ballet stars to young dancers training in Cuba to a portrait of powerhouse couple Carmen de Lavallade and Geoffrey Holder, here's what's coming to a couch near you:
Keep reading...
Show less