The Story Behind Steven McRae's Crazy Workouts
When you spend as much time on the road as The Royal Ballet's Steven McRae, getting access to a proper gym can be a hassle. To stay fit, the Australian-born principal turns to calisthenics—the old-school art of developing aerobic ability and strength with little to no equipment.
"It's basically just using your own body weight," McRae explains. "In terms of partnering, I'm not going to dance with a ballerina who is bigger than me, so if I can sustain my own body weight, then in my head I should be fine."
---
Today, McRae shares videos of his workouts on social media (where he has approximately 150,000 Instagram followers). They are often shot in his dressing room, with a chair as the only prop while he does développés from an arched handstand, for instance—a feat of upper-body strength and flexibility.
"I think people are genuinely intrigued and interested in what we do: I get lovely comments offering suggestions to alter the exercise."
He tailors exercises like planks and handstands to his needs, mixing calisthenics with Pilates and stretching. His regimen developed from a mix of cross-training with The Royal Ballet's team of sports scientists and outside inspiration.
"Growing up I used to just stretch before class, and I found that I wasn't particularly warm," he says. "Now I do much more of a mini workout as a warm-up."
McRae first learned about calisthenics on Insta­gram, and started incorporating bits and pieces into his routine. "I look at what other athletes are doing. My father did drag racing, and I think you can learn something from everyone."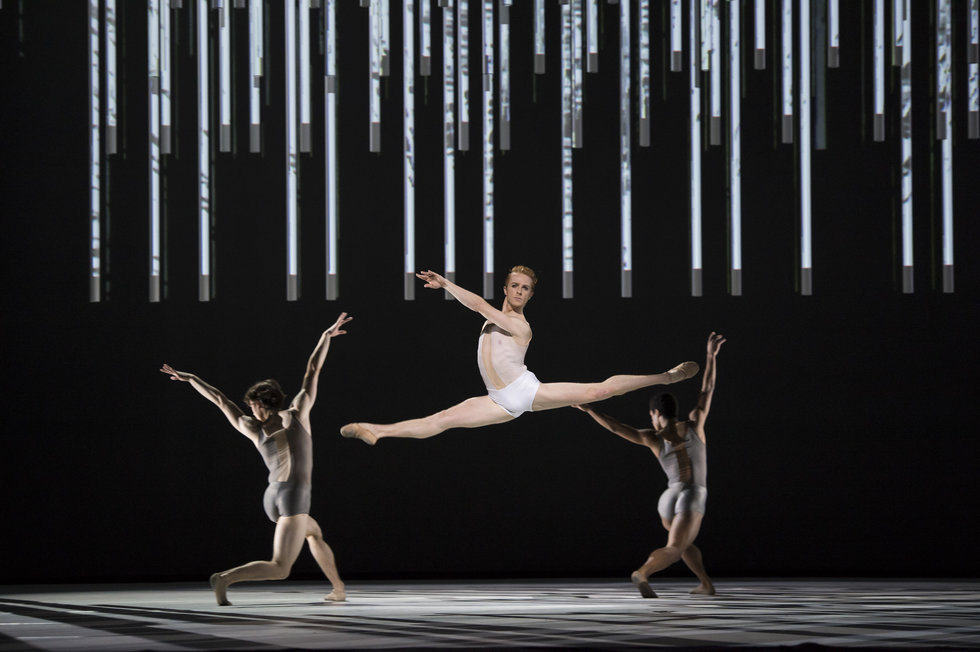 McRae performing Connectome, photo by Bill Cooper, courtesy Royal Opera House
This training philosophy allows McRae to travel light, with a Thera-Band and a roller as his only must-have items. Proper fuel is essential, however, especially when sleep is scarce: He has two young children with his wife, Royal Ballet soloist Elizabeth Harrod.
"Somehow your days expand and you manage to fit everything in. My daughter Audrey is forever asking me to throw her around in the air, so I can do a quick 10-minute workout simply by doing that!"
Try It: Upward Dog Pike
McRae loves this quick calisthenics exercise because it requires no equipment, and opens up the spine while strengthening the upper body and the glutes.
Start in yoga's upward dog position, with your pelvis just off the floor, in line with your hands. Hold your body weight off the ground, toes pointed.
Press your hips up into a piked position to form a triangle shape, with your head down, shoulders over your wrists, toes pointed and your hips at the highest point.
Leading with the head, ripple down through a push-up to return to upward dog.
Perform two sets of eight reps, with a rest in between.
Indumba investigates an African cleansing ritual. Photo by Ken Carl, via
bam.org
When Kevin "Iega" Jeff saw Fana Tshabalala's Indumba at the annual JOMBA! Contemporary Dance Experience in South Africa, he immediately knew he would ask Tshabalala to set the work on his company.

"There's an ancient energy in Fana's movement, a deep and trusted knowing," says Jeff, director of the Chicago-based Deeply Rooted Dance Theater. "Because I witnessed the raw humanity of his dancer's souls, I wanted my dancers to have that experience."
Keep reading...
Show less
Name calling, physical intimidation and cyberbullying are all-too-common experiences among male dancers. Photo by Goh Rhy Yan/Unsplash
Growing up in a family-owned dance studio in Missouri had its perks for tap dancer Anthony Russo. But it also earned him constant taunting, especially in high school.
"There was a junior in my sophomore year health class who was absolutely relentless," he says. "I'd get tripped on my way to the front of the classroom and he'd say, 'Watch out, twinkle toes.' If I raised my hand and answered a question incorrectly, I'd hear a patronizing 'Nice one, Bojangles.' "
Keep reading...
Show less
StockSnap
When I wrote about my struggle with depression, and eventual departure from dance because of it, I expected criticism. I was prepared to be challenged. But much to my relief, and horror, dancers from all over the world responded with support and stories of solidarity. The most critical response I saw was this one:
"Dance isn't for everyone."
This may as well be a mantra in the dance world. We have become entrenched in the Darwinian notion that the emotionally weak will be weeded out. There is no room for them anyway.
Keep reading...
Show less
News
Apr. 16, 2018 02:42PM EST
Maria Kochetkova in Helgi Tomasson's Trio // © Erik Tomasson
San Francisco Ballet star Maria Kochetkova just announced that she'll be leaving the company at the end of this season, after the much-anticipated Unbound Festival. The exact date will be announced later.
Keep reading...
Show less
Dance on Broadway
Apr. 21, 2018 09:30AM EST
PC Kevin Berne, courtesy Boneau/Bryan-Brown
Choreographer Sergio Trujillo asked the women auditioning for ensemble roles in his newest musical to arrive in guys' clothing—"men's suits, or blazers and ties," he says. He wasn't being kinky or whimsical. The entire ensemble of Summer: The Donna Summer Musical is female, playing men and women interchangeably as they unfold the history of the chart-busting, Grammy-winning, indisputable Queen of Disco.
courtesy www.today.com
Keep reading...
Show less
Dance in Pop Culture
Apr. 20, 2018 12:37PM EST
Ballet Zaida; Courtesy Agnes Muljadi
Have a scroll through Agnes Muljadi's Instagram feed (@artsyagnes), and you'll notice that in between her ballet shots is a curated mix of lifestyle pics. So what exactly sets her apart from the other influencers you follow? Muljadi has made a conscious effort to only feature natural beauty products, sustainable fashion and vegan foods. With over 500k followers, her social strategy (and commitment to making ethical choices) is clearly a hit. Ahead, learn why Muljadi switched to a vegan lifestyle, and the surprising way it's helped her dance career.
Keep reading...
Show less


Get Dance Magazine in your inbox